The Mediterranean Grilling eCookbook includes...
60+ delicious and easy recipes from the Unicorns in the Kitchen blog plus some that you've never seen before!
Grilling chicken, beef and lamb, seafood, vegetarian recipes plus salads & sides, sauces & dips and sweet treats!
Grilling basics everyone should know.
A list of marinades you can use for any meat or vegetables.
Instructions on how to make the grilling recipes without a grill.
Step by step instructions for each recipe.
Nutritional information for each recipe.
...And more!
I'm going to show you how to grill everything from wings to vegetables and steak. Learn about the heat and marinades you need to up your grilling game!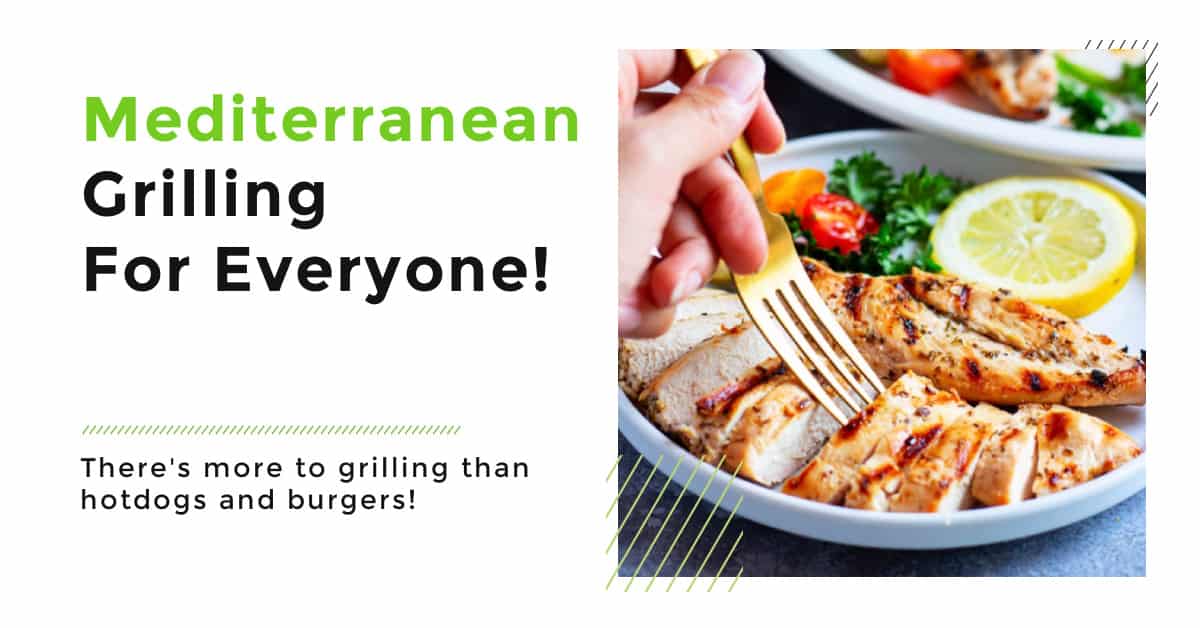 Grilling recipes you can enjoy anytime!
If you're tired of grilling burgers and hotdogs, I've got good news for you. The Mediterranean Grilling eCookbook is here to show you how to grill delicious food from fish and seafood to chicken and vegetables with amazing flavors.
With my step by step instructions and a complete guide to grilling, you'll be able to make delicious recipes with no hassle. I've included general instructions on how to make these recipes in an indoor kitchen as well.
Frequently Asked Questions
Which one is better: gas or charcoal?
This is probably the most asked question when it comes to grilling. Here is the thing - they both have pros and cons: Charcoal grills - more economical and gives that nice smokey flavor to meat, however, fire up and cool down time is longer and managing the heat and temperature could be a bit of a challenge. Gas grills - Easy to turn on (by turning a knob), fire up and cool down are faster and temperature control is easy but the price is higher and doesn't always give that smokey flavor.
What if I don't have a grill? Can I still use these recipes?
Absolutely! You can always use a grill pan, a grill specifically designed for indoor use, a cast iron skillet or simply turn on your oven to enjoy these recipes. These recipes are all about the flavor and preparation technics. So if you don't have an outdoor grill, worry not, because you can still enjoy the food!
Are there recipes for different marinades?
In addition to many marinades that comes with the recipes, I've also included a guide to making marinades and several recipes that you can use on any proteins or vegetables. No more boring marinades!
Do I have to be a grilling pro to use these recipes?
Not at all. Our recipes are useful for newbies or pros. I've explained everything from figuring out the temperature to how to know if the chicken is done or the steak is cooked to your liking. You'll learn how to grill a juicy chicken breast without burning it on the outside or dry on the inside. And I'm going to show you how to make delicious grilled vegetables that aren't mushy.

Are there any vegetarian recipes?
There are many delicious vegetarian recipes in this eBook that even meat-lovers will devour! I have also included a guide on how to turn any other non-vegetarian recipe into vegetarian. There is a little something for everyone to enjoy.
I don't have an outdoor grill (or don't want to grill outdoors) what's this book going to do for me?
While these recipes are designed for grilling, the highlight of each of them is the flavor combination. I've included a guide on how to make these recipes at home using a grilling pan or a skillet!
What our readers say:
I cannot believe how delicious and easy these recipes are. There is a little something for everyone: from chicken and steak to fish, salads, dips and side dishes. It's wonderful source to have on hand. - Tanya
We love all the recipes, my favorites are the lamb chops, lemon salmon and grilled stuffed mushrooms. My family loves it when I grill using these recipes. -Juliane
The flavors of these recipes are out of this world. The basics have helped me a lot and I cannot wait to try all the recipes! - Jordan
Hi! I'm Shadi!
I'm here to share my expertise in Persian and Mediterranean cooking with you and show you how easy it is to grill the Mediterranean way!
Even though many might think grilling recipes are difficult or time consuming, I'm here to show you that if I can do it, so can you!
Start your journey towards making the best grilled meals now. And I'll be here with you every step of the way.