This Chewy Granola Bars Recipe is so easy and simple to make. It has a handful of ingredients, is naturally sweetened with dates and has a crunchy texture thanks to walnuts.
Make no bake granola bars in the comfort of your home with only four ingredients and in less than one hour! Date and walnut are a combination that I grew up with and have always loved. It's a delicious flavor combination that is very common in Persian and Middle Eastern cuisines. Placing a piece of walnut in a pitted date makes for the easiest snack ever and I've turned that simple snack into a breakfast/snack bar now.
Like these Date Walnut Cheesecake Bites or the Date Walnut Babka, this chewy granola bars recipe is one to keep on hand when you want something sweet and nutty in a hurry. And there is a bonus: this recipe is calling for only four ingredients!
How is this healthy granola bar recipe different than store bought ones?
First of all, these granola bars are homemade which means you exactly know what goes into your granola bar. You can modify it to your liking by adding more walnuts or dates. Second, they don't have any preservatives or ingredients that are impossible to pronounce. Third, these granola bars don't contain processed sugar and are naturally sweetened with dates. And last but definitely not last, these homemade granola bars recipe doesn't involve any oils as it gets its healthy fat from walnuts.
How to make this granola bar recipe?
You need only four ingredients: dates, walnuts, old fashioned oatmeal and cinnamon. These are the basic ingredients for chewy granola bars recipe and then you can add more ingredients to your liking. If your dates are not soft enough, place them in a bowl and pour hot water on them, let them sit for ten minutes and then drain the water. The dates have absorbed the water and have softened by now. Place them in a food processor alongside walnuts, old fashioned oats and cinnamon.
Read All About Dates and how to choose the right ones from The Spurce.
Blend the ingredients on low and then on high until they reach a thick and sticky consistency. Coat a 9X9 baking pan with non stick spray and then line it with parchment paper - this will help the paper to stay in place and not move. Transfer the mixture into he pan and spread evenly with a spatula.
Top the bars with shredded coconut, walnuts and chocolate chips. This step is optional as the granola bars are already sweet because of the dates. Chill the bars in the freezer for twenty minutes and once they're firm, cut them into rectangle or square bars.
How to store chewy granola bars
Wrap each granola bar individually in a piece of parchment paper and store in an airtight container in the fridge. Storing them in the fridge will keep them firm and fresh. You can also wrap them in plastic wraps instead of parchment papers. If you have a big batch of these bars, you can freeze them individually and thaw them in the fridge overnight when desired.
This chewy granola bars recipe is perfect to make in a big batch and have for breakfast or as a quick snack. It's simple, quick and perfectly sweet. Also, kids love it!
This chewy granola bars recipe yields about eight rectangle bars or sixteen square bars which are perfect for breakfast or a midday snack. I love having them with a cup of tea or a glass of milk. What's really interesting is that this tastes exactly like the snacks my mom used to make when I was a kid. It's perfectly sweet with a little bit of crunch so it's a great choice for the times I crave something sweet but don't want to indulge on something unhealthy.
Want to change things up for chewy granola bars recipe?
Add unsweetened shredded coconut to the walnut and date mixture for more flavor.
Add dried apricot to make walnut apricot granola bars.
For a nuttier texture, add more walnuts.
Use raisins instead of chocolate chips.
For a new layer of flavor, add a teaspoon of espresso powder to the recipe.
This post is sponsored by California Walnuts. As always, all opinions are mine. Thank you for supporting the brands that support Unicorns in the Kitchen.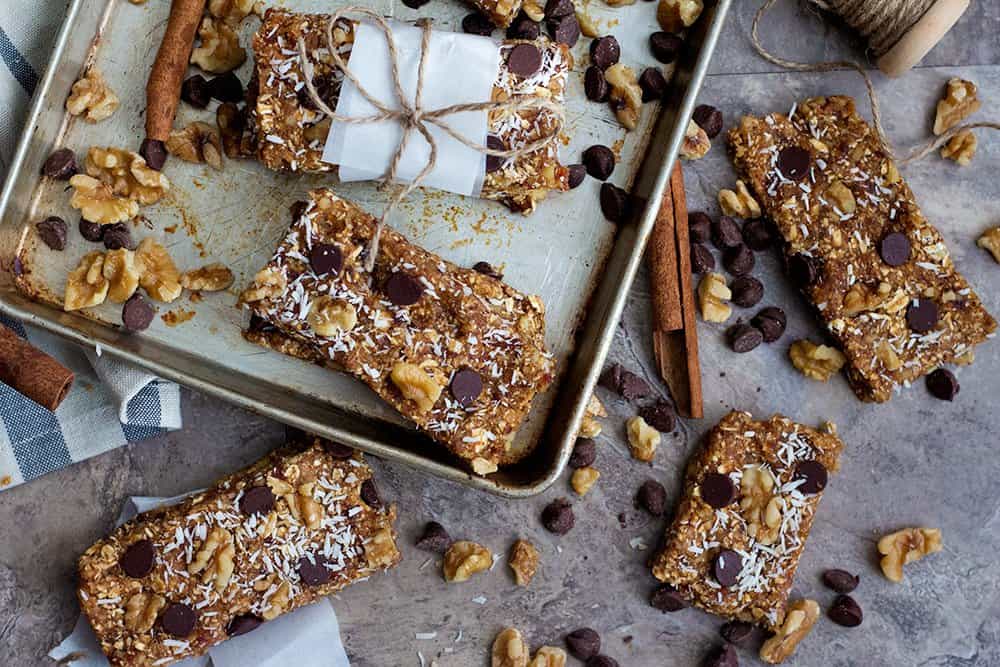 Step-by-Step Recipe
Chewy Granola Bars Recipe with Walnuts
This Chewy Granola Bars Recipe is so easy and simple to make. It has a handful of ingredients, naturally sweetened with dates and has a crunchy texture thanks to walnuts.
Ingredients
2

cup

Medjool Dates

Pitted (see Note #1)

1 ½

cup

Walnuts

1

cup

Old Fashioned Oats

1

teaspoon

Ground Cinnamon
To Top:
½

cup

Semi Sweet Chocolate Chips

⅓

cup

Walnuts

Chopped

¼

cup

Unsweetened Shredded Coconut
Instructions
Place dates, walnuts, old fashioned oats and cinnamon in a food processor.

Blend on low for a minute and then high for another minute or two, until all the ingredients are combined together.

Coat a 9X9 pan with non stick spray and line with a parchment paper. Transfer the date walnut mixture into the pan and spread evenly using a spatula.

Top with chocolate chips, walnuts and shredded coconut (optional).

Put the bars in the freezer for 20 minutes.

After 20 minutes, take them out of the freezer and out of the pan onto a cutting board. Using a sharp knife, cut the slab into 8 pieces (or more smaller pieces).
Notes
I like using Medjool dates as they have a soft flesh that blends well, but any other kind of date would be okay too. If the dates are dry, soak them in hot water for 10 minutes, drain and use in the recipe.
Nutrition
Did you make this recipe?
Let us know how it was by leaving a comment and a 5-star review!
Have you made this recipe? Let us know by commenting and rating on this recipe. Take a picture and tag @unicornsinthekitchen and #unicornsinthekitchen for a chance to be featured!