Iranians drink tea any time of the day. Persian tea is a national drink that's more than just a beverage. Learn how to make Persian tea at home.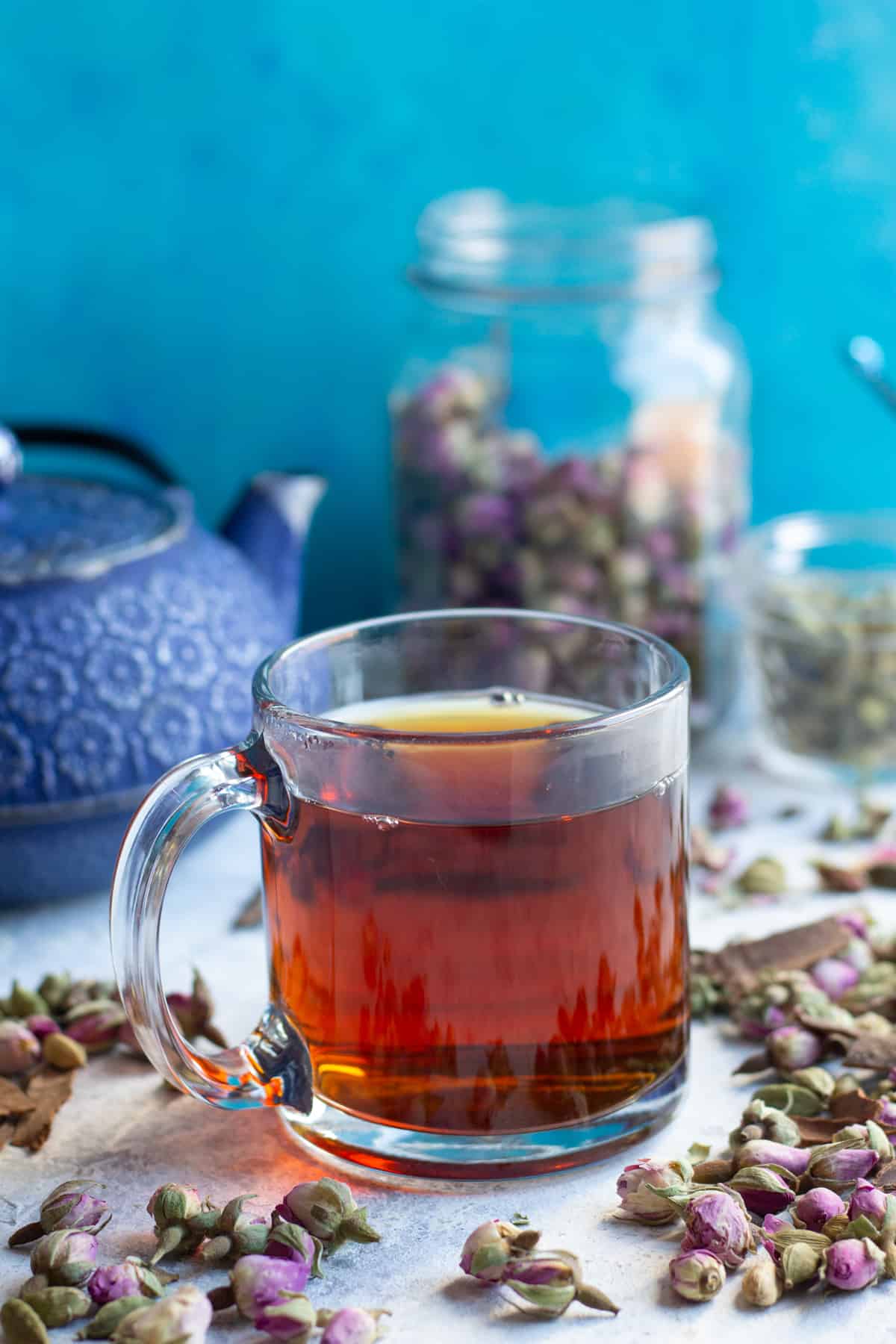 It's finally time to add this simple yet mighty recipe to our Persian recipes collection. I love serving Persian tea with some Persian raisin cookies, revani cake, olive oil cake, Persian love cake or walnut filled Persian pastries (qottab).
Table Of Contents:
Has it always been tea?
Surprisingly no. According to Wikitea, coffee was the main drink in Iran but the countries that grew coffee were very far from Iran and the shipping process wasn't easy. On the other hand, China, a country famous for its tea was right along the main trading path of the time "the silk road" which made trading much easier and therefore tea became the most popular drink in Iran.
As time passed, Iran made the effort of cultivating tea in the country since the demand for the tea was increasing rapidly. In early 1900s, an Iranian ambassador in India under British ruling brought some Indian tea to Iran and started the cultivation. Since 1900s, Iran has cultivated its own tea in the Northern region of the country, right by the Caspian sea. The region of Lahijan in the province of Guilan produces one of the best teas in the country.
An old Persian ritual
To Iranians, tea is beyond just a drink. It brings people together, indoors or outdoors. There are tea places in Iran, called "ghahveh khane" which actually translates to "coffee house" even though they solely serve tea. You could find these tea places anywhere in the country, from cities to villages and on the road. They were a place for people to gather and talk, or for travelers to take a break and drink some freshly brewed tea.
To this day, tea (Cha-ee) is the main beverage in Iran and to people, it's a reason to gather, talk and spend time together. When you arrive at a Persian home, after the usual greetings, the first thing you get offered is a cup of freshly brewed tea. As I mentioned before, to us, this is more than a drink, it's a way of living. Iranians have tea any time of the day, be it for breakfast, at 11am, in the afternoon, evening or late at night. There's always freshly brewed tea in a Persian household.
What makes Persian tea special?
There are a few things that makes Persian tea special and different from other teas:
It's always made with loose leaf black tea.
Persian tea is served in glass cups so you can see the color.
You can serve it dark or light depending on how much hot water you pour in your cup.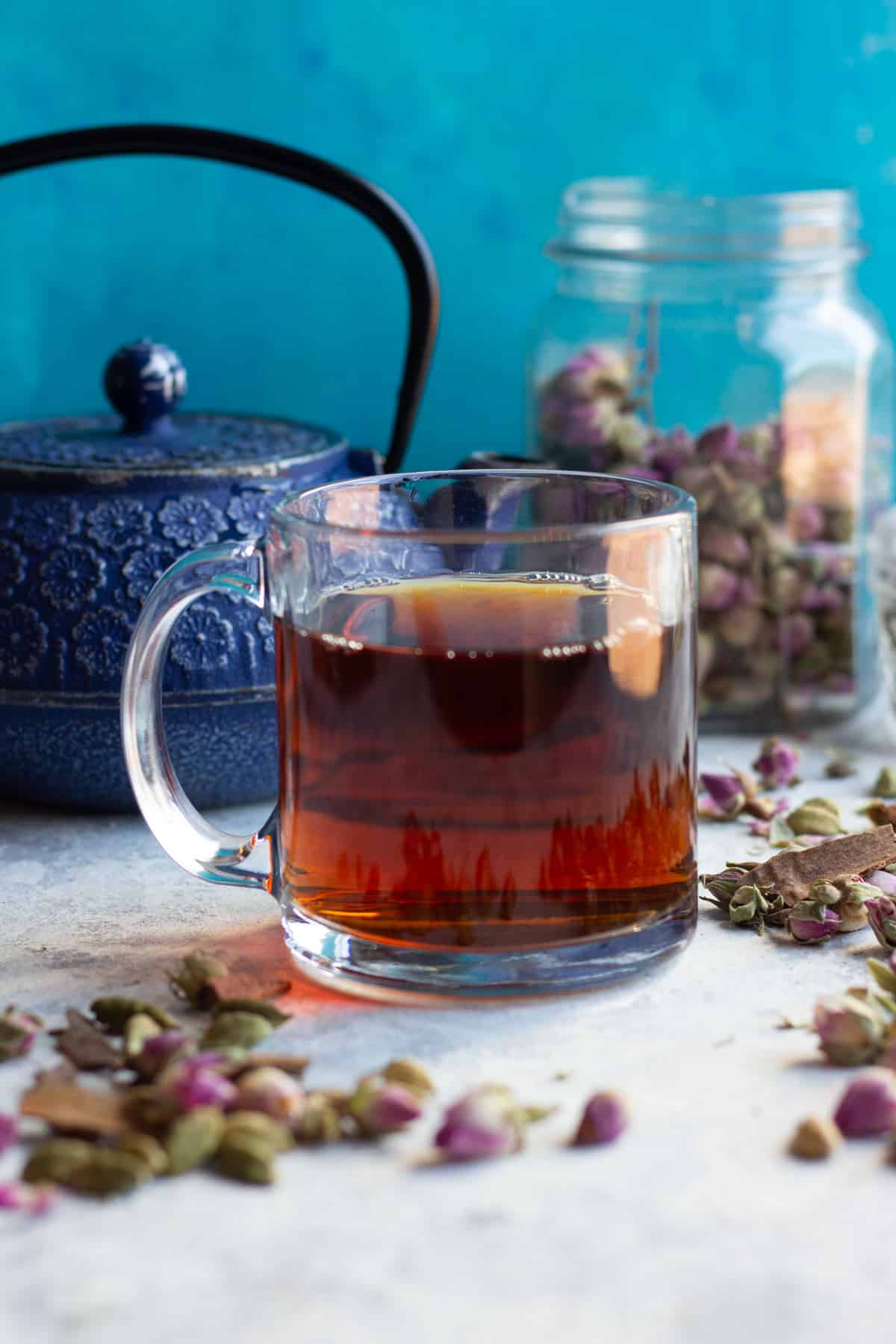 Tools to make Persian tea
Traditionally, Persian tea is made using Samovar which is a large Russian metal container for heating water that has a ring on top where you can place the teapot to brew tea. Samovar traditionally uses coal to heat but modern samovars use electricity. Since samovar is very expensive and also takes a lot of space, it's not common to use it these days in modern households.
Another way to brew Persian tea is to use a kettle and a teapot. China or porcelain teapots are preferred but you can use any teapot you have. I have used glass and cast iron teapots to make Persian tea and both have worked perfectly. You can also use an electric kettle to heat water for your tea. I like using a teapot with an infuser so prevent the leaves from getting into the serving cup, but you can also use a strainer to do so.
To sum this up, here are a few useful links to my favorite teapots and kettles:
What kind of tea do I need?
To brew tea Persian style, you need loose leaf tea. Black loose leaf tea is what Iranians use to brew tea at home. My personal favorite is Ceylon tea because of its deep red color and subtle flavor. Other black teas such as English breakfast or Irish tea work as well.
How to brew Persian tea
It's very simple to make this Persian beverage at home:
Bring water to boil in a regular or electric kettle.
Place two tablespoons loose leaf tea in the teapot and pour the hot water on the tea.
Put the lid on a let the tea brew for about 5-10 minutes. It's common to place a kitchen towel on the teapot for better brewing.
Bring so more water to boil.
Fill ⅓ a glass cup with brewed tea and slowly pour hot water on it. For darker color tea fill the cup up to ½ with tea and for lighter color, fill it up to ¼.
Other flavors for Persian tea
Being from the land of cardamom, saffron and rose, it's hard for us Iranians to leave our tea to be just plain. Many Iranians add different spices to the loose leaf tea before brewing to make it more flavorful:
Cardamom pods: Add 2 broken cardamom pods to the tea in the teapot before pouring water on it. Persian cardamom tea is very popular in Iran.
Saffron: 4-5 saffron threads would go a long way. Simply add them to the tea in the teapot.
Rose: Add a few dried rosebuds to the tea for a subtle floral flavor.
Cinnamon: A very common addition to Persian tea, a small cinnamon stick would give a nice flavor. Just add the stick to the tea before you start brewing.
How to serve tea Persian style
Persian tea is traditionally served with sugar cubes. However, it's common to serve it with other sweets accompaniments such as pistachio cake, baklava, coconut cookies, Persian halva or ranginak (date walnut dessert). You can also serve it with dried fruit including dates, raisins or dried white mulberries.
Another way is to make Persian sweet tea (Cha-ee Shirin) which is to dissolve a bit of granulated sugar in hot tea and then drink it. Sweet tea is common for breakfast in Iran.
More Persian recipes
Did you make this recipe? I'd love to hear about it! Please comment and leave a 5-star🌟 rating below. You can also follow us on Instagram, Facebook, Pinterest or subscribe to our newsletter to get a free e-Cookbook!
Step-by-Step Recipe
How To Make Persian Tea At Home
Iranians drink tea any time of the day. Persian tea is a national drink that's more than just a beverage. Learn how to make Persian tea at home.


Ingredients
2

cups

water

2

tablespoon

loose leaf black tea
Additional flavoring (choose one)
2

cardamom pods

4

strands

saffron

4

edible rosebuds

2

inches

cinnamon stick
Instructions
Bring 2 cups of water to boil.

Place the loose leaf tea in a teapot.

Pour hot water over the tea. Put the lid on.

Let the tea brew in the teapot for about 5-10 minutes.

Bring more water to boil.

Fill ⅓ glass cups with brewed tea. Fill the cups with hot water.

For darker tea, fill ½ cups with brewed tea and for lighter tea, fill the cups up to ¼.

Serve with sugar cubes, raisins, dates or cookies.
Notes
You can use Ceylon tea, English tea, Earl Grey tea or any other loose leaf black tea to make Persian tea.
Nutrition
Calories:
1
kcal
Carbohydrates:
1
g
Sodium:
6
mg
Calcium:
4
mg
Did you make this recipe?
Let us know how it was by leaving a comment and a 5-star review!