Raisin cookies made Persian style! These delicious and delicate cookies are perfect for the Persian New Year or any other time of the year. They're crunchy on the edges and soft in the center, perfect for a snack or dessert.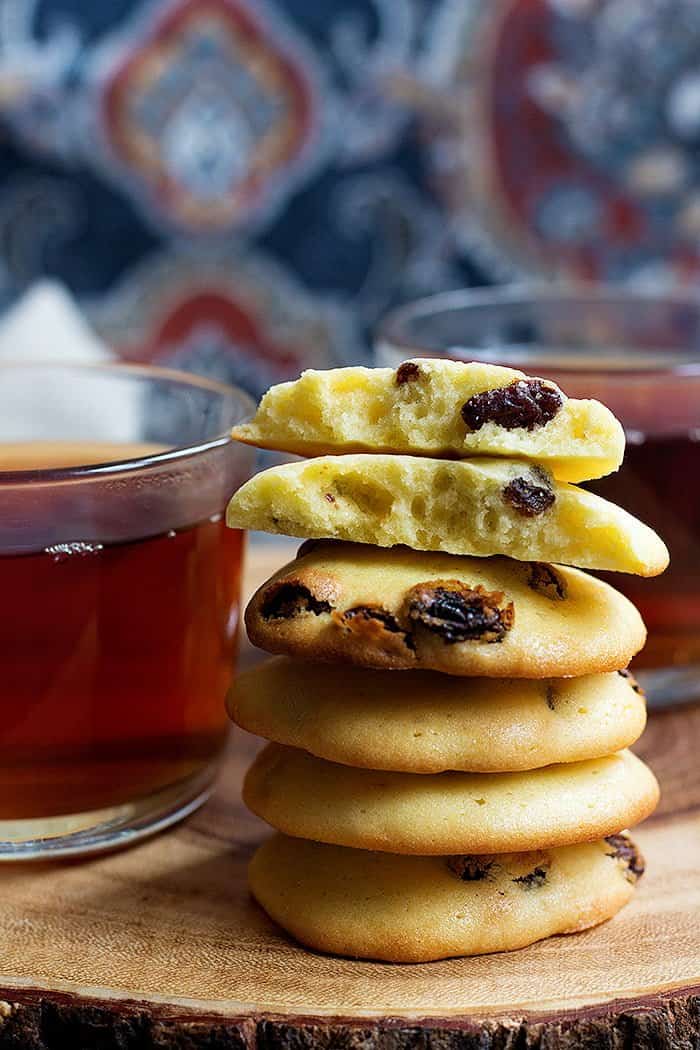 You have no idea how excited I am for sharing this recipe with you. Of course, this is another Persian recipe and I can't wait to tell you all about it.
I love bringing Persian flavors to familiar baked goods and turning them into something new but familiar like my Cardamom Shortbread Cookies and Persian Love Cake, which turned out amazing and were perfect for a Persian-American Christmas or Valentine's Day! And, sometimes, I want to show you how to make traditional Persian recipes, too, because I know that's of great interest to many of you.
Shirini Keshmeshi (try saying that three times fast) is a traditional Persian cookie that is full of memories for many Iranians. These raisin cookies are crispy on the edges and chewy and soft in the middle, with the right amount of juicy, plump raisins for each and every bite.
Let me put it this way:
Shirini Keshmeshi to Iranians is what Chocolate Chip Cookies are to Americans. Full of stories, memories and everyone has their favorite recipe!
"Shirini" means sweet in Farsi and "Keshmesh" means raisin, therefore Shirini Keshmeshi means sweets that have raisins and that's exactly what these tasty little bites of heaven are! Now I know that raisin cookies that look like chocolate chip cookies are the reason some might have trust issues, but these raisin cookies are something you need in your life - trust me on this one.
How to make Raisin Cookies
This raisin cookie recipe is a very simple one and the best part is that no chill time is needed, which means you can be eating them in no time! It's a pretty straight forward recipe: start with mixing butter and sugar in a bowl, add in the eggs one by one, and then mix in the flour and stir until you have a smooth fluffy dough.
Fold the raisins into the cookie dough, make sure they're distributed evenly. Drop scoops of cookie dough (one tablespoon) on a prepared baking sheet. Bake in the oven for 12-14 minutes until the edges are golden brown. Let the cookies cool for 5 minutes and then transfer them to the cooling rack. Once they're cool, eat them and enjoy!
These raisin cookies are also perfect for Persian New Year (Nowruz)! They're a favorite and usually there is a plate full of these at the New Year's table with the other elements of the table, which we're going to talk about very soon.
Are Persian Raisin Cookies different than Oatmeal Raisin Cookies?
Yes. To start, they don't have old fashioned or quick oatmeal, and they are sometimes made with saffron. Persian raisin cookies are soft and airy and not dense at all. They are not overly sweet and just have a mild sweetness since most of the flavor comes from the raisins. These raisin cookies also don't require any chilling time in the fridge and can be baked right away.
I remember these bakeries in Tehran where they would sell mounds and mounds of these raisin cookies alongside of Cake Yazdi (Persian cardamom muffins) and my mom would always get some for us and we would have them with milk when we were done with homework around 4pm because that's when our favorite cartoon was on TV. It was like a ritual and still, after all these years, I do crave Shirini Keshmeshi and some milk or tea around 4 o'clock so this recipe comes in handy quite often in our home!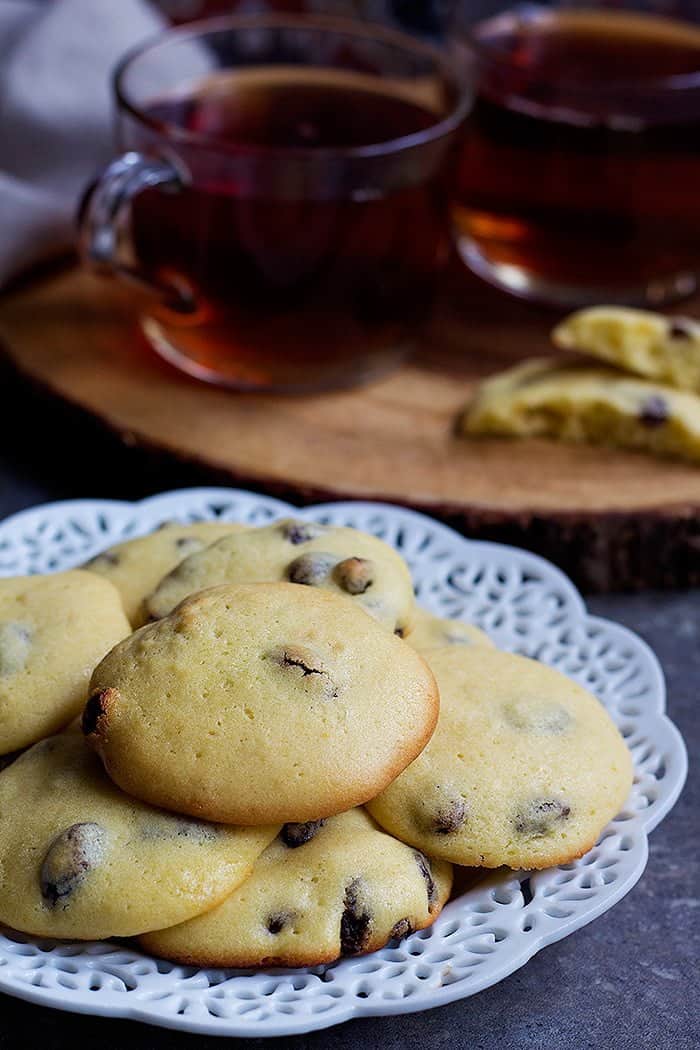 Notes and tips for making Raisin Cookies:
These cookies don't require chilling time, but you can make the dough ahead of time and refrigerate for up to two days. To bake the cookies, bring the dough to room temperature and then proceed with the baking steps.
Store the extra cookies in an airtight container in a cool and dry place for up to three days. These cookies don't need to be refrigerated.
I use unsalted butter for this recipe, but margarine works as well. I don't recommend using vegetable or coconut oil as they would change the texture and flavor.
If you would like to make these cookies with a hint of saffron flavor, add two teaspoons of bloomed saffron to the cookie dough before adding the flour.
These raisin cookies would spread a bit so make sure you leave some space between them when you drop them on the baking sheet.
Each Iranian family has its own recipe for these traditional cookies. They all are super tasty!
You know what's amazing about these recipes? The fact that when I make these, my home here turns into my home back in Iran. For the longest time, I tried to deny that, I tried to deny that I still have a home back there, that it's where I come from and it will always be my first home. But now, I've learned that I can have one home back in Iran, and another one here in the US, where I'm building my family and my life. And it's going to be fine because no matter what, I'll always be home.
Related Recipes: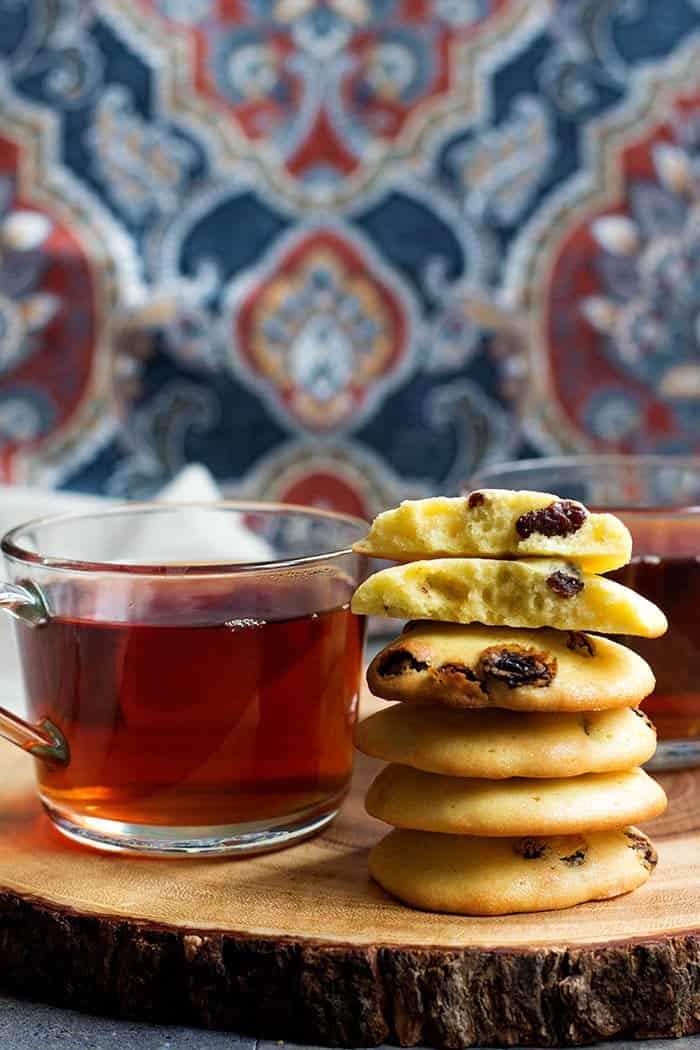 Persian Raisin Cookies (Shirini Keshmeshi)
Raisin Cookies made Persian style! These delicious and delicate cookies are perfect for the Persian new year or any other time of the year. They're crunchy on the edges and soft in the center, perfect for a snack or dessert.
Ingredients
1 ⅔

stick

Unsalted Butter

1

cup

Granulated Sugar

3

Eggs

room temperature

½

teaspoon

Vanilla Extract

1 ⅔

cup

All Purpose Flour

1 ½

cup

Raisins
Instructions
Preheat the oven to 375F. Line two baking sheets with parchment paper.

In a bowl, mix butter and sugar until creamy and light.

Add in the eggs one by one. Mix well after each addition.

Add in the vanilla and stir well.

Mix in flour and stir using a wooden spoon until it is all incorporated and you have a smooth dough.

Mix in the raisins, make sure it's well incorporated.

Scoop the cookie dough into the baking sheet, leave 1 ½ inch space between them.

Bake in the oven for 12 minutes until the edges are golden brown.

Cool on the baking sheet for 5 minutes, then transfer to a cooling rack.
Nutrition
Calories:
155
kcal
Carbohydrates:
22
g
Protein:
2
g
Fat:
7
g
Saturated Fat:
4
g
Cholesterol:
37
mg
Sodium:
11
mg
Potassium:
94
mg
Fiber:
1
g
Sugar:
8
g
Vitamin A:
226
IU
Vitamin C:
1
mg
Calcium:
9
mg
Iron:
1
mg
Did you make this recipe?
Let us know how it was by leaving a comment and a 5-star review!
Have you made this recipe? Let us know by commenting and rating on this recipe. Take a picture and tag @unicornsinthekitchen and #unicornsinthekitchen for a chance to be featured!