Cardamom Cookies are perfect for any time of the year! These tender shortbread cookies with a hint of cardamom are so delicious!
We've started baking our holiday cookies. So far we have our favorite thumbprint cookies and cranberry oatmeal cookies, and we're going to make these cardamom cookies again!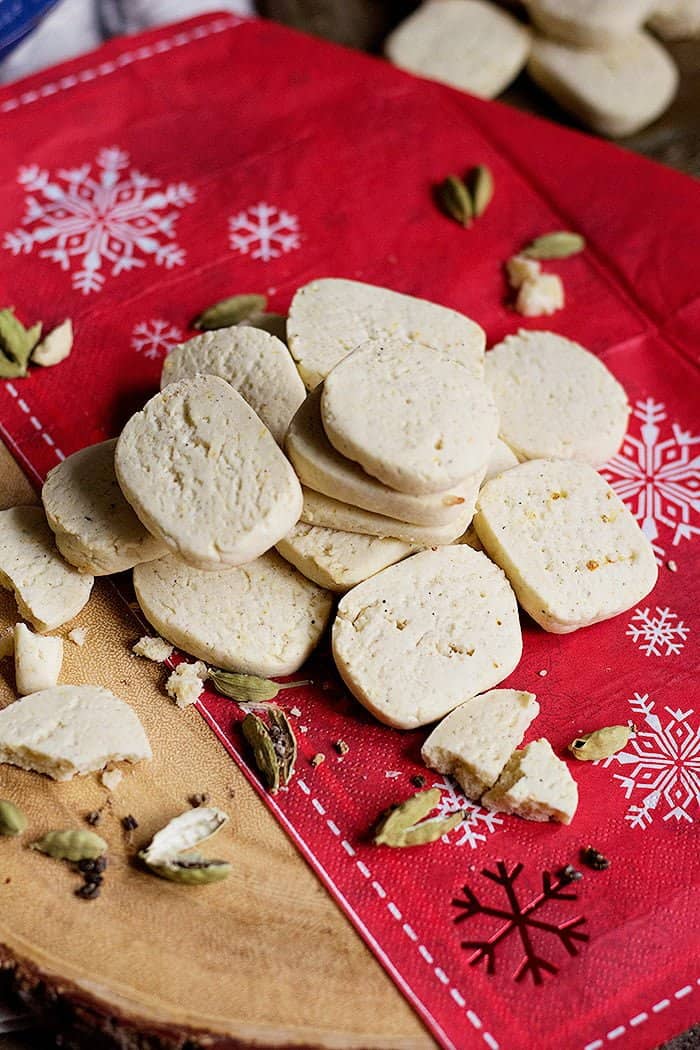 As an Iranian-American family, we celebrate both Christmas and Norooz and we bake a ton of cookies for both. This year I decided to combine a Persian favorite with an American classic and make these cardamom shortbread cookies! Cardamom is one of the basic spices of Persian cooking that is used in many different recipes from rice dishes to drinks to desserts.
Why this cardamom cookie recipe is a winner
These cardamom shortbread cookies are one of our favorite for this holidays season. They're flaky, buttery and a little bit Persian! They're perfect with a cup of coffee or tea during this cold season. These cookies are your classic shortbread cookies with a twist which will make you want to take another bite!
How to make cardamom cookies
This easy cardamom cookie recipe is perfect for the holidays because it's so simple to follow and you can even make it with kids. There are only a few steps:
In a bowl, mix flour, cornstarch, powdered sugar and cardamom.
Add in the butter and mix until fully combined.
Add in milk and mix until it forms into a dough.
Shape dough into a log, wrap in a plastic wrap and refrigerate.
When ready, cut slices about ¼ inch thick and place them on baking sheets lined with parchment paper.
Bake for about 12 minutes until the edges are golden.
I bet you will make these cookies more than once, they're so good and you can even make the dough ahead of time which is perfect for the holidays!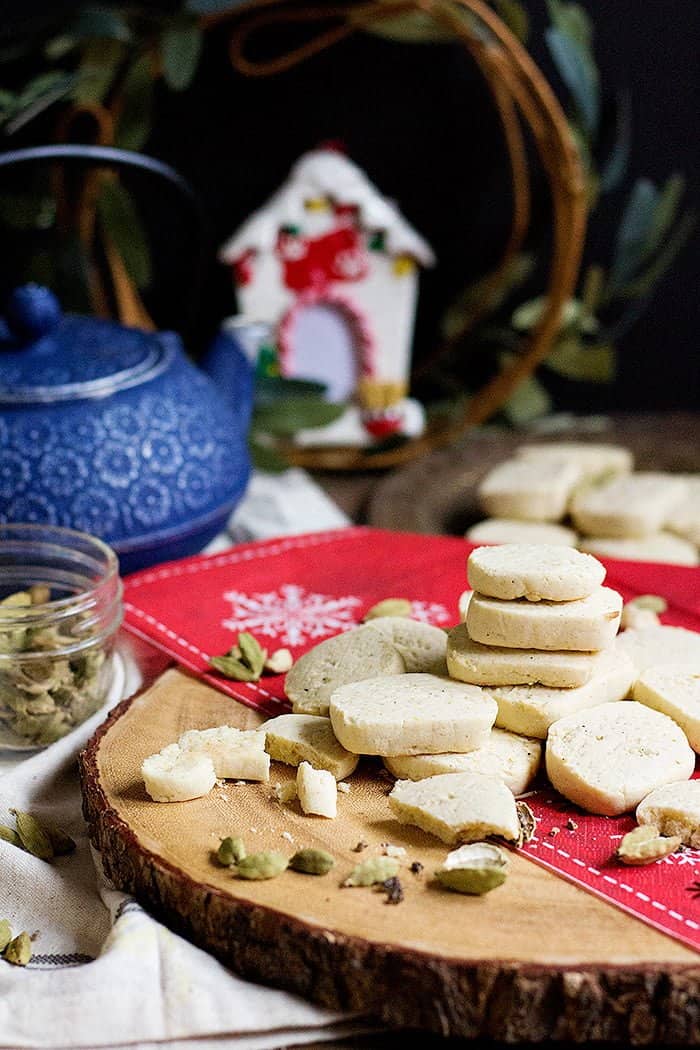 What are some of cardamom's uses?
Cardamom is a staple in our kitchen and we use it in many different ways. These little magic pods come with so many benefits. They're good for digestion, metabolism and stress. Green cardamom can be used to flavor sweet and savory dishes. It can also be used to flavor tea and coffee. When brewing black tea, we usually also add a couple of green cardamom pods.
To use cardamom in sweet dishes, it's best to pair it with rose, rosewater or saffron. These flavors go very well together and make a very Middle Eastern flavor profile. for savory dishes, cardamom can be used with cumin, saffron and turmeric. It's perfect for marinading chicken, too.
Cardamom can be used in both forms of pods and ground. It's always better to use mortar and pestle to grind cardamom seeds as it will be more aromatic.
More delicious recipes with cardamom:
Notes and tips to make cardamom shortbread cookies:
It's important to refrigerate the dough for an hour. This would help the dough to form and it'll be very easy to slice it.
This cardamom cookies recipe uses ground cardamom, which you can find at Iranian, Arab, Middle Eastern and Indian ethnic shops.
Don't over crowd the cookie sheets so the shortbread cookies can bake evenly.
Store these cardamom cookies in an airtight container for up to a week.
Don't over bake these shortbread cookies. They will bake a little bit more once they're out of the oven as the baking sheet is still hot. We don't want these cookies to change color.
Cardamom Shortbread Cookies
Cardamom Shortbread Cookies are perfect for any time of the year! These tender shortbread cookies with a hint of cardamom are so delicious!
Ingredients
1

cup

All Purpose Flour

¼

cup

Corn Starch

½

cup

Powdered Sugar

1

teaspoon

Ground Cardamom

⅛

teaspoon

Salt

8

tablespoon

Unsalted Butter

2

tablespoon

Whole Milk
Instructions
In a large bowl, mix flour, corn starch, powdered sugar, cardamom and salt.

Add in butter and mix using a electric hand mixer until fully combined.

Add in milk and mix until it forms into a dough. Use your hand to knead the dough if needed. Knead the dough until it's smooth and form it into a ball.

Form the dough into a log about two inches in a diameter and wrap in a plastic wrap. Refrigerate for one hour.

Preheat the oven to 350F. Line a baking sheet with parchment paper.

Take the cookie dough log out of the fridge, place it on a cutting board and c

ut slices of cookie dough about ¼ inch thick.

Place the cookies on the baking sheet and bake in the oven for 12 minutes until they'r slightly golden on the edges and at the bottom.

Let the cookies cool for 10 minutes then transfer to the cooling rack.
Notes
You can find ground cardamom at Middle Eastern, Arabic, Iranian or Indian ethnic stores. It's light green.
Nutrition
Did you make this recipe?
Let us know how it was by leaving a comment and a 5-star review!