Oven Roasted Potatoes with Thyme are delicious and easy to make. Plus, there is no mess! Serve it as a side dish with chicken or meatballs!
(This post was updated on July 13th, 2016 with new photos)
Who doesn't like French Fries? I mean come on, all of us love it, and many of us (including me) have that annoying feeling of guilt going down our throat every time we chew a fry.
We were at Trader Joe's couple of days ago and we saw these cute tiny potatoes which are perfect to roast as they get crispy on the outside and soft and nice on the inside.
So we got a bag and when we got home we baked them in the oven as a side dish to turkey barbecue meatballs we had that day too.
Once I figured out how to roast potatoes in the oven, I never got back to frying potatoes at home. I mean, the mess is just too much for me plus I can't get over the feeling of guilt I have after deep frying stuff!
Quite easy to make, and you can add any spices you want. This time I only added pepper and thyme. One thing to remember is not to add salt to the raw chopped potatoes, let the potatoes bake completely then add salt when you serve. If you add salt when they're raw and then bake them, chances are they won't get as crispy as they get without salt. Though this really depends on type of the potato, with some potatoes it really doesn't make a difference.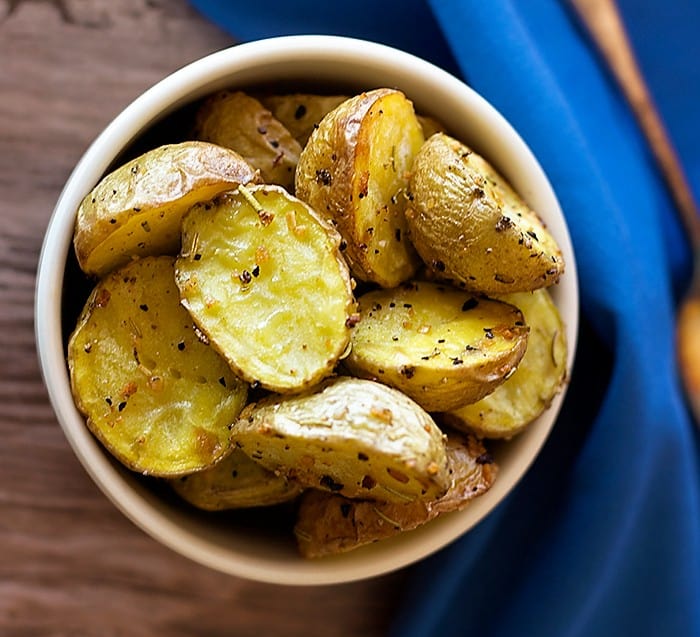 I like to serve these potatoes on the side of buffalo chicken dip , but they are so good on their own, too!
Oven Roasted Potatoes with Thyme
Ingredients
1

lb

potatoes

chopped into bite size chunks

2

tbsp.

olive oil

1

tsp

black pepper

1

tbsp.

dried thyme

Fresh will work too
Instructions
Preheat the oven to 400F/204C

Line a baking sheet with foil and spray it with non-stick spray

Mix all the ingredients together and place them on the baking sheet evenly so none of them lays on the other

Bake in the oven for 30 minutes or until completely cooked through
Did you make this recipe?
Let us know how it was by leaving a comment and a 5-star review!