So today was the official start before IFBC 2015(International Food Blogger Conference) in Seattle. I met Johnny who writes A Punk, A camera and an empty stomach for the day. We met for lunch and we went to Paseo in Fremont. It's a Caribbean restaurant that offers sandwiches in both sandwich bread or in a plate (more like a box) served with rice, a corn on the cob, a cup of beans and salad. We all got the most popular meal, Caribbean roast. Oh my goodness that was an amazing dish. White rice was perfectly seasoned with salt and butter, there was a fresh corn on the cub, a very fresh lettuce and beetroot salad, a semi spicy cup of beans and of course the star, pork shoulder coated in Paseo marinade and slow cooked into pulled pork which was pure perfection. Oh-so-good. For two people we paid $25 which was a good price noting the fact that it was a lot of food (I brought almost half back) and it was a fantastic food.
Then Johnny and I went to Book Larder which is a community cookbook store and I got so excited there! There were many cook books from many different writes and it was just amazing, I was so close to take my credit card out and buy every single book there but then I remembered that I'm still not the queen of the world. But I still spent almost an hour there.
After that we went to a cider house named Schilling and we had ciders there. Well turned out I like ciders! I had moonlight meadery (apple) and pomegranate ciders which were so delicious. I personally liked Schilling mischief maker pom (pomegranate) one better.
Then we went to a dreamland! We went to Tho's chocolate factory tour which took us inside the factory to see how they clean the beans, break them, and then turn them into chocolate. We both also got into chocolate-coma because they had lots of samples and I also bought an 85% chocolate bar for baking that is waiting for me to bake an amazing chocolate cake with it after the conference.
After the factory we went to another brewery and I didn't drink anything there, but Johnny had a great time there. Sorry, no details on that one.
Our last stop before dinner was at Fremont brewery where we got flights again and I had a Finn black currant cider and wandering wheat (both light) and of course I liked the cider better.
For dinner we went to Farestart which is a very nice restaurant. They help homeless people to learn culinary skills and start a career on their own when they graduate. Last night there were there graduates there and it was just beautiful, the look in their eyes and how they were grateful and happy of having a new life and career, brought tears to my eyes. I will write a whole review about Farestart next week. But for now I'm telling you that the food was perfect.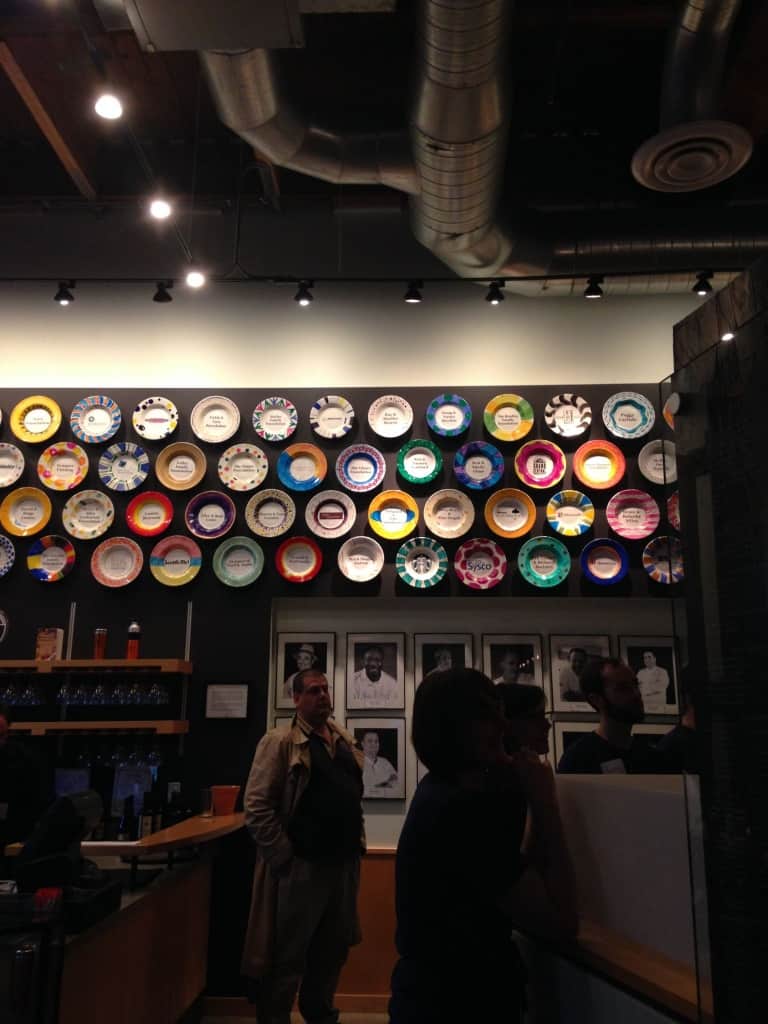 At the dinner with IFBC attendees I met about 17 people among whom there were amazing food bloggers. I got to talk to 4-5 of them and I had such great conversations. We talked about food and blogging and food and food and food 😀
I talked to Nicole from "Nibbles by Nic", Traci from "The kitchen Girl" and Rose from "Half her size". All these wonderful women are great bloggers, they gave me amazing advice and I loved every second spent talking to them because it was perfect. Hopefully there will be more time to hang out with them during the conference!
We were done with dinner by almost 10 and then we headed home. I needed to sleep well and enough because this weekend is super-duper important!