This is a delicious vegetarian breakfast burrito recipe that's freezer-friendly and easy to make. Breakfast burritos are great for meal prep and packed with veggies.
I love making eggs for breakfast. Some of our favorite breakfast egg recipes are Turkish eggs, Italian baked eggs and of course, my popular breakfast pizza. These homemade breakfast burritos are our new favorites and they are perfect for meal prep.
This post is written in partnership with Tillamook. All opinions are mine.
Veggie packed breakfast burrito recipe
Breakfast burritos are always a great choice. It's so easy to make breakfast burritos at home and one of my favorite variations is this vegetarian breakfast burrito recipe. Everything is made in one pan and flavored with cheese, salsa and avocados. These meatless burritos are cheesy, tasty and perfect for the morning. This recipe is inspired by the breakfast burritos served by Chef Matt Carr at Little Red Fox, featuring Tillamook Cheese.
Tillamook is a farmer-owned dairy brand from Oregon that is now available in the D.C. area. I had the chance to attend their Melty Fest Tour at Little Red Fox this week and loved everything about it! We had the chance to try so many tasty treats such as Pimento mac & cheese, Gougeres (aka cheese puffs) and the best ever queso dip. I enjoyed our conversation with the Tillamook team and celebrated the arrival of one of my favorite brands to the East Coast. We finished the night with the most epic ice cream sandwiches made with chocolate chip cookies and Tillamook Hazelnut and Salted Caramel ice cream.
The best part is that you can try Tillamook in DC too! Make sure to visit Little Red Fox through July 28 so you can try everything! If you can't make it to Melty Fest, visit Tillamook.com/where-to-buy so you can find Tillamook products near you.
Vegetarian breakfast burrito ingredients
To make this tasty veggie breakfast burrito, you need the following ingredients:
Onion
Red bell pepper
Eggs
Parsley
Hot sauce
Salsa

Tillamook

Extra Sharp

Cheddar and

Tillamook

Farmstyle Thick Cut Mexican

4 Cheese

Shredded Cheese
With only a few ingredients and a little bit of time, you can make amazing egg and cheese burritos that are packed with so much flavor. I love making these burritos because you can add so much veggies to them and also cook everything in one pan which makes cleaning a breeze!
How to make a breakfast burrito
It's so easy and simple to make these breakfast burritos. Here are the steps you need to follow:
Prepare the veggies: Saute onion in a bit of oil over medium heat until translucent. Add in the chopped red bell pepper and cook for some more minutes.
Add the eggs: Break the eggs in a large bowl and whisk until well combined. Season with salt and pepper then add them to the sauteed onion and garlic. Turn the heat to medium low and cook the eggs, scramble them so they cook completely and are fluffy.
Add the cheese: Add half of the cheese to the egg and veggie mixture and cook for a few minutes to melt the cheese.

I love Tillamook's Farmstyle Thick Cut Shredded Cheese because it is made for melting!

Roll the burritos: Spread some salsa on each tortilla. Divide the eggs and veggies among 5 large tortillas, top with more cheese and roll each tortilla over the filling as tightly as possible and tuck in the ends.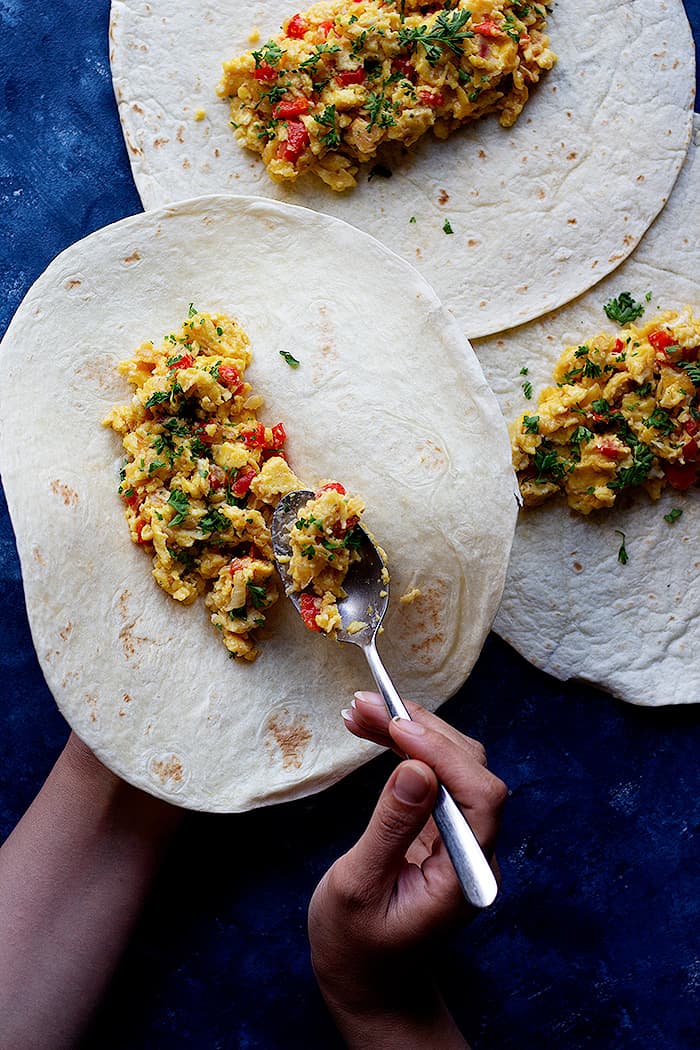 Heat: Heat a clean skillet over medium heat and place the burritos in the skillet, heating them until they're lightly brown and the cheese is melted.
Serve: You can top the burritos with warm salsa and some chopped avocados.
Other additions to this easy breakfast burrito recipe
The best thing about these vegetarian burritos are that you can add other ingredients to them as well. Some delicious additions are:
Sliced mushrooms
Spinach or collard greens
Beans
Zucchini
Potatoes (roasted or hash browns)
If using mushrooms, zucchini or spinach, cook them with onions and peppers before adding the eggs. You can add the beans at the end with cheese. As for the potatoes, you can simply top the eggs with roasted potatoes or hash browns right before rolling the burrito.
Are these breakfast burritos freezer-friendly?
Yes! That's one of the reasons I love these breakfast burritos so much. You can make a large batch in one day and freeze them to enjoy them in the coming days. After rolling the burritos with all the egg and veggie filling, tightly wrap each burrito in a piece of aluminum foil and freeze them for up to 2 months.
How to reheat frozen egg and cheese breakfast burrito
To reheat, take a frozen burrito wrapped in an aluminum foil out of the freezer. Place it on a baking sheet and heat in the oven at 220°F for about 20 to 30 minutes until the burrito is fully heated through. This way the burrito will keep the heat and its shape.
Step-by-Step Recipe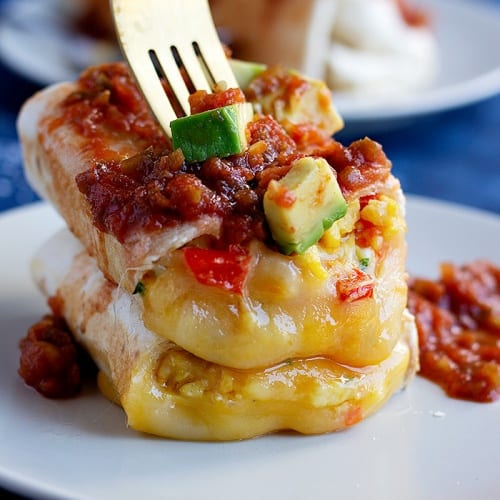 Vegetarian Breakfast Burrito Recipe
Delicious vegetarian breakfast burrito recipe that's freezer friendly and easy to make. They are great for meal prep and are packed with veggies.


Ingredients
2

tablespoon

vegetable oil

1

onion

chopped

1

red bell pepper

chopped

6

large

eggs

¼

teaspoon

salt

¼

teaspoon

pepper

2

tablespoon

hot sauce

optional

¾

cup

Tillamook Extra Sharp cheddar cheese

shredded

¾

cup

Tillamook Farmstyle Thick Cut Mexican 4 Cheese blend Shredded Cheese

1

cup

salsa

homemade or store-bought

4

large

tortillas

burrito size

1

avocado

diced
Instructions
Heat vegetable oil in a pan over medium heat.

Saute onion until translucent.

Add in chopped bell pepper and saute for 3-5 minutes.

Crack the eggs in a bowl and whisk until combined. Add in salt and pepper.

Add the eggs to the onions and pepper. Turn the heat to medium low and cook the eggs, scrambling them until they're fully cooked and fluffy.

Add hot sauce to the eggs if desired.

Add half of the cheddar and half of the Mexican blend to the eggs and mix until the cheese is melted.

Place the tortillas on a board and spread some salsa on them.

Divide the eggs between the tortillas and top with the remaining cheese.

Roll the tortilla over the filling tightly and tuck in the sides.

Heat a clean skillet over medium heat and place the burritos in the skillet. Heat until it's golden brown on all sides and the cheese is melted.

If desired, heat some salsa in and spread it over the burrito and top with chopped avocados.
Nutrition
Did you make this recipe?
Let us know how it was by leaving a comment and a 5-star review!