These Apple Walnut Cake Bars are great for paring with an afternoon tea. The fluffy texture and crunchy walnuts are perfect together!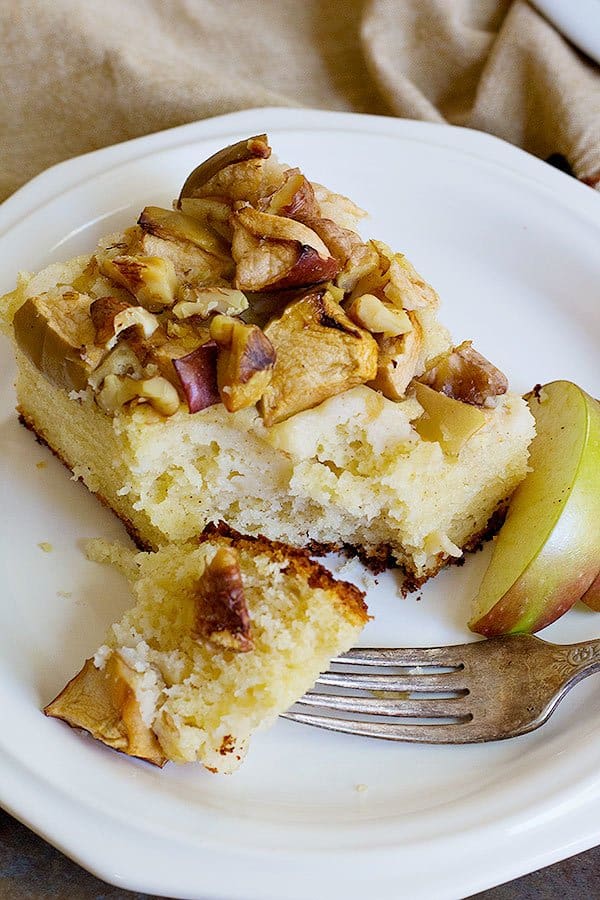 Nothing beats the beautiful smell of apples in a cake baking on a cold, rainy day.
Baking has always been like therapy for me. Whenever I was stressed or under a lot of pressure, I would grab a pan and start baking with my maman. When I moved to Istanbul and settled into the apartment that the school I worked for had provided for us, the most heartbreaking thing wasn't the fact that we didn't have TV or that I had to share the apartment with 4 other people. It was the fact that the kitchen didn't have an oven.
Then, later when I had an oven, life was beautiful again and every now and then, especially in fall and winter, I would make my favorite apple crisp or an apple cake. Even if I didn't have the appetite to eat it, just the aroma of freshly baked apple goods would fill the kitchen with such peaceful feeling that I wouldn't change for the world.
To me, aromas and flavors are more than just senses: they carry memories, feeling, thoughts, things that had happened when those aromas and flavors were in the scene.
After years and many recipes, these apple walnut cake bars have become a favorite because of their fluffy texture and flavor - not too sweet, full of apple flavor and walnut crunch!
I used baking olive oil to make these apple walnut cake bars but you can easily substitute that with vegetable oil. You can adjust the amount of walnuts to suit your preferences. I use ½ cup because it gives just enough crunch without overpowering the flavor.
And,as for the apples, go with your favorite. If you like your apple walnut cake bars to have more of a tart flavor, then definitely use granny smith apples. But I can assure you that, whatever apples you use, these cake bars are going to make you feel so happy!
Related Posts: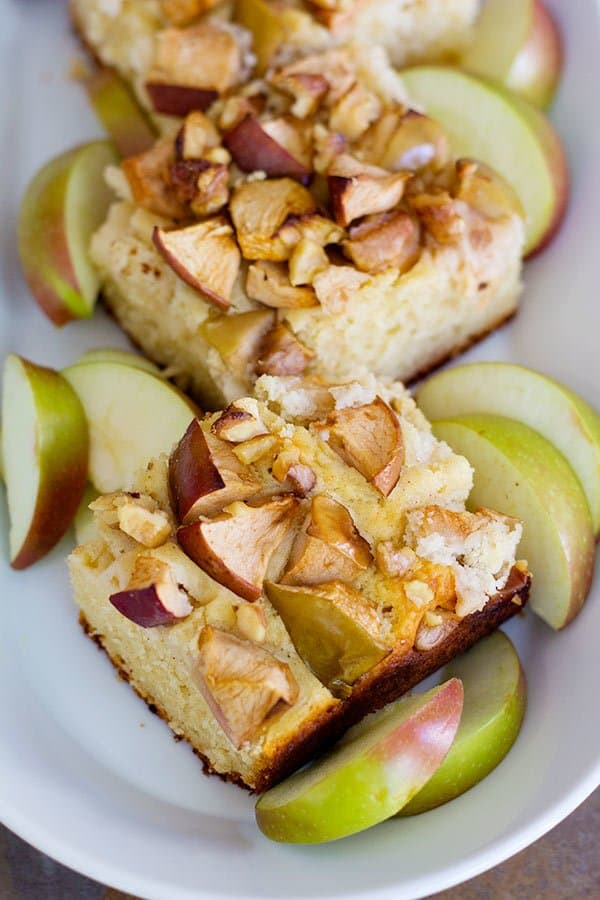 Step-by-Step Recipe
Apple Walnut Cake Bars
These Apple Walnut Cake Bars are great for paring with an afternoon tea. The fluffy texture and crunchy walnuts are perfect together!
Ingredients
2

eggs

1

teaspoon

vanilla

⅔

cup

sugar

½

cup

olive oil for baking

or canola/vegetable oil

⅔

cup

yogurt

1 ⅓

cup

all purpose flour

½

teaspoon

cinnamon

1 ½

teaspoon

baking powder

4

apples

chopped into small pieces

½

cup

chopped walnuts
Instructions
Preheat the oven 350 F / 180 C. Line a 9X9 baking pan with parchment paper.

in a large bowl, whisk eggs, vanilla and sugar until fluffy and light. Add in oil and yogurt, mix well.

Mix in flour, cinnamon and baking powder. Don't over mix.

Pour the batter into the baking pan and top it with apples and walnuts. Bake in the oven for 30 - 35 minutes until toothpick inserted into cake comes out with very little crumb.

Let cool completely and then cut into bars.
Nutrition
Did you make this recipe?
Let us know how it was by leaving a comment and a 5-star review!