Everyone needs a bowl of Comfort chicken soup on cold days. This soup is what I have whenever I have a cold or just need something light and warm!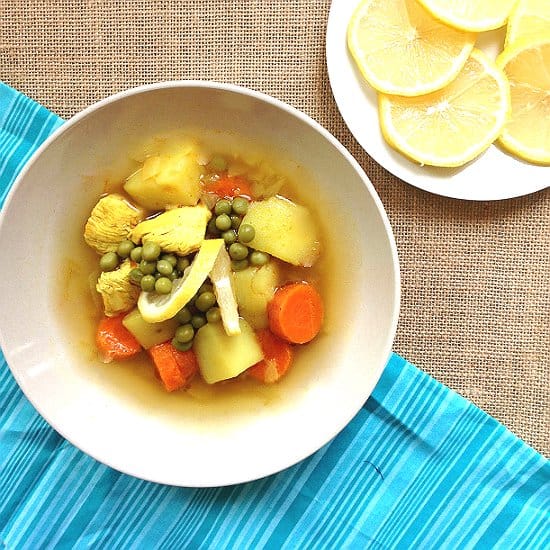 Every family has its own comfort chicken soup because every family member catches cold every fall or winter! In my case, this is our comfort chicken soup for sick days which is different from my maman's, but when your maman lives on the other side of the world, you have no choice except making your own comfort soup when the cold hits you.
Table Of Contents:
Cold weather brings me the message of "You are going to catch a cold quite soon". Every. Single. Year. I always catch a deadly cold in the first week of cold weather no matter where I am, Iran, Turkey or the U.S. This year it got worse because guess what? We are in Ithaca now! Which means it's just going to get colder and colder!
The first day we arrived, I knew something was off about my health and yes, the next morning this is what happened to me: pain in every inch of my body, headache, runny nose and teary eyes. OK, I got it. EMERGENCY.
As much as I love this creamy cheesy soup of mine, I knew I needed something healthy to get better. Lucky we went grocery shopping the night before.
First thing I did was to cut some chicken breast into chunks and put a pot over medium heat. As the olive oil was getting hot in the pot I diced some garlic and onion then sautéd them, added chicken and some carrots, potatoes, some spices and then a can of chicken broth. 10 minutes before I served the soup, I added frozen peas and that was it!
The only special thing about this soup is turmeric. This spice is magical and we use it in almost every meal we make in Iran. It gives beautiful color to the food and is really good for you. It also tastes wonderful, like a kick to make the food more exciting!
Here is the recipe to this super nutritious healthy comfort chicken soup. Take good care of yourself in this cold weather and stay healthy!
More Soup Recipes
Did you make this recipe? I'd love to hear about it! Please comment and leave a 5-star🌟 rating below. You can also follow us on Instagram, Facebook, Pinterest or subscribe to our newsletter to get a free e-Cookbook!
Step-by-Step Recipe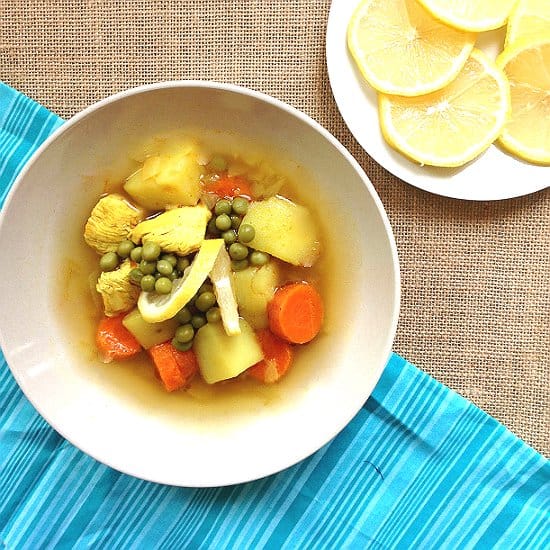 Comfort chicken Soup
This Comfort Chicken soup is perfect for chilly days!
Ingredients
1

tablespoon

olive oil

1

big onion

diced

2

cloves

of garlic

minced

1

chicken breast

cut into small pieces

½

teaspoon

salt

½

teaspoon

black pepper

½

teaspoon

turmeric

1

big carrot

sliced

1

big potato

cut into chunks

1

can chicken broth

½

cup

frozen green peas
Instructions
Heat olive oil in a pot over medium heat.

Sauté onion and garlic for 1 minute.

Add chicken breast and spices. Sauté for 3-5 minutes.

Add carrots and potatoes.

Add chicken broth. Stir well.

Cover the pot with a lid and let cook until chicken is fully cooked.

Add frozen peas and cook for additional 10 minutes.

Serve hot.
Nutrition
Did you make this recipe?
Let us know how it was by leaving a comment and a 5-star review!