Wonton Mini Lasagna Cups are what you need for a quick and delicious party appetizer. Fun to make and easy to eat!
As I told you before, some weeks ago it was my mother-in-law's birthday and I made this caramel cake, which really was the best ever. For dinner we had mushroom soup and these Wonton mini lasagna cups.
I wanted to make something delicious, easy, and not time consuming. Something that was fun to make but didn't require lots of work because I already had my caramel cake to take care of therefore I didn't want to make something that would stress me out. These Wonton cups are exactly what I wanted. They are crowd pleasers, easy to make and part of it can be made ahead.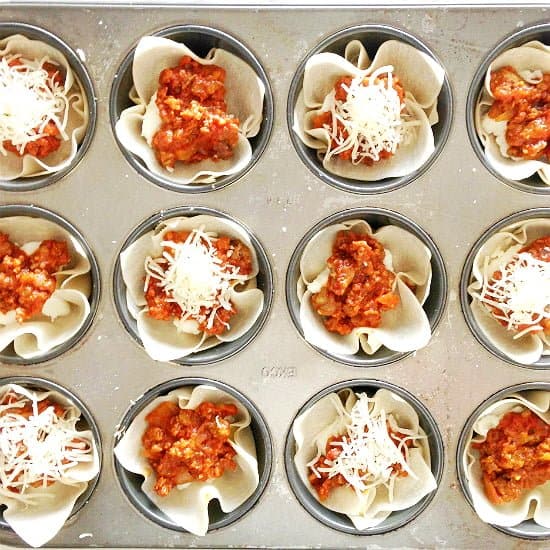 Though I was not really thinking about making something budge-friendly, but these turned out to be budget friendly too. Wonton wrappers can be found in Asian food aisle (the cold ones) next to egg rolls and close to tofu. They cost less than 3 dollars for a whole pack which has 48 wonton wrappers and that's what you need to make 24 lasagna cups.
For the filling, I used almost the same filling as the filling I used for these stuffed potato patties, but I changed it a bit to give it some lasagna kick. I also used ricotta cheese which I am getting obsessed with because it's so creamy and goes with savory and sweet food, plus it gives a creamy texture to the food.
What I like about these lasagna cups is that they get ready in 10 minutes. So if you manage to make the filling the day before, the whole thing will take almost 20 minutes from start to finish to bring a beautiful nutritious food to the table and isn't that what every busy family wants?
I have already mentioned the fact that we are fat and calorie conscious people in most occasions so here I have used a modest amount of none-fat ricotta and mozzarella and the least amount of oil possible, but if you like more cheese in your lasagna cups, please go for it because more cheese is always better and we all know that!
Ok, enough of me praising these tiny cups of happiness! Let's get the pans and muffin tins out!
Wonton Mini Lasagna cups
These yummy tiny lasagna cups of happiness are made of Wonton wrappers. So delicious you can't resist! Perfect for parties&football season.
Ingredients
Filling:
1

tbsp.

olive oil

1

onion

diced

2

garlic cloves

minced

½

lb

ground beef

1

raw sausage

½

can tomato sauce

1

teaspoon

salt

1

teaspoon

black pepper

1

teaspoon

dried thyme
Cups:
1

pack wonton wrappers

48 wrappers

1 ½

cup

non-fat ricotta cheese

1

cup

fat-free shredded mozzarella
Instructions
Filling:
Heat olive oil in a pan over medium heat.

Sauté onion and garlic until translucent.

Add ground beef and sausage and cook until browned.

Add tomato sauce, salt, pepper and dried thyme and cook for 2 minutes.
Mini Lasagna cups:
Preheat the oven to 375F/190C.

Line 2 12-cup muffin tins with 24 wonton wrappers.

Put 1 teaspoon ricotta cheese in each cup.

Top with 1 ½ tbsp. filling.

Add some shredded mozzarella.

Put another wonton wrappers on top of the filling + ricotta + filling + mozzarella.

Bake in the oven for 10 minutes until the cheese is melted and the edges are crispy.
Nutrition
Did you make this recipe?
Let us know how it was by leaving a comment and a 5-star review!