Strawberry cobbler is the ultimate summer dessert especially when served with ice cream. This cobbler recipe is easy to make and is perfect for dessert.
Summer is all about delicious fruit desserts for me and I always pull out all my strawberry recipes when I see delicious strawberries in the super market and usually end up making strawberry rhubarb crumble or strawberry swirl cheesecake bars. And today I want to share a simple strawberry cobbler recipe with you.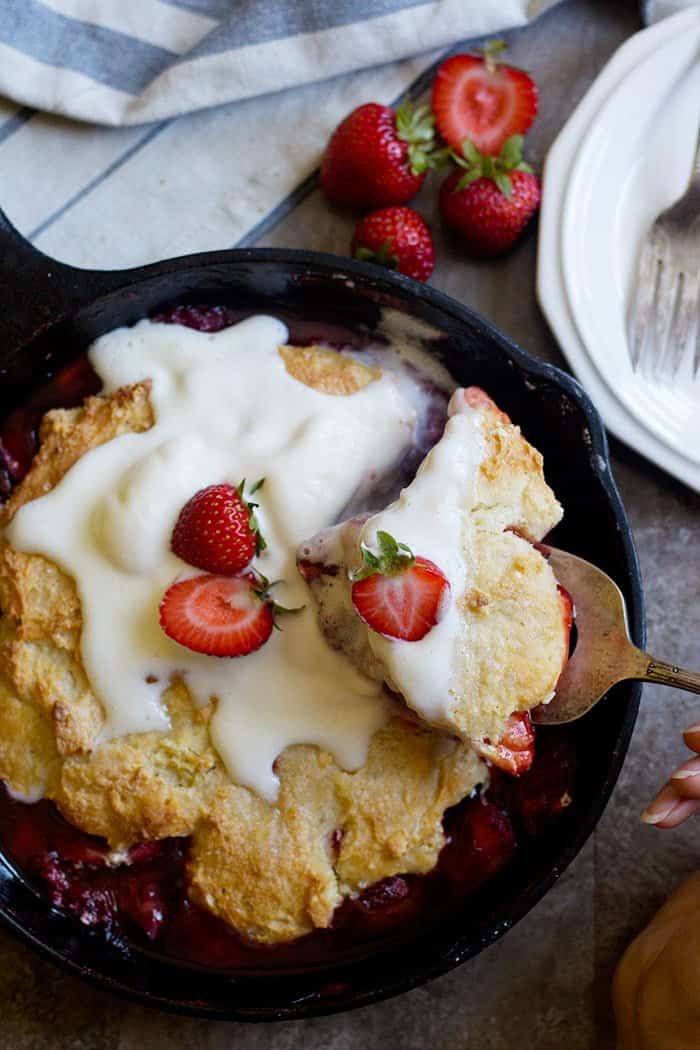 Juicy and delicious fruit covered with a cakey layer. It can't get any better!
What is a cobbler?
Cobbler is a dessert made of a mixture of fruit poured in a deep dish and topped with a batter such as biscuit or dumpling. It's usually served with ice cream and is perfect for summer time dessert.
Read about the differences between cobbler, crisp and crumble on Kitchn.
This is an old fashioned strawberry cobbler recipe which is a favorite of our family and I bet your family will love it too. This easy berry cobbler is made with just a handful of ingredients and you can put it together in no time.
Cobblers are perfect for summer as they are easy to make and you can use different summer fruits to make delicious cobbler recipes.
How to make strawberry cobbler
To make fresh strawberry cobbler, wash and dry the strawberries and then cut them either into halves or smaller pieces. Next, mix the strawberries with corn starch and sugar and pour it into a deep oven safe dish. Now make the batter to top the simple cobbler with. I like my batter to be on the thicker side so it has a cake-y texture.
Top the strawberries with the batter and bake in the oven until golden brown and strawberries are bubbling. Serve this easy strawberry cobbler with a big scoop pf vanilla ice cream.
Making cobblers is actually super easy and simple. Once you try this cobbler recipe you will want to make it over and over again because it will become everyone's favorite.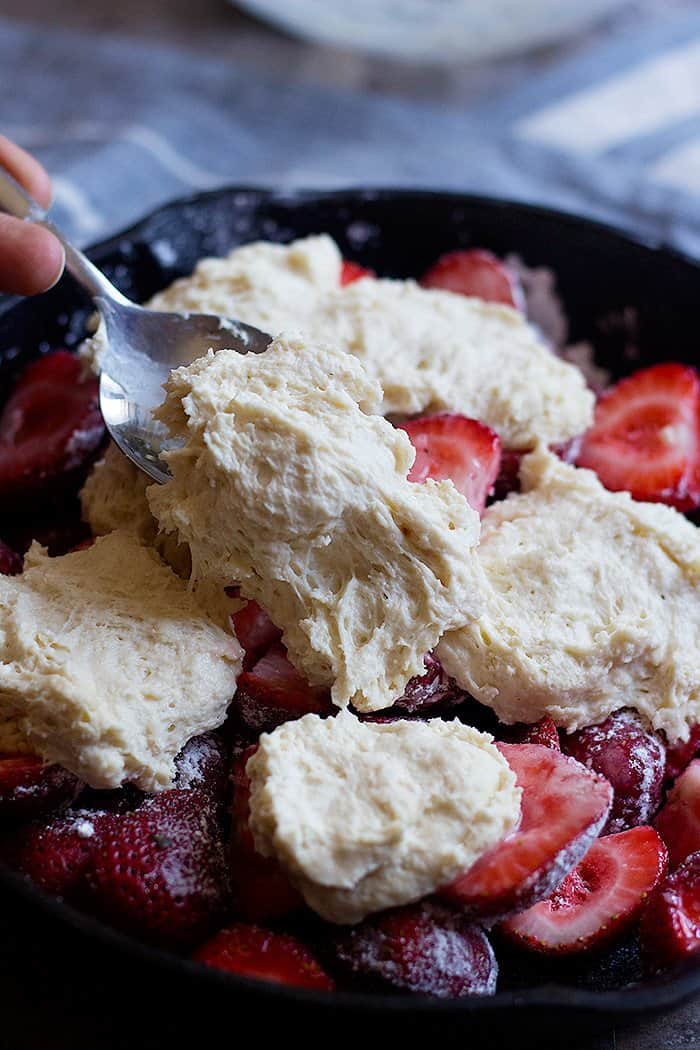 Strawberry cobbler with frozen strawberries
The steps to make frozen strawberry cobbler are all the same, just make sure the strawberries are thawed and that they don't have too much liquid. Proceed with the steps in the recipe card and you will have the perfect summer berry cobbler.
How to thicken the strawberry cobbler
I like a delicious homemade cobbler recipe that has a thickened filling. To thicken this cobbler, make sure the strawberries are not cut into small pieces. I usually just cut them into halves. And then mix the strawberries with two to three tablespoons of corn starch. Corn starch mixes with juicy strawberries and sugar makes the cobbler pretty thick and tasty.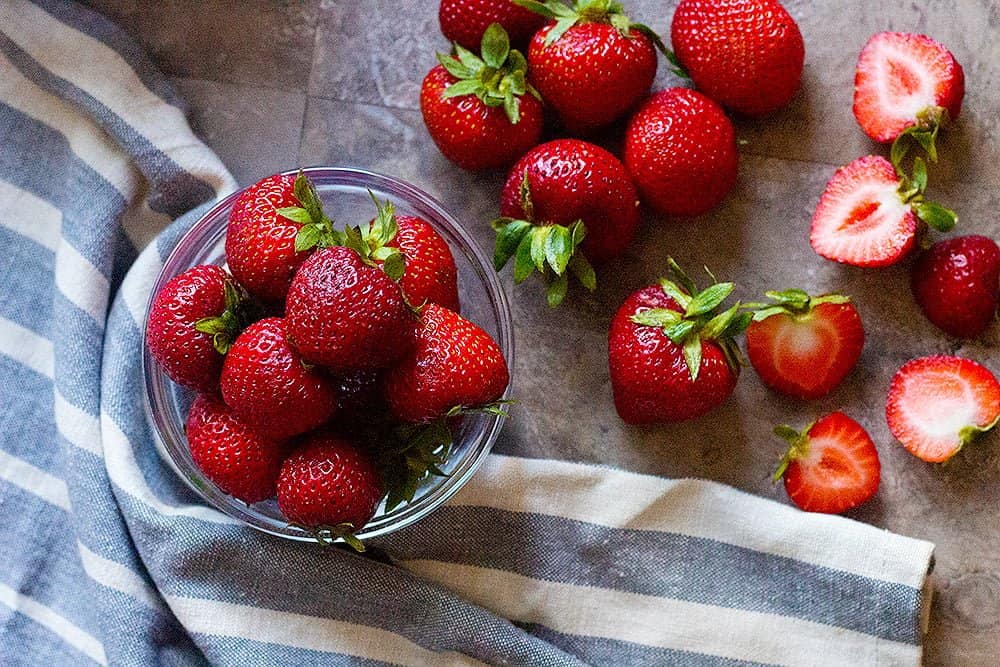 Want to jazz things up in this strawberry cobbler recipe?
There are a few ways for you to jazz up the ingredients in this old fashioned cobbler recipe:
Strawberry rhubarb cobbler: Add one cup rhubarb to the original strawberry cobbler recipe.
Strawberry blueberry cobbler: Use ½ lb strawberries and ½ lb blueberries. You can also use thawed frozen fruit.
Strawberry blackberry cobbler: Use ½ lb strawberries and ½ lb blackberries. Use an additional ½ tablespoon cornstarch.
It's best to eat the cobbler the same day you make it as it tastes fresh and the topping is cake-y and super tasty. When cobblers stay out for a while then they don't taste as fresh and flavorful as they do when they're fresh.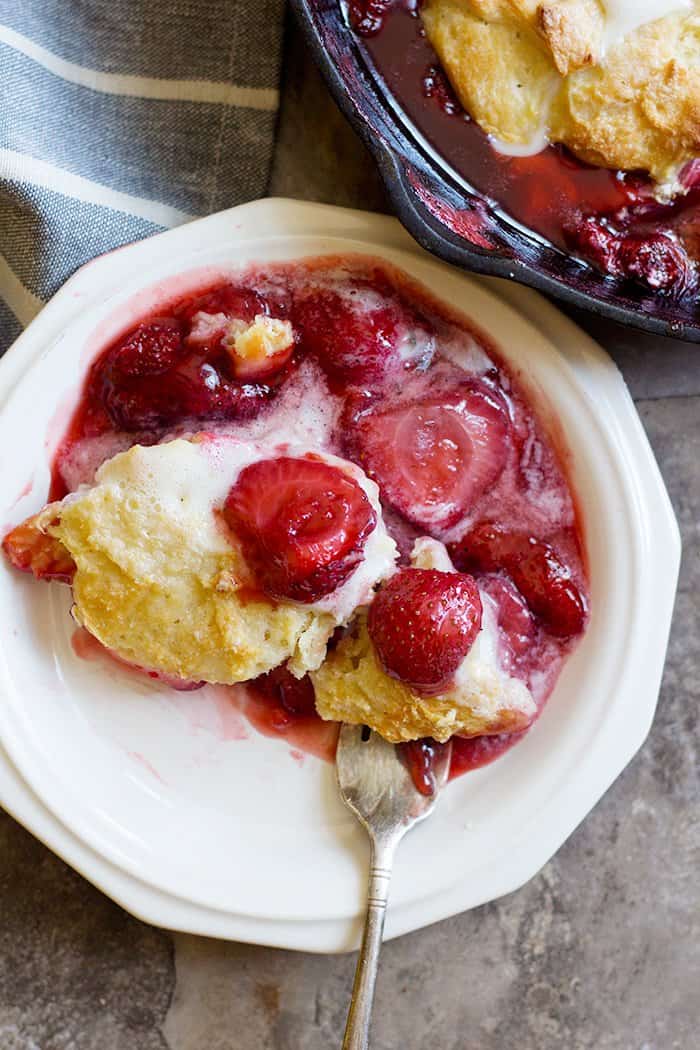 Step-by-Step Recipe
Best Strawberry Cobbler
Strawberry cobbler is the ultimate summer dessert especially when served with ice cream. This strawberry cobbler recipe is easy to make and is perfect for dessert.

Ingredients
1

lb

strawberries

½

cup

granulated sugar

1

tablespoon

corn starch

1

cup

all purpose flour

1

teaspoon

baking powder

½

tsp

salt

2

tablespoon

unsalted butter

¾

cup

plain Greek yogurt
Instructions
Preheat the oven to 375F.

Wash and dry the strawberries, hull them and cut them in halves. Place the halved strawberries in a bowl.

Add in sugar and corn starch, stir well until all strawberries are coated with sugar and corn starch. Pour the strawberry mixture into a 10 inch cast iron skillet.

In a bowl, whisk all purpose flour, baking powder and salt.

Add in the butter and mix well. Add in the Greek yogurt and mix until a very thick batter forms.

Spoon the batter on the strawberries and bake in the oven for 40 minutes until it's golden brown and the strawberries bubble.

Serve with vanilla ice cream.
Nutrition
Did you make this recipe?
Let us know how it was by leaving a comment and a 5-star review!