Rock your table with these easy Pecan and Brie Phyllo Cups and drizzle some honey on top to boost the flavor! All in 15 minutes and very little effort!
Easy appetizers are always a win especially if there's cheese involved. We love serving walnut pomegranate cheese ball and Persian appetizer platter at our parties. These phyllo cups made with brie and pecans are one of our popular and super delicious appetizer recipes.
Brie phyllo cups are a showstopper!
That combination of crunchy phyllo cups and creamy brie is very hard to beat, so I'm not joking when I say this is totally one of the best combinations that you can serve at your parties and leave everyone wondering how you made something so simple taste so good. No one needs to know that these little bites of joy require 4 ingredients and 5 minutes of preparation.
What are phyllo cups?
Have you ever seen these phyllo cups? They can be found in the frozen dessert aisle and are made of phyllo dough which also comes in form of sheets. They are crispy, very delicate and fun to work with. What I love the most about these phyllo cups is that they are so versatile and you can fill them with different ingredients.
One recipe that we made with these delicate cups was these cute and oh-my-god-so-delicious pecan and brie phyllo cups that came together in 15 minutes. How did they happen? Just knowing our favorite flavors and textures.
How to make phyllo brie cups
We love cheese in general. There is rarely a type of cheese out there that we don't like. And, I have recently learned to appreciate the combination of sweet and salty. So I placed a cube of brie in each phyllo cup, added a pecan half to give more crunch and taste, then baked it in the oven for 15 minutes. Voila! That's it! I also drizzled it with honey, which gave these brie phyllo cups a tremendous amount of flavor.
When you eat one of these brie phyllo cups, all you can think of is, "how is it possible that something this small tastes so delicious?" Because this is an explosion of flavor and texture. The sweetness of honey is the first thing you taste, then with the first chew comes the crispiness of pecan and the phyllo cup, smothered with ooey-gooey brie in the middle. Do I need to say more? Honestly, brie makes everything better!
What to put in phyllo cups
As I mentioned earlier, phyllo cups are so versatile because of their crunchy texture and neutral flavor. You can fill them with sweet or savory ingredients and the results will be great. Here are some of my favorite phyllo cups recipes:
Brie and honey
Brie and apricot jam
Blue cheese and honey
Feta and walnut
Just know that phyllo cups are quite delicate therefore you don't want to bake them for too long. Always read the packaging and follow the directions on the package for oven temperature and timing.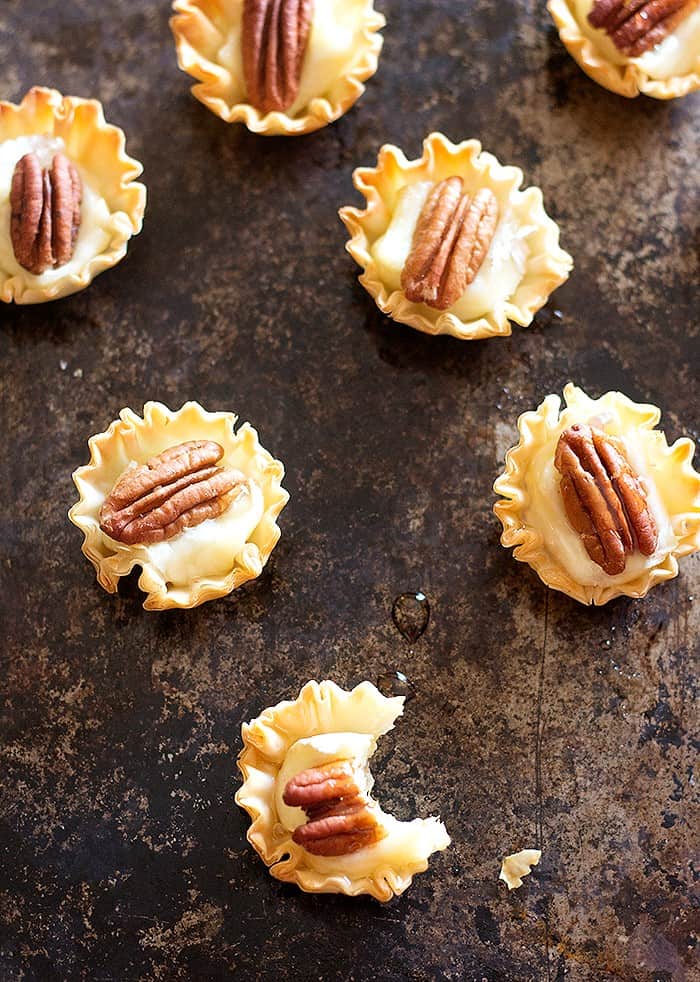 Step-by-Step Recipe
Pecan and Brie Phyllo Cups
Rock your table with these easy Pecan and Brie Phyllo Cups and drizzle some honey on top to boost the flavor! All in 15 minutes and very little effort!
Ingredients
1

pack phyllo cups

usually includes 15 cups

1

wedge Brie

cut into 15 cubes

15

pecan halves

3

tablespoon

honey
Instructions
Preheat the oven to 350 F / 180 C.

Fill the cups with brie cubes.

Top with pecan halves.

Bake in the oven for 15 minutes or until the edges of the cups are golden brown and crispy and the brie is soft.

Drizzle with honey and serve immediately.
Notes
Pecan and brie phyllo cups should be served hot.
If the honey you are using is not runny enough, heat it in the microwave for 10-20 seconds.
Nutrition
Calories:
74
kcal
Carbohydrates:
4
g
Protein:
3
g
Fat:
5
g
Saturated Fat:
3
g
Cholesterol:
15
mg
Sodium:
95
mg
Potassium:
29
mg
Fiber:
1
g
Sugar:
4
g
Vitamin A:
89
IU
Calcium:
29
mg
Iron:
1
mg
Did you make this recipe?
Let us know how it was by leaving a comment and a 5-star review!