Pomegranate Cheese Ball is the perfect appetizer for fall and winter parties. This delicious cheese ball is packed with nuts and herbs.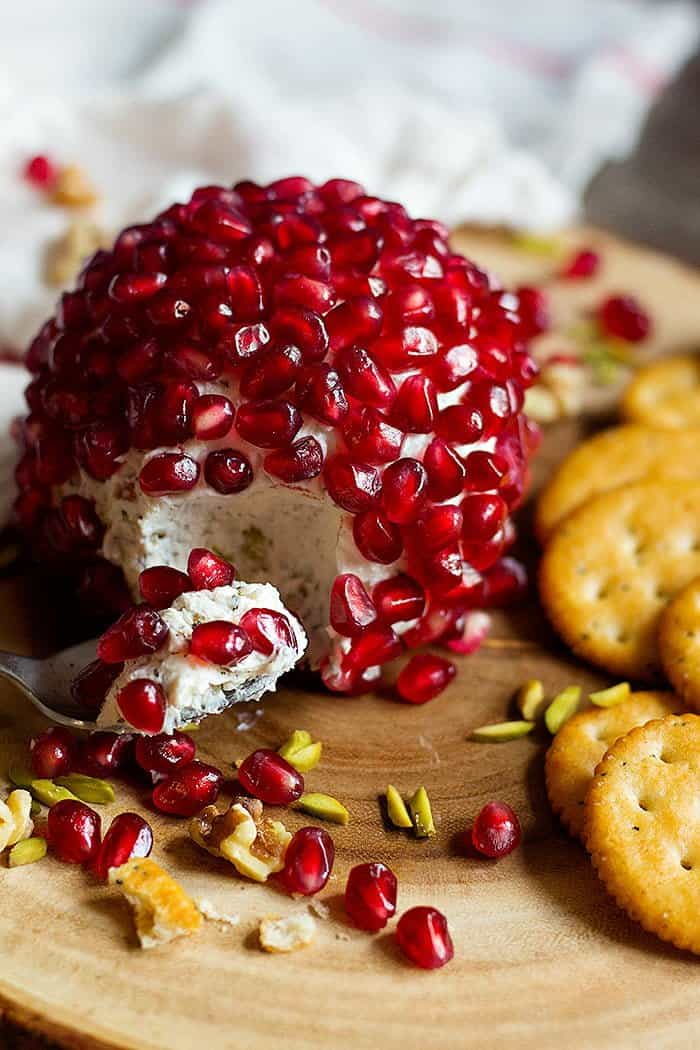 If you're looking for tasty Christmas appetizers, you're in the right place. This pomegranate cheese ball is perfect for any holiday party including Christmas and Persian Yalda (winter solstice). Just like my favorite pomegranate guacamole, this appetizer is perfect for gatherings and makes your dinner table much prettier!
If I was supposed to be a fruit, I'd definitely be a pomegranate. Why? Because I grew up waiting for the first day of fall to run to the store and get my first pomegranate. I grew up in a house with a pomegranate tree (I was that lucky), where every year I saw the flowers bloom and turn into beautiful juicy pomegranates. I even have pomegranate earrings. In fact, the pomegranate is really a fitting metaphor for my life: simple on the outside and full of wonders on the inside.
Pomegranate is commonly used in Persian recipes and it's one fruit that is a must for Yalda, the winter solstice, which is on December 21st. Yalda is a night we look forward to all year because everyone gathers together with pomegranates and other delicious food and nuts. Most people read poems and stay up late as it is the longest night of the year which means starting the day after, the days are going to be longer, and longer days are what we love to celebrate!
This pomegranate cheese ball is a delicious appetizer for Yalda or any other winter celebration. I even suggest this beauty for a holiday or Christmas party. It'll be a showstopper!
More delicious pomegranate recipes:
Most people are intimidated by pomegranates and difficulty of cutting them. It's not difficult to cut a pomegranate if you follow the easy instructions here.
How to cut a pomegranate:
To cut a pomegranate, you need a pairing knife. The pomegranate itself shows you how to cut it. First, cut the top part, just enough to see the first row of the arils - the shiny, ruby-like edible seeds of the pomegranate - right below the stem. There is a small round core in the middle: cut that piece out gently to form a small cone.
You can see the segment now. Using your pairing knife, cut gently on the skin (not into the fruit). Use the segments as your guidelines. Some pomegranates have five segments whereas some others might have seven.
Place your thumbs in the small cone on the top and break the segments apart. The segments should come apart easily and the arils will be whole and not messy at all. You can easily take the arils out using your fingers.
Also, you want to make sure you choose the right pomegranate for your recipes. Nothing is worse than opening up a pomegranate and see it's unripe.
How to pick a ripe pomegranate:
A ripe pomegranate has dark red color. If the pomegranate is pink or light red, it's not ripe yet. Also, check for the size. A ripe pomegranate is bigger than an orange. The bigger a pomegranate, the better.
And here is a the most important key to the perfect pomegranate: A perfectly ripe pomegranate has edges and is not round. Make sure to check this very carefully. If the pomegranate is round, put it back because it's not ripe and juicy enough.
Notes and tips to make pomegranate cheese ball:
This recipe uses walnuts and pistachios. You can use both, one or substitute one with another nut such as almonds.
Make sure you have the cream cheese at room temperature. Soft cream cheese is easier to mix with other ingredients.
Use the plastic wrap to shape the cheese mixture into a ball. Wrap it tightly on top and refrigerate for at least one hour.
Cut the pomegranate and take the arils out just before serving so the arils be shiny and fresh.
The recipe calls for dried mint, which is a Persian pantry staple. If dried mint is not available, use fresh mint, basil or dried tarragon.
What do you like to serve this pomegranate cheese ball with? I love serving it with crackers but I bet pita chips would be awesome too!
Step-by-Step Recipe
Walnut Pomegranate Cheese Ball
Pomegranate Cheese Ball is the perfect appetizer for fall and winter parties. This delicious cheese ball is packed with nuts and herbs.
Ingredients
8

oz

Cream Cheese

Room Temperature

2

oz

Crumbled Feta Cheese

¼

cup

Chopped Walnuts

¼

cup

Chopped Pistachios

1

tablespoon

Dried Mint

1

cup

Pomegranate Arils
Instructions
Place the softened cream cheese and feta cheese in a bowl. Mix well using a fork.

Add in chopped walnuts and pistachios. Stir well.

Transfer the mixture onto a large piece of plastic wrap. Lift the sides of the plastic wrap and form the cheese mixture into a ball.

Bring all the corners of the plastic wrap together and tie them together. Place the wrapped cheese ball in the fridge and chill for at least one hour.

Place the pomegranate arils in a plate and roll the chilled cheese ball in the arils and use your hands to press the arils onto the surface of the cheese ball until the cheese ball is fully coated with pomegranate arils.
Notes
You can make the cheese ball one or two days before serving and roll it in the pomegranate arils on the day you're going to serve it.
Add up to ½ cup more walnuts if your like your cheese ball to be nuttier.
If you cannot find dried mint, use ¼ cup chopped fresh mint.
You can store this pomegranate cheese ball in an airtight container in the fridge for up to 4 days.
Nutrition
Did you make this recipe?
Let us know how it was by leaving a comment and a 5-star review!