Bring a new twist to your Thanksgiving table by making this delicious no-brine Persian style roasted turkey recipe. It's juicy, tasty and filled with aromatic spices that will take your Thanksgiving dinner to a whole new world!
If you're looking for delicious and tasty Thanksgiving recipes, you're in the right place! From homemade stuffing to cheesy scalloped potatoes and an easy turkey gravy recipe, you'll find everything you need to have a great Thanksgiving. And this Persian spiced turkey is going to be a showstopper!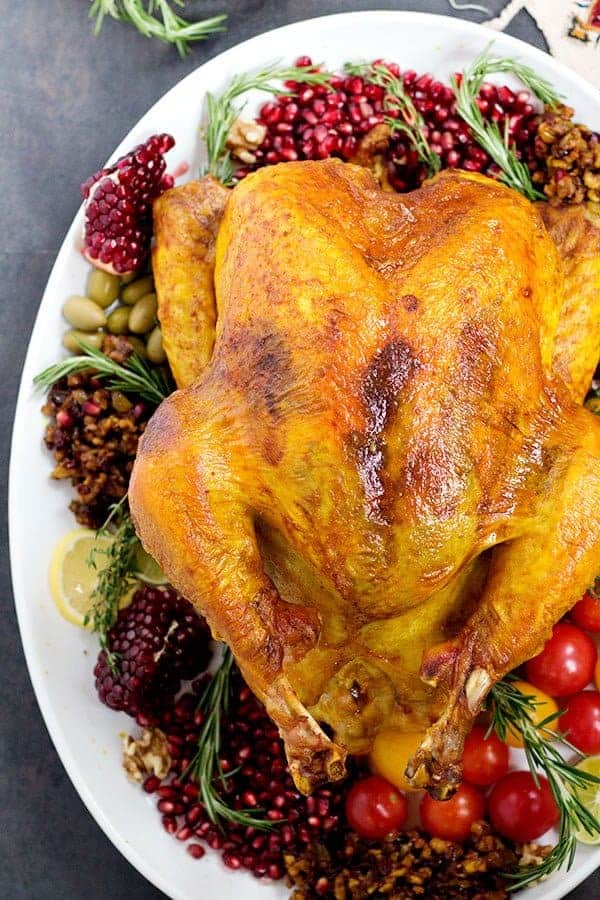 Jump to: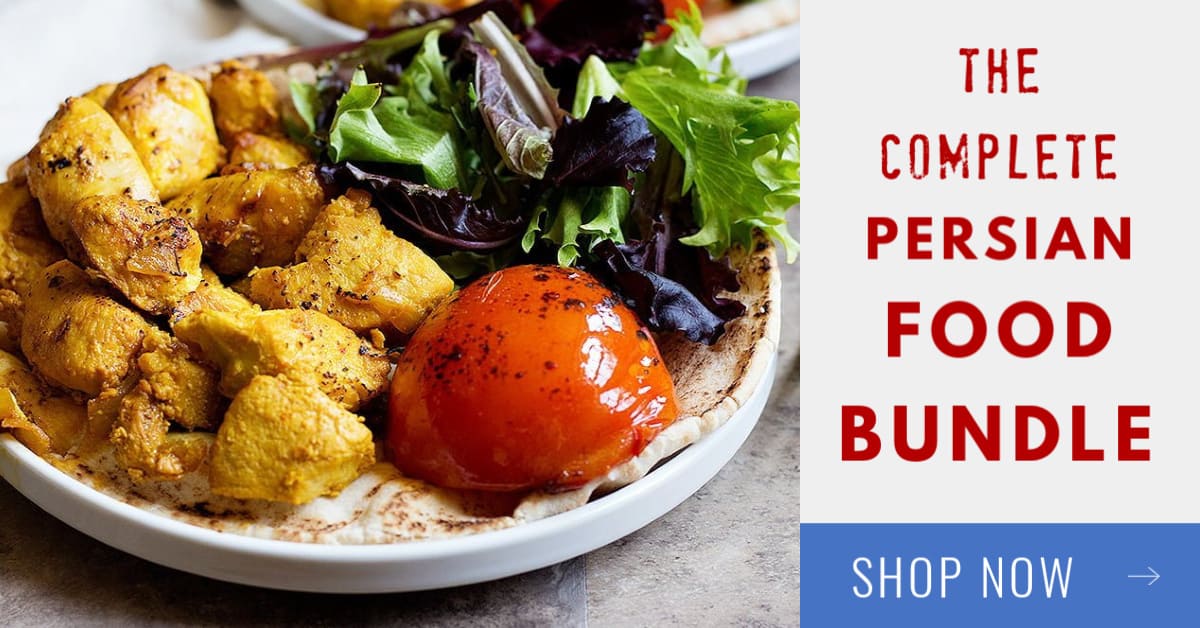 Why this recipe works
I'm so excited to share this with you, for a few reasons:
It's really, really delicious. The leftovers are even better.
It's different from a traditional brined turkey. This Middle Eastern turkey recipe is one of a kind and it's bursting with amazing flavors such as saffron and turmeric. These spices give the turkey a wonderful flavor.
This turkey is so easy to make. I mean, if I can make it, I bet you can make it! It's a good recipe for those of us who are making a Thanksgiving turkey for the first time.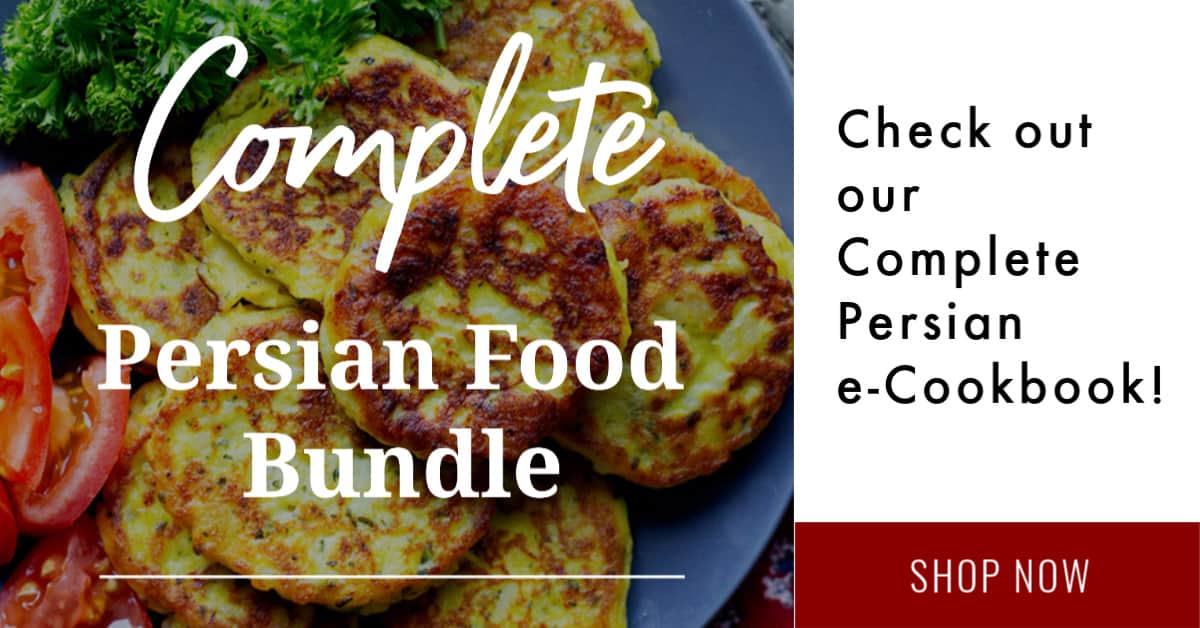 How big of a turkey do I need for Thanksgiving?
This depends on a few factors. If you are planning to not have leftovers, then aim for one pound per serving, so if you are making turkey for 10 people, a 10 pound turkey would work perfectly.
If you're planning to have leftovers, plan to have 1.5 pound turkey per person. For this recipe, I used an eleven-pound turkey and it is totally enough for a 6-8 people for Thanksgiving.
When should I buy the turkey?
It depends whether you're planning to buy fresh or frozen. If buying fresh turkey, then you can purchase it up to 2 days prior to cooking. Make sure to call your local supermarket and have them keep one for you just to be sure.
However, if you're buying frozen turkey, then you can buy it any time between 6 months to 4 days before cooking day.
How long does it take to thaw frozen turkey?
I always thaw turkey in the fridge and it takes 24 hours for every 4-5 pounds. So for an eleven pound turkey you would probably need about three days to thaw completely and be ready to cook.
Read more about turkey and how to keep it on Washington Post.
What spices to use
To make a turkey that's packed with delicious flavors, I made a seasoning blend with spices that go well together and keep the turkey very tasty such as:
Chili Powder
Cinnamon
Cumin
Turmeric
Paprika
Saffron
These warm spices compliment the flavor of turkey and also pair well with the side dishes that are served on Thanksgiving. You can also use Persian spice mix called Advieh for this spiced turkey recipe.
Instructions
First of all, make sure that the inside of turkey is completely clean.
Make the compound butter by mixing butter, chili pepper, cumin and cinnamon.
Pat dry the skin completely. This will result in a nice crispy skin.
Rub the compound butter under the skin all over the turkey, especially the breast. This will keep the meat nice and juicy.
Next stuff the turkey with chopped carrots, onions, bell pepper, garlic and celery and sew the opening completely.
Place the turkey in the roasting pan on a roasting rack.
Add the rest of the vegetables in the pan around turkey. These vegetables add a lot of flavor to the juice of the turkey which you can use later to make some delicious gravy.
Then make a mixture using olive oil, turmeric, bloomed saffron (I personally like Mehr Saffron the best in the US. The flavor, aroma and color is just on point and how I like saffron to be) and paprika.
Brush the turkey with this mixture which will give the turkey a natural beautiful golden color.
Roast at 350ºF until it's completely cooked and ready.
How long should I roast the turkey?
I cooked this delicious Persian style turkey for about 3 ½ hours. Cook it uncovered for the first hour. Then cover it with an aluminum foil for the rest of the cooking process. This is to keep the turkey from browning too much and also to keep it moist.
To keep the turkey moist during roasting process, brush it with spiced olive oil every 1 ½ hours and baste it with pan juices every hour. Basting the turkey will keep it very moist and juicy through the cooking.
How do I know when the turkey is done?
The turkey is done and ready to serve once the thermometer inserted between the thighs and legs registers at 165ºF.
Once the turkey is completely cooked, take it out of the oven, cover it loosely with foil and let it rest for 30 minutes before carving. This will help the juice to stay inside the turkey.
Persian caramelized walnuts to accompany spiced turkey
I made Persian caramelized walnuts (photo below, top right next to pomegranates). It's a combination of onions, walnuts, barberries, turmeric, pomegranate molasses, salt and pomegranate arils. This makes a delicious side for the turkey. I also had pomegranates, because they just make everything better and the flavor combination is beyond great. The rest is basically any herbs and vegetables you have at hand. I used cute colorful tomatoes, olives, thyme and rosemary.
How do I keep my turkey moist?
There are so many ways to keep a turkey moist such as making two small turkeys instead of one large or buying fresh turkey instead of frozen. What I always do to keep turkey moist and it has always worked is to make compound butter and generously rub it under and on the skin. For this Persian spiced turkey recipe I also made a spice paste with olive oil which also gave great color to the turkey as well has great flavor and kept it juicy.
Serving suggestions
You can serve this roasted turkey with usual thanksgiving side dishes such as apple cranberry sauce, garlic butter mashed potatoes or oven roasted brussel sprouts. This Persian style roasted turkey is a showstopper at any Thanksgiving party and gathering.
A small tip: If you're cooking for a small party, you might want to try our herb roasted turkey breast recipe. It's perfect for a small Thanksgiving gathering.
Notes and tips
Give yourself ample time to prepare the turkey. It takes about 4 hours for a 12-pound turkey to cook and rest and about 40-60 minutes to prepare it. So make sure you start on time.
Dry the inside and outside of the turkey very well before you start. This will give you crispy skin and tasty juice.
Don't stuff this spiced turkey with stuffing. Vegetables work best for this particular recipe. You can make the stuffing/dressing separately and serve it with the turkey.
Store the leftovers in an airtight container and refrigerate for up to 4 days.
I know Thanksgiving is all about traditions, and my tradition is to make something new each year! You'll love this spiced Persian turkey, I promise!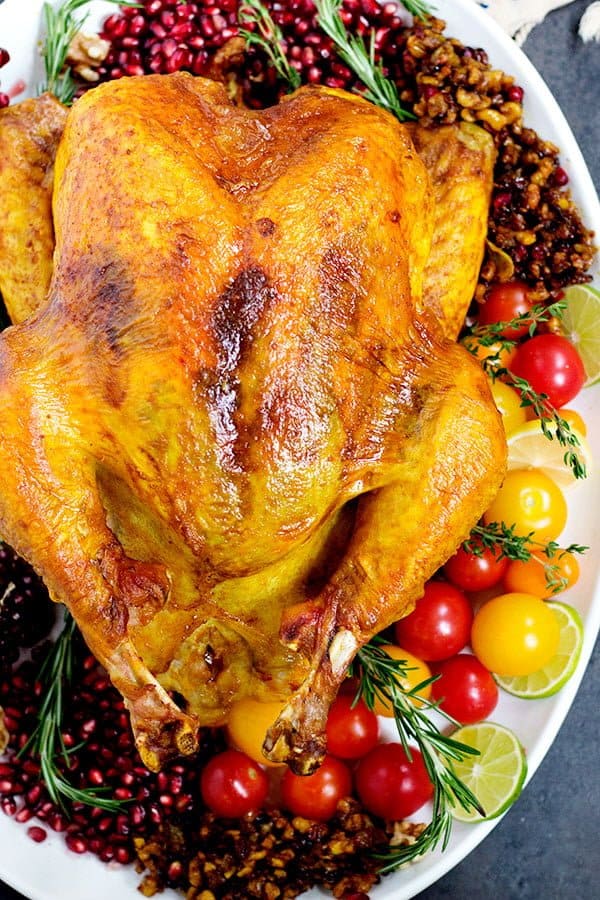 Step-by-Step Recipe
Aromatic Spiced Turkey
Bring a new twist to your Thanksgiving table by making this delicious no-brine Spiced Persian Turkey. It's juicy, tasty and filled with aromatic spices that will take your Thanksgiving dinner to a whole new world!
Ingredients
1

turkey

Mine was 11 pounds, thawed, cleaned and pat dried completely
Compound Butter:
1

stick butter

room temperature

1

teaspoon

chili powder

1

teaspoon

cumin

½

teaspoon

cinnamon
Filling:
3

large carrots

chopped

2

cups

chopped celery

2

tomatoes

chopped

3

lemons

cut into quarters

3

onions

cut into quarters

10

cloves

garlic

peeled
Olive oil Persian Spice Mixture:
Persian Caramelized Walnuts:
1

tablespoon

olive oil

1

onion

chopped

1

cup

walnuts

chopped

½

cup

barberries

substitute with chopped dried cranberries if barberries are not available

½

teaspoon

turmeric

½

teaspoon

salt

3

tablespoon

pomegranate molasses

½

cup

pomegranate arils
Instructions
Preheat the oven to 350F. Prepare your roasting pan.
Compound Butter:
Mix all the ingredients in a small bowl, using your hands, create space between the meat and the skin on the turkey and rub the compound butter everywhere under the skin and on the meat, especially the breast.
Filling:
Mix all the ingredients, stuff the turkey and sew it completely. Spread the rest on the filling vegetable at the bottom of the roasting pan.
Olive oil Persian Spice Mixture:
Mix all the ingredients in a bowl, brush it all over the turkey completely. Place the turkey in the roasting pan and roast in the oven for one hour. Then cover it with aluminum foil and roast for another 2 ½ hours. After 30 minutes brush it with olive oil mixture again and also baste every hour. 30 minutes before it's done, brush with olive oil one more time.

Insert a thermometer between the thigh and the leg, it should reach 165F and then the turkey is done.

Cover with aluminum foil for 30 minutes and then carve.
Persian Caramelized Walnuts:
Heat olive oil in a pan, saute onion until translucent. Add in walnuts and stir for a minute. Add in the barberris, turmeric, salt and pomegranate molasses and cook for two minutes. Turn the heat off and add pomegranate arils.

Serve the turkey with Persian Caramelized Walnuts.
Nutrition
Calories:
465
kcal
Carbohydrates:
16
g
Protein:
40
g
Fat:
27
g
Saturated Fat:
5
g
Cholesterol:
124
mg
Sodium:
277
mg
Potassium:
571
mg
Fiber:
2
g
Sugar:
5
g
Vitamin A:
428
IU
Vitamin C:
17
mg
Calcium:
47
mg
Iron:
2
mg
Did you make this recipe?
Let us know how it was by leaving a comment and a 5-star review!