Thanksgiving is right around the corner and it's time to decide what we're going to make for the big day! This is the biggest feast of the year and I'm here to share my best Thanksgiving recipes with you. So let the feast begin!
The best Thanksgiving recipes for you!
I have a full Thanksgiving menu here and ready for you. All you need to do is to go through the ingredients and make a shopping list. I have a few turkey options and some side dishes you can either make just a few or all of these Thanksgiving recipes! They're all easy and delicious!
Turkey for Thanksgiving
Turkey is the most important item on the table on T-day and it's important to have a delicious recipe that everyone loves. Here are out three suggestions:
Persian Spiced Turkey: A delicious and unique roasted turkey flavored with compound butter and a combination of aromatic spices such as saffron, turmeric and paprika. This one is a showstopper!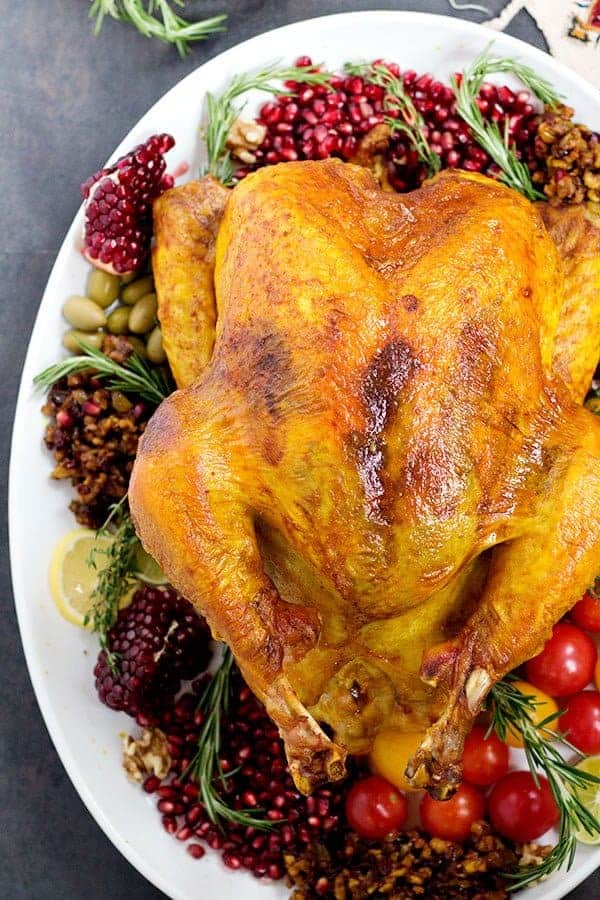 Slow Cooker Turkey Breast Recipe: This one is great if you're cooking for two or three people. You can simply put the turkey in the slow cooker and forget about it!
Herb Roasted Turkey Breast: Don't want to cook a full turkey? Simply make this roasted turkey breast in a short time and enjoy Thanksgiving!
Potato Side Dishes for Thanksgiving
Sweet Potato Casserole with Marshmallows and Pecans: Creamy and velvety sweet potato casserole topped with brown sugar and pecan is one of my favorites, especially with some melted marshmallows in every bite!
Garlic Mashed Potatoes: If you love garlic, this mashed potato recipe will be your favorite Thanksgiving side dish. It's full of roasted garlic and topped with some pesto!
Cheesy Scalloped Potatoes: A perfect side dish for any occasion, these cheesy scalloped potatoes are going to be a showstopper! These homemade scalloped potatoes are simple and packed with great flavors!
Gimme the stuffing!
Easy Homemade Stuffing: Packed with delicious flavors such as rosemary and thyme, this homemade stuffing is our absolute favorite, especially with some melted Gruyere!
Apple Sausage Stuffing: This flavorful stuffing is perfect because it's super simple, easy and oh so delicious! Sausage makes this stuffing absolutely tasty. You can use chicken or turkey sausage for this recipe.
Gravy and Cranberry Sauce
Turkey Gravy Recipe: Ever had that feeling that maybe there aren't enough drippings for gravy? Well, worry not because I'm going to show you how to make turkey gravy with and without drippings! Thick and delicious gravy with tons of flavor is the best compliment to mashed potatoes and turkey.
Homemade Cranberry Sauce: Forget the canned stuff! This cranberry sauce is made with fresh cranberries and apples. It's the perfect side dish, bursting with flavor!
Bread recipes for Thanksgiving
Rosemary Cheddar Cornbread: We always have cornbread on Thanksgiving. My recipe with rosemary and cheddar takes the every day cornbread on an adventure of flavors!
Sage Parmesan Garlic Buns: These are the best rolls ever! The combination of garlic and sage with extra Parmesan is so good, especially when dipped in a little gravy!
Rosemary Garlic Monkey Bread: This monkey bread is a classic. It's so good!
Easy Garlic Cheese Pull Apart Bread: So easy, you can ask your kids to make it. You can either use homemade dough or refrigerated biscuit dough to make this delicious bread.
Desserts for Thanksgiving
Apple Cranberry Almond Crisp: A light and easy dessert that you can even make ahead and simply reheat.
Pumpkin Bread Pudding: The perfect ending to the most festive dinner of the year!
Ultimate Pecan Pie Cake: Not a pie person but want the festivities? This pecan pie cake is the best dessert you'll have this year!
Apple Pie Monkey Bread: Imagine fluffy bites dusted with cinnamon sugar and stuffed with apple pie filling. Sounds dreamy, right? But it's so simple and easy to make!
Thanksgiving Drink Recipes
Mulled Cranberry Apple Cider: Warm cranberry apple cider with fresh fruit is the perfect drink for this festive day!
Mint Ginger Mocktail: A simple yet tasty drink that's very refreshing - everyone loves it. Mint and ginger go so well together and this mocktail can make a nice welcoming drink for your guests!
So, what's going to be on your menu? Let me know in the comments!
Happy Thanksgiving from our kitchen to yours!