Don't have enough drippings to make gravy for everyone? This easy turkey gravy without drippings will make enough gravy for a crowd! It's easy, delicious and comes together in just minutes. You don't need to wait for the Turkey to be done to make a tasty turkey gravy.
If you're looking for mouthwatering Thanksgiving recipes, you're in the right place. Some of our popular recipes are Persian spiced turkey and homemade stuffing with mushrooms. But no Thanksgiving dinner is complete without a load of homemade turkey gravy!
An easy yet delicious turkey gravy recipe
There's never enough gravy. We all love the turkey gravy we make from drippings but it is never enough for a big party. And if you're deep frying the turkey for Thanksgiving, there is literally no dripping to make gravy with. So, people turn to store bought gravy or gravy mixes. They might be good for emergency gravy situation, but I'm here to show you how to make turkey gravy without a turkey. If you spend a few minutes and make this turkey gravy without drippings, you're not going to be stressed about having enough gravy on Thanksgiving day. The best part? You can make this turkey gravy ahead of time.
What do I need for this homemade turkey gravy recipe
This gravy is made with very basic ingredients. You need the following ingredients to make a delicious turkey gravy:
Butter
Flour
Onion and garlic powder
Thyme
Salt
Turkey broth
I used store bought organic turkey broth but if I have the time, I'm sure homemade turkey broth would work perfectly, too. You can find turkey broth in almost any supermarket these days. This easy brown gravy for mashed potatoes will be one of your go-to Thanksgiving recipes. And you won't pick up another jarred gravy at the store, because you can make the best turkey gravy at home.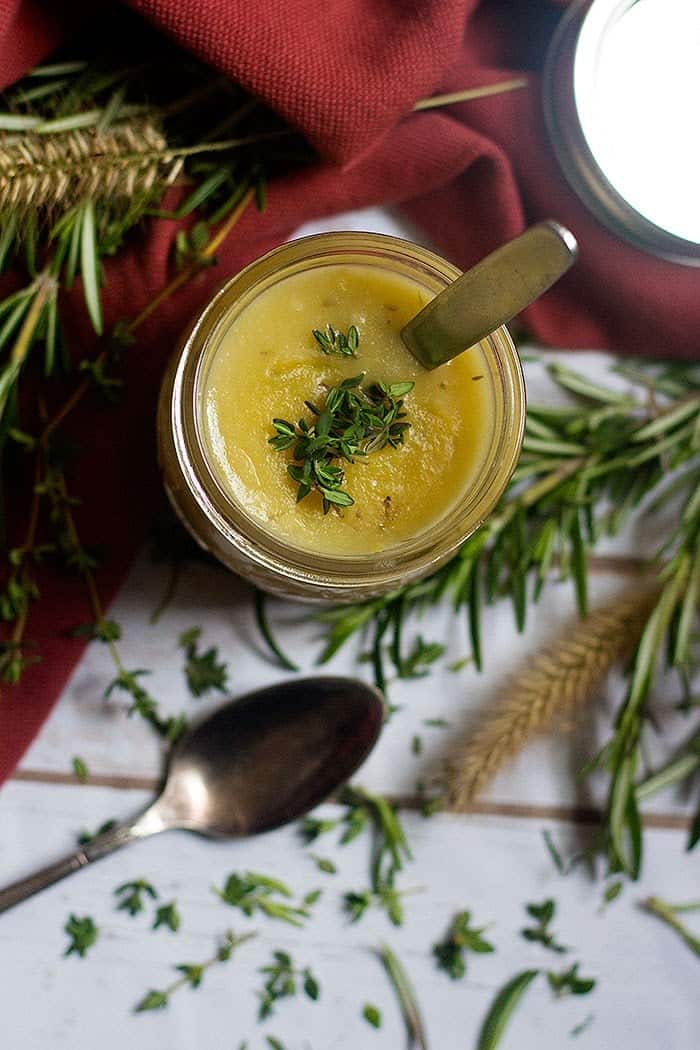 How to make basic gravy without drippings
Using a large sauce pan, melt the butter over medium heat.
Once the butter is melted, add the flour, garlic and onion and stir well using a whisk.
Stir in thyme and add ¼ cup turkey stock to the sauce pan.
Stir well so it forms a paste and then slowly add the rest of the stock to the base.
Using a wooden spoon or a spatula, stir the gravy constantly until it thickens and comes to the consistency that you're looking for.
Add in salt and pepper if needed.
Can I add turkey drippings to this easy gravy recipe?
You sure can. All you need to do is to reduce the amount of turkey stock and use the drippings instead. So, if you have one cup of turkey drippings, use five cups turkey stock and one cup turkey drippings. Gravy made with drippings is so tasty!
What to serve turkey gravy with?
Gravy is a popular American recipe that is mostly served at Thanksgiving. You can pour gravy on any of these dishes:
This easy homemade turkey gravy gives so much flavor to other Thanksgiving dishes, everyone will come back for seconds!
Can I make turkey gravy ahead of time?
You can make this gravy recipe without drippings a couple of days in advance and simply heat it when you're ready to serve. I've found heating homemade turkey gravy in a small sauce pan over medium heat to work best.
Freezing gravy
Gravy freezes very well and can be made weeks ahead of time as well. Once the turkey gravy is ready, let it cool completely and then transfer it to a freezer safe container. Freeze for up to 6 weeks. You can serve turkey gravy by letting it thaw in the fridge overnight and then reheat it in a sauce pan over medium heat.
Notes and tips for this turkey gravy recipe without drippings:
This homemade turkey gravy recipe yields about 5 cups of gravy. You can easily cut the recipe in half if you're serving a smaller party.
You can make this gravy up to 4 days ahead of time and store it in an airtight container in the fridge until you're ready to reheat it.
To reheat, I suggest using stove top. If you're using the microwave, make sure to stir it every 20 seconds so the gravy heats evenly.
Cook the flour for longer if you like the gravy to be darker. Make sure not to burn the flour. The more flour is cooked, the nuttier it will smell and taste.
Add the stock slowly to the flour mixture to avoid lumps. Add a little bit of stock fist and whisk to form a paste, and then add the stock slowly and stir constantly.
Looking for more Thanksgiving recipes?
Turkey Gravy Recipe without Drippings
Don't have enough drippings to make gravy for everyone? This Turkey Gravy Recipe Without Drippings will make enough gravy for a crowd!
Ingredients
10

tablespoon

Unsalted Butter

1 ¼ stick

6

tablespoon

All Purpose Flour

2

tablespoon

Onion Powder

1

tablespoon

Garlic Powder

1

tablespoon

Dried Thyme

or 2 tablespoon fresh chopped thyme

1

teaspoon

Salt

6

cups

Turkey Broth

or chicken broth
Instructions
Place a pot on the stove and turn the heat on to medium.

Add the butter to the pot, stir until almost melted. Turn the heat to medium low.

Add flour and whisk well for about 5 minutes until it starts smelling nutty and changing colors.

Add in onion powder, garlic powder, thyme and salt. Stir well.

Add ¼ cup of broth slowly to the mixture, stir well until it forms a paste. Then add the rest of the broth very slowly and stir constantly to avoid lumps.

Once all the broth is mixed, turn the heat to medium and stir until the gravy starts simmering and has thickened to your liking, about 10 minutes.

Serve warm with mashed potatoes.
Notes
You can make this no-drippings gravy 4 days ahead of time and store it in a jar or an airtight container.
Keep watching the flour while cooking it with butter to avoid burning.
If you like the gravy to be darker, you can brown the butter, cook the flour longer or use beef stock.
Nutrition
Calories:
134
kcal
Carbohydrates:
6
g
Protein:
2
g
Fat:
12
g
Saturated Fat:
7
g
Cholesterol:
31
mg
Sodium:
752
mg
Potassium:
143
mg
Fiber:
1
g
Sugar:
1
g
Vitamin A:
365
IU
Vitamin C:
10
mg
Calcium:
22
mg
Iron:
1
mg
Did you make this recipe?
Let us know how it was by leaving a comment and a 5-star review!