These are the best pumpkin donuts you'll ever taste! Baked Pumpkin Donuts are so simple and can be made in less than an hour using basic ingredients that are already in your pantry.
We are already super excited about fall and can't wait to make some of our favorite pumpkin recipes such as pumpkin pie brownies , Pumpkin Pull Apart Bread and pumpkin cheesecake bars. These would make perfect fall desserts and you can serve them with a warm cup of tea or coffee.
A delicious way to use pumpkin
There's so much you can make with pumpkin in fall and one of them is this healthy pumpkin donut recipe which is perfect for an afternoon with a cup of tea or coffee. Donuts baked in a donut pan are super easy to make and my family loves them!
Fall is all about pumpkins, apples and baking. Have you gone pumpkin picking yet? Speaking of pumpkins, how do you like baked pumpkin goods? I'm a big fan and I go beyond pumpkin pie. After all, pumpkin season is short so I try to make as many pumpkin treats as possible, hopefully we'll get to make my favorite pumpkin bread pudding and pumpkin pancakes again, but first let's talk more about these tasty and healthy baked donuts.
Baked or fried pumpkin donuts?
Like my pumpkin banana bread, these baked pumpkin donuts are quite healthy recipe. They have a cake-y texture that fried pumpkin donuts don't have. They're airy and fluffy and stay that way for at least 4-5 days, though they disappear faster than that.
This healthy donut recipe uses very little oil compared to the fried version and there is also less mess involved thanks to baking. These pumpkin donuts scream fall in every bite and they're lightly sweetened so they're perfect for a midday or afternoon snack.
Why this recipe works
There is only ¼ cup of oil in the whole recipe.
They're baked which means there's no mess with frying.
These donuts super fluffy thanks to buttermilk. I always make buttermilk at home by mixing 1 cup milk with 2 tablespoons white vinegar and set it aside for 10 minutes. This amount equals one cup of buttermilk.
Ingredients
You need the following ingredients to make pumpkin donuts:
Vegetable oil
Eggs
Buttermilk
Granulated sugar
Brown sugar
Pumpkin puree
Pumpkin pie spice
All purpose flour, baking powder and baking soda
You can use store-bought or homemade buttermilk for this recipe. To make homemade buttermilk, mix 1 cup of milk with two tablespoons of lemon juice or white vinegar. Let it sit for 10 minutes and use it in the recipe. I prefer using canned pumpkin puree for this baked pumpkin donuts recipe because it has less moisture compared to homemade pumpkin puree.
Instructions
Mix vegetable oil and sugar well then add the buttermilk and continue by adding the eggs one by one. Add in pumpkin puree and mix well.
Then add all the dry ingredients and mix using a whisk or a wooden spoon. Once the batter is ready, fill donut molds and bake in the oven for about 15 minutes. This is an easy donut recipe that you will want to make over and over!
The batter of these healthy baked doughnuts is quite forgiving. You can use either canned pumpkin or pumpkin puree. Don't forget to use pumpkin pie spice but if you don't have it, a combination of cinnamon, nutmeg, ginger and all spice would work, too. Or, you can make your own homemade pumpkin pie spice. Check out this pumpkin pie spice mix by Epicurious.
Storing instructions
Place cooled pumpkin donuts in an airtight container and refrigerate for up to 4 days. You can reheat them for a few minutes in the oven if you like them warm.
Notes and tips
Use a doughnut pan and pour the batter in a piping/pastry bag, and then fill the doughnut pan. You can also scoop the batter with a spoon and fill the pan if a pastry bag isn't available.
Before filling the pan, make sure you have coated it with non stick spray every time.
You can dust these baked donuts with powdered sugar or top them with this delicious maple glaze.
Let the donuts cool in the pan for about 5 minutes before transferring them to a cooling rack.
If you have extra pumpkin puree left, make this pumpkin smoothie for breakfast, it's quick, easy and perfect for a fall morning.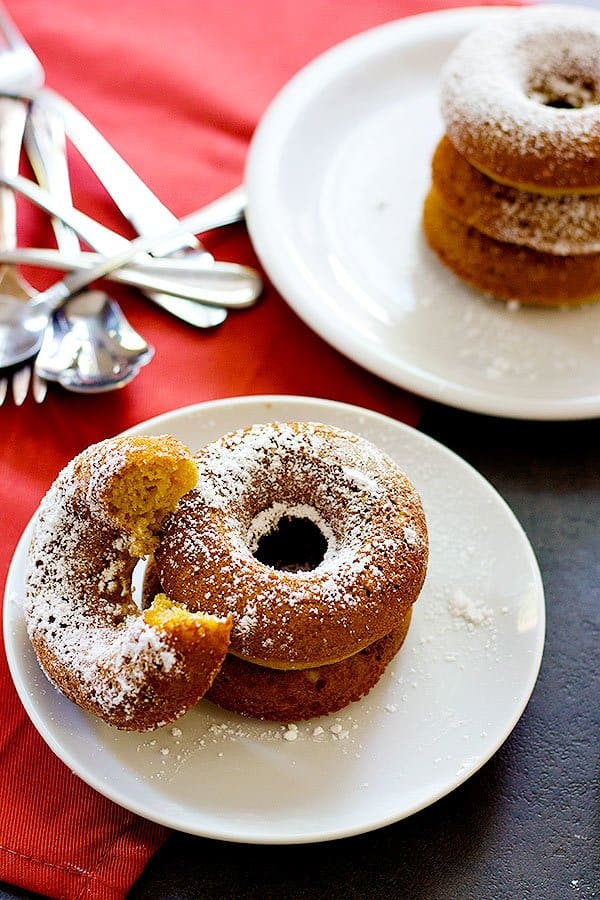 Step-by-Step Recipe
Healthy Baked Pumpkin Donuts
Baked Pumpkin Donuts are so simple and can be made in less than an hour using basic ingredients that are already in your pantry.
Ingredients
¼

cup

Vegetable Oil

3

Eggs

⅓

cup

Buttermilk

mix ⅓ cup milk + 1 tablespoon white vinegar or lemon juice and let it sit for 10 minutes

¾

cup

White Sugar

½

cup

Brown Sugar

1 ½

cup

Pumpkin Puree

1

teaspoon

Pumpkin Pie Spice

½

teaspoon

Baking Powder

½

teaspoon

Baking Soda

2 ⅓

cup

All Purpose Flour
Instructions
Preheat the oven to 350F. Coat a donut pan with non stick spray.

Mix oil and sugar in a large bowl. Add in buttermilk and mix well.

Add in the eggs one by one, mix well after adding each egg. Then add the pumpkin puree. Mix well.

Add in all dry ingredients and mix using a wooden spoon or a spatula until combined. Don't over mix.

Fill the donut molds to two thirds and bake in the oven for 15 minutes or until a toothpick inserted in the donut comes out clean. let cool for 5 minutes then take the donuts out.
Nutrition
Did you make this recipe?
Let us know how it was by leaving a comment and a 5-star review!