Make your summer much cooler with this delicious and easy homemade mint ginger mocktail. It's refreshing, delicious, and your family will love it!
Finally! Some sunny days for me!
It's starting to FINALLY get warmer here in Boston and it's time for me to show you some of my favorite summer drinks and recipes! Once it gets warm, I barely cook on the stove. After all, it's summer - we don't want too much heat inside.
Some cool summer recipes for you:
Today, I'm going to show you one of my favorite drinks, a mint ginger mocktail using DOROT Crushed Ginger!
This mint ginger mocktail is perfect for hot summer days, especially if you have a barbecue going on. If you don't want to be overheated and be affected by the warm weather, you should consider adding more mint to your summer diet. One good way to have more mint is to use it with drinks. And it goes perfect with Dorot crushed ginger in this drink.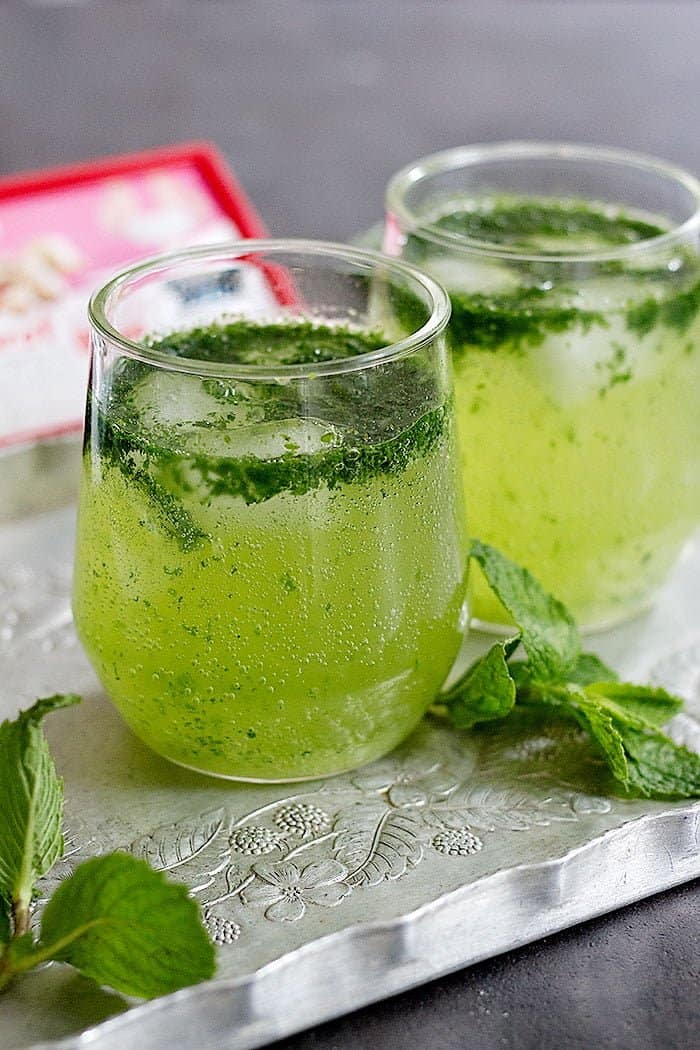 I love using Dorot because it makes everything so much easier and saves so much time. In this recipe, instead of grating ginger with a tiny grater and having juice on one side and pulp on the other, I just used a couple of Dorot crushed ginger cubes which are perfectly sized. And you can use these cubes right out of freezer. No need to thaw or wait for them to soften.
To make this mint ginger mocktail, I used fresh mint (have you seen all the big fresh mint bunches in your local supermarket? Mine has a lot of them, it makes me so happy!) which I placed in a blender with Dorot crushed ginger and some sugar, then blended until fully crushed. You can use maple or agave syrup, or any other kind of sweetener instead of sugar.
Then I placed the mint ginger mixture in glasses, added some ice and then filled the glasses with sparkling water. Now, here is where your creativity can kick in. I used lemon lime sparkling water as that's our favorite. You can totally use any other sparkling water as long as you the flavors match.
I love how the sparkling water turns into bright green as I pour it into the glass, it's like, magic!
Make sure you serve this mint ginger mocktail right away as mint tends to get a tad bit bitter if stays in sparkling water for too long. This will make a perfect welcoming drink for your summer bbq party!
Step-by-Step Recipe
Mint Ginger Mocktail
Make your summer much cooler with this delicious and easy homemade mint ginger mocktail. It's refreshing, delicious, and your family will love it!
Ingredients
½

cup

mint leaves

2

cubes of Dorot Ginger

1

tablespoon

granulated sugar

Ice

Sparkling water

I used lemon Lime
Instructions
Place mint leaves, Dorot Ginger cubes and sugar in a blender.

Blend until fully combined.

Divide the mixture between two glasses.

Add ice.

Fill the glasses with sparkling water.

Serve immediately.
Nutrition
Did you make this recipe?
Let us know how it was by leaving a comment and a 5-star review!
I got my Dorot from Stop & Shop. You can find it in the freezer aisle! And while your at it, look for Dorot Basil and Dorot Cilantro, too. They're awesome!