Dive into Persian deliciousness! Fesenjan stew is a wonderful Persian concoction made with chicken, pomegranates and walnuts served with rice for a perfect meal with bold flavors!
This post was first published on February 27, 2016.
I'm so glad that you're here today. We are going to take a look at one of my all time favorite dishes. This is the dish I love the most and can have it any time, any day. It's called Fesenjan, a beautiful dish made with pomegranates and walnuts.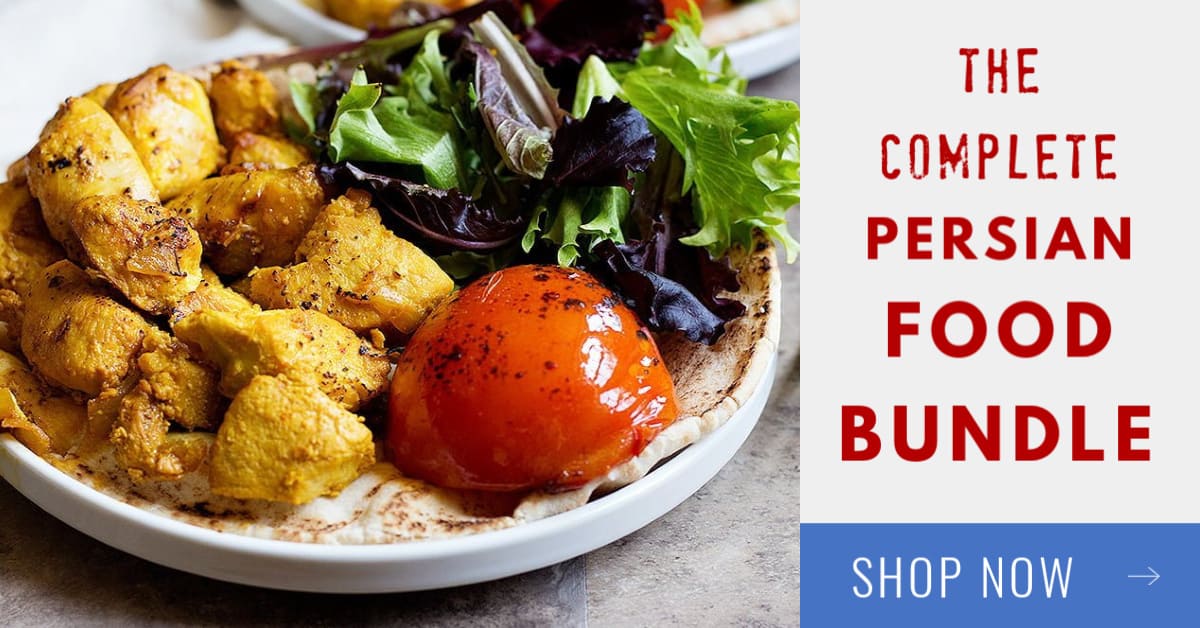 Of all the Persian recipes, I would call fesenjan the most mystical dish. Fesenjan or Fesenjoon is an Iranian dish which has originated in the Northern part of Iran and has spread its way through cities all over Iran and has found its way through the hearts of many around the world.
As a matter of fact, fesenjan (also called fesenjoon) was the topic that came up when Elise and I started talking about Persian food and recipes. Isn't it amazing how food helps you find wonderful friends all around the world?
What is Fesenjan?
Fesenjoon is a Persian stew made with walnuts, pomegranate molasses and a kind of protein. It's a traditional dish that is pretty simple to make. Like ghormeh sabzi and gheimeh, fesenjoon is also served with Persian rice. I would love to serve a Persian appetizer platter before the meal starts to warm up the appetite.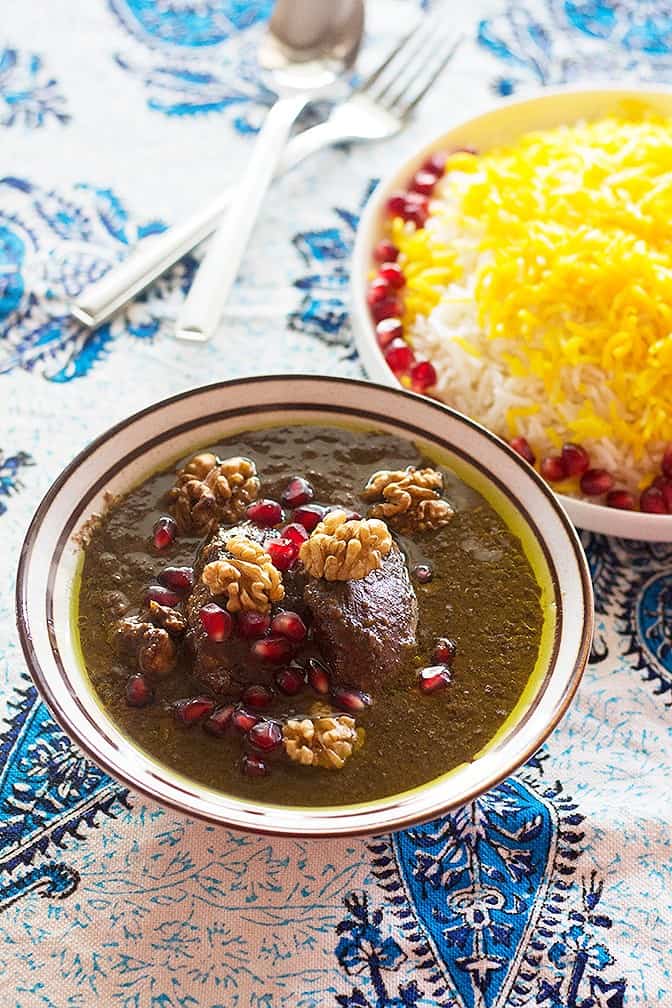 What does Fesenjan taste like?
The flavor of this stew varies from sour to sweet, depending on the pomegranate molasses sweetness or the addition of sugar. I usually don't add sugar to fesenjan but some do, it really depends on how sweet you like it to be. Iranians usually have it sweet and sour leaning more towards sourness.
Fesenjan is made with different proteins
Fesenjan can also be made with different proteins. In the north of Iran, people make this recipe with duck and in some other cities they make fesenjan with meatballs. Today I'm going to show you how to make fesenjan with chicken and also in the notes I've mentioned how to modify it if you're planning to make it with meatballs. If you prefer to make it vegetarian, just go ahead and leave out the meat. The secret and beauty of this dish is only in the sauce. As long as you have fesenjan sauce right, you're all good to go! But if you would like to add a vegetarian protein to it, tofu would be a practical choice.
Fesenjan recipe ingredients
This recipe calls for a few key ingredients:
Ground walnuts: I find grinding them in a food processor or a blender gives the best result. Blend the walnuts until you have fine walnut meal.
Pomegranate molasses: It's a thick molasses made of pomegranate juice. You can find pomegranate molasses in middle eastern stores or amazon (affiliate link). Pomegranate molasses is basically reduced pomegranate juice. If you would like to make it at home, pour 16 oz pomegranate juice into a pot and bring it boil, then lower the heat and simmer for 45 minutes to an hour until reduced and thickened. After making the recipe, you can refrigerate the leftovers.
Pumpkin or butternut squash: Walnuts are warm by nature, which means that after having a lot of them, your body feels warmer than usual. Adding mashed cooked pumpkin or butternut squash would balance the the nature of fesenjan. Pumpkin would make fesenjan creamy and adjusts its sweetness.
In addition to the ingredients mentioned above, you will also need onion, chicken, salt and pepper. Pretty simple, right?
How to make fesenjan with chicken
Once you have all the ingredients ready, start sauteing the onion in some olive oil and then add the walnuts. Stir and cook for a couple of minutes until the nutty smell is released. Add some water and bring it to boil. Lower the heat and simmer for some minutes. Next, add in mashed pumpkin (or butternut squash) and chicken thighs. Also add in salt and pepper. Cook for 30 minutes until the chicken is fully cooked.
Once the chicken is cooked, add in a cup of pomegranate molasses. Cook for another 15 minutes and then take the chicken out and set it aside. This is because the fesenjan sauce has to thicken still but if the chicken cooks more, it will fall apart. Cook the sauce for another 10 minutes until it thickens. Taste the sauce and make sure it's seasoned well. If fesenjoon is too sour, add a couple tablespoons of brown sugar and if it's not sour enough, add another ½ cup of pomegranate molasses. Finally, add the chicken back to the stew and cook for another ten to fifteen minutes.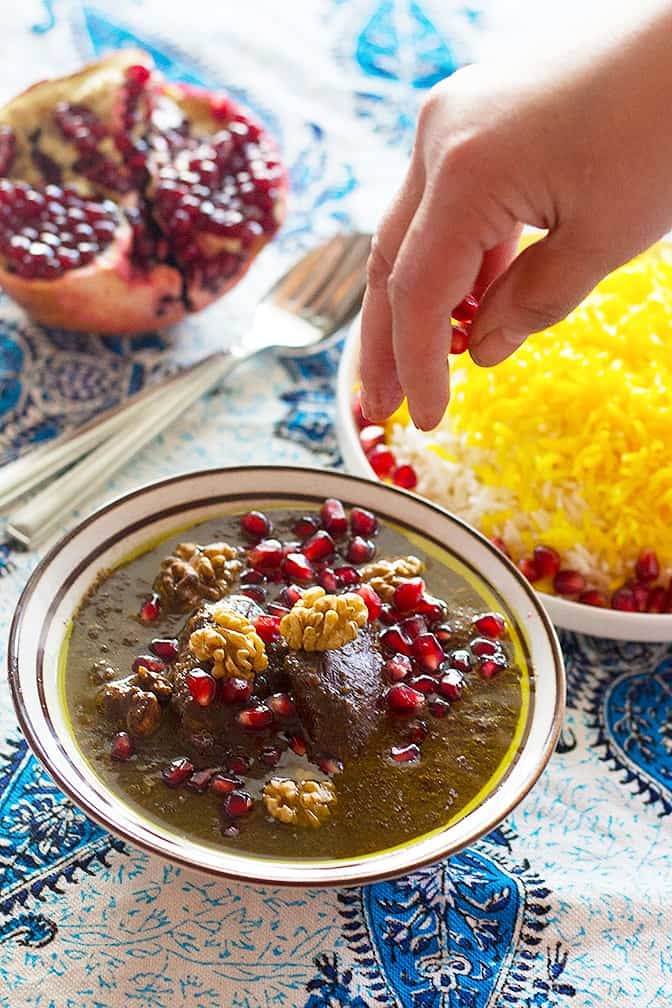 Can I make fesenjan with other nuts?
Theoretically, yes. Walnuts are the base of khoresht fesejan but if you don't want to use all walnuts, it's possible to use ⅓ lb almond meal and ⅔ lb ground walnuts. The process of making the recipe stays as it is. If you prefer to use whole almonds and ground them with the walnuts, make sure to use blanch almonds in order to have them mix with walnuts perfectly.
Fesenjan stew freezes very well. It's normal for Iranian moms to make a big batch of fesenjan and divide it among a few containers when they visit their kids. To reheat khoresh fesenjan, thaw it first and then put in in a small pot. Turn the heat on to medium low and reheat the stew. Stir occasionally so it doesn't stick to the pot. serve it with rice or just enjoy it on its own.
I have a fond memory of fesenjan: when I was a kid, I used to refuse to eat this stew because of its color and my mom would never make an alternative meal because she knew it is one to love and cherish. So one day she said "Just have it once and see if you like it or not." And with the first spoon of fesenjan in my mouth, I knew I was going to love this dish dearly for the rest of my life. The sour flavor coated in a subtle sweetness paired with the nutty flavor coming from the walnuts had me close my eyes and smile with all my heart.
Tips to make fesenjan:
The recipe is calling for 1 ½ cup pomegranate molasses but different brands have different levels of sourness. Start with one cup and if you think your fesenjan is not sour enough, add more pomegranate molasses.
Using mashed pumpkin or butternut squash is optional in many recipes. After years or making fesenjan, I've come to the conclusion that adding pumpkin to this recipe makes it creamier, thicker and more balanced.
Not much oil is needed for this fesenjan recipe as the walnuts will release their fat once they're heated.
You can make fesenjan with chicken breast or drumsticks. All pieces should be skin off and preferably bone in for more flavor.
Khoresht Fesenjan - Persian Pomegranate and Walnut Stew
Dive into Persian deliciousness! Fesenjan stew is a wonderful Persian concoction made with chicken, pomegranates and walnuts served with rice for a perfect meal with bold flavors!
Ingredients
1

tablespoon

vegetable oil

1

medium golden onion

diced

1

lb

walnuts

2 - 3

cups

warm water

1

lb

cooked, mashed pumpkin

6-8

pieces

skinless chicken thighs bone-in

1 - 1 ½

cup

pomegranate molasses

Salt and pepper to taste
Instructions
Using a food processor, crush the walnuts to form fine crumbs. if it's too thick, add ⅛ cup water then process again.

Heat vegetable oil in a medium sized pot over medium heat.

Saute onion for 5 minutes until light.

Add walnuts and saute onion and walnut for 5 minutes.

Add 2 cups of water. Turn the heat up to high and bring the mixture to boil, turn the heat down to medium so it simmers then add pumpkin, chicken thighs, salt and pepper and let it cook for 30 minutes.

After 30 minutes, check if the chicken is cooked. Once the chicken is cooked, add 1 cup pomegranate molasses and simmer for 10 minutes.

Take the chicken out of the stew and into a plate.

Add salt and pepper to taste. Let it simmer for another 10 more minutes until thickens. (If the stew is too thick, add some more water) Taste the stew, if it's not sour enough, add some more pomegranate molasses and if it's too sour, add 1 - 2 tablespoon brown sugar.

Add the chicken thighs back into the stew and let it simmer over low heat for 15 minutes, stir every 5 minutes.

Serve warm with rice.
Notes
Khoresht Fesenjan is supposed to be thick, not much water is needed.
Chicken thighs need to be taken out of the stew and added in the end again because if it stays in the stew for too long it will be over cooked and will fall apart.
You can use canned pumpkin or cooked butternut squash in this recipe. Adding the pumpkin will balance the natural warmth of the dish and also the flavor.
To make fesenjan with meatballs, make meatballs with any recipe you prefer, then add the cooked meatballs in the last 15 minutes of cooking to the dish.
Nutrition
Calories:
679
kcal
Carbohydrates:
81
g
Protein:
10
g
Fat:
39
g
Saturated Fat:
5
g
Cholesterol:
1
mg
Sodium:
32
mg
Potassium:
415
mg
Fiber:
6
g
Sugar:
50
g
Vitamin A:
8835
IU
Vitamin C:
4
mg
Calcium:
79
mg
Iron:
3
mg
Did you make this recipe?
Let us know how it was by leaving a comment and a 5-star review!
Have you made this recipe? Let us know by commenting and rating on this recipe. Take a picture and tag @unicornsinthekitchen and #unicornsinthekitchen for a chance to be featured!