Persian Appetizer Platter is a great choice for gatherings and parties. This platter can be served as an afternoon snack too, it'll be great with a cup of tea!
You've been loving our Persian recipes in the past three years. Some of our Popular Persian appetizers are kashke bademjan (Persian eggplant dip), Borani esfenaj and marinated olives. This Persian appetizers platter is going to be one of your favorites, too!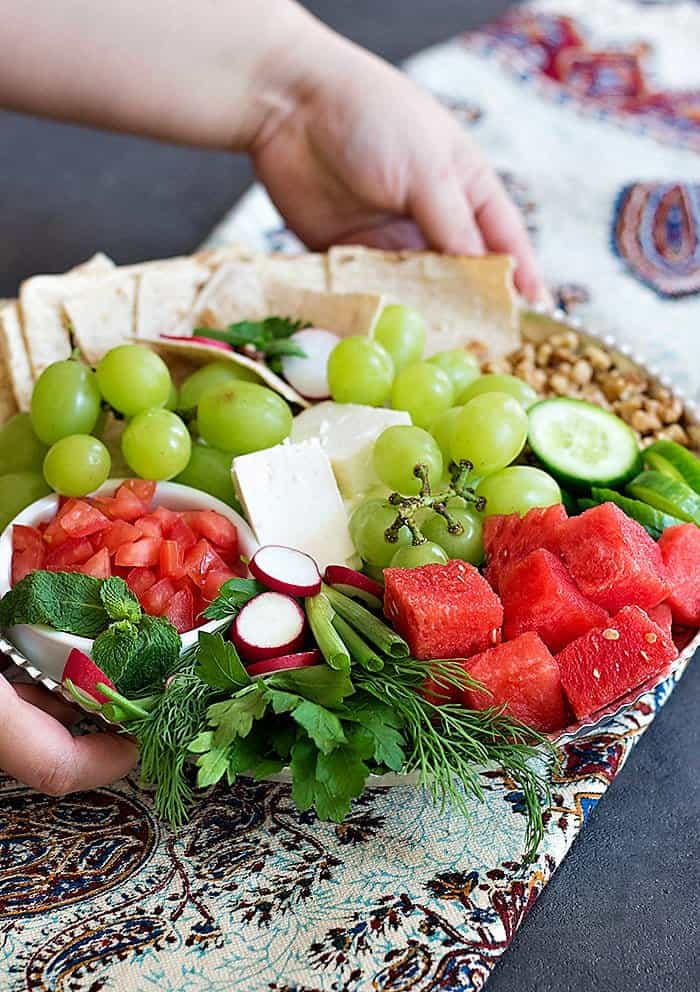 What is Persian appetizer platter?
I call it a Persian appetizer platter you can have this platter for breakfast, lunch, dinner or just a simple afternoon snack. It's a staple in Iranian households and I personally can never say no to a good "loghmeh" (bite) of cheese and herbs with some crunchy walnuts!
Persian appetizers platter is a decadent platter that would lighten up your meal. The combination of grapes and cheese with crunchy walnuts plays with your taste buds and the colors will brighten up your table.
Why Persian appetizer is a winner?
like many other appetizer platters, this one also calls for whatever you have in your fridge. No fuss, no difficult ingredients to hunt for. As long as you have some herbs, some cheese, and walnuts, you're good to go.
If you like to turn this to a fresh herb (Sabzi Khordan) recipe or herbs and feta cheese platter, then you can leave out the watermelon, grapes and tomatoes. I always love to have the sweet and savory flavors together as it gives a nice balance to the platter. You can also easy turn this into an appetizer tray by doubling the ingredients and using a bigger platter or tray.
What bread to use for Persian appetizers
The bread usually used in this Persian appetizer is Lavash, Barbari or Sangak. These are traditional Iranian breads that are pretty thin and light. You can also use pita bread for this recipe. They're perfect for finger foods or just an afternoon snack. If I'm having this Persian platter for breakfast or afternoon snack, I would definitely have it served with some delicious sweetened black tea.
Which herbs is good for Persian Appetizer?
The herbs can vary according to the season and what you have at hand, my favorites are parsley, cilantro, dill, mint, green onions and tarragon. I always love to have some radishes, too. Herbs make this platter so delicious and healthy! It's also a great chose for game day.
Serving suggestions
Basically, you grab a small piece of bread (pictured above) and spread some Feta cheese or goat cheese on it. Then, from there, you can have anything you like on it such as walnuts, herbs, chopped tomatoes or cucumber. The best part? You can mix and match! Here are some mix and match ideas for you:
Bread, Feta cheese and walnuts.
Bread, goat cheese and herbs.
Bread, Feta cheese, cucumbers and tomatoes.
Bread, goat cheese and watermelon.
Bread, Feta cheese and grapes.
Bread, goat cheese, walnuts and watermelon.
If you are familiar with Middle Eastern / Mediterranean flavors, you know that the combination of Feta, watermelon and herbs is something you don't want to miss!
Notes and tips about this Persian appetizer platter:
If you don't have all the herbs, just use the ones you have at hand, even a couple of them would work.
You can use melons (any kind) instead of or in addition to watermelon.
Persian cucumbers (small ones) work best for this recipe, but if you can't find them, English cucumbers would work, too.
If you are not a fan of Feta cheese, it's totally fine. Just swap the Feta cheese with a favorite cheese of yours like goat cheese. I suggest cream cheese, or if you happen to go to a Turkish grocery shop, Ezine or white (Beyaz) cheese would be great. Spreadable cheese is preferred.
You can make this super easy appetizer ahead of time and cover it with plastic wrap and store it in the fridge.
I really encourage you to try this in your next party or gathering. I admit, I'm a cheese and crackers fan, yes, nothing beats some good crackers with blue cheese and smoked salmon but sometimes, all I want is a taste from home, my beloved Iran, my beloved family. Every loghmeh of Noon Panir Sabzi (bread, cheese and herbs) reminds me where I've come from and where I'm going.
Take some of my roots and bring them to your table and your family. It'll be like we're all sitting around one table, sharing food, just how I picture a perfect life can be 🙂
More Persian Appetizers:
Persian Appetizer Platter
Persian Appetizer Platter is a great choice for gatherings and parties. This platter can be served as an afternoon snack too, it'll be great with a cup of tea!
Ingredients
3

Pieces

Lavash Bread

8

oz

Feta Cheese

½

cup

Chopped Walnuts

2

Sliced Cucumbers

1

cup

Cubed Watermelon

1

cup

Herbs

Parsley, Cilantro, Green Onions, Dill and Radishes

2

Tomatoes

Diced

1

cup

Grapes
Instructions
Place all the ingredients on a platter.

Try different combinations such as Lavash+Feta+Walnuts, Lavash+Feta+Herbs, Lavash+Feta+Watermelon, Lavash+Feta+grapes, etc.
Notes
You can make this platter ahead and have it in the fridge until ready to serve. You can modify the amount of each ingredient according to your preference.
Nutrition
Calories:
210
kcal
Carbohydrates:
14
g
Protein:
8
g
Fat:
15
g
Saturated Fat:
6
g
Cholesterol:
34
mg
Sodium:
429
mg
Potassium:
388
mg
Fiber:
2
g
Sugar:
10
g
Vitamin A:
945
IU
Vitamin C:
12
mg
Calcium:
225
mg
Iron:
1
mg
Did you make this recipe?
Let us know how it was by leaving a comment and a 5-star review!