Learn how make delicious Persian saffron rice at home. This easy rice recipe with a rich flavor and gorgeous golden color is the perfect side dish for your table.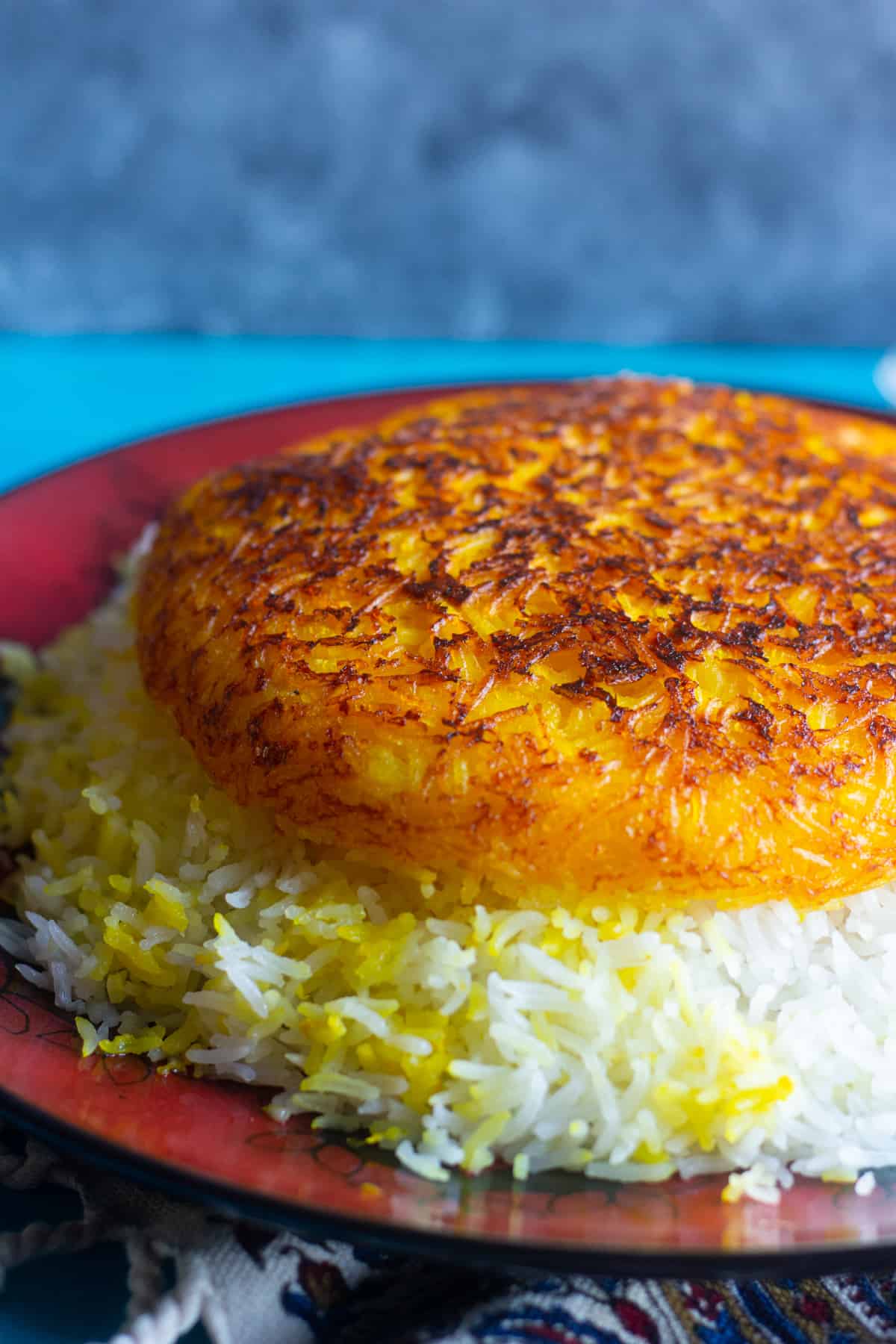 We love our rice recipes and can't wait to share more with you. You can make it in so many different ways, from Persian one pot tomato rice and dill rice and peas to mujadara. Today, I'm going to show you how to make a Persian style rice with saffron at home.
Saffron is my absolute favorite spice because of its flavor and aroma. It's delicate yet strong and if used well, it can transform any dish from normal to extraordinary. Take the humble rice as an example: we've all had it, we all like it. But when mixed with saffron, this good old dish will turn into a masterpiece that with every spoonful you'd ask yourself: where has this been all my life?
What is saffron rice
Saffron rice is a golden rice dish that's popular among Iranians and Indians. Made with long grain basmati rice and liquid saffron, this Persian delicacy is a staple in many households.
This rice dish is so simple to make and is an absolute showstopper. What I love the most about this Persian rice and saffron is the tahdig! Crispy rice tahdig is something that you cannot have only one bite of. It's so good and savory, everyone will ask for seconds!
How to make saffron rice recipe
First of all, prepare your ingredients. You need long grain basmati rice, bloomed saffron (please read the tutorial), yogurt and oil. I prefer to use vegetable or corn oil to make this rice because it doesn't have a strong aroma or flavor and won't over power the saffron.
Par cook the rice the same way as you do for Persian rice and tahdig. The par cooked grains should be soft on the outside with a hard center.
Mix 1 ½ cup par cooked rice with yogurt and bloomed saffron. Pour this mixture at the bottom of the pot. This will be the saffron tahdig. Then add the rest of the par cooked rice to the pot.
Add some water and wrap the lid in a clean kitchen towel and place it on the pot. Let the rice cook for about 5-7 minutes; the steam will start escaping by then. Try one of the rice grains to see if they're getting softer. If needed, add more water. Let the rice steam for 30 minutes on medium low and then serve with your favorite main dish.
As saffron in an expensive spice and a little bit of it would go a long way, I suggest you use a good quality saffron (my favorite is Mehr Saffron). Make sure you read the tutorial and guide about how to bloom saffron on the blog.
What to serve with this golden rice
This rice is great with so many dishes. It goes perfectly with some Persian dishes such as saffron chicken or joojeh kabab. It would also go well with red meat such as kofta kebab or braised lamb shanks. You can also top this rice with sauteed barberries which are one of the essential ingredients of a Persian pantry.
Can I freeze
saffron basmati rice

?

You can't freeze saffron basmati rice because saffron will lose its aroma and flavor once frozen. This rice recipe is best served fresh and warm. However, you can refrigerate it in an airtight container for up to 2 days.
More Persian recipes
Did you make this recipe? I'd love to hear about it! Please comment and leave a 5-star🌟 rating below. You can also follow us on Instagram, Facebook, Pinterest or subscribe to our newsletter to get a free e-Cookbook!
Step-by-Step Recipe
How To Make Saffron Rice
Learn how to make the best saffron rice. This is an easy rice recipe with delicious tahdig that you can make at home.
Ingredients
2

cups

basmati rice

2 ½

cup

water

½

teaspoon

ground saffron

2

cubes

ice

1

teaspoon

salt

1 ½

tablespoon

vegetable oil

5

tablespoon

plain yogurt
Instructions
Wash the rice 3-5 times to get rid of extra starch. Set aside.

Bloom the saffron by sprinkling the ground saffron over the ice cubes in a small bowl.

In a pot, bring 2 ½ cup water to a rolling boil and add 1 teaspoon salt to it. Add the rice and cook it for about 6 minutes. Try a grain, it should be a bit soft on the outside and hard on the inside.

Pour the rice and water in a colander and run cold water through it to make it stop cooking.

Place the pot back on the stove over medium high heat.

In a bowl, mix 1 ½ cup par cooked rice with saffron and yogurt.

Pour 1 ½ tablespoon vegetable oil into the pot and once it's shiny and shimmering, pour the rice and yogurt mixture into the pot and spread it at the bottom of the pot.

Add the rest of the rice to the pot. Cover the lid in a clean kitchen towel. Place the lid on the pot and let it cook for about 5-7 minutes on medium high.

After this time, lower the heat to medium low check a rice grain to make sure it's cooked. Let the rice steam for another 30 minutes.

Mix ½ cup white rice with some bloomed saffron and them serve the white rice, saffron and tahdig on the same plate.
Nutrition
Calories:
398
kcal
Carbohydrates:
75
g
Protein:
7
g
Fat:
7
g
Saturated Fat:
5
g
Cholesterol:
3
mg
Sodium:
607
mg
Potassium:
145
mg
Fiber:
1
g
Sugar:
1
g
Vitamin A:
25
IU
Calcium:
61
mg
Iron:
1
mg
Did you make this recipe?
Let us know how it was by leaving a comment and a 5-star review!