This delicious harissa chicken is the perfect weeknight meal served with saffron infused couscous. Learn how to make this spicy chicken recipe with a twist.
Marinated chicken recipes are so good because you can try so many different flavors and ways to make chicken. Some of our favorite chicken recipes are chicken shawarma, chicken shish kabob and Joojeh Kabab. Each of these dishes has a special flavor and are great for a family meal. If you love spicy chicken, this harissa chicken thighs recipe is going to be another favorite!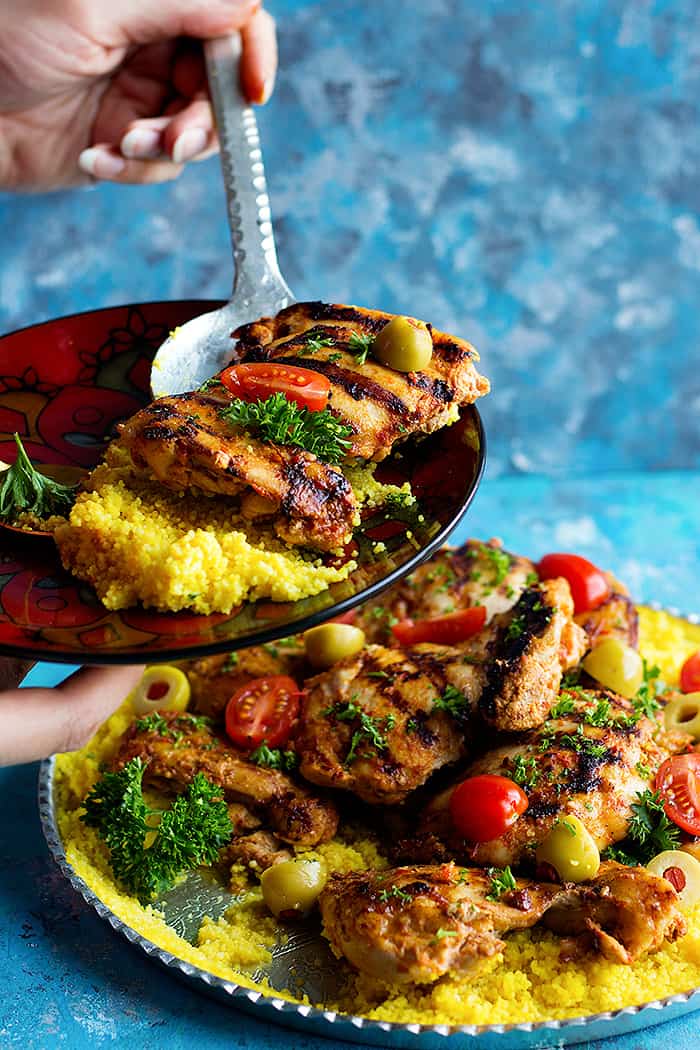 This post is sponsored by Darling Clementines®. All opinions are my own.

What is harissa spiced chicken
Harissa is a chili pepper paste that has a common use in North Africa and Morocco. It originates from Tunisia and can be used in different dishes using chicken, beef and grains. Harissa chicken is a popular dish that's made with chicken marinated in harissa paste for a couple of hours and then grilled to perfection. It's served with tasty couscous that's cooked in chicken broth and is infused with saffron.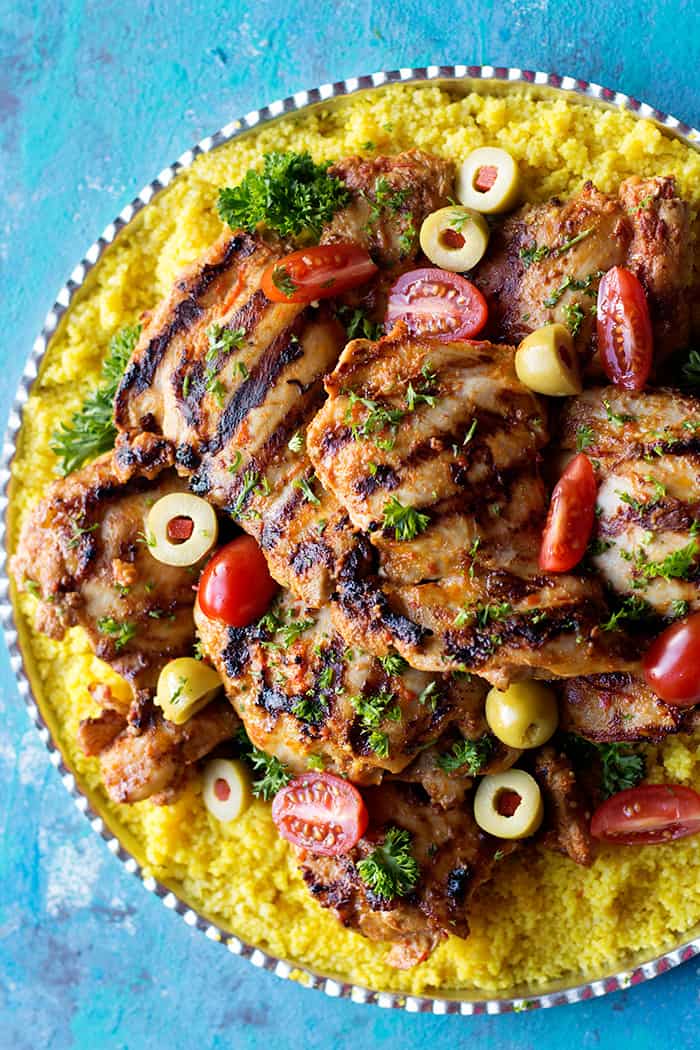 Why this harissa chicken recipe works
This harissa chicken is different from other recipes because I used Darling Clementines® in the marinade. The sweetness and freshness of the clementines beautifully compliments the spicy harissa and balances the flavors. Darling Clementines® sources fruit from all over the world to supply the best quality year-round and their sourcing region from November to April is from Morocco - which is why we decided to make a Moroccan-inspired dish using these clementines. Darling Clementines® are sourced from Morocco during this season because it's the optimal climate and region for growing great tasting fruit from January through April. Morocco is positioned between the Mediterranean Sea and the Atlantic Ocean, offering dry summers and cool, wet winters that create an ideal environment for growing citrus.
The addition of these sweet clementines to the marinade makes the chicken juicier, and gives it a nice kick of sweetness that's perfect with harissa.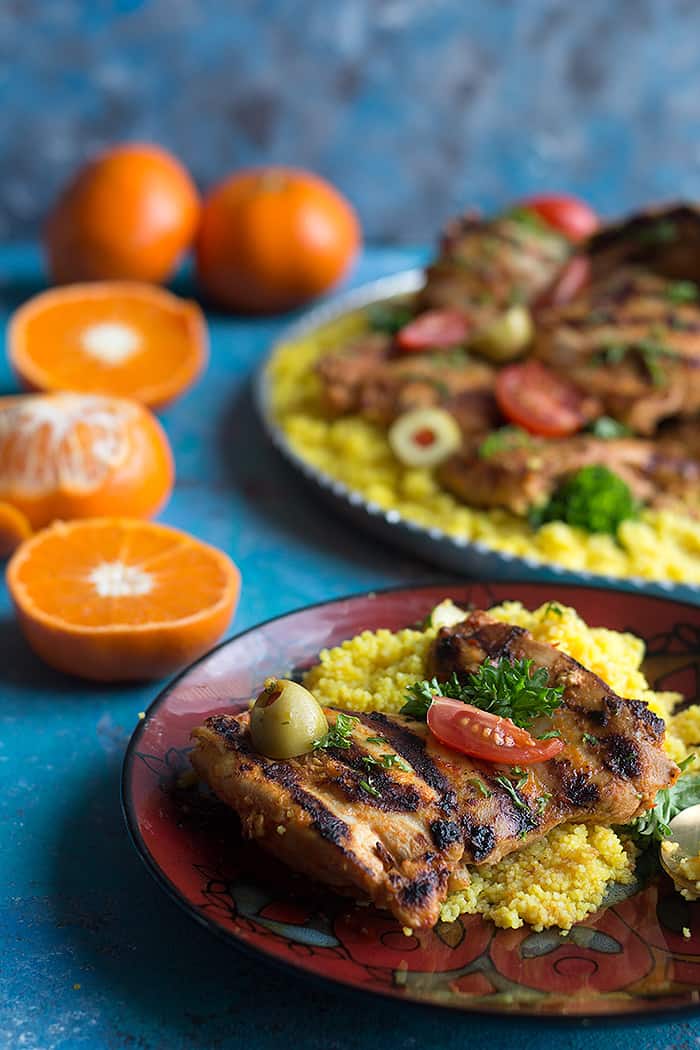 Grilled chicken flavored with harissa and served with a delicious couscous is very simple to make. You can serve this recipe as a family meal or at your party. Because of the presentation and colors, this harissa chicken dinner is indeed a showstopper. I love serving this dish family style, meaning that I serve all of the couscous and chicken in one large platter and everyone takes as much as they like into their plates.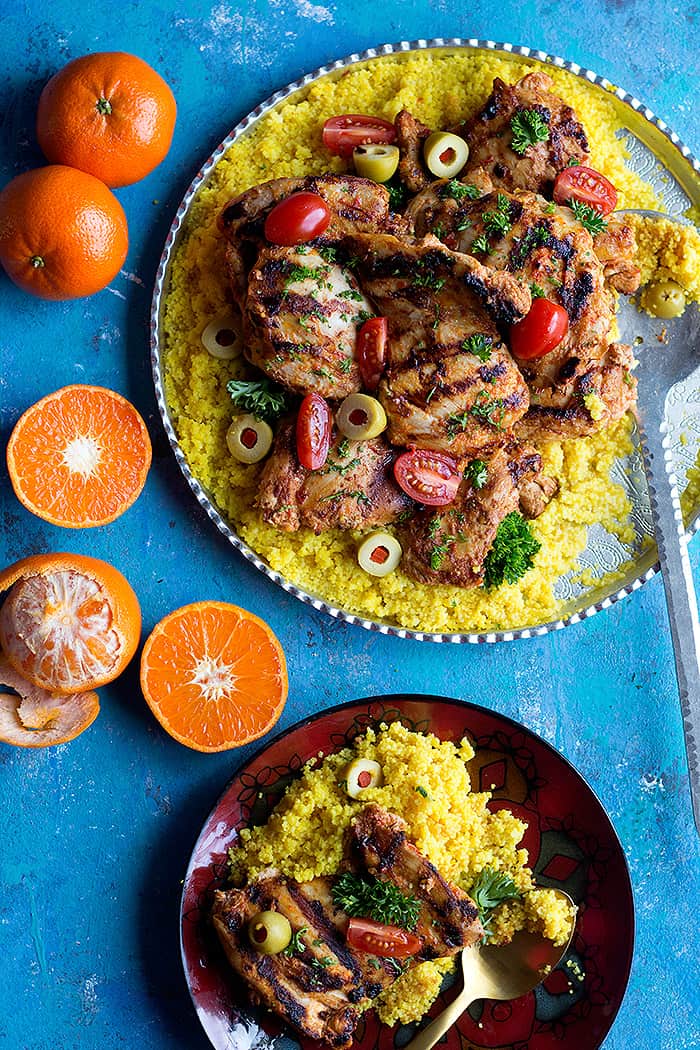 Moroccan inspired harissa chicken and couscous ingredients
To make this delicious harissa chicken recipe you need a few ingredients:
Chicken thighs: boneless and skinless chicken thighs are perfect for this recipe.
Olive oil: preferably extra virgin.
Harissa paste: you can use homemade or store-bought.
Clemetines: for a little bit of sweetness and great flavor. This easy-peel fruit is known for its bright color and rich, sweet flavor.
Garlic: use at least 5 cloves of garlic as it gives so much flavor to the chicken.
And to make the couscous, you need:
Fine cousous: you can find it in almost any supermarket. Look for the fine one and not the large one.
Chicken stock: the couscous is going to be cooked in chicken stock.
Bloomed saffron: the perfect addition of flavor and color to the humble couscous. Check out my tutorial on how to bloom saffron.
How to make harissa chicken recipe
In a large bowl, mix olive oil, salt, harissa paste, clementine juice and minced garlic. Add chicken thighs to this mixture and make sure all chicken pieces are well marinated. You can also do all this in a gallon size ziploc bag.
Next, heat a grill pan over medium heat and once it's hot, place the chicken thighs on the grill pan and let them cook for about 8 minutes on one side. Flip and cook on the other side for another 8 minutes. Serve the chicken with couscous and possibly a yogurt sauce such as Persian yogurt dip.
How to make couscous with chicken broth
This couscous recipe is delicious because it's cooked with chicken broth and flavored with saffron. Place the couscous in a bowl and heat the chicken stock in a sauce pan over medium heat. Pour hot chicken stock over couscous and follow with bloomed saffron. Stir well, cover with a plate or a lid and let it sit for 15 minutes.
After 15 minutes, remove the plate or the lid and fluff the couscous using a fork. Serve warm with the harissa chicken.
More recipes:
Notes and tips for making harissa chicken
You can use chicken breast for this recipe as well. For harissa chicken breast, boneless skinless chicken breast cut into 1 ½ inch pieces would be perfect.
Marinate the chicken for 2 hours up to 24 hours. The longer it marinates, the more flavorful it's going to be.
You can grill the chicken on a grill pan on stove top or an outside grill if the weather permits. If using an outside grill, preheat it to medium and grill the chicken thighs for about 10 minutes on each side. Fully cooked chicken should register at 165F.
To make baked harissa chicken, preheat the oven to 400F and line a baking sheet with aluminum foil coated with nonstick spray. Place the chicken pieces on the baking sheet and bake for 30 minutes until fully cooked. Broil for 3-5 minutes to crisp the chicken pieces.
Traditional couscous is steamed over simmering chicken and vegetable broth. The method I provide here is a simpler and quicker way.
A little bit about LGS Specialty Sales: LGS sources clementines, oranges, avocados, grapes, persimmons, minneolas and lemons from 7 different regions around the world – Chile, Spain, Morocco, Uruguay, Peru, Mexico and Argentina which results in offering fresh and delicious fruit ant time of the year. Introducing unique produce varieties to the U.S. is a top priority for the company, and a passion of the LGS team since its inception nearly 30 years ago.
Harissa chicken with Couscous
This delicious harissa chicken is the perfect weeknight meal served with saffron infused couscous. Learn how to make this spicy chicken recipe with a twist.

Ingredients
8

chicken thighs

boneless and skinless

¼

cup

olive oil

extra virgin

3

tablespoon

harissa paste

homemade or store-bought

3

clementines

juice of

5

cloves

garlic

minced
Saffron infused couscous
2

cup

fine couscous

2

cups

chicken broth

½

cup

boiling water

3

tablespoon

bloomed saffron

see notes
Instructions
In a large bowl, mix olive oil, harissa paste, clementine juice and minced garlic cloves.

Add in the chicken thighs and stir well to make sure all pieces are covered with the marinade.

Cover with a plastic wrap and put the bowl in the refrigerator. Marinade for 2 to 24 hours.

Heat the grill pan over medium heat.

Place the chicken thighs on the grill pan and don't move them for about 5-8 minutes depending on their size.

Once cooked on one side, flip the harissa chicken and cook them on the other side for another 5-8 minutes.

Serve warm with saffron couscous.
Saffron couscous
Place couscous in a large bowl.

Mix water and chicken stock in a sauce pan and bring it to boil over medium high heat.

Pour the chicken stock on couscous and mix using a spoon.

Add in bloomed saffron and stir well.

Cover with a plate or a lid and let it sit on counter for 15-20 minutes.

Uncover and fluff the couscous using a fork.

Serve warm with harissa chicken.
Notes
Don't add saffron threads directly to the recipe. Read about how to bloom saffron and more on the blog.
Nutrition
Did you make this recipe?
Let us know how it was by leaving a comment and a 5-star review!