Ras el hanout is an aromatic and flavorful blend of spices ready in 5 minutes. It's used in various Moroccan and North African recipes, including tagine.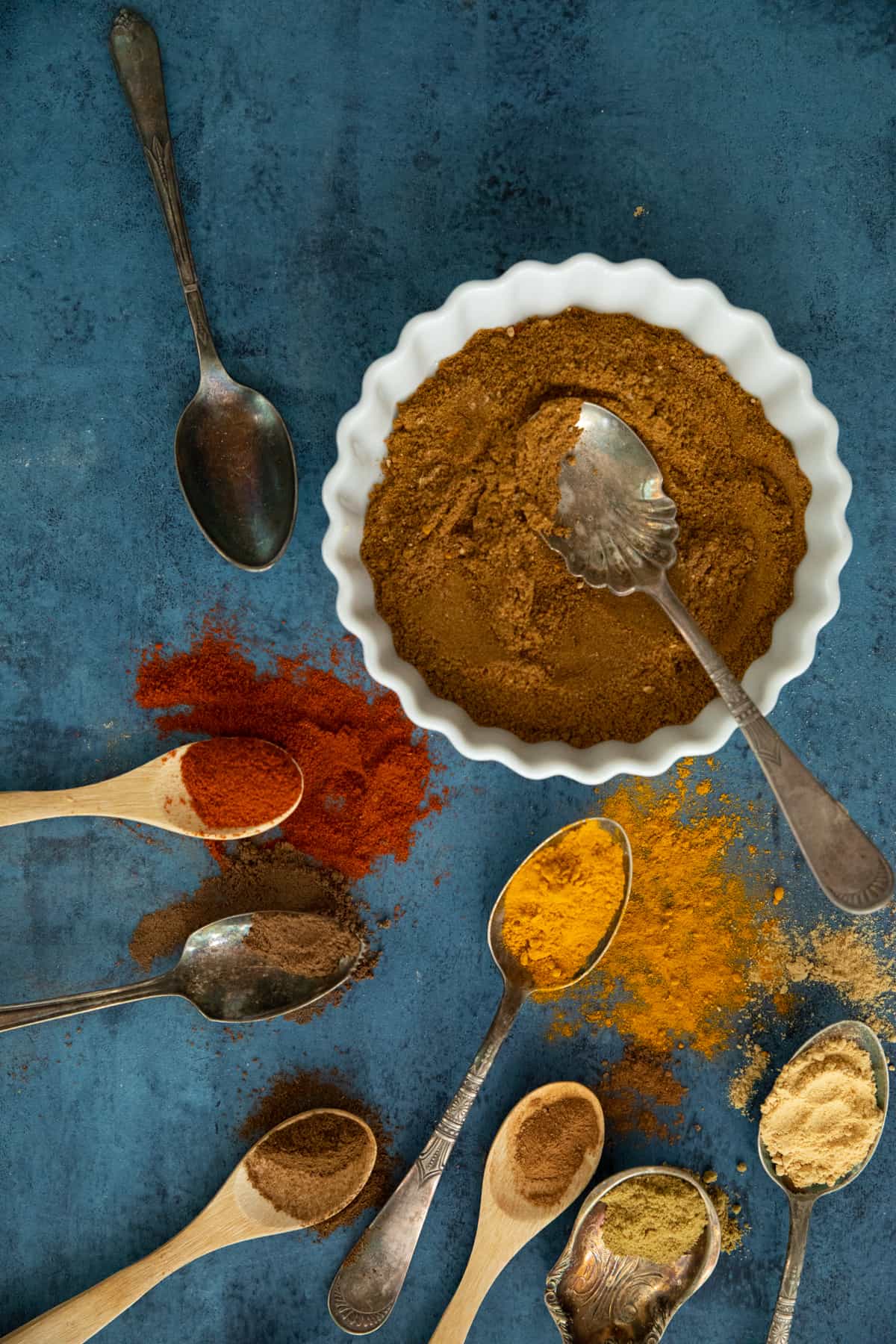 Many dishes come together once you get the spices right and each cuisine offers its own unique blend that goes with the rest of the characteristics of that particular cuisine - from floral Persian advieh made with cardamom and dried rose petals to Lebanese seven spice made with a combination of earthy spices. Ras el hanout is another classic spice blend that I recommend you keep in your pantry because it's absolutely fantastic!
Table Of Contents:
What is ras el hanout?
Literally meaning "top of the shop," ras el hanout is a North African spice mix commonly used in Morocco, Algeria and Tunisia in tagines or with poultry and vegetables. The name refers to the best combination of spices the spice vendor (attar) offers: the list of the ingredients is sometimes as long as 25 to 40 spices. This aromatic spice mix has a floral and subtly sweet flavor profile that complement many dishes.
There are several variations of ras el hanout. Some are spicier than the others and the ratios can be different. My version of this Moroccan spice mix isn't spicy, however, I've offered some suggestions below on to make it spicier if you prefer.
The recipe I have here is the closest I've gotten to what I've tasted in several Moroccan dishes. For convenience, I've used quality ground spices; however, you can also use whole spices and grind them using a spice or a clean coffee grinder.
Ingredients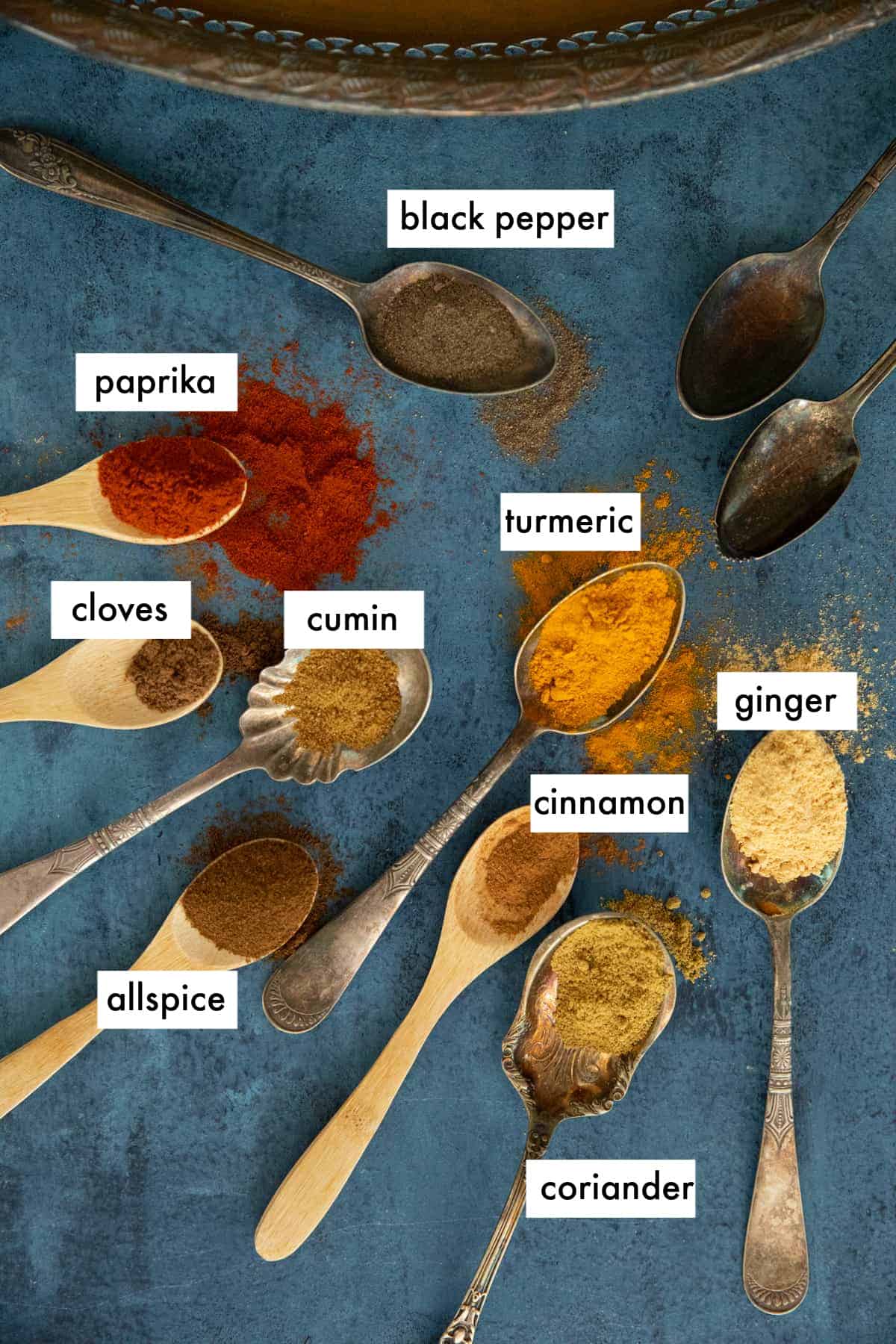 Coriander: With its lemony and fresh flavor, coriander is a must.
Black pepper: You can use peppercorn and grind it yourself.
Allspice: A classic misnomer, allspice is not a combination of spices but rather made of dried berries of the allspice tree.
Cloves: The dried flower buds of the clove tree, this spice is used in both sweet and savory dishes.
Ginger: Ground ginger is made from dried ginger roots. It has a stronger flavor and is less sweet than fresh ginger.
Cumin: Made from cumin seeds, this spice has an earthy and warm flavor. It's usually used with coriander in savory dishes.
Turmeric: It's made out of dried turmeric root, which is part of the ginger family. It's commonly used in curries and other spice mixes as well.
Paprika: It comes in 3 forms of sweet, smoked and hot and it's very popular in Hungary and Spain. For this recipe, we are going to use sweet (regular) paprika.
Cinnamon: Ground cinnamon is made of the bark of the cinnamon tree.
Keep this in mind...
Make sure to use fresh and high quality spices to make ras el hanout. It's the quality of the spices that make it aromatic and special.
How to make ras el hanout
Prepare all the ground spices and place them in a bowl. Mix the spices using a spoon and store in a jar. If using whole spices, prepare them all and process them in a spice grinder or a clean coffee grinder. Store in a clean and dry glass jar in a cool, dry place.
Storage
It's best to store the spice mix in a glass jar and keep it in a cool and dry place. Spices tend to lose their aroma and flavor after a while so it's best to use it up within 6 months.
Frequently asked questions
Can I use whole spices to make ras el hanout?
Absolutely. Keep the ratios as they are but you can increase the amount.
What can you use ras el hanout for?
There are many ways to use this spice mix. You can add it to a variety of dishes from tagines and stews to vegetables and even marinades for grilled poultry, lamb, beef or even seafood.
Where can I get quality spices?
My advice is to find your local Mediterranean or Middle Eastern shop and purchase your spices there. However, no matter where you shop for your spices, always make sure they are fresh and haven't been sitting on the shelf for months or years.
More recipes to try
Did you make this recipe? I'd love to hear about it! Please comment and leave a 5-star🌟 rating below. You can also follow us on Instagram, Facebook, Pinterest or subscribe to our newsletter to get a free e-Cookbook!
Step-by-Step Recipe
Ras El Hanout Recipe
Ras el hanout is an aromatic and flavorful blend of spices ready in 5 minutes. It's used in different Moroccan and North African recipes including tagine.
Ingredients
1

teaspoon

ground coriander

½

teaspoon

black pepper

1

tsp

allspice

½

tsp

ground cloves

1 ½

tsp

ground ginger

1

tsp

ground cumin

1

tsp

turmeric

1

tsp

paprika

½

teaspoon

ground cinnamon
Instructions
Add all the spices into a bowl. Using a spoon, stir and combine the spices.

Store ras el hanout in a glass ar with a tight lid. Keep it in a dry and cool place for up to 3 months.
Notes
For the best flavor, make sure to use quality spices to make this Moroccan spice.
You can use this spice mix in a variety of Moroccan and North African dishes including tagine, Moroccan chicken and couscous or Moroccan chickpea stew.
Spices tend to lose their flavor and aroma after a while therefore it's best to use aras el hanout within 6 months.
Nutrition
Calories:
3
kcal
Carbohydrates:
1
g
Protein:
0.1
g
Fat:
0.1
g
Saturated Fat:
0.02
g
Polyunsaturated Fat:
0.03
g
Monounsaturated Fat:
0.04
g
Sodium:
1
mg
Potassium:
16
mg
Fiber:
0.3
g
Sugar:
0.03
g
Vitamin A:
69
IU
Vitamin C:
0.1
mg
Calcium:
5
mg
Iron:
0.3
mg
Did you make this recipe?
Let us know how it was by leaving a comment and a 5-star review!