This recipe for eggplant chickpea stew is surprisingly easy and stress-free. It's vegan, gluten-free and dairy-free - perfect for picky eaters!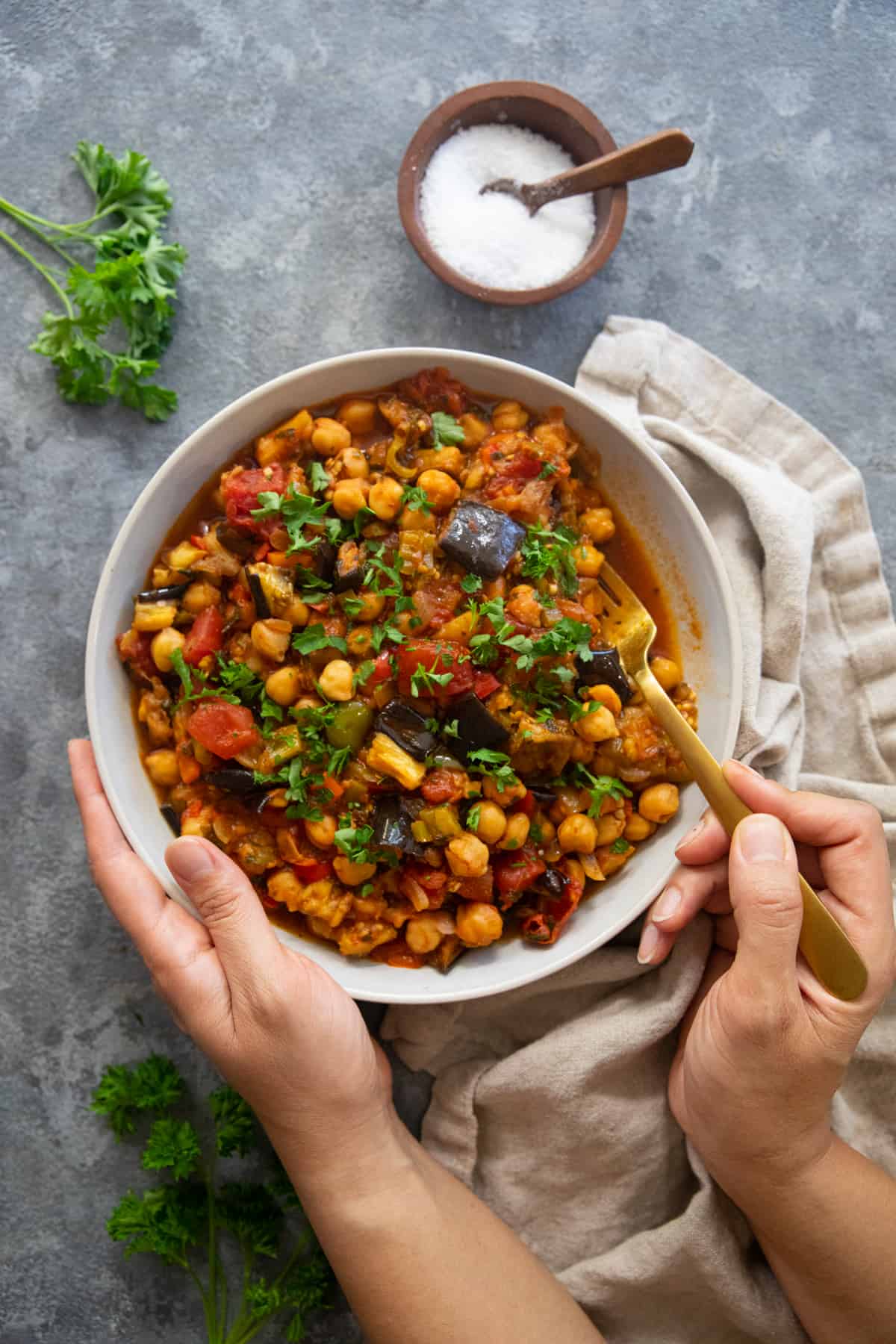 We usually have vegetarian dinners a few times a week and like to switch them up every now and then. From fasolakia (Greek green beans), Moroccan chickpea stew and eggplant caponata to French ratatouille, vegetarian cuisine is truly global. Today I'm going to show you how to make a simple roasted eggplant chickpea recipe with pantry staples and a few warm, comforting spices.
Table Of Contents:
Why we love this vegan chickpea stew
Nutritious: Eggplant is packed with antioxidants including vitamins A and C and chickpeas are a great source of fiber and protein, making this vegetarian dish a good weeknight dinner option.
Easy: This is an easy eggplant recipe that doesn't require any special skills, and it's ready in less than 1 hour.
Flavors: Every bite of this dish is full of delicious flavors thanks to the warm spices and vegetables used in this recipe.
How to choose the best eggplant
Here are a few tips to keep in mind when shopping for an eggplant:
Color: The skin should be bright and shiny, without any brown spots. Brown spots mean that the eggplant is going bad.
Weight: The eggplant should feel heavy for its size, especially at the bottom. It should feel firm and not soft at all.
Size: Shop for average or smaller eggplants. Large eggplants tend to be spongier and have more seeds.
If you're looking for more recipes using eggplant, check out our collections of eggplant recipes.
Ingredients and substitutions
Olive oil: Like many other Mediterranean recipes, this one calls for extra virgin olive oil as well.
Onion and garlic: Be generous with the onion and garlic since this will be the base of all the flavors in the stew. You can also use shallots.
Peppers: I use Italian green pepper and red bell pepper for this recipe. Orange, green or yellow bell pepper would work as well.
Tomato paste: For color and flavor. I don't recommend using tomato sauce.
Spices: You need a combination of oregano, Aleppo pepper, cumin, salt and pepper.
Chickpeas: I usually use a can of chickpeas (15 oz.) but you can also cook chickpeas from scratch.
Diced tomatoes: I recommend using canned diced tomatoes. Fresh tomatoes won't work as well for this recipe.
How to make eggplant chickpea stew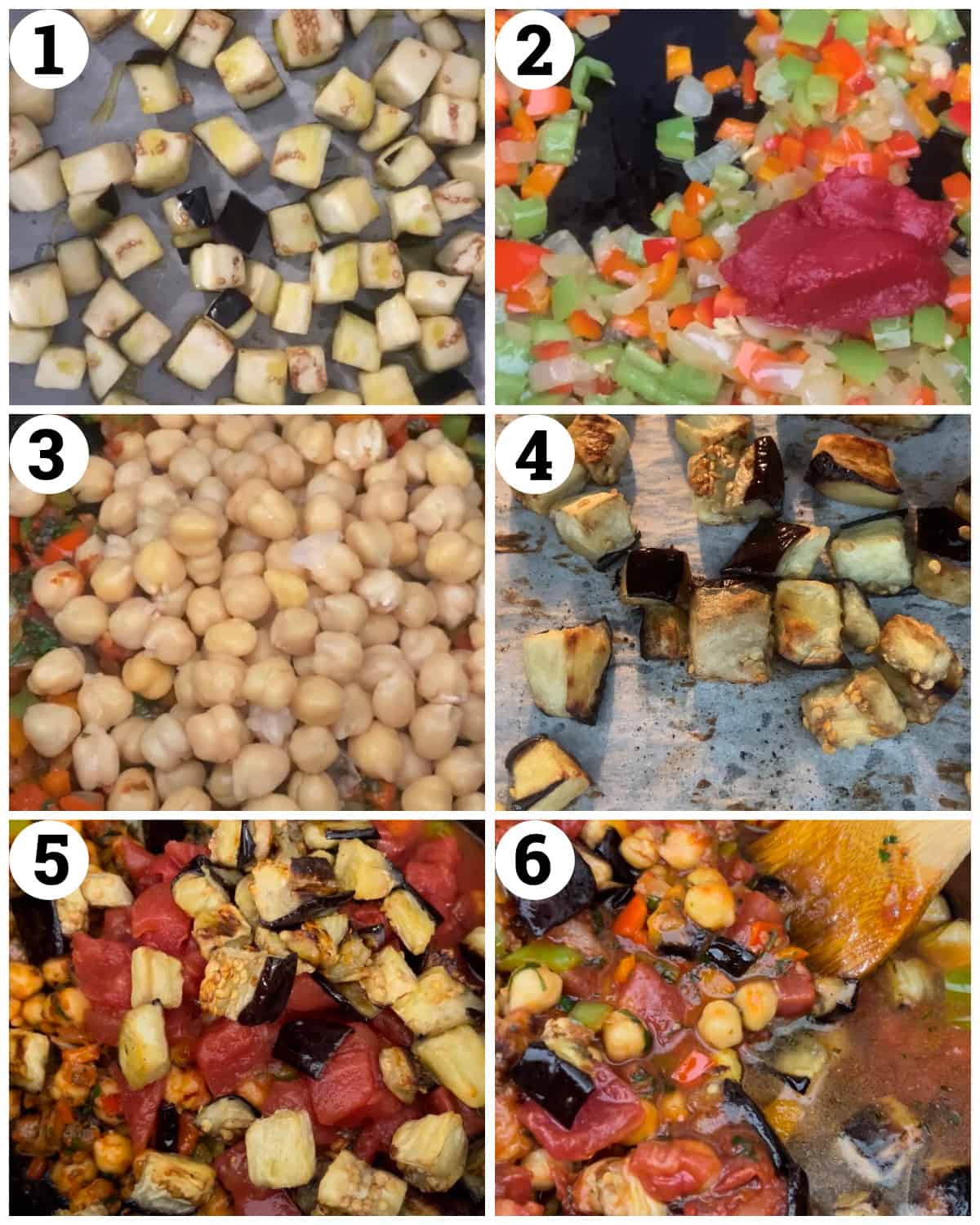 Cut the eggplant into cubes and place them in a colander. Toss them with salt and let them sit over a bowl for 30 minutes. This would remove the bitterness of the eggplant.
Rinse the eggplant cubes with cold water and and coat with olive oil. Roast them in the oven at 425 degrees F for 30 minutes, until fully cooked and golden brown.
Meanwhile, saute the onion in olive oil until translucent. Then add the garlic and pepper. Cook for a few minutes and then add the tomato paste and parsley followed by the spices.
Add in the canned tomatoes and chickpeas. Give it a good stir and add the roasted eggplants and some water. Cover and cook for 15 minutes until the sauce thickens.
Variations
Here are a few ideas to jazz up this vegetarian chickpea recipe:
Throw in some green or kalamata olives. They add a lot of flavor to the dish.
Use other vegetables such as potatoes, carrots, celery and leek.
Season this eggplant chickpea stew with spices mixes such as ras el hanout, Persian advieh or Lebanese seven spice.
Slice some preserved lemons and add it to the stew for some bright flavor.
Storage and reheating
Store the leftovers in an airtight container and refrigerate for up to 5 days. To reheat, place the leftovers in a sauce pan over medium heat and stir occasionally. It should take about 15 to 20 minutes for the stew to heat up.
Can I freeze eggplant chickpea stew?
Yes, once the stew is completely cool, store it in a freezer-safe container and freeze for up to 6 months. To reheat, let the stew thaw in the fridge overnight and then reheat over medium heat.
Frequently asked questions
Can I use fresh tomatoes instead of canned tomatoes for this recipe?
It's best to use canned tomatoes because of the extra juice and bright color.
Can I double this recipe?
Yes, you can easily double this recipe by doubling all the ingredients. The cooking time will remain the same.
Can I use homemade cooked chickpeas?
Yes, you can cook chickpeas from scratch and then add them to the stew.
Do I need to salt the eggplant?
Yes, salting the eggplant will remove the bitterness and will also help them get crispier when roasted.
Did you make this recipe? I'd love to hear about it! Please comment and leave a 5-star🌟 rating below. You can also follow us on Instagram, Facebook, Pinterest or subscribe to our newsletter to get a free e-Cookbook!
Step-by-Step Recipe
Vegan Eggplant Chickpea Stew Recipe
This recipe for eggplant chickpea stew is surprisingly easy and stress-free. It's vegan, gluten-free and dairy-free - perfect for picky eaters!
Ingredients
1

globe eggplant

Kosher salt

4

tbsp

olive oil

divided

1

large

onion

diced

6

cloves

garlic

minced

1

Italian green pepper

diced

1

red bell pepper

diced

1

tablespoon

tomato paste

½

cup

fresh parsley

chopped

1

tsp

oregano

1

teaspoon

Aleppo pepper

¼

tsp

black pepper

1

tsp

cumin

1

can

chickpeas

15 oz.

1

can

diced tomatoes

15 oz.
Instructions
Peel strips on the eggplant and slice it into 1 ½ inch cubes. Place them in a colander and toss them with 2 teaspoons kosher salt. Let them sit for 30 minutes to "sweat".

Meanwhile, preheat the oven to 425 degrees F and coat a baking sheet with nonstick spray. Rinse the eggplant cubes and toss them with 2 tablespoons olive oil. Arrange them on the baking sheet in one layer and roast in the oven for 30 minutes. Flip them halfway through to make sure they roast evenly on all sides.

While the eggplant is roasting, heat the remaining 2 tablespoons of olive oil in a Dutch oven or a pot over medium heat. Saute the onion for 10 minutes until golden. Add in the minced garlic, Italian green pepper and red bell pepper and cook for 10 more minutes.

Add the tomato paste, parsley, oregano, Aleppo pepper, 1 teaspoon kosher salt, black pepper and cumin to the vegetables and stir to combine. Add in the chickpeas and the diced tomatoes and give it a good stir.

Once the eggplant is roasted, add it to the chickpeas followed by ½ cup water. Turn the heat up to medium high and bring the stew to a simmer. Turn the heat to medium, cover and simmer for 15 minutes. Turn the heat off and let the stew sit covered for 10 minutes.

Serve warm with your favorite side dish.
Notes
You can serve with some lemon rice, brown rice, lavash or pita bread with a side of yogurt. A side of fresh salad such as Greek salad, fattoush or Mediterranean salad would turn this into a complete vegetarian meal.
Store the leftovers in an airtight container and refrigerate for up to 5 days. Reheat in a saucepan over medium heat for about 15 minutes.
You can freeze this stew for up to 6 months. To serve, thaw in the fridge overnight and reheat in a saucepan as instructed.
Nutrition
Calories:
218
kcal
Carbohydrates:
22
g
Protein:
4
g
Fat:
15
g
Saturated Fat:
2
g
Polyunsaturated Fat:
2
g
Monounsaturated Fat:
10
g
Sodium:
62
mg
Potassium:
763
mg
Fiber:
7
g
Sugar:
11
g
Vitamin A:
2867
IU
Vitamin C:
103
mg
Calcium:
90
mg
Iron:
3
mg
Did you make this recipe?
Let us know how it was by leaving a comment and a 5-star review!