This easy lamb stew recipe is hearty, healthy and easy to make. It's a one pot stew that's packed with vegetables, lamb and spices, perfect for a family meal.
If you're a fan of stew recipes, you should totally take a look at our Moroccan chickpea stew, Turkish chicken stew and Italian beef stew. Both are ideal family meals, and today we have a classic lamb stew to expand our lamb recipes collection!
Table Of Contents:
Why is this recipe a winner?
This is recipe that's perfect for weeknight dinners especially, in chilly weather. The lamb and potatoes go very well together and are flavored with vegetables such as onion and celery. We love making this delicious easy lamb stew in big batches and have it through the week.
Ingredients
To make a delicious lamb and vegetable stew you need the following ingredients:
Lamb: lamb shoulder cut into 1 inch pieces work best for this recipe. I prefer to discard the excess fat on the meat.
Celery: A few stalks of celery add a lot of flavor to the stew.
Carrots: They add just a little bit of sweetness to the dish.
Potatoes: Make sure the potato chunks are not too small.
Onions and garlic: The more the better!
Mushrooms: You can use white button mushrooms or baby bella mushrooms.
Spices: Including salt, pepper, bay leaf and turmeric. Alternatively and for bolder flavors, you can use Moroccan ras el hanout.
Tomato paste: Adds color and flavor.
Beef broth: To add some deep flavor. You can also use vegetable stock or water.
Most lamb stews call for wine or beer but this lamb stew recipe is alcohol-free and tastes fantastic. Try using fresh ingredients as they definitely boost the flavor of the stew. You can even prepare some of the ingredients in advance such as chopping the carrots and celery.
What cut of lamb to use
Lamb shoulder is the best cut to make stews as it is full of flavors because it's the part that has moved a lot. Lamb shoulder takes longer to cook therefor it's perfect for stews that need to cook for more time.
To learn more check out the ultimate guides to lamb cuts.
Instructions
Start with browning the lamb pieces and set aside.
Sauté the vegetables and add the lamb back. Make sure to scrape the brown bits at the bottom of the pot since that's where all the flavor is.
Add all the spices, tomato paste and beef stock to the pot and stir well.
Cover with the lid on and let the stew cook for about two hours until everything is fully cooked and the broth starts to thicken.
Kitchen tip: The key to a delicious lamb stew is fresh ingredients and a good amount of spices. Make sure that all the flavors are blended and the stew has simmered long enough.
Slow cooker instructions
Sauté lamb in some olive oil and transfer it to the slow cooker.
Next, sauté the vegetables in the same pot and transfer to the slow cooker.
Add in the spices and broth and then cook on high for 4-6 hours or on low for 6-8 hours.
Once cooked, take the lid off and mix two tablespoons of flour with ½ cup broth and return it to the slow cooker.
Cook for another 30 minutes in high for the broth to thicken.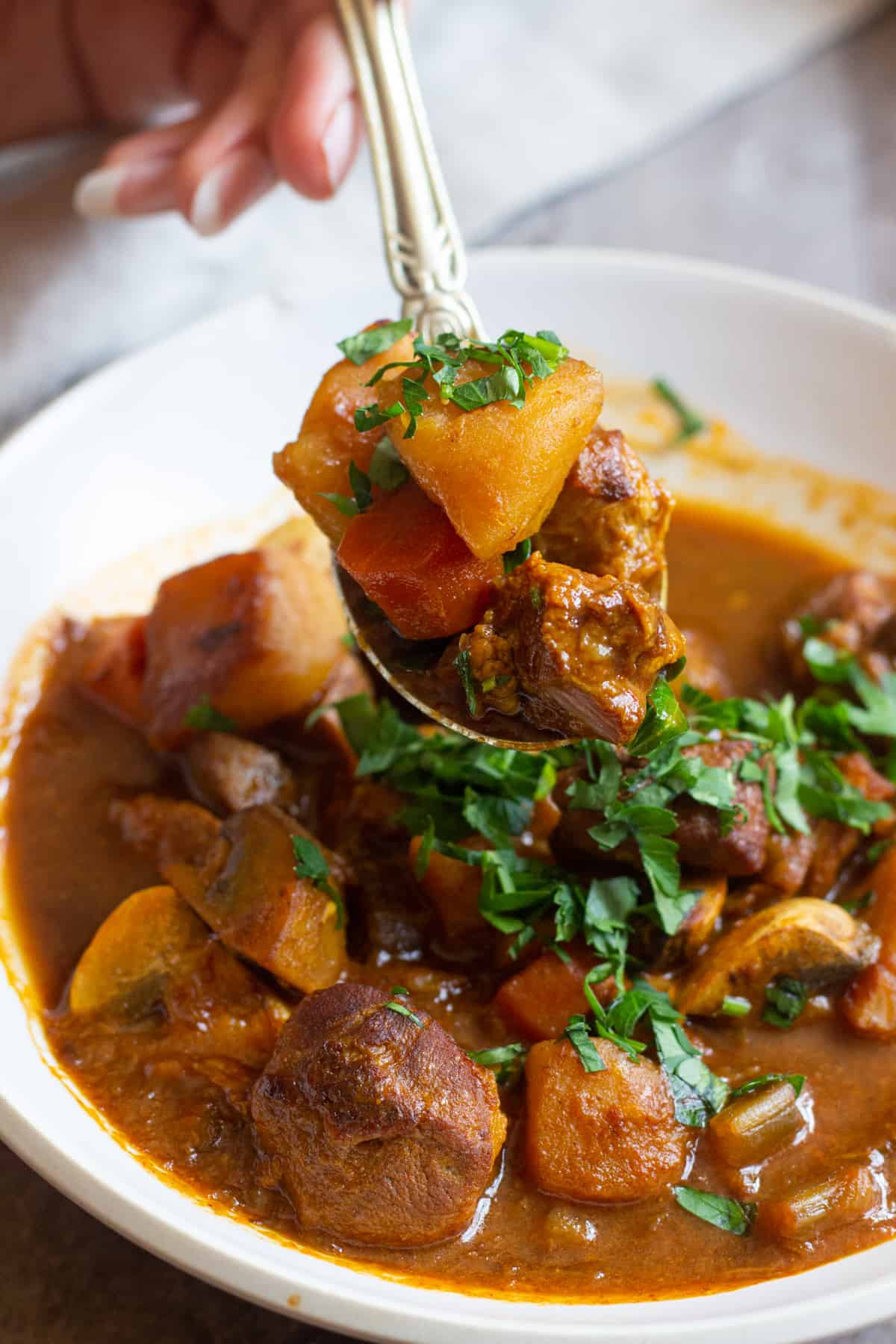 Frequently asked questions
Can I make this stew ahead of time?
Yes, you can make this recipe beforehand and refrigerate for up to 3 days. It's best to reheat it in a saucepan over medium heat.
How can I make this stew spicy?
To make spicy lamb stew, add ½ teaspoon cayenne pepper with the other spices to the stew. Once the stew is ready, taste and add more cayenne pepper if needed.
Can I add other vegetables?
Yes! This lamb stew is so versatile, you can add veggies such as bell peppers, green beans or butternut squash to this stew for more flavor.
Serving suggestions
You can serve lamb stew with French or Italian bread. You can also serve it on white rice, too. This lamb stew recipe is so easy and goes well with any kind of side even a green salad.
Notes and tips
If beef broth is not available, use vegetable broth or simply water.
You can leave out the mushrooms if you don't like to have them in the stew.
This stew can easily be frozen and reheated again. To reheat the stew, let it thaw in the fridge and then heat it on medium low in a pot.
For more flavor, you can also add bell peppers.
Add the 2 tablespoons of lemon juice to the stew right before serving for a bit of tanginess.
More Recipes
Did you make this recipe? I'd love to hear about it! Please comment and leave a 5-star🌟 rating below. You can also follow us on Instagram, Facebook, Pinterest or subscribe to our newsletter to get a free e-Cookbook!
Step-by-Step Recipe
Lamb Stew Recipe
This easy lamb stew recipe is filled with healthy and tasty ingredients. It's a one pot stew that's packed with vegetables, lamb and spices.
Ingredients
2

tablespoon

olive oil

1

lb

lamb shoulder

cut into ½ inch pieces

2

tablespoon

all purpose flour

1

large

white onion

sliced

3

stalks

celery

chopped

2

large

carrots

chopped

5

cloves

garlic

minced

3

yukon gold potatoes

cut into 1 inch cubes

2

tablespoon

tomato paste

2

cups

mushrooms

cut into quarters

1

teaspoon

salt

1

bay leaf

½

teaspoon

black pepper

½

tsp

turmeric

5

cups

beef broth

½

cup

parsley
Instructions
Heat olive oil in a dutch oven over medium heat.

Mix lamb and flour in a bowl and sauté in the Dutch oven until the lamb is brown on the outside.

Remove the lamb from the dutch oven and saute onions in the same pot until golden brown.

Add in celery, carrots, garlic and potato to the onion and saute for about 10 minutes.

Add the lamb back to the dutch oven.

Add tomato paste, mushrooms, salt, bay leaf, black pepper and turmeric to the lamb and vegetables. Stir well until everything is combined.

Add in beef broth, stir and cover with the lid.

Turn the heat to medium low and let it cook for about two hours until the lamb and vegetables are fully cooked.

Take the lid off and let it simmer for 15 minutes.

Top with parsley and serve warm.
Nutrition
Calories:
351
kcal
Carbohydrates:
38
g
Protein:
24
g
Fat:
12
g
Saturated Fat:
3
g
Cholesterol:
46
mg
Sodium:
1875
mg
Potassium:
1457
mg
Fiber:
6
g
Sugar:
7
g
Vitamin A:
6909
IU
Vitamin C:
45
mg
Calcium:
99
mg
Iron:
4
mg
Did you make this recipe?
Let us know how it was by leaving a comment and a 5-star review!