Instant pot white rice comes out perfectly every time. Learn how to make white rice in instant pot, the cooking time is only 5 minutes.
Have you tried any instant pot recipes lately? Instant pot makes life so easy and there are so many recipes you can make with it. Some basic instant pot recipes are instant pot brown rice, instant pot lentil soup and instant pot hard boiled eggs. Today I'm going to show you how to make white rice in instant pot. It's the perfect recipe for meal prep or batch cooking and it's so easy to make.
Cooking white rice can be tricky!
I grew up eating rice regularly and learned how to make Persian rice and tahdig at a young age. However, I know for many, making the perfect rice can be very tricky as there are so many things that could go wrong: burnt rice, hard rice, chewy rice or mushy rice. It's easy to avoid all these problems and make the perfect white rice every time by using your instant pot.
Is the instant pot a good rice cooker?
I would say yes, the instant pot is a good rice cooker and that's because it absorbs all the water you add in the beginning since there is no steaming process involved. It's important to make sure you add enough water before you start cooking.
It does take a few minutes for the instant pot to come to pressure and about 10-15 minutes to release the pressure naturally after cooking the rice. However, the best part about cooking white rice in a pressure cooker is that you can add rice, water, oil and salt all in the pot, seal the lid, press the button and set the timer and then forget about it until you're ready to serve it. There is no burning or need to check in constantly to make sure the rice has enough water.
I love cooking basmati rice in my instant pot. If you haven't tried basmati rice before, make sure to read this article by Bon Apetit to learn more about basmati rice and how to buy it.
What is the rice to water ratio for cooking white rice in pressure cooker?
To cook basmati rice, the rice to water ratio is 1:1 and it turns out perfect and fluffy every time. And you can use the same ratio for larger amount of rice. For example, if you use 4 cups of rice, then you should use 4 cups of water.
I did the 1:1 ratio and my rice came out dry, why?
I've heard some have this problem when it comes to cooking rice in pressure cooker. I suggest you make sure to add one or two tablespoons of vegetable oil to the rice and water before cooking. Oil will help the rice cook better and prevents it from drying out.
Do I need to rinse the rice before cooking instant pot white rice
Yes, absolutely. Make sure you wash the rice a few times to get rid of the excess starch. This will help the rice to become fluffy and not sticky at all. You can also soak the rice in water for 15 minutes and rinse it before cooking it in instant pot.
Pressure cook vs rice button for instant pot white rice
Instant pot does have a rice button that you can use to make rice. I prefer using the pressure cook button (or manual) because it results in a better and fluffier white rice.
How long should I cook the rice in the instant pot?
I've found 6 minutes on high pressure to be perfect when cooking basmati rice in instant pot. 5 minutes can make the rice a little bit chewy and more than 6 minutes can make the rice dry.
Natural pressure release vs quick release
I usually do quick release for instant pot recipes but for instant pot white rice, I always do natural release (on keep warm). Releasing the pressure naturally will give the rice enough time to cook. I strongly suggest that you do natural release while cooking white rice in instant pot and just take the time. It won't take more than 15-20 minutes for the pressure to be released naturally.
Instant pot white rice troubleshooting
Dry or burnt rice: This happens when there isn't enough water for the rice to cook. Make sure to follow the 1:1 ratio rule.
Sticky and broken rice: You've probably used too much water and the rice grains have absorbed more water than what they needed.
Water still in the pot: The cooking time hasn't been enough. If there's water in the instant pot when you open it, it means the rice needs more time to cook.
How to store cooked white rice
White rice, especially basmati is perfect for meal prep or batch making. You can make a large batch and then divide it in different containers to use it during the week with different main dishes or use it as a base to make a dish such as fried rice or other mixed rice dishes. There are two ways to store cooked white rice:
Refrigerate: Once the cooked rice is completely cool, transfer it to an airtight glass container and refrigerate for up to 5 days.
Freeze: Fill ziploc bags with cooled white rice and refrigerate for up to 3 months.
How to reheat rice
If reheating refrigerate rice, you can simply microwave it in a microwave safe dish or in a sauce pan with a tablespoon of water.
For frozen rice, it's best to let it thaw at room temperature before reheating it. However, you can also break it into pieces and place it in a microwave safe bowl and microwave for 2-3 minutes until fully warm and heated through.
What to serve white rice with
White rice makes a great side dish or base for many dishes. We love serving grilled dishes such as shish kabobs and Persian grilled saffron chicken with white rice. Some other dishes you canserve with white rice are:
Step-by-Step Recipe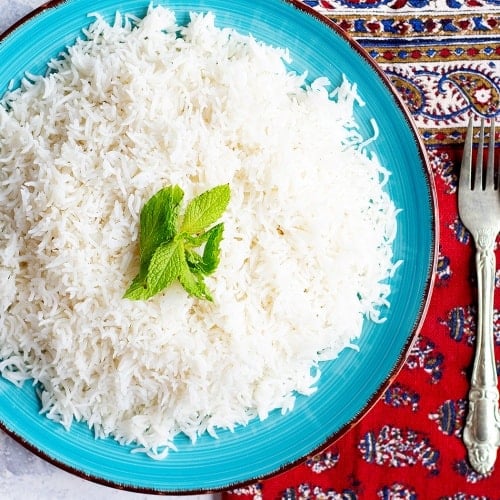 Instant Pot White Rice Recipe
Instant pot white rice comes out perfectly every time. Learn how to make white rice in instant pot, the cooking time is only 5 minutes.


Ingredients
2

cups

basmati rice

2

cups

water

1

teaspoon

salt

1

tablespoon

vegetable oil
Instructions
Rinse rice a few times until the water runs clear.

Place the rice in the instant pot.

Add in the water, salt and vegetable oil.

Press the pressure cook button and set it on high.

Cook on high for 6 minutes.

Do a natural release. It might take about 10 to 15 minutes.

Open the lid and fluff the rice using a fork.
Nutrition
Did you make this recipe?
Let us know how it was by leaving a comment and a 5-star review!