Enjoy this delicious and healthy egg salad with a Mediterranean twist that can be prepared in just 20 minutes. This mayo-free version is bursting with vibrant flavors from herbs, olives, and zesty feta.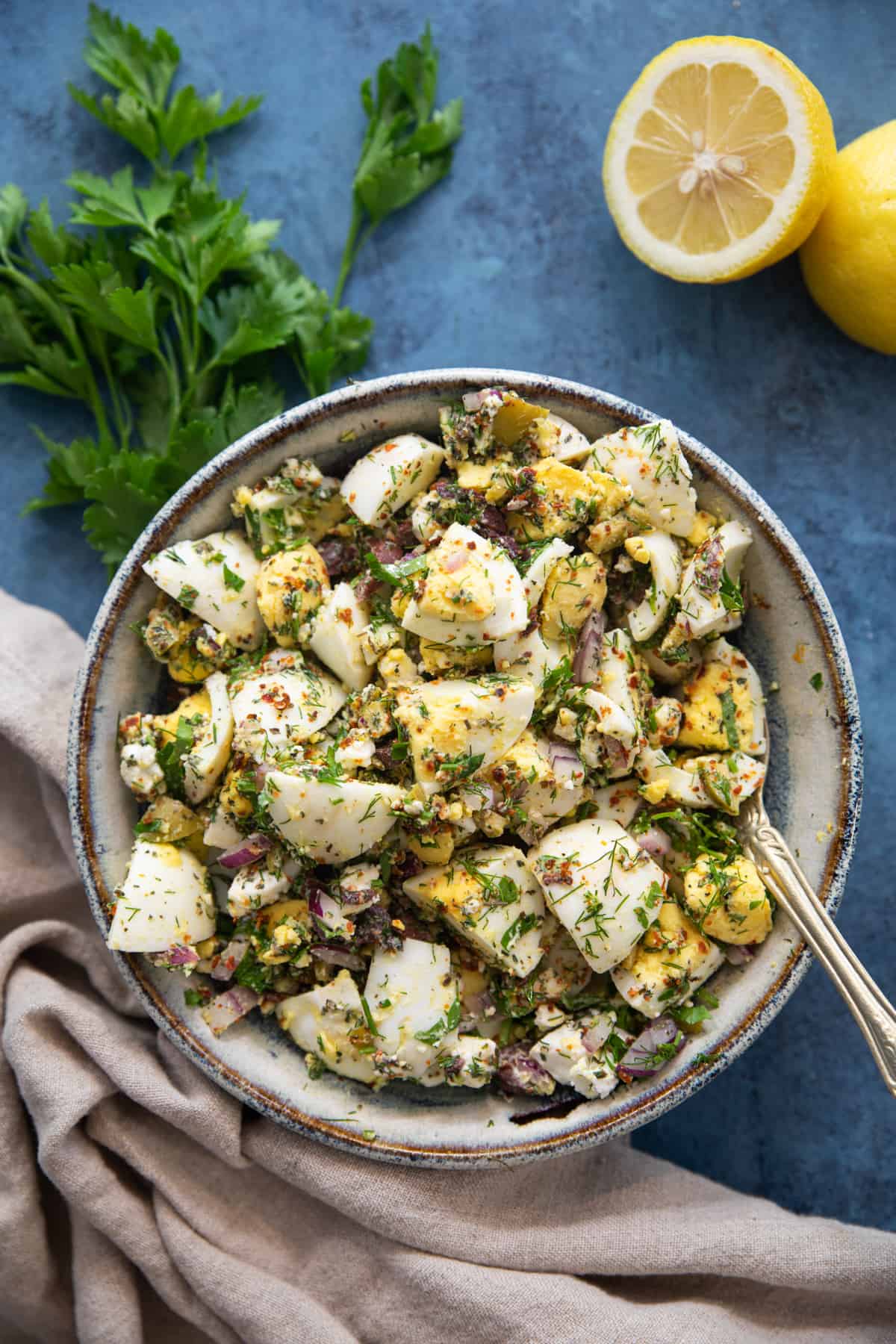 I've always been a fan of mayo-free salads, and you've probably seen me whip up quite a few. From my Mediterranean potato salad and creamy cucumber salad to healthy tuna salad, I love infusing my dishes with robust flavors while keeping them on the lighter side. This egg salad without mayo is one of our favorite recipes—it comes together in minutes and tastes absolutely phenomenal!
Table Of Contents:
Why This Recipe Works
Light and satisfying: Traditional mayo-based salads can feel heavy and overly rich. This healthy egg salad, made with olive oil and lemon juice, offers a lighter alternative that leaves you feeling satisfied without the heaviness.
Bursting with flavors: Prepare your taste buds for the delightful combination of olives, red onion, and dill! Inspired by Mediterranean cuisine, these flavors transform this egg salad into a crowd-pleaser.
Quick and easy: It's as simple as chop and mix! You can even boil the eggs a couple of days in advance and prepare the salad when you're ready.
Tips To Make The Best Egg Salad
The Eggs: Making hard boiled eggs is one of those basic skills that we all need to acquire. You can either boil them in water or make my instant pot hard boiled eggs.
Taste test: Seasoning is key when it comes to salads. Before serving, taste the egg salad and adjust the seasoning as needed.
Let it sit: For the flavors to meld together, refrigerate the egg salad for 30 minutes. This step is optional but enhances the salad's taste.
Healthy Egg Salad Ingredients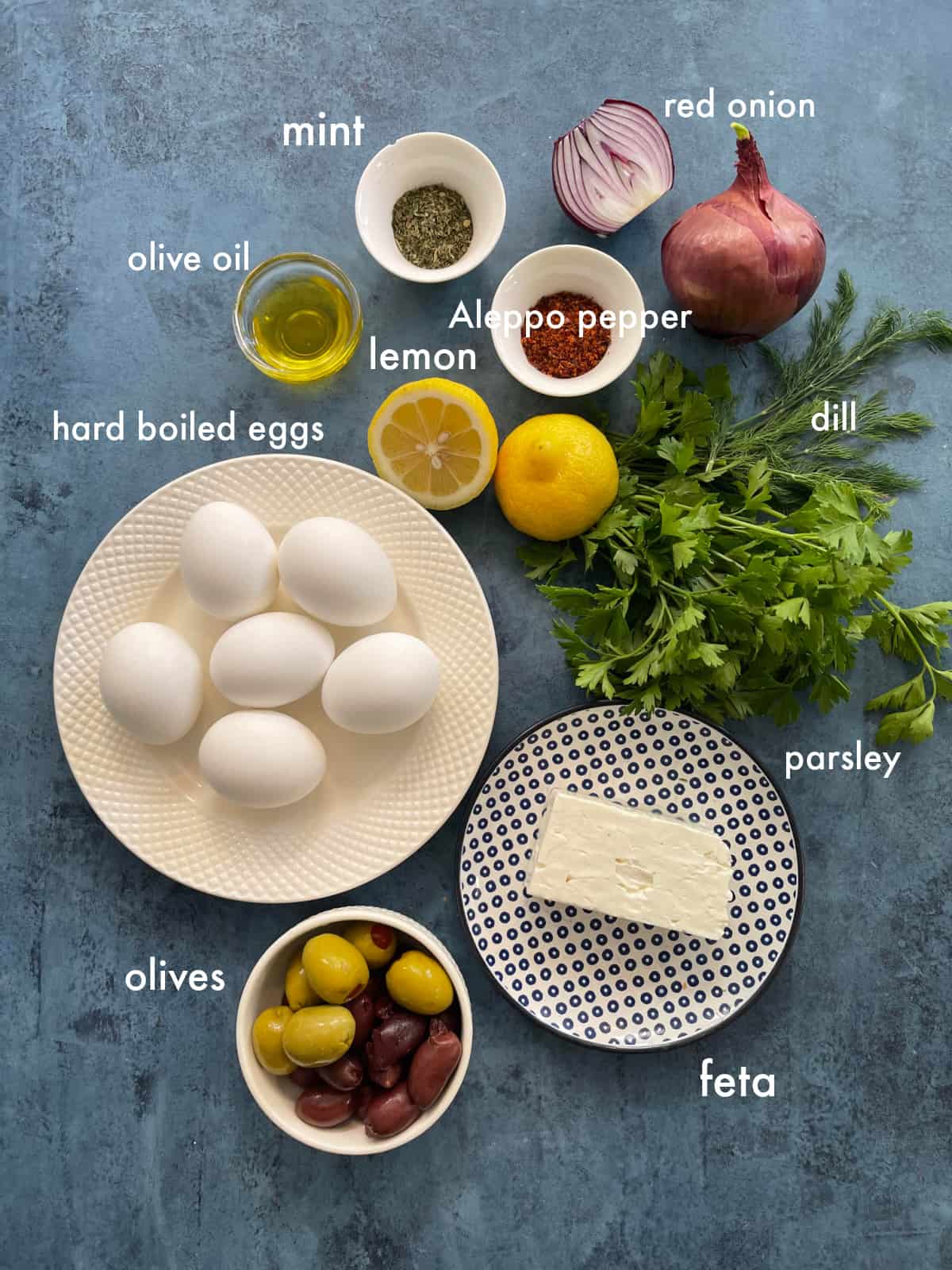 Eggs: Since eggs are the base of this salad, it's important to use the best eggs you can get your hands on.
Herbs: For this salad I use fresh dill and parsley.
Olives: A combination of green and kalamata olives work best in this recipe.
Red onion: It adds a lot of flavor and goes so well with the herbs.
Feta: It's best to get a block of feta in brine and crumble it yourself. It goes very well with the eggs and herbs.
Spices: You only need Aleppo pepper (or any other red pepper flakes) and dried mint.
Olive oil: It brings all the ingredients together and adds another layer of flavor. Exra virgin olive oil is best.
Lemon juice: For some bright and zesty flavor.
How To Make Healthy Egg Salad
Peel the hard boiled eggs and roughly chop them. Transfer them to a bowl.
Add in the fresh herbs, olives, red onion, Aleppo pepper, dried mint, salt and feta.
Drizzle with olive oil and lemon juice. Toss the salad gently to combine everything.
Cover and let the egg salad sit in the fridge for 30 minutes to one hour before serving.
Variations
Here are a few ways to jazz up this healthy egg salad recipe:
Vegetables: Add chopped celery or colorful bell peppers ful extra crunch.
Pickles: If you like pickles, add a few chopped dill pickles or pepperoncini to the egg salad for some kick.
Mustard: A dollop of mustard gives extra flavor to this egg salad and can elevate the flavor even more.
Serving Suggestions
Serve this delicious egg salad on its own, in lettuce cups or with some toasted crusty bread. You can also turn it into a delicious sandwich or wrap using pita or lavash and some herbs and pickled turnips.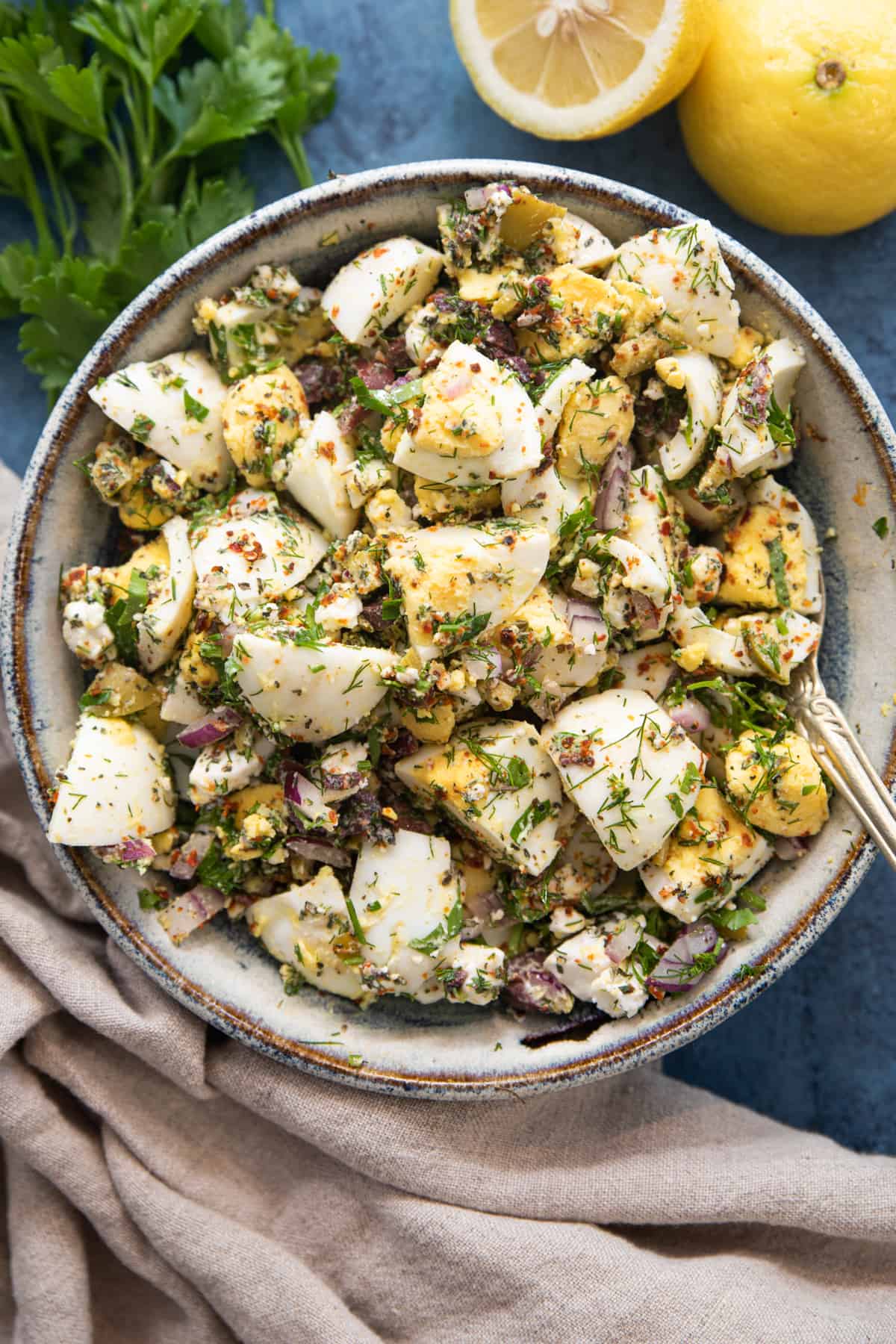 Leftovers
Store any leftover egg salad in an airtight container and refrigerate for up to 4 days. When serving, drizzle it with a little olive oil and add fresh herbs for a burst of freshness.
Frequently Asked Questions
Can I freeze egg salad?
I don't recommend freezing egg salad as the texture will change, and the eggs may become grainy.
Can I chop the eggs finely for egg salad?
Absolutely! The size of the egg chunks is a personal preference. I enjoy larger chunks, but smaller ones work just fine too.
I'd like my egg salad to be creamy, what can I use instead of mayonnaise?
If you're aiming for a creamy texture without using mayonnaise, you can add a couple of tablespoons of Greek yogurt along with a teaspoon of mustard to achieve a similar consistency.
Check Out These Mayo Free Salad Recipes
Did you make this recipe? I'd love to hear about it! Please comment and leave a 5-star🌟 rating below. You can also follow us on Instagram, Facebook, Pinterest or subscribe to our newsletter to get a free e-Cookbook!
Step-by-Step Recipe
Mediterranean Healthy Egg Salad Recipe (No Mayo!)
Enjoy this healthy egg salad with a Mediterranean twist that's ready in 20 minutes. This no mayo version gets its bright flavors from herbs, olives and zesty feta.
Ingredients
½

cup

fresh dill

chopped

½

cup

fresh parsley

chopped

1

cup

olives

green and kalamata, chopped

½

red onion

chopped

1

tbsp

dried mint

1

tsp

Aleppo pepper

½

cup

feta

crumbled

2

tbsp

olive oil

1

tsp

lemon juice

½

tsp

kosher salt
Instructions
Peel the eggs and roughly chop them, add them to a large bowl.

Add in the dill, parsley and chopped olives followed by red onion, dried mint, Aleppo pepper and crumbled feta.

Drizzle with olive oil, then add the lemon juice and salt. Gently give it a toss for all the ingredients to combine.

Cover and let the egg salad chill in the fridge for 30 minutes to an hour before serving.

Serve on its own, with lettuce cups, crusty bread, lavash or pita.
Notes
If Aleppo pepper is not available, use any other red pepper flakes depending on your preference.
You can add other ingredients such as pickles, celery or bell peppers for more flavor.
Store the leftovers in an airtight container for up to 4 days.
Nutrition
Calories:
329
kcal
Carbohydrates:
6
g
Protein:
16
g
Fat:
27
g
Saturated Fat:
7
g
Polyunsaturated Fat:
3
g
Monounsaturated Fat:
14
g
Cholesterol:
390
mg
Sodium:
1173
mg
Potassium:
276
mg
Fiber:
2
g
Sugar:
2
g
Vitamin A:
2008
IU
Vitamin C:
16
mg
Calcium:
194
mg
Iron:
3
mg
Did you make this recipe?
Let us know how it was by leaving a comment and a 5-star review!