This pan seared cod is cooked in a flavorful shallot, fennel and mushroom sauce and served with some dill rice. It's a simple cod recipe makes the perfect dinner is less than one hour.
Seafood is an important part of our weekly meal plan. Our favorites are grilled branzino, stuffed fish, Teriyaki pineapple salmon, and, of course, lemon ginger shrimp orzo. All are quick and easy recipes that the whole family loves. This pan seared cod with a fennel sauce is a new addition to our collection!
This post is in partnership with my friends at J.L. Hufford. All opinions are mine.
A flavorful pan seared cod recipe with a delicious sauce
What I love the most about cod fillets is that they are so easy to cook and absorb flavor pretty well. There are so many cod recipes out there but today I'm going to show you how to cook cod with an out of this world shallot fennel sauce that's perfect for a family dinner or a date night in. The whole meal comes together in less than an hour and tastes like one from a high end restaurant.
I was thinking of a delicious cod recipe for a while so when J.L. Hufford reached out to me with their new line of cookware called ICON, I knew this recipe would be perfect for it. ICON has all the benefits of cast iron but is low maintenance which is great for everyday use. It works on any cook top including induction and can also be used in the oven.
How to pan sear cod
Cod is a very tender and delicate fish by nature therefore searing it can be pretty tricky. It's important to use a good quality pan to sear cod and for this recipe, I used ICON's 4Qt. Saute Pan. I love how this pan is lighter than cast iron skillet and has a chemical-free surface which means the food will taste perfect in it.
To make this cod recipe with fennel sauce, you need cod, fennel, broth, shallots, heavy cream and some spices.
To pan sear cod, melt some butter in the pan and pat dry the cod fillets. Sprinkle with some salt and pepper and dredge in a little bit of flour. Place the cod fillets in the pan and sear on one side for about four minutes. Then flip the fillets and sear for another four minutes. Then take the seared cod fillets out of the pan and start making the shallot fennel sauce by sauteing shallots and fennel in the same pan with mushrooms.
Once the vegetables are cooked, add vegetable broth and heavy cream. Bring to simmer and once the sauce is ready, return the pan seared cod fillets to the pan for them to absorb the flavor.
What to serve with cod fillets and fennel sauce
I love serving fish and seafood with Persian dill rice or Persian herb rice. You can also serve cod fillets with mashed potatoes, roasted potatoes or simply with some bread and a side salad.
Can I use frozen cod to make this recipe?
Yes! Thaw cod fillets in the fridge and then simply proceed with the recipe.
What to do with leftover cod fillets?
You can store the leftovers in an airtight container for one day. To reheat, place the food in a pan and reheat over medium low heat.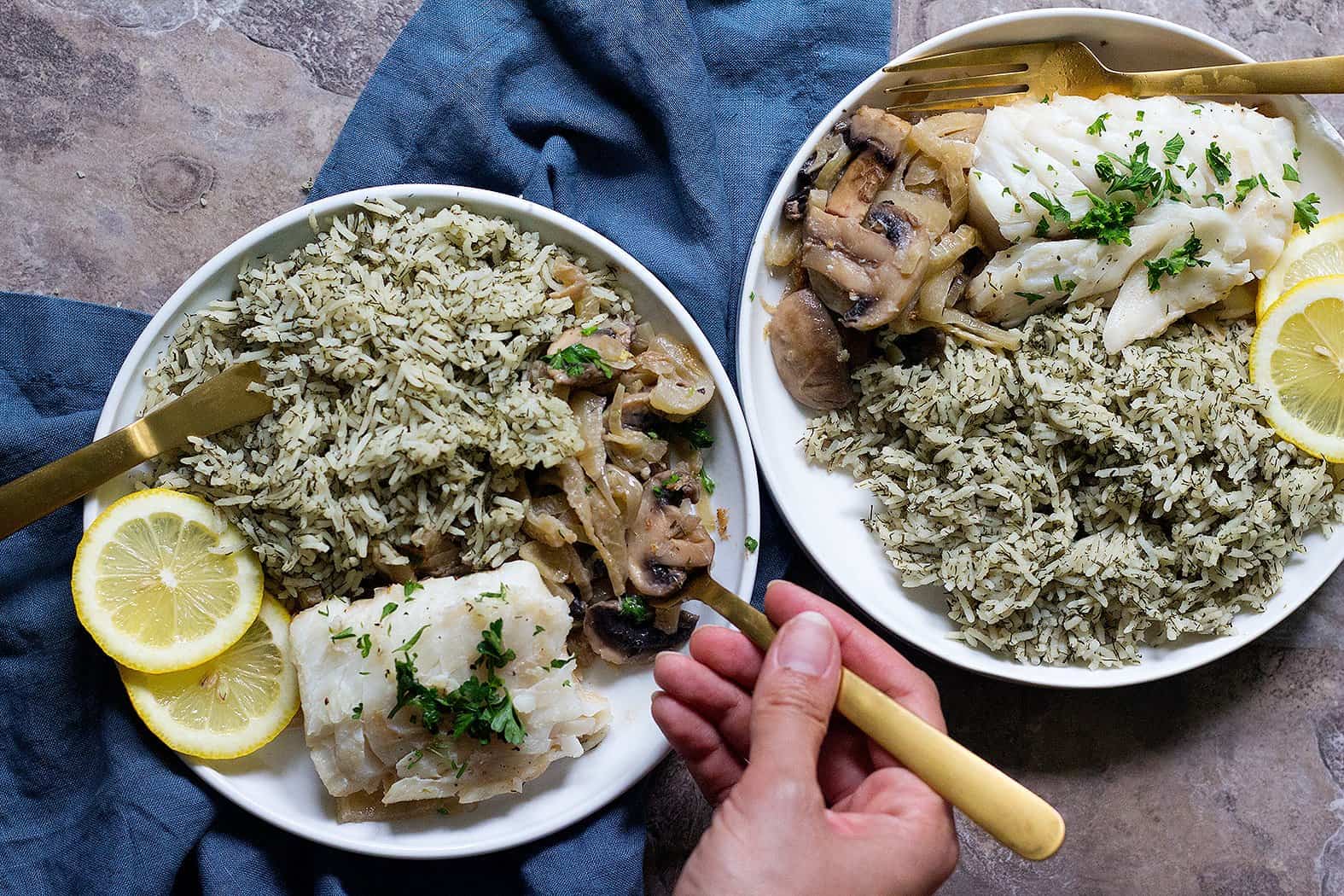 More recipes:
Notes and tips to make pan seared cod fillet recipe
Make sure you buy thicker fillets of cod as it's a very delicate fish.
Cod doesn't need too much time to cook, about four to five minutes on each side is perfectly enough.
I used two shallots for this recipe but you can add more or less depending on your preference.
A splash of lemon at the very end will balance the flavor by adding a bit of acidity to the sauce.
You can use half and half instead of heavy cream in this recipe. The sauce is not supposed to be thick, just a bit of texture is what we're looking for.
Step-by-Step Recipe
Pan Seared Cod with Shallots and Fennel
This pan seared cod is cooked in a flavorful shallot, fennel and mushroom sauce and served with some dill rice. This simple cod recipe makes the perfect dinner is less than one hour.
Ingredients
4

tablespoon

butter

divided

4

pieces

cod fillets

3

tbsp

all purpose flour

2

shallots

diced

1

fennel

thinly sliced

1

lb

white mushrooms

sliced

2

cups

vegetable broth

½

cup

heavy cream

½

teaspoon

sea salt

½

tsp

freshly ground pepper

2

tablespoon

lemon juice

dill rice to serve

See notes
Instructions
Melt 2 tablespoon butter in the pan over medium heat. Pat dry cod fillets and sprinkle salt and pepper on both sides of the fish.

Dredge cod fillets in all purpose flour.

Sear cod fillets in butter for four minutes on each side. Transfer the cod fillets to a plate.

In the same pan, melt the remaining butter and add shallots and fennel to the pan.

Saute until fennel starts softening. Add in mushrooms and stir well until the vegetables are cooked and soft.

Pour the vegetable broth and heavy cream into the pan. Season carefully with salt and pepper since the vegetable broth has some salt.

Bring to simmer and let the sauce simmer for five to seven minutes.

Place the cod back in the pan and cook for a couple of minutes. Add the lemon juice right before serving.

Serve cod and shallot fennel sauce with dill rice.
Notes
You can find the recipe for dill rice on Unicorns in the Kitchen.
Nutrition
Did you make this recipe?
Let us know how it was by leaving a comment and a 5-star review!