This Persian Homemade Crepe Recipe is one you'll want to remember. Cooked with molasses, this crepe is different from everything you've had before.
Breakfast and brunch are my favorite meals of the day, when you have everyone around munching on different delicious foods and talking and talking and talking.
Today, we're back into our Persian kitchen with this Persian homemade crepe recipe called Khagineh or Gheyghanakh. It's one of my favorite things to make in fall because it's filled with molasses (which screams holidays) and is topped with all delicious toppings such as coconuts and pistachios.
Khagineh can be served as breakfast or as a dessert. It's a recipe from the north west of Iran, the Azarbaijan region, where my dad is from. My maman used to make this sweet omelette a lot back in Iran and that's why I would love to share this homemade crepe recipe with you. It's family approved!
This recipe doesn't require any special ingredients. Just the good old eggs, milk and flour. Yes, it's that simple but it's the steps that make it special. And don't worry, the steps aren't complicated either. That's how I like my recipes to be: simple, easy and full of flavor!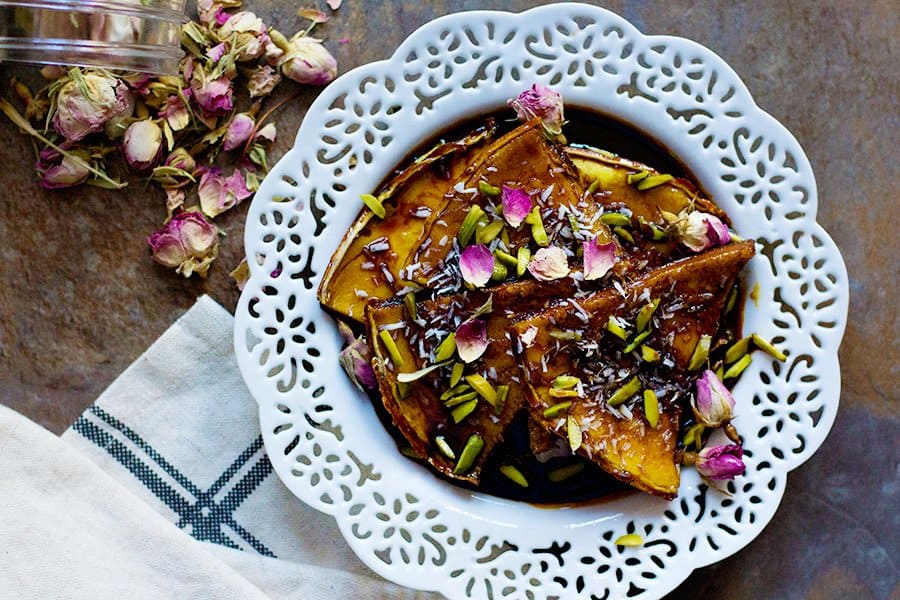 But what is special about this sweet omelette - Khagineh?
The texture. It's something between an omelette and a crepe. Also, the way it's cooked make a big difference. As the crepe is almost cooked, it's drizzled with molasses and then cooked for some more so it absorbs the molasses and gets all the flavor.
Notes and tips for Persian Homemade Crepe Recipe:
This recipe is enough for two people. It would yield one crepe that is thicker than usual crepes. Served with molasses, this recipe can be used for both breakfast or dessert.
Don't have edible Persian rose petals? No worries, they're only used for garnish so you can simply leave them out.
Same goes for slivered pistachios. You can use whole pistachios, ground pistachios, or any other nuts you prefer.
If there are flour lumps in your batter, simply strain it. This batter is going to be quite runny.
If you don't like molasses, you can serve this Persian crepe with saffron syrup. You can find the recipe here.
Don't forget to follow us on Instagram, Facebook, Twitter and Pinterest for more food goodness!
Looking for more Persian recipes?
Persian Homemade Crepe Recipe
This Persian Homemade Crepe Recipe is one you'll want to remember. Cooked with molasses, this crepe is different from everything you've had before.
Ingredients
3

Eggs

Room Temperature

3

tablespoon

Whole Milk

3

tablespoon

All Purpose Flour

2

tablespoon

Vegetable Oil

½

cup

Molasses
Topping:
2

tablespoon

Unsweetened Shredded Coconut

2

tbsp

Slivered Pistachios

Edible Persian Rose Petals
Instructions
In a bowl, mix the eggs using a whisk or an electric mixer.

Add in flour and whisk well until fully incorporated. If the batter has some lumps, strain the batter.

Place a nonstick pan on medium heat. Pour the oil in the pan.

Once the pan is hot, pour the batter in the pan. Cook for 5 minutes until set on top and not runny anymore.

Using a spatula, cut the crepe into triangles.

Pour molasses all over the crepe, turn the heat to low and let it cook for another 4-5 minutes.

Transfer the Crepe pieces into a plate, drizzle some more molasses on top if needed and top with unsweetened shredded coconut, slivered pistachios and edible Persian rose petals.
Notes
If edible Persian rose petals are not available, you can use leave it out.
If you're not a fan of molasses, you can make this saffron syrup instead. In that case, don't add the saffron syrup to the cooking crepe. Let the crepe cook fully and use the saffron syrup while serving.
This recipe is also called sweet omelette or sugar omelette. The recipe is enough for two people but you can definitely double or triple the recipe if needed.
Nutrition
Calories:
280
kcal
Carbohydrates:
37
g
Protein:
5
g
Fat:
13
g
Saturated Fat:
9
g
Cholesterol:
124
mg
Sodium:
69
mg
Potassium:
697
mg
Fiber:
1
g
Sugar:
32
g
Vitamin A:
196
IU
Calcium:
118
mg
Iron:
3
mg
Did you make this recipe?
Let us know how it was by leaving a comment and a 5-star review!