This no churn saffron ice cream is the best. Delicious homemade ice cream made with saffron, cardamom and pistachios is a delightful treat.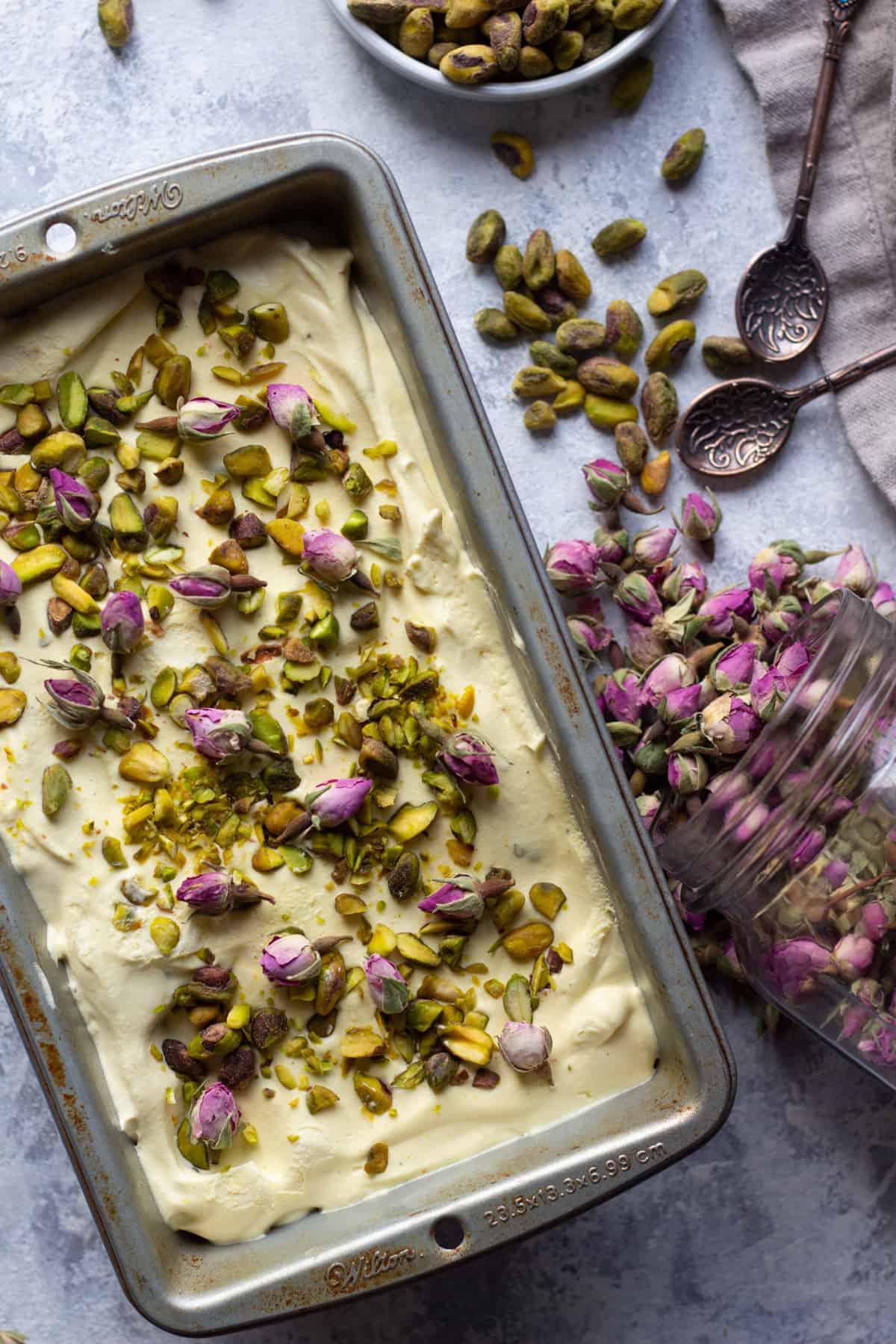 Persian desserts are light and tasty. Some Persian desserts such as khagineh (Persian homemade crepe) are so easy to make, whereas others like Persian walnut pastries may require a bit more work. It's common to use saffron in Persian desserts; some of our favorite desserts made with saffron are Persian halva pudding and Persian love cake. This Persian saffron ice cream called bastani sonnati is another popular Persian dessert that's absolutely delightful and delicious.
Table Of Contents:
What does saffron taste like?
Saffron is a unique spice that's made from stigmas of saffron flower. Each flower has between 10 and 12 stigmas meaning that it takes about 75000 saffron flowers to produce one pound of saffron - which explains why it's one of the most expensive spices in the world.
Saffron has a bright flavor and a little bit of it goes a long way therefore you need to make sure not to overuse it when cooking. Saffron is pungent, floral, and hard to describe. It's a spice that can be used in both sweet and savory dishes. Some of the popular savory dishes made with saffron are Persian saffron rice, Persian saffron chicken and paella. As noted, saffron can also be used in sweet recipes such as a saffron milkshake.
How do you use saffron?
Depending on the culture and cuisine, the use of saffron varies from region to region. After doing a lot of research and endless experimenting with different ways of using saffron, I have come to the conclusion that blooming saffron on ice is the best way to get all the flavor, color and aroma of this golden spices. I have written a complete post about saffron, its uses and how to bloom and use it.
Saffron in ice cream?
Yes! Saffron ice cream is probably the oldest type of ice cream in Iran and you can find it in every corner of every city, either sandwiched between two wafers or served in a cup. Packed with pistachios, saffron ice cream is luscious, golden and even a little luxurious to the western eye. Trust me , the flavor is out of this world!
The history of ice cream
It's been said that ice cream was born in the Persian Empire around 500 BC in the form of ice combined with flavors as a summertime treat. So looks like our people have been into this sweet frozen treat for quite some time now. Saffron ice cream is probably the most traditional ice cream in Iran and is loved by millions around the world.
Ingredients to make saffron ice cream
I used a no-churn recipe to make this traditional Iranian ice cream, meaning that there are no eggs in this recipe. This saffron ice cream is made with:
Heavy cream
Sweetened condensed milk
Rose water
Cardamom
Pistachios
You can find rose water in middle eastern shops and you can find cardamom in almost any supermarket or Indian stores. As for the pistachios, it's best to get raw pistachios but if you get roasted pistachios, make sure they are unsalted as we want the natural flavors of pistachio to shine.
How do you make no churn saffron ice cream
This simple and easy ice cream recipe can be made in a few minutes and you don't need an ice cream maker to make it.
Start by mixing sweetened condensed milk with bloomed saffron, cardamom and rosewater. Set aside. Whip the heavy cream until stiff peaks form. Fold the saffron sweetened condensed milk into the whipped cream and very gently. Fold in chopped pistachios as well.
Transfer the ice cream to a clean and dry 9x5 loaf pan and and freeze for at least 8 hours. If desired, top with rose petals and more pistachios.
The addition of rose water and pistachios
Rosewater and pistachio are both essential Iranian ingredients. Adding these two ingredients to the ice cream gives it so much flavor. Rose water is quite powerful so make sure not to add too much, otherwise it will overpower the other flavors. The addition of pistachios give the ice cream a nice crunch in every spoonful so please don't skip it.
How long does this ice cream keep?
You can keep This Persian ice cream in the freezer for up to a week in the same pan you made it in. Make sure to cover it with a plastic wrap so it doesn't get frosty on top. If the ice cream is too hard to scoop, let it sit on the counter for a few minutes before serving.
Notes and tips
Please use regular heavy cream and not light whipping cream or non-dairy cream. This ice cream calls for regular, full fat heavy cream.
If you like the ice cream to be very yellow, feel free to add a few drop of yellow food coloring. I love the natural color and didn't see the need to do so.
Using edible rose petals on the ice cream is completely optional. If you would like to do so, you can purchase them at Asian or middle eastern markets.
It's important to grind the saffron perfectly. You can use a pestle and mortar to grind saffron or you can use a clean coffee grinder if you're going to grind a big batch of saffron and use it later.
Did you make this recipe? I'd love to hear about it! Please comment and leave a 5-star🌟 rating below. You can also follow us on Instagram, Facebook, Pinterest or subscribe to our newsletter to get a free e-Cookbook!
Step-by-Step Recipe
Persian No Churn Saffron Ice Cream
This no churn saffron ice cream is the best. Delicious homemade ice cream made with saffron, cardamom and pistachios is the perfect treat.


Ingredients
1

can

sweetened condensed milk

14 oz.

2

tablespoon

thick bloomed saffron

see notes

1

tablespoon

rose water

½

teaspoon

ground cardamom

2

cups

heavy cream

very cold

½

cup

pistachios

chopped
Instructions
Place the mixing bowl in the freezer.

In a bowl, mix sweetened condensed milk with bloomed saffron, rose water and ground cardamom. Set aside.

Take the bowl out of the freezer and pour in the heavy cream. Whip the heavy cream until stiff peaks form.

Gently fold in the sweetened condensed milk mixture.

Fold in the chopped pistachios.

Transfer the ice cream to a 9x5 loaf pan and top with more pistachios.

Freeze for at least 8 hours.

Scoop out Persian saffron ice cream and serve.
Notes
If you think the color is not yellow enough, add 2 more tablespoons bloomed saffron.
Nutrition
Calories:
408
kcal
Carbohydrates:
31
g
Protein:
7
g
Fat:
30
g
Saturated Fat:
17
g
Cholesterol:
98
mg
Sodium:
86
mg
Potassium:
307
mg
Fiber:
1
g
Sugar:
28
g
Vitamin A:
1039
IU
Vitamin C:
2
mg
Calcium:
187
mg
Iron:
1
mg
Did you make this recipe?
Let us know how it was by leaving a comment and a 5-star review!