Persian Pickles with tomatoes are the perfect addition to any Persian dish. It's made with crisp and delicious vegetables mixed with homemade tomato sauce and spices.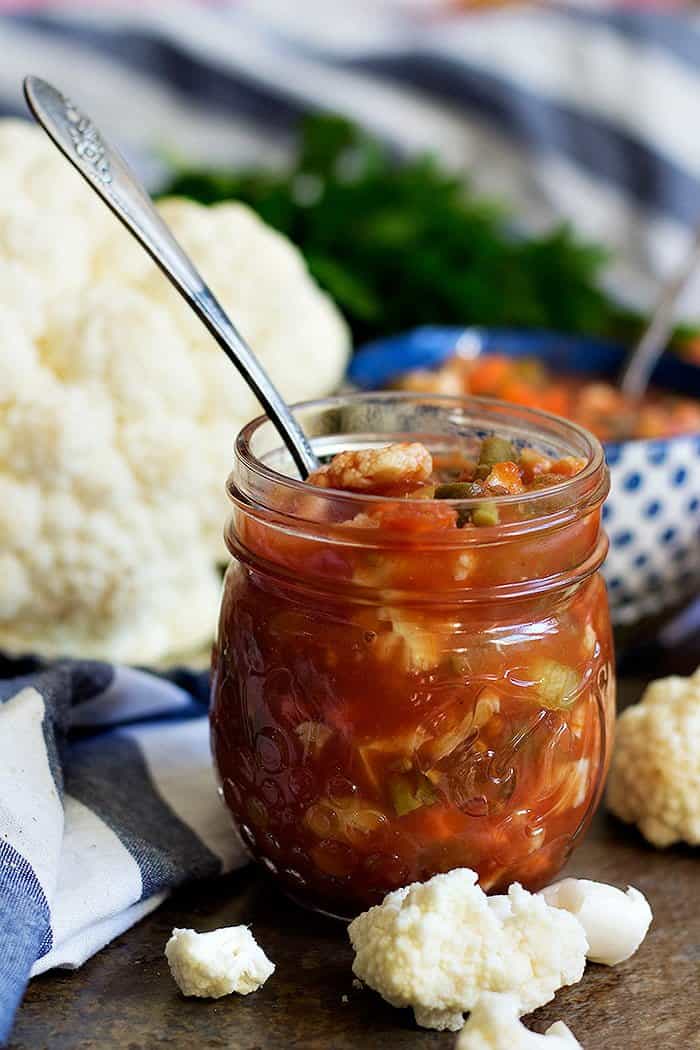 Pickles are a big part of Middle Eastern and Mediterranean cuisines. These Persian pickles are quick, easy and oh-so-good! Just like quick pickled cabbage, preserved lemons and pickled turnips, these would take some time to ferment and be ready, but they're totally worth the wait!
Bet you cannot find an English recipe for this recipe anywhere on the internet because Persian cuisine has still not made itself known to the world as much as it deserves. So here I am with a recipe that's not out there in English and trust me, you need this, just as much as we do.
More favorite Persian Recipes:
Persian pickles with tomatoes are perfect with any dish you make, especially rice dishes. Or, as we discovered as an Iranian American family, it's also great with tortilla chips! You can even call it the Persian salsa!
Why are Persian pickles with tomatoes our go-to pickles recipe?
It's quick! While many Persian pickles recipes require months of preparation, this one is ready in 10 days and even if you cannot wait for 10 days and want to start eating these the day after making, it's totally okay, they always taste fantastic.
They're not very tangy and sour. Because of the salt, garlic and vinegar combination, these Persian pickles have the perfect tang without making your tongue go numb.
It's full of veggies! This Torshi (Farsi for Pickles) calls for green beans (steamed), celery, cauliflower, carrots and cucumbers. All the veggies are mixed together and once mixed with the homemade tomato sauce, they turn into the best side for rice dishes!
It tastes like my first home. I'm not going to get all dramatic here, but my friends, every spoonful of this takes me back to my parents home and I won't trade that feeling for the world. I love how I can get back to those days with food!
It totally a family-friendly recipe. This recipe yields at least 20 servings (even more) and it requires chopping and cutting and cooking so it would be great to have everyone around and make this together. It can be your new holiday tradition. I know it will be one of our traditions!
The fermentation process of these Persian pickles is 10 days and it should be done in a cold and dry place, so we usually make these Persian pickles during fall and winter.
Persian pickles taste great because they're made with fresh ingredients. Canned tomatoes and other vegetables were not common in Iran until the last decade (perhaps) so many Persian recipes call for seasonal fresh ingredients which is why Persian cuisine is considered as one of the healthiest and most seasonal cuisines out there.
The most important part of these Persian pickles with tomatoes is the tomato sauce. It's made with Roma tomatoes which are cooked in a pot and then pureed in a blender or food processor and then cooked again to thicken a bit and let the extra water evaporate.
This recipe calls for 2 tablespoons of salt. Before adding the tomato sauce to the vegetables in the jar, taste the sauce and make sure it's as salty as you would like it to be. Remember that the flavors will blend and bloom once they're together and sit for 10 days.
Notes and tips to make Persian pickles:
Make sure the cauliflower florets are not too big or too small. We don't want the to crumble or be too big to not get any flavor.
Choose large mason jars to make these Persian pickles as it's easier to put the vegetables in and fill the empty spaces up to the rim with the tomato sauce.
In the olden days, people would run the tomatoes through a sieve that strained out the seeds and the skin and they would discard those. I hate wasting ingredients so I blend the cooked tomatoes in a food processor or a blender and they always turn out perfectly. It's great to follow tradition as long as it doesn't waste ingredients.
The pungent flavor of these Persian pickles come from the white vinegar. Two and a half cups of white vinegar is most definitely enough for this recipe especially because it stars getting tangier as it ferments. Check the pickles after 5 days: if the liquid is not all the way up to the rim, add white vinegar to fill the jar.
You can start serving them after the 5th day or you can let them sit for up to 2 months. If you open a jar and start servings the pickles, put the leftovers in the fridge.
Step-by-Step Recipe
Step-by-Step Recipe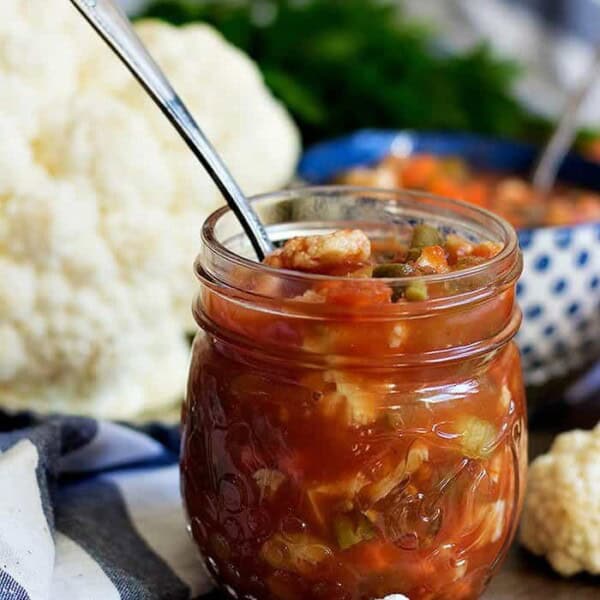 Persian Pickles with Tomatoes - Torshi Mashhadi
Persian Pickles with tomatoes are the perfect addition to any Persian dish. It's made with crisp and delicious vegetables mixed with homemade tomato sauce and spices.
Ingredients
1

lb

Green Beans

6

cups

Cauliflower Florets

Or 2 full heads of cauliflower

7

Stalks

Celery

Cut into ¼" pieces

3

English cucumbers

Diced into ¼" pieces

2

lbs

Carrots

Diced into ¼" pieces

10

lbs

Roma Tomatoes

3

heads

Garlic

Peeled and chopped

2

Jalapenos

Deseeded and diced

2 ½

cup

White Vinegar

2

tablespoon

Salt
Instructions
Trim the green beans, cut them into ¼" pieces. Bring a pot of water to boil and steam the green beans for 10 minutes. Then let them dry completely.

Wash cauliflower florets, celery, English cucumber and carrots. Mix together and let dry completely.

Cut each Roma tomato into 8 pieces and put them in a large pot. Turn the heat on to medium and cook the tomatoes until fully soft.

Transfer the cooked tomatoes into a food processor or blender and blend completely until no chunks are left. If needed, mix the tomatoes in batches.

Transfer the tomatoes back to the pot and turn the heat on to medium and bring the tomatoes to simmer.

Simmer for 30 minutes. Turn the heat off and the tomatoes reach room temperature.

Once the tomatoes are at room temperature, add the garlic and jalapenos to them and stir well.

Next, add in the white vinegar and salt. Stir well.

Fill clean Mason jars with the dry vegetables and green beans and then pour the tomato mixture on the vegetables until the jar is completely full up to the rims.

Place the lids on the mason jars tightly and make sure they're fully sealed.

Let the jars sit in cold temperature for 10 days.

After 10 days, the Persian pickles are ready to eat.
Notes
Check the mason jars after 5 days. If the veggies have absorbed the tomato sauce, Add some more vinegar to fill the jar up to the rim.
Once you start eating the pickles from a jar, there's no need to fill it with vinegar anymore. Just put the jar in the fridge after opening it.
If you like the pickles to be super spicy, add more jalapenos.
Nutrition
Calories:
95
kcal
Carbohydrates:
20
g
Protein:
4
g
Fat:
1
g
Saturated Fat:
1
g
Sodium:
764
mg
Potassium:
943
mg
Fiber:
6
g
Sugar:
11
g
Vitamin A:
9749
IU
Vitamin C:
56
mg
Calcium:
75
mg
Iron:
1
mg
Did you make this recipe?
Let us know how it was by leaving a comment and a 5-star review!