Zereshk polo morgh is one of the most famous dishes in Persian cuisine. It's full of wonderful flavors such as saffron, turmeric and barberry.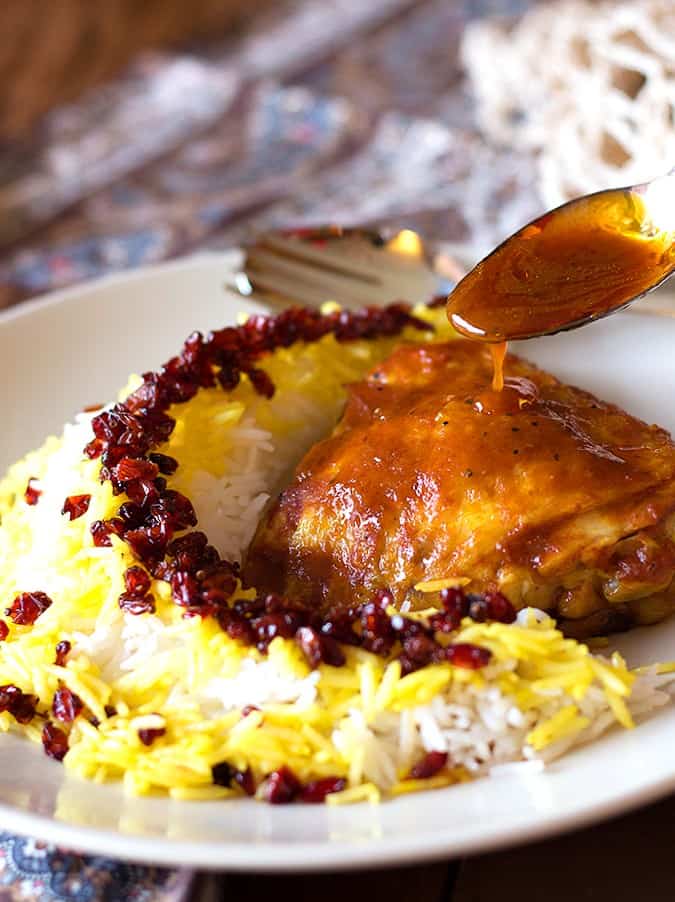 Many of you have raved about our Persian recipes and tried so many of them. Some of our popular Persian recipes are joojeh kabab (Persian saffron chicken kabobs), Persian rice and tahdig and Persian chicken with saffron. This Persian chicken and rice recipe is another beloved classic. Saffron rice topped with delicious chicken strikes a perfect balance between being easy enough for a weeknight dinner and fancy enough for an elegant Persian feast!
Table Of Contents:
An easy protein to work with
Chicken is such a simple yet mighty protein that you can use for any kind of meal from comfort food to a fancy date night dinner. With a little creativity and good selection of ingredients, you can turn this humble protein to a wonderful meal! You can turn it into a sheet pan Mediterranean chicken for a quick dinner, or make delicious harissa chicken and serve it with some couscous. Chicken is also perfect for one pan meals such as Greek chicken and rice. To say the least, the sky is the limit when it comes to cooking with chicken.
Persian saffron barberry rice
If I had to choose only one flavor for the rest of my life, that flavor would definitely be saffron. Something about it makes it festive, magical and dreamy. It's sweet, it's savory and it comes from a gorgeous flower. And it travels a long way to be ready for use in our kitchens. That's why I respect this spice so much. It has a special place in my spice drawer. I keep it in a special jar and I always say that it's the best spice of them all.
Ingredients
1- Saffron
There are a couple of different methods to bloom saffron. First of all, you should make sure to grind it finely and never use the whole threads. The method we use to bloom saffron is to place one cube of ice in a very tiny cup, sprinkle a few (⅛ - ¼ tsp) grinds of saffron on it and let it sit at room temperature until the ice is fully melted and saffron is dissolved. You have the perfect bloomed saffron if the liquid has a bright orange color. Check out our post about blooming saffron to read more about saffron and its benefits.
2- Barberries
Barberry is an ingredient that we use often have in a Persian pantry. You can find it in Middle Eastern stores or online (affiliate). I will post another recipe using barberries soon. It is sour and tasty, we usually mix it with some sugar to give it a sweet kick too. To make the barberry topping for zereshk polo morgh, we mix them with a little water, oil, sugar and saffron, then cook them over low hit for some minutes until they are dark red and shiny. Be very careful not to overcook them because they will stick to your teeth!
3- Rice
This recipe will require you to make some rice. You can easily make my Persian style rice and take some of the rice off the top, mix it with saffron and serve the rest on a plate and top it with saffron rice mixed with barberries.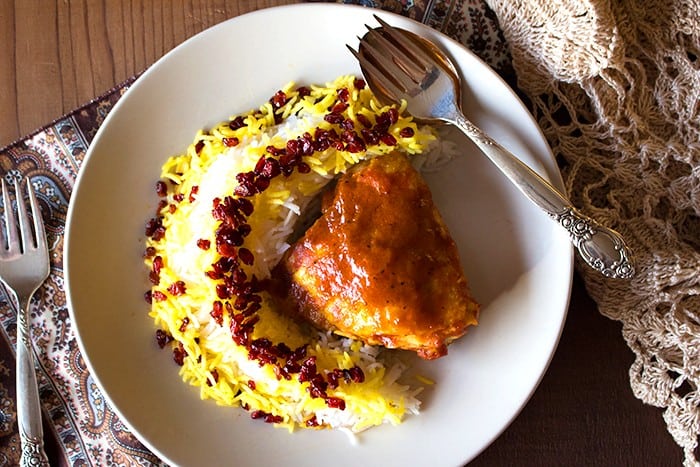 Preparation instructions
Zereshk polo morgh is a full meal that has two parts:
Zereshk polo: Barberry (Zereshk) saffron rice.
Morgh: Chicken which is cooked in an easy flavorful tomato sauce.
Like many other Persian dishes, methods of cooking depending on the maman cooking it, the method I am posting here is how my maman makes it and to me, it's the best and most delicious in the world.
To make the tomato paste sauce, heat some olive oil in a small sauce pan and lightly heat black pepper, turmeric and salt in it. Add in the tomato paste and cook it for a few minutes. Then, add in water and bring it to a low simmer. Cook for about 3 minutes and turn the heat off.
Like Persian chicken with saffron, it's best to sear spiced chicken first until golden brown, take it out of the pan, sautes onions, carrots and peppers in the same pan, add salt, pepper, turmeric and saffron (you can also use your homemade advieh here) and then places the chicken on top and add the tomato paste sauce to the chicken and veggies and let everything simmer and cook for almost 40 minutes. If we want it really super delicious, we add a tad bit of butter to it too.
"Butter Makes Zereshk Polo Morgh Better!"
Serving suggestions
To serve this beautiful recipe, we sometime place the rice and chicken in two different big serving dishes and pour the sauce with the veggies over the chicken. If we serve them in individual plates, we serve the sauce in a separate bowl so everyone can pour it on their chicken as desired. You can also serve it with some salad shirazi or mast o khiar (Persian yogurt and cucumber) on the side!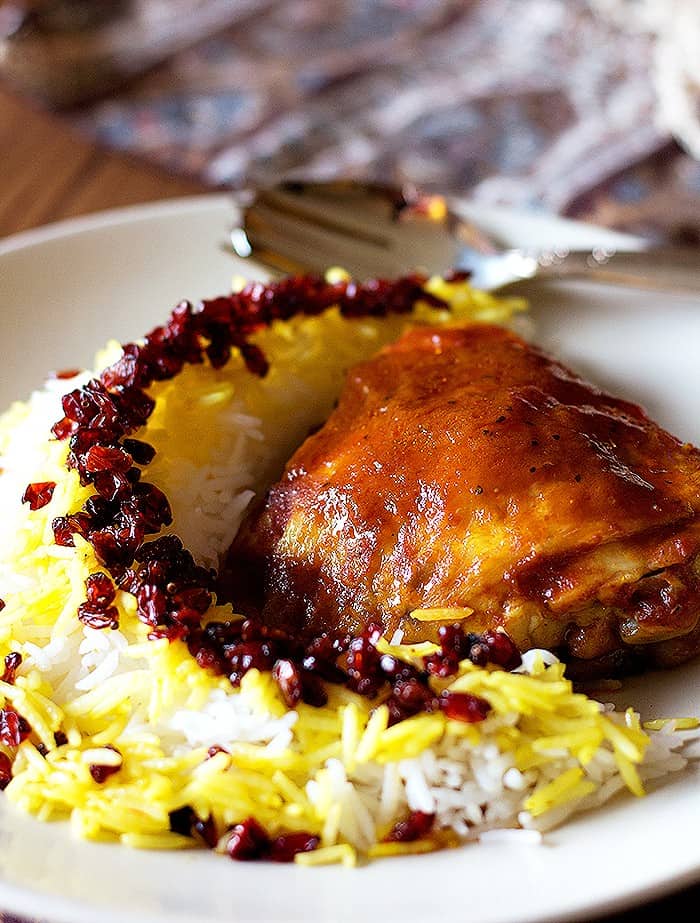 Zereshk polo morgh is so delicious that it is worth every second spent in the kitchen making it. It's a story of spices, homemade food, family and love, all in one spoonful of deliciousness!
Tools and ingredients used in making this recipe
Looking for more chicken recipes?
Did you make this recipe? I'd love to hear about it! Please comment and leave a 5-star🌟 rating below. You can also follow us on Instagram, Facebook, Pinterest or subscribe to our newsletter to get a free e-Cookbook!
Step-by-Step Recipe
Zereshk Polo Morgh - Persian Barberry Rice with Chicken
Zereshk polo morgh is one of the most famous dishes in Persian cuisine. It's full of wonderful flavors such as saffron, turmeric and barberry.
Ingredients
Liquid Saffron:
½

teaspoon

ground saffron

4

ice cubes
Tomato Paste Sauce:
1

tablespoon

oil

½

teaspoon

turmeric

½

teaspoon

salt

½

teaspoon

pepper

3

tablespoon

tomato paste

1 ½

cup

water
Chicken:
2

tablespoon

oil

½

teaspoon

butter

1.5

lb

chicken thighs

bone-in and skin-off

1

teaspoon

salt

1

teaspoon

pepper

1

tablespoon

liquid saffron
Veggies:
1

onion

sliced

1

bell pepper

cut into chunks

2

carrots

sliced

1

tablespoon

liquid saffron
Barberries:
3

tablespoon

barberries

1

tablespoon

water

1

tablespoon

oil

1

tablespoon

sugar

2

teaspoon

liquid saffron
To serve:
2

times the recipe of Persian Style Rice

on the blog

2

tablespoon

liquid saffron
Instructions
Liquid Saffron:
Place the ice cubes in a very small cup and sprinkle saffron on top. Let it sit in room temperature until fully melted and saffron is dissolved. For more details, check out how to bloom saffron.
Tomato Paste Sauce:
Heat oil in a sauce pan over medium heat.

Add turmeric, salt and pepper and let the spices mix for 30 seconds.

Add tomato paste and saute until dark red.

Add water and bring to boil, let it simmer for 2-3 minutes. Put it aside.
Chicken and Veggies:
Sprinkle the chicken thighs generously with salt and pepper.

Heat oil in a big pan over medium heat.

Add butter and let it melt.

Put the chicken thighs in the pan, skin side down.

Pour liquid saffron all around the pan, tilt the pan a bit so the saffron gets to the skin.

Sear the chicken until the skin is golden brown and crispy, about 7 minutes.

Flip the chicken thighs so the other side also gets golden brown. About 5 minutes.

Take the chicken thighs out of the pan, add onion, bell pepper and carrots to the pan. There is no need for more oil as the chicken thighs have rendered fat.

Saute the veggies for 2 minutes and place the chicken on them, skin side up.

Add the tomato paste sauce to the pan and add the liquid saffron.

Bring to simmer and let it cook on low heat for 40-45 minutes until veggies are soft and the chicken is fully cooked.

Meanwhile make the rice. (Recipe on the blog)

minutes before serving, prepare the barberries:

Put the barberries, water, oil, sugar and liquid saffron. Let it sit for 10 minutes.

Put the pan on low heat and cook the barberries until bright red and shiny.
To Serve:
Take 4-5 tablespoon of Persian style rice and mix it with 2 tablespoon liquid saffron, set it aside. You can mix some cooked barberries into it or just serve the barberries on top.

Serve some Persian style rice on a plate and add the saffron barberry rice on top of it.

Serve the chicken on the side with some sauce drizzled on top and some served in a bowl for additional taste.
Notes
To make the rice, check out our tutorials on Persian rice and tahdig, easy Persian style rice or instant pot white rice.
You can find barberries at any Iranian or middle eastern shop.
Don't overcook the chicken as it might dry out. The chicken is ready once the internal temperature registers at 165ºF.
Store the leftovers in an airtight container and refrigerate for up to 4 days.
Nutrition
Calories:
562
kcal
Carbohydrates:
21
g
Protein:
30
g
Fat:
40
g
Saturated Fat:
9
g
Cholesterol:
168
mg
Sodium:
1131
mg
Potassium:
671
mg
Fiber:
3
g
Sugar:
8
g
Vitamin A:
6358
IU
Vitamin C:
44
mg
Calcium:
37
mg
Iron:
2
mg
Did you make this recipe?
Let us know how it was by leaving a comment and a 5-star review!