Buffalo chicken sliders are so simple to make and can easily feed a crowd. Creamy gooey sliders packed with flavor and heat from buffalo sauce!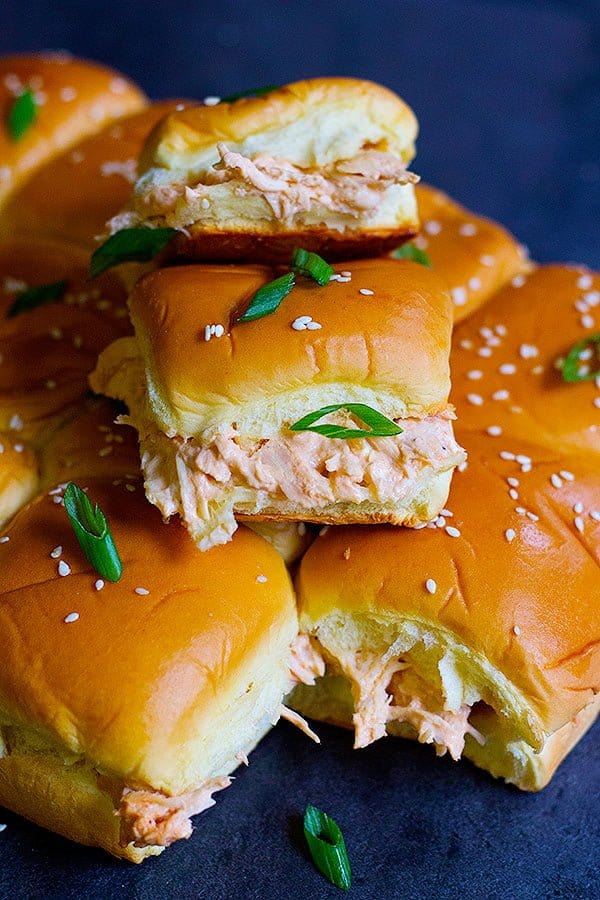 Is buffalo everything season over? I don't think so. I think buffalo everything should be year round!
The recipe for this buffalo chicken sliders was supposed to be on the blog before the Super Bowl so you would have time to make it. But that didn't happen because some news had a major impact on our family and took away all our desire to work. But now we are fine, hanging in there. I mean, you can't hide under the blanket forever, hoping things will just fall into place, right?
I hope you made some good stuff for your Super Bowl parties, though. My favorite things to make for game days are these turkey swiss sliders, these Asian Chicken Sliders and this oh-so-good cheesy sloppy Joe dip. Although recently these buffalo chicken sliders are also on my list to make again because they're super delicious!
Sliders are really practical. These tiny rolls of goodness are packed with flavors without being intimidating. They are perfect for parties, gatherings, or just a family movie night. They're tiny, but very mighty. Sliders look fancy but they barely need any work. Isn't that just amazing?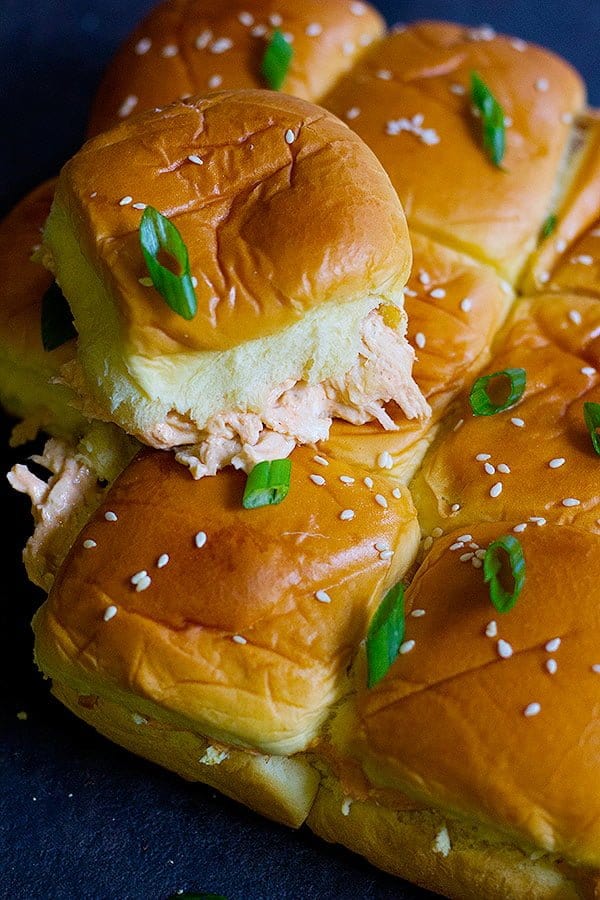 More Recipes:
I used the classic Hawaiian rolls to make these buffalo chicken sliders but as I know some of you might not have access to these particular rolls, I say go with any kind of roll that's a bit sweet and also soft. If you are not using Hawaiian rolls, just place the rolls very close to each other on the baking pan.
These buffalo chicken sliders use a handful of ingredients that I suspect you already have at home. You can either cook some chicken for these sliders or just use rotisserie chicken. Personally, I prefer to bake one chicken breast in the oven for this recipe. I think it gives more flavor and texture to the sliders if the chicken is baked in the oven with just salt and pepper. As for the buffalo sauce, I only added 2 tablespoon because I cannot handle too much heat. If you're good with heat, however, you can just add as much as you like, taste as you go and enjoy!
Happy Monday!
Step-by-Step Recipe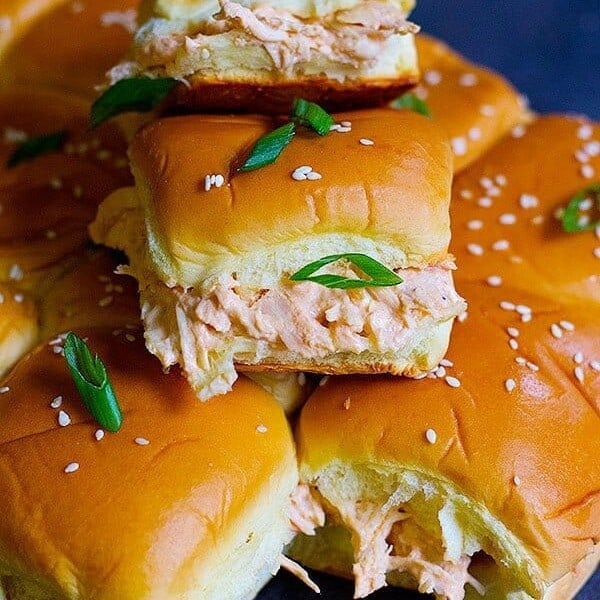 Buffalo Chicken Sliders
Buffalo chicken sliders are so simple to make and can easily feed a crowd. Creamy gooey sliders packed with flavor and heat from buffalo sauce!
Ingredients
1

chicken breast

1

tablespoon

olive oil

1

teaspoon

salt

½

teaspoon

black pepper

1

tablespoon

sour cream

4

oz

cream cheese

2

tablespoon

buffalo sauce

3

tablespoon

bbq sauce

1

pack Hawaiian rolls

1

tablespoon

melted butter

1

tablespoon

sesame seeds

optional
Instructions
Preheat the oven to 350 F, line a baking sheet with aluminum foil.

Rub olive oil all over the chicken breast and rub with salt and pepper. Place on the baking sheet and cook for 25-30 minutes until fully cooked. Let it rest for 10 minutes then shred it.

In a bowl, mix shredded chicken, sour cream, cream cheese, buffalo sauce and bbq sauce. Using a spatula, mix well until everything is combined.

Cut the rolls lengthwise so you have to big pieces.

Place the bottom part in an oven safe dish and spread the buffalo chicken mixture on top.

Place the top part of the rolls on the mixture and press a little.

Brush melted butter on the rolls and sprinkle the sesame seeds.

Cover with aluminum foil and bake for 20 minutes, uncover and bake for another 5 minutes.

Serve warm.
Notes
You can use leftover chicken or rotisserie chicken. The cooking time will be 25 minutes if you do so.
Nutrition
Did you make this recipe?
Let us know how it was by leaving a comment and a 5-star review!