These chocolate glazed donuts will be your new favorite donuts! No frying required so you can just make them in big batches and enjoy having delicious donuts!
Honestly, when we made these, we were not sure if they would turn out this delicious!
I mean, we are talking about baked instead of fried. Although I just don't fry stuff at home, it's still a known fact that, in many cases, fried is better than baked, right? If it wasn't for health reasons, people would just eat fried food everyday.
By now though, we all know that I just don't do deep frying - like when I made these sweet and sour baked chicken wings or the Chicken Egg Rolls which were very well received in our home, even though they were not cooked in tons of oil and, thank God, there wasn't a mess to clean up afterwards. Even Crab Rangoon. If you want, you can bake it. Then instead of two, you can have three, or four, or ten.
But those are all savory. What about chocolate glazed donuts? Can we live without chocolate donuts? Those gorgeous scrumptious rings of deliciousness that can be frosted with whatever the heart desires and never let you down, what about those?
My maman and I baked chocolate glazed donuts! And YES. They are so delicious, so soft and the texture is quite the same (as the recipe uses instant yeast). The only difference is that we didn't use a gallon of oil and we didn't feel guilty nibbling on chocolate donuts! The batter is like cake batter and doesn't need to rest.
I know you've been staring at the chocolate glaze and are just thinking: "Ok, enough. Tell me about that chocolate glaze!" That is my maman's ganache that she has been making for years and has never failed to impress people. Always silky, glossy, velvety and so super chocolaty that I can literally have a bowl of it without even bothering to use a spoon!
OK, enough of me talking! What's your favorite glaze for a donuts?
More Donuts recipes:
Step-by-Step Recipe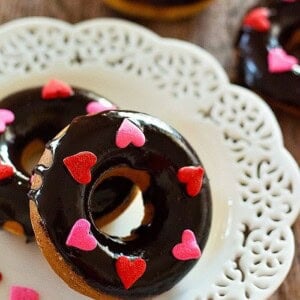 Chocolate Glazed Baked Donuts
These chocolate glazed baked donuts will be your new favorite donuts! No frying required so you can just make them in big batches and enjoy having delicious donuts!
Ingredients
2

cups

minus 4 tablespoon AP flour

4

tablespoon

corn starch

1

cup

sugar

1

teaspoon

baking powder

2

teaspoon

instant yeast

2

tablespoon

warm milk

2

eggs

4

tablespoon

butter

1

cup

plain yogurt

Greek yogurt will work as well

1

teaspoon

vanilla extract
Ganache:
4

oz

semi sweet good quality chocolate

chopped

4

oz

heavy cream
Instructions
Preheat the oven to 350 F / 180 C. Coat the donuts pan with non stick spray and set aside.

In a large bowl, whisk all the dry ingredients including instant yeast.

In a small bowl, mix all the wet ingredients.

Add the wet ingredients to the dry ingredients and mix until well combined.

Fill the donuts pan with the batter and bake in the oven for 15 minutes until golden brown.

Remove the donuts from the pan and let them cool.

Dip them in ganache and let the icing set.
Ganache:
In a sauce pan, heat the cream until just starts to bubble around the edges. Turn the heat off and add the chocolate. Using a spoon, mix until combined and smooth.
Nutrition
Did you make this recipe?
Let us know how it was by leaving a comment and a 5-star review!