Easy meringue recipe that is indeed easy! Just follow a few tips and you will have delicious and crispy meringue cookies all the time!
I'm a big fan of easy cookies and these meringue cookies are one of the easiest! Some other easy cookies are maple oatmeal cookies, thumbprint cookies and no bake oatmeal peanut butter oatmeal cookies.
An easy meringue recipe that comes out perfect every time!
Meringues are just the cutest, aren't they? I love that crispy sound they make when I take a bite, and how they melt after that, making me so happy and satisfied. But you know what's even more satisfying? Knowing that the meringues you bake will come out of the oven perfectly every.single.time. For that, read through this easy crispy mini meringues post.
It did take me some time and tons of reading, trial and error to figure out the best meringue recipe. Guess what? They're not difficult at all. You just need to know what works for you.
Three things you should know before making perfect meringue cookies
First, oven: Make sure your oven has the correct temperature. It's always helpful to have an oven thermometer.
Second, egg whites: The older the eggs, the better. What I do is separate the eggs a couple of days before I want to make the meringues and keep the whites in a clean container with a lid for a couple of days in the fridge, then have them out of the fridge until they reach room temperature the day I want to make meringues.
Third, bowl: Your bowl should be clean, so clean and so dry. So should your electric mixer. A drop of water can affect things, so make sure everything is very dry.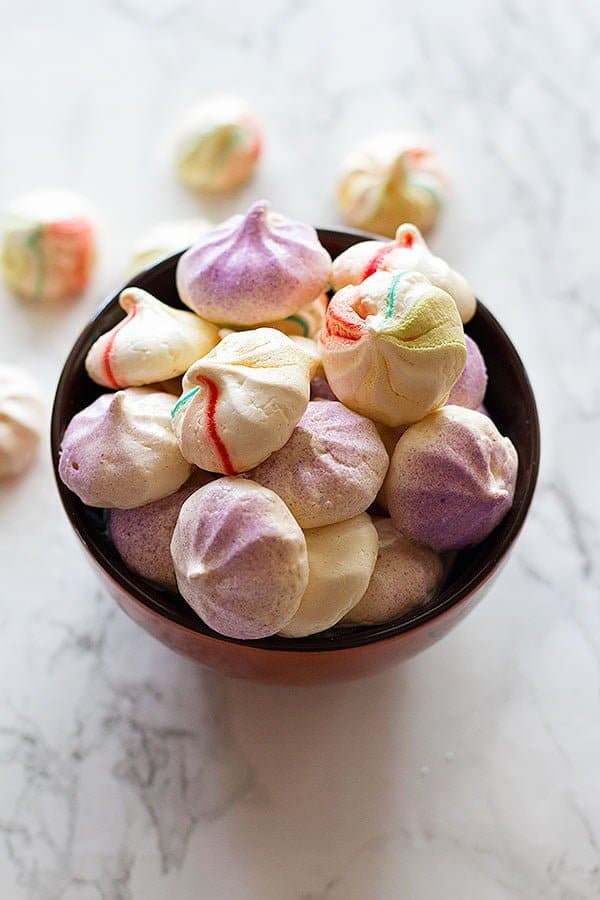 How do you make easy meringue recipe?
Start mixing the egg whites on high speed and when they start getting foamy, add the sugar little by little and continue beating at the same time, until they reach stiff peak. Now what I do at this time is that I hold the bowl upside down above my head for about 3 seconds, if it doesn't fall on my head, it means it's time to start piping. Adding a couple drops of lemon juice or vinegar will help your egg whites reach stiff peak faster and easier.
Once the egg whites reach stiff peak, transfer it into a piping bag with a star tip and start piping on a baking sheet lined with parchment paper. Bake the meringues in the oven at 200F until they're cooked. As meringue cookies are very sensitive, when you turn the oven off, don't take them out. Let them cool slowly in the oven for an hour or two.
How long should meringues be cooked for?
I usually turn the oven off after 45 minutes and let them cool down after that in the oven.
Try these easy crispy mini meringues with different colors and enjoy the prettiness! I drew some colorful lines inside the pastry bag using a toothpick and then filled it with the egg white and sugar mixture. I also used color spray for the other ones. But you can color them however you like, imagination has no limits!
More Cookies:
How do you know when meringue is done?
Meringue cookies are ready once they are set on the outside and you can lift them easily from the parchment paper.
Why does my meringue crack or collapse?
When meringue cookies cool too quickly, they crack. To prevent meringue from cracking cool them in the oven after they are cooked completely.
Step-by-Step Recipe
Easy Meringue Recipe From Scratch
These Easy Crispy Mini Meringues are indeed easy! Just a few notes and you will have delicious and crispy meringues all the time!
Ingredients
2

egg whites

room temperature

½

cup

granulated sugar

2

drops lemon juice

Food coloring

optional
Instructions
Preheat the oven to 200F. Line two baking sheets with parchment paper.

In a large bowl, using an electric mixer, beat the eggs until frothy.

Add the sugar and lemon juice gradually to the egg whites while mixing. Mix until they reach stiff peak and they don't drip if you turn the bowl upside down. About 10 - 12 minutes. (Don't be scared)

Using an open star tip and a pastry bag, pipe the meringues on the baking sheets, bake in the oven for 45 - 55 minutes until set. Turn off the oven.

Let the meringues cool in the oven for two hours.
Nutrition
Did you make this recipe?
Let us know how it was by leaving a comment and a 5-star review!