Persian eggplant soup is a delicious Persian recipe that's very simple to make. This easy Persian soup is vegetarian and gluten free.
We have so many eggplant recipes on the blog and some of our most popular ones are Middle Eastern Eggplant Recipe, Persian eggplant dip (kashke bademjan), Persian eggplant and tomatoes (mirza ghasemi) and of course, Greek eggplant moussaka. This eggplant soup is another simple Persian recipe that's packed with so much flavor.
Nothing beats a big bowl of soup during winter, whether it's a Mediterranean green lentil soup or some good old eggplant soup.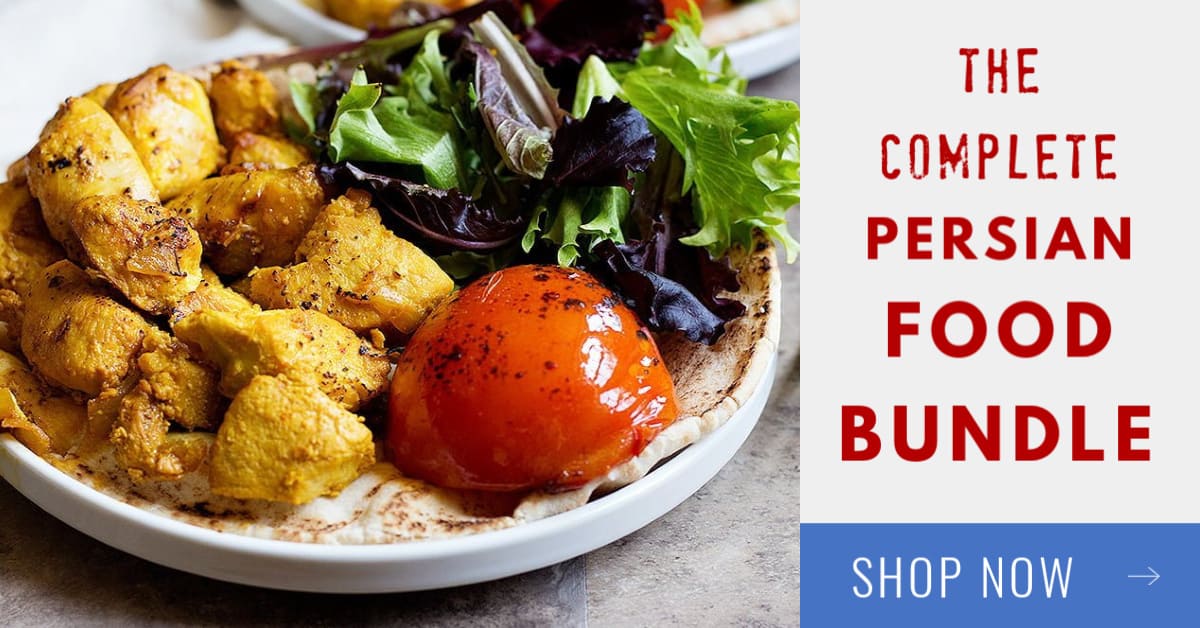 Persian eggplant soup recipe
Persian cuisine is based on family, gatherings and sharing food. Recipes usually yield more than 4 servings, especially if it's a dish that has delicious leftovers such as ghormeh sabzi and are always packed with amazing flavors. Persian recipes are usually healthy and easy to make. Some might need more time to cook but usually there are a few uncomplicated steps to make a delicious Persian meal.
Some healthy Persian recipes:
This Persian Eggplant Soup is a great start to see how easy to make Persian food is. I've explained everything about ash and its ingredients here. It's a healthy vegetarian recipe that happens to be gluten free, too. And it's perfect for a lazy, cold day! We have a lot of those this year here in Boston, so ash is a must-make for our family!
What is Ash in Persian cuisine?
Ash (آش) is a category in Persian / Iranian cuisine. It's a thick soup and is usually served hot. There are over 50 different types of ash in Persian cuisine .There are different spellings for ash such as āsh, aush, or aash. Ash is one of the oldest Persian recipes that is made in different parts of Iran with different ingredients in a large pot and is usually cooked for over an hour. Ash is always thick and usually contains at least one type of legume such as chickpeas and lentils. Herbs such as parsley, spinach, mint and cilantro are used in most ash recipes. Ash Reshteh (Persian noodle soup) is a common and popular ash that's made with different legumes and herbs.
Ash can be made with or without meat. Some ash recipes call for meatballs which can be left out if you prefer a vegetarian version of the recipe. Ash is usually topped with kashk (کشک) which is fermented yogurt and you can find it in Middle Eastern/Turkish/Iranian shops or here. Kashk adds a nice salty and tangy flavor to ash.
Eggplant soup ingredients
The main ingredient used in this soup is eggplant I prefer using Chinese eggplant in this recipe because of its tenderness. Like many other Persian recipes, this recipe also calls for onion, garlic and turmeric.
As mentioned above, Ash recipes always call for some kind of beans and legumes. For this recipe, we use chickpeas and green lentils. It's also possible to use brown lentils for this recipe too but not red lentils since they break and lose their shape. You want the legumes to keep their shape in the soup. I used canned chickpeas for this recipe to keep the pace up but if you'd like to cook the chickpeas, that would work, too.
Shall I peel the eggplant for this recipe?
Yes. Eggplants are peeled completely for this recipe as the skin might make the soup dark and since the eggplants are cooking long enough to be almost mashed, the skin would separate from the flesh anyway.
How to make Eggplant Soup - Ash-e Bademjan?
Making this eggplant soup is very easy and has simple steps. Cut the eggplants into chunks and sprinkle with salt, once they start sweating and release water, dry them using a kitchen towel and set aside. This procedure will help the eggplant absorb less oil.
Like many other Iranian dishes, this recipe starts with sauteing the onion and garlic. Then add in the eggplants and cook for a few minutes. Add in the lentils and cook for a couple of minutes, then pour in water and bring it to simmer. Cover and cook for about 30 minutes. Add in drained chickpeas and cook until the lentils and eggplants are cooked. If you have some spinach or parsley, you can add it to Ash now. It's optional, however, I love adding some greens to this dish. At the end, add in kashk and cook for another 10 minutes. Then enjoy a large bowl of it, or two!
Wait, what's that glaze on the Ash?
Great question! This is how Ash is served on an Iranian table. This dark green glaze is sauteed dried mint and there is also kashk. What you see in the middle is caramelized onion. It's my favorite topping!
How to serve eggplant soup
Persian cuisine is all about the details. This simple mint, kashk and caramelized onion topping gives so much more flavor to this dish that I simply cannot imagine having ash without these! Ash is usually served in a large bowl with the toppings and to serve, it's stirred with a ladle and then divided in serving bowls. You can also serve them in individual bowls and top them with the sauteed mint and caramelized onion.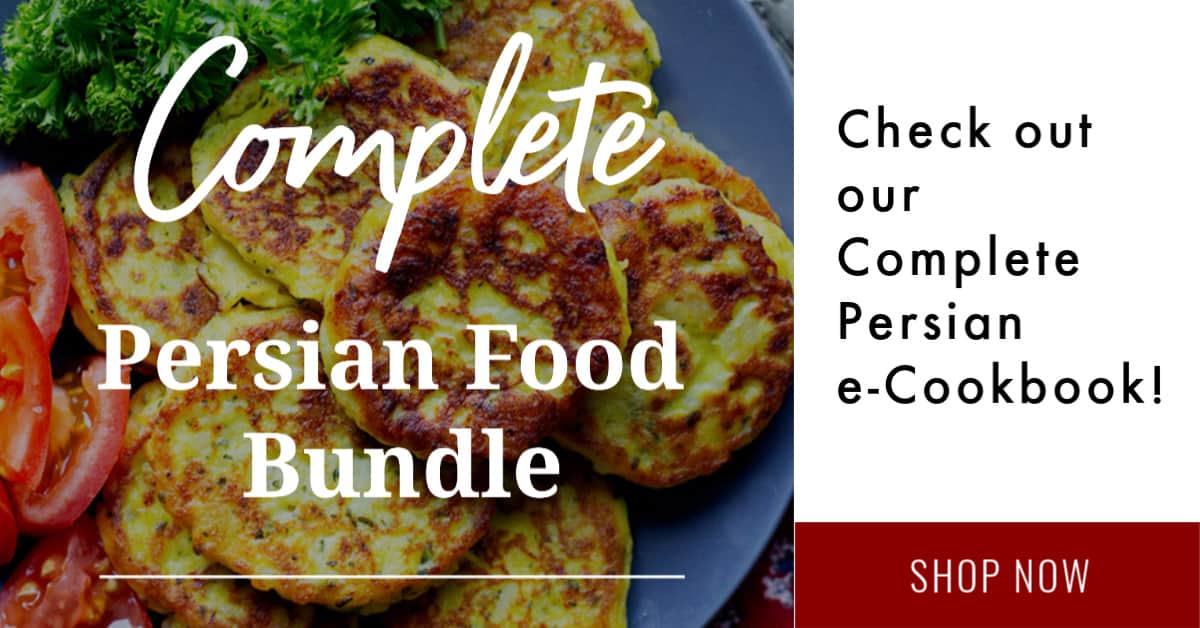 Persian Eggplant Soup - Ash-e Bademjan
Persian eggplant soup is a delicious Persian recipe that's very simple to make. This easy Persian soup is vegetarian and gluten free.
Ingredients
4

Chinese Eggplants

Peeled and cut into 1" chunks

2

tbsp

Olive Oil

or vegetable oil

1

large

White Onion

Diced

4

Garlic Cloves

Minced

1

tsp

Turmeric

1

can

Chickpeas

Drained

¾

cup

Green Lentils

4-6

cups

Water

½

cup

Kashk - Yogurt Whey
Topping:
3

tbsp

Olive Oil

Divided

1

Onion

Thinly Sliced

2

tbsp

Dried Mint

½

tsp

Turmeric

½

cup

Kashk- Yogurt Whey
Instructions
Sprinkle salt over the eggplant chunks and place them in a colander. Place the colander on a large bowl and let the eggplants sit for 20 minutes until they start releasing water. Place the eggplants on a kitchen towel and dry them with another kitchen towel. Set aside.

Place a heavy bottom pot over medium heat. Pour vegetable or olive oil into the pot and heat.

Saute onion until golden. Add in garlic and saute for a minute.

Add in the eggplants and turmeric. Saute for 5 minutes.

Add in the lentils and stir.

Add in water and turn the heat to high. Bring the Soup to boil.

Turn the heat to medium low. Add in chickpeas and cook until the eggplants and lentils are fully cooked.

Stir in Kashk (Yogurt Whey). Cook for 10 more minutes.
Topping:
Heat 2 tbsp oil in a pan, saute onion on medium low until soft and golden brown. Transfer them to a plate. Set aside.

Heat the remaining oil in the same pan. Once hot, add in dried mint and turmeric. Stir and cook for two minutes. Turn the heat off.

Pour the eggplant soup into bowls. Top with more Kashk (Yogurt Whey), sauteed dried mint and caramelized onion.
Notes
You can add a bag (1 lb) of chopped spinach to this recipe. It's optional, but makes it more delicious.
If using dry chickpeas, soak them in water over night and add them with the lentils. Cooking time may increase.
You can find Kashk (Yogurt Whey) and dried mint in Persian, Turkish or Middle Eastern Shops.
Nutrition
Calories:
241
kcal
Carbohydrates:
27
g
Protein:
8
g
Fat:
12
g
Saturated Fat:
2
g
Sodium:
17
mg
Potassium:
640
mg
Fiber:
12
g
Sugar:
7
g
Vitamin A:
100
IU
Vitamin C:
8
mg
Calcium:
51
mg
Iron:
3
mg
Did you make this recipe?
Let us know how it was by leaving a comment and a 5-star review!