Turkish red lentil soup is ready in 30 minutes and is best served with a squeeze of lemon. This gluten free and vegan soup is so simple to make at home.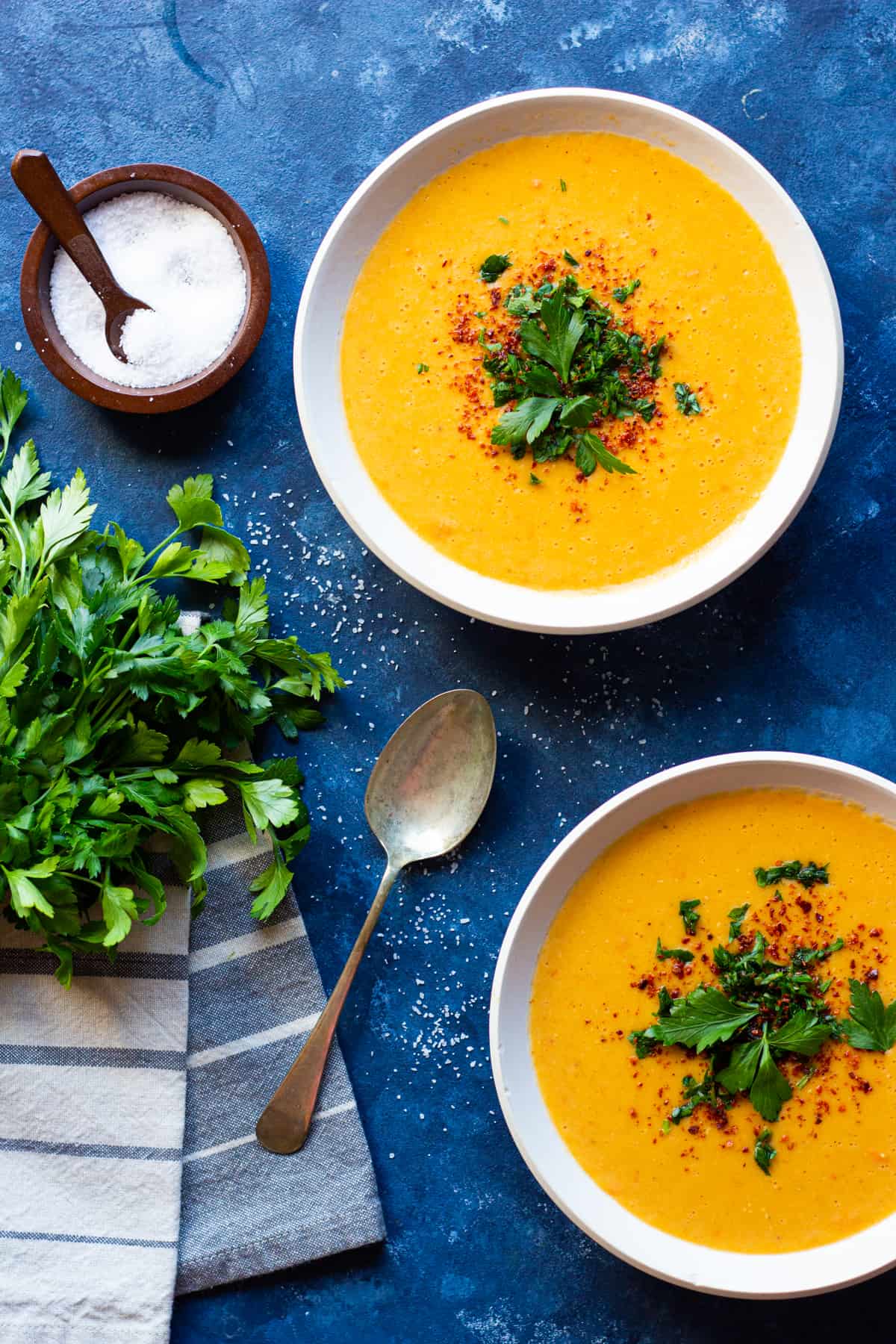 Turkish cuisine offers so many easy and delicious recipes that don't call for exotic ingredients. You can make recipes such as cacik (Turkish yogurt and cucumber), gozleme (Turkish stuffed flatbread) and Turkish white bean salad with staples in your pantry and fridge. This red lentil soup is another easy Turkish recipe that you can make at home.
Table Of Contents:
Red lentil in Turkish cuisine
Turkish cuisine uses red lentils in many recipes because of its soft texture and versatility. Dishes such as Turkish vegan lentil meatballs are common in Turkey and you enjoy them in different occasions. Red lentils cook quickly and unlike brown and green lentils that keep their shape after cooking, red lentils break down easily and therefore are perfect for smooth and creamy soup recipes.
They also have a lot of nutritional benefits and they're also so easy to work with. I suggest you always keep some red lentils in your pantry because they make a great quick weeknight dinner.
About this recipe
Turkish red lentil soup, known as mercimek corbasi is one of the most popular soups in Turkish cuisine. It's a simple dish made with a few ingredients and has a fresh taste thanks to lemon. The seasoning for this soup is cumin and Aleppo pepper. Turkish restaurants serve mercimek corbasi as a popular appetizer or a light evening meal.
Many Turkish people name mercimek corbasi their favorite soup alongside yogurt soup (yayla corbasi). Turkish soups are usually more watery and less dense compared to other soups therefore they're perfect as appetizers or light meals.
Like many other Mediterranean recipes, mercimek corbasi is also a vegan recipe that's also gluten free. It's a last minute weeknight dinner that you can make in no time because the ingredients are always ready and at hand.
The benefits of red lentils
Red lentils, like other type of lentils are very nutritious. They are packed with B vitamins and potassium. In addition to being gluten free, fat free and low calorie, red lentils are also a great source of protein for vegetarians and vegans and they are also high in fiber. Lentils are very easy to cook and they're usually ready within 20 to 30 minutes. If you're interested in red lentil recipes, check out our Moroccan red lentil soup and turmeric ginger red lentil soup.
Did you know? Even though lentils are mostly used in Middle Eastern, Mediterranean and North African cuisines, these days the biggest producer of lentils is Canada.
Ingredients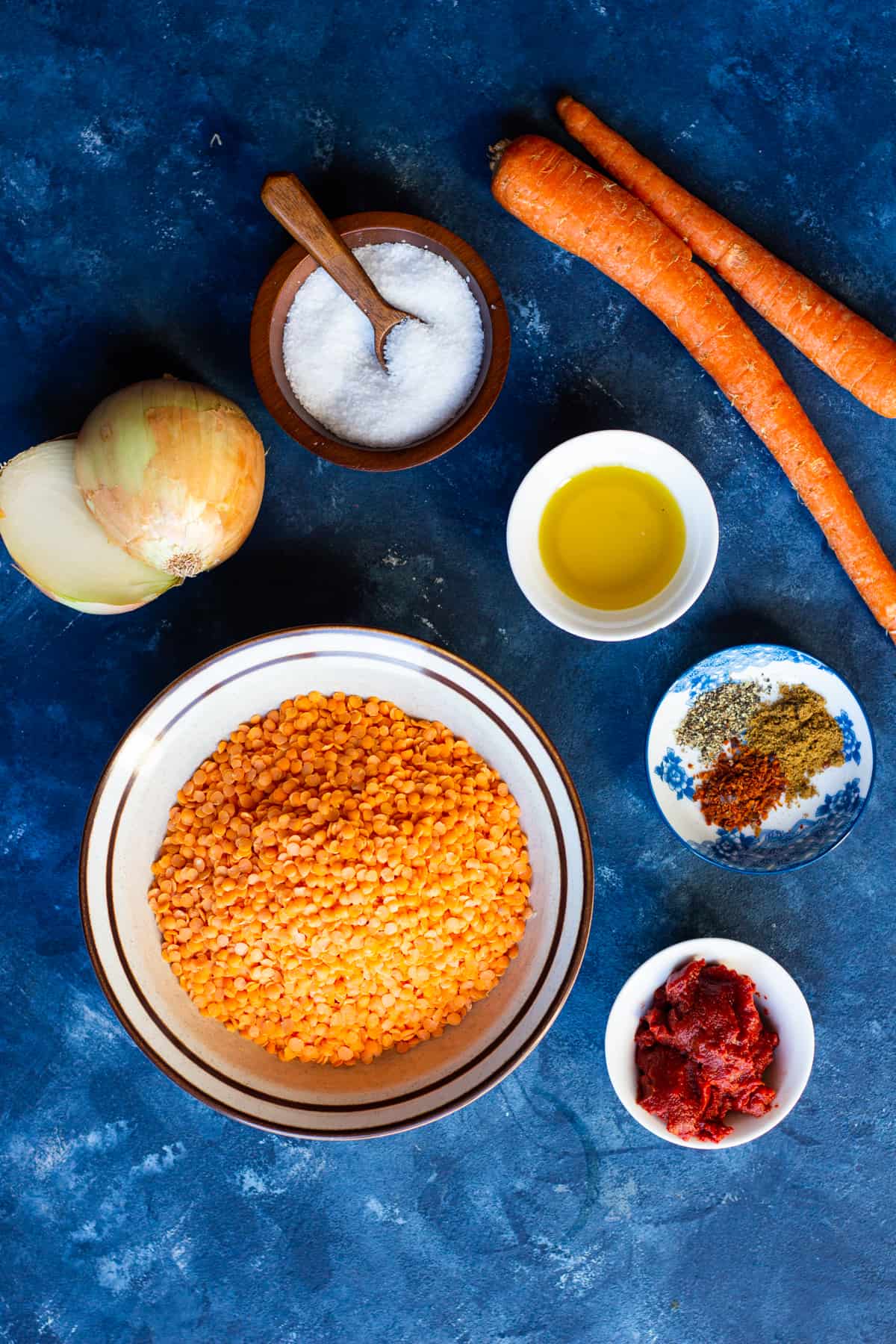 Red lentils: Red lentils tend to increase in volume when cooked. I usually use ¼ to ⅓ cup red lentils per person if I'm making this soup as an appetizer. I usually increase the amount to ½ cup if I'm serving the soup as a main dish or a light dinner.
Carrot: It adds a nice subtle flavor to the soup. It's best to chop the carrot small so they don't take long to cook.
Tomato paste: Since tomato paste has a dense color and flavor, you don't need much for this recipe.
Spices: You need only a few spices including salt, cumin, Aleppo pepper and black pepper. Aleppo pepper (also known as pul biber) has a bit of a kick but is not too hot.
Instructions
Heat olive oil in a pot and sauté onion until golden.
Add in tomato paste and cook for a minute. Add in chopped carrots and cook for a few minutes.
Next, add the red lentils and spices. Stir well and add water.
Bring to simmer and cook covered for about 20 minutes. Uncover and cook for another 10 minutes until the lentils are fully cooked.
Blend the soup in blender or use an immersion blender.
Serve with some freshly squeezed lemon juice.
Variations
In some Turkish lentil soup recipes, you might see the addition of potatoes as well. You can add potatoes if you like the soup to be thicker. I've also tried red lentil soups in Turkey that use potatoes instead of carrots or simply leave the carrot out. This is a basic soup base recipe that you can tweak according to your liking.
Serving suggestions
This red lentil soup can be served as a light meal on its own or you can turn it into a complete meal with a side of borek or gozleme.
It would also be a nice appetizer to serve with Turkish stuffed eggplant (karniyarik), garlic chicken or lamb meatballs.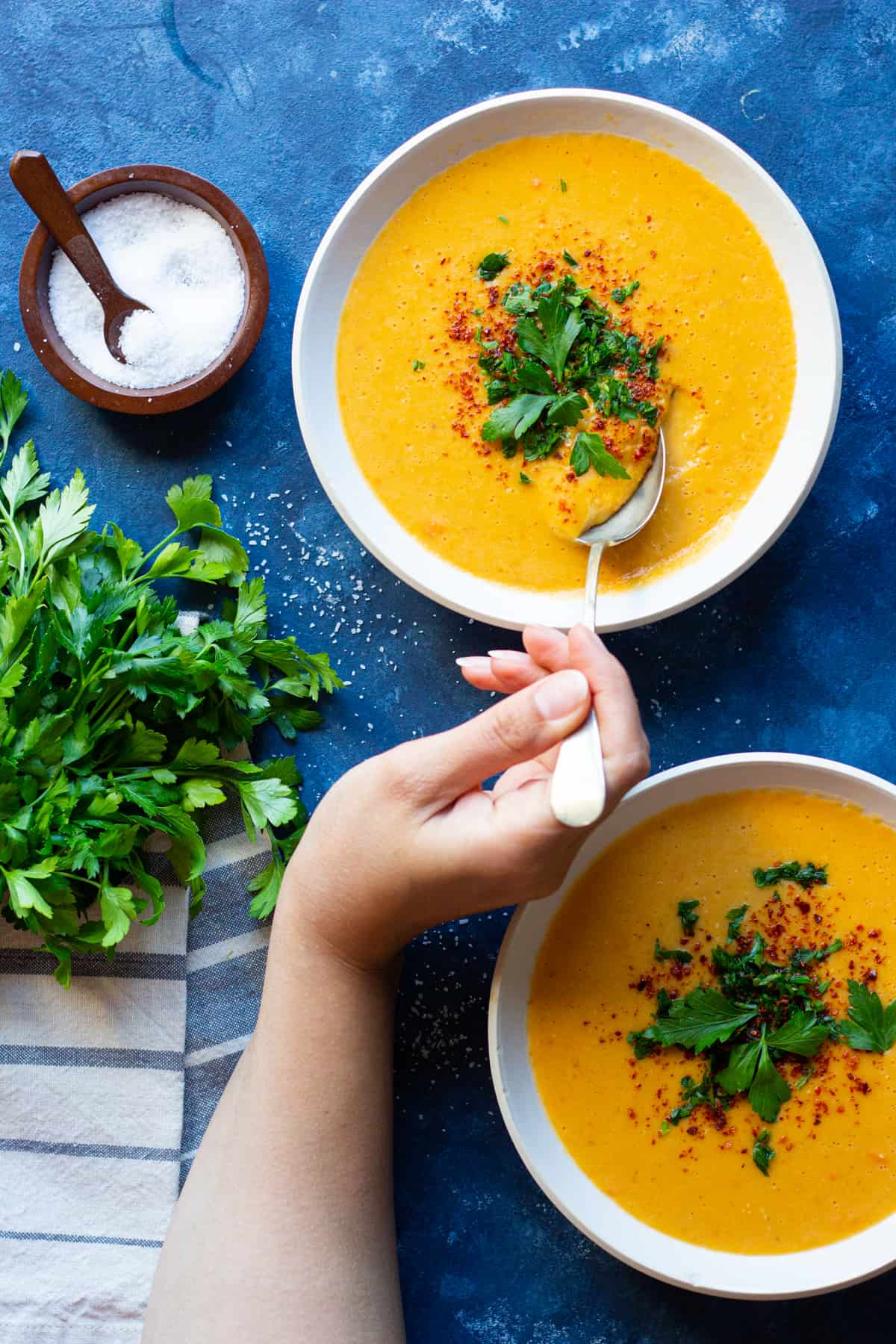 Frequently asked questions
Should I soak red lentils before cooking?
Unlike many other legumes, lentils don't need to be soaked before cooking. Red lentils cook in about 20 to 30 minutes and you don't need to soak them.
How much water should I add?
Red lentils tend to absorb a lot of water so make sure you add enough water to the soup. Start with 5 cups and then add more water if needed. Since you might need to add more water, please taste the soup before serving to make sure you've added enough salt and pepper.
What to do with the leftovers
Mercimek corbasi is best served hot and fresh. If you have leftovers, simply store it in an airtight, preferably glass container and refrigerate for up to 3 days. To serve, reheat the soup in a sauce pan with ½ cup water and simmer over medium heat until completely heated through. Serve with some fresh lemon for more flavor.
More soup recipes
Did you make this recipe? I'd love to hear about it! Please comment and leave a 5-star🌟 rating below. You can also follow us on Instagram, Facebook, Pinterest or subscribe to our newsletter to get a free e-Cookbook!
Step-by-Step Recipe
Turkish Red Lentil Soup Recipe (Mercimek Corbasi)
Turkish lentil soup is ready in 30 minutes and is so easy to make. You can make this healthy and delicious soup with just a handful of ingredients.
Ingredients
2

tablespoon

olive oil

1

large

onion

chopped

½

tablespoon

tomato paste

1

carrot

chopped

1 ½

cups

red lentils

1

teaspoon

salt

1

teaspoon

cumin

1

tsp

Aleppo pepper

½

tsp

black pepper

6

cups

water
Instructions
Heat olive oil in a pot over medium heat.

Saute onion until golden. Add tomato paste and cook for a minute.

Add in carrots and cook for a couple of minutes.

To the onion and carrot, add the red lentils, salt, pepper, cumin, Aleppo pepper and black pepper. Stir well and cook for a minute.

Pour in the water and bring the soup to simmer. Cook covered on medium heat for 20 minutes. Uncover and cook for another 10 minutes until the lentils are completely cooked.

Blend the soup in the blender or using an immersion blender until it's creamy and smooth.

Serve warm with a squeeze of lemon.
Notes
You can add one potato (chopped) to this recipe if you would like it to be more filling.
If you don't like carrots, you can leave them out in this recipe.
Store the leftovers in a glass airtight container for up to 3 days. To reheat, place the soup in a sauce pan with ⅓ cup water and reheat over medium heat.
Nutrition
Calories:
327
kcal
Carbohydrates:
47
g
Protein:
18
g
Fat:
8
g
Saturated Fat:
1
g
Sodium:
641
mg
Potassium:
787
mg
Fiber:
22
g
Sugar:
4
g
Vitamin A:
2753
IU
Vitamin C:
7
mg
Calcium:
67
mg
Iron:
6
mg
Did you make this recipe?
Let us know how it was by leaving a comment and a 5-star review!