Grilled eggplant sandwich is a great option for lunch. This sandwich is made with grilled eggplants, olives, onions, capers and other delicious ingredients.
My love for eggplant recipes goes beyond words. Is it a Middle Eastern/Mediterranean thing? Maybe. But, I bet you're going to love this vegan sandwich recipe as much as I do. Our other popular eggplant dishes are Persian eggplant and tomatoes, eggplant caponata and eggplant moussaka.
This post is sponsored by Lantana Foods. All opinions are mine.
Easy grilled eggplant sandwich
Sandwiches are some of the easiest and most convenient lunch options out there. They're quick, easy and very easy to customize. This vegan eggplant sandwich is one of my favorites because it's so flavorful thanks to Lantana's Sriracha Carrot hummus. It's so simple to make a delicious sandwich with fresh ingredients and I know that when you try this easy sandwich, you'll keep craving it because it's so good.
This eggplant hummus sandwich is made with great ingredients and comes together quickly. The combination of flavors works perfectly and it's a great addition to your picnic basket or outdoor summer party.
What goes into this sandwich?
I made this eggplant sandwich using the following ingredients:
Pita bread - check out my homemade pita recipe.
Lantana Sriracha Carrot hummus
Fresh eggplants
Olives
Capers
Quick red onion pickle (recipe below)
Artichoke hearts
Fresh green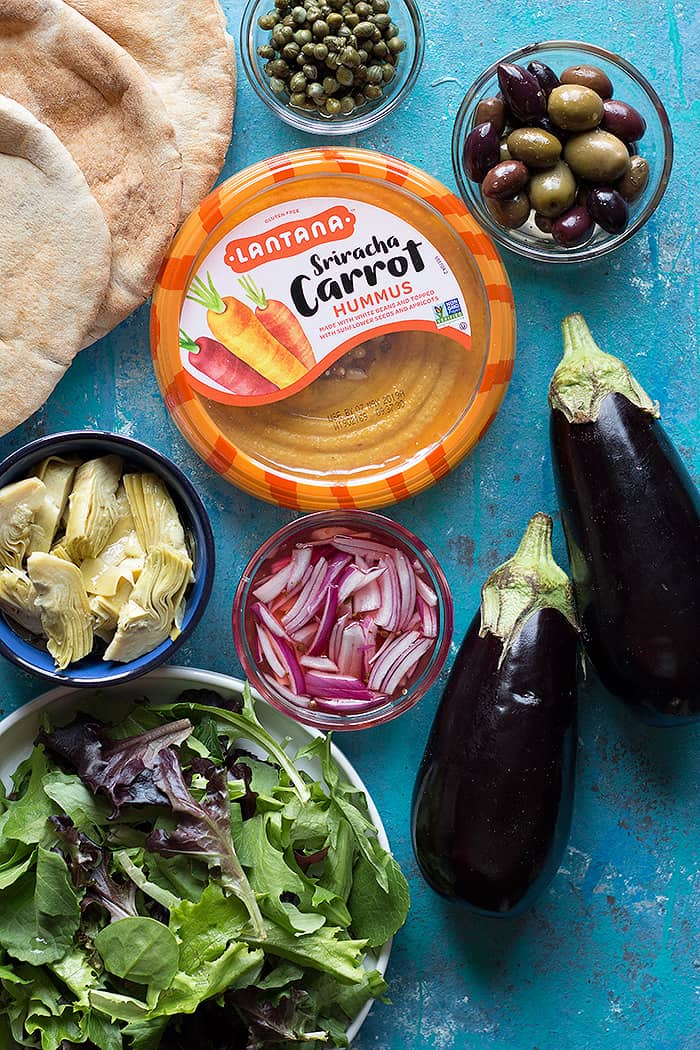 What eggplant is best for this sandwich?
Fresh eggplants that don't have brown seeds work best for this recipe. I suggest using small eggplants, such as Italian eggplants because they are the perfect size for sandwiches. Globe eggplants work well in this recipe, too. Make sure to peel the eggplants before grilling them.
How to make eggplant sandwich Mediterranean style
Start by peeling the eggplants and then slice them lengthwise. Place the eggplants in a colander and add salt generously. Let them sit for 30 minutes so they start sweating. Then rinse the eggplants and dry them with a paper towel. Heat the grill pan over medium heat and brush it lightly with olive oil. Grill the eggplant sliced for about 7 minutes on each side until fully cooked and brown.
Make the red onion pickle by mixing apple cider vinegar, white vinegar, sugar, salt and hot water and pouring it over thinly sliced onion. Let it sit for a few minutes until the onions soften a bit and absorb the flavors. Mix the onions with chopped olives, artichokes and capers.
Spread Lantana hummus on the pita bread and top with some grilled eggplants. Add the onion and olives mixture and finish with some greens. Make a wrap and serve immediately.
Different ways to make this sandwich:
Fried eggplant sandwich: Fry the eggplant slices in 2 tablespoons olive oil over medium heat and then make the sandwich as instructed.
Roasted eggplant sandwich: This method doesn't require salting the eggplants. Simply slice them and brush both sides with olive oil and sprinkle with some salt and pepper. Roast the eggplant slices in the oven at 400°F for 15 to 20 minutes until fully cooked.
Open-face eggplant sandwich: For this sandwich, follow the recipe as instructed and swap the pita for one slice of whole wheat bread or sourdough.
Can I make this vegan sandwich ahead of time?
You can prepare the eggplants and the olive and red onion mixture ahead of time. However, I suggest you assemble the sandwiches right before serving them so they're fresh and the greens are crisp.
What to serve with eggplant sandwich
This grilled eggplant sandwich is a full meal filled with delicious ingredients. You can serve it with different side dishes such as Greek potatoes, Mediterranean potato salad or even a bowl of Mediterranean green lentil soup.
Notes and tips to make Mediterranean eggplant sandwich
Going low-carb? You can easily make this sandwich with lettuce instead of pita bread. It's absolutely tasty! My favorite is butter lettuce because it's very easy to handle.
You can add other ingredients to this sandwich such as chopped tomatoes and fresh or sauteed spinach.
Instead of pickled onion, you can use dill pickles or any other pickle you like. You can also leave it out if you're not a pickle fan.
If you're planning to make this eggplant hummus sandwich as a to-go lunch, use wraps instead of pita as it holds it together better.
As for the olives and artichoke mixture, I used a mix of green and kalamata olives that I chopped. You can simply use one type of olives. I suggest not to leave them out as they complement the eggplants really well.
Step-by-Step Recipe
Grilled Eggplant Sandwich
Grilled eggplant sandwich is the perfect lunch. This sandwich is made with grilled eggplants, olives, onions, capers, hummus and other delicious ingredients.


Ingredients
2

Italian eggplants

2

teaspoon

salt

1

tablespoon

olive oil

4

pita breads

4

tablespoon

Lantana Sriracha Carrot hummus

⅓

cup

green olives

⅓

cup

kalamata olives

1

tablespoon

capers

½

cup

quick pickled onion

See notes

½

cup

marinated artichoke hearts

1 ½

cup

fresh greens
Instructions
Peel the eggplants and cut each eggplant into four slices lengthwise.

Place the eggplant slices in a colander and sprinkle with salt.

Let the eggplants sit for 30 minutes until they sweat. Rinse and dry the eggplants.

Heat a grill pan over medium heat and brush lightly with olive oil. Place the eggplant slices on the pan and grill for about 7 minutes on each side until fully cooked and brown.

Chop the olives finely and mix them with capers, onion pickles and marinated artichoke hearts.

Spread Lantana hummus on the pita bread and top with the grilled eggplants.

Add the olives and onion mixture to the sandwiches and top with mixed greens.
Notes
To make quick pickled onion, peel a red onion and slice it thinly and place it in a bowl. Pour 1 cup water, ¼ cup apple cider, ¼ cup white vinegar into a sauce pan. Add 1 tablespoon sugar and 1 teaspoon salt to the water and vinegar mixture and bring it to a rolling boil. Simmer for 5 minutes and pour it over the onions. Let it sit for 15-20 minutes and then use the onions in the sandwich.
Nutrition
Calories:
303
kcal
Carbohydrates:
47
g
Protein:
8
g
Fat:
10
g
Saturated Fat:
1
g
Sodium:
1968
mg
Potassium:
592
mg
Fiber:
9
g
Sugar:
8
g
Vitamin A:
391
IU
Vitamin C:
10
mg
Calcium:
85
mg
Iron:
2
mg
Did you make this recipe?
Let us know how it was by leaving a comment and a 5-star review!