London fog tea latte is a delicious warm drink that is perfect for any day of the year. Strong earl grey tea paired with delicate lavender makes this a great option for tea latte lovers!
It's December, which means that it's officially time for hot beverage recipes for those of us who live in the Northern Hemisphere. Whether it's rose and cardamom hot chocolate or cranberry apple cider, as long as the drink is warm, I'm happy. This coffee-free London fog latte combines the rich flavors of lavender and earl grey tea. It's a pretty easy drink to make, perfect for a chilly winter evening.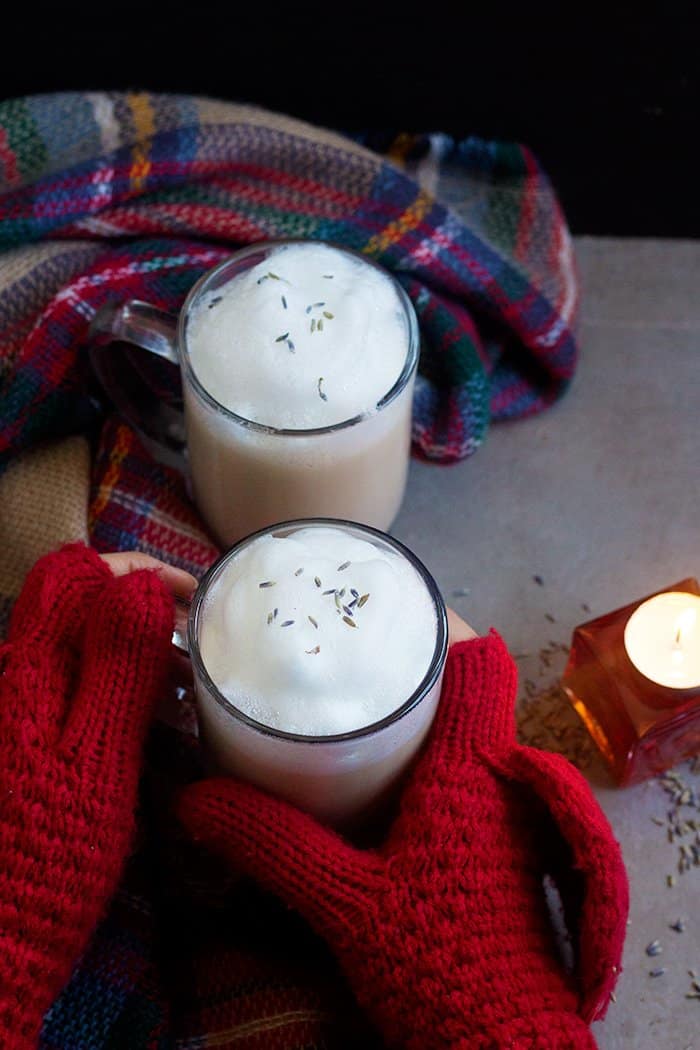 What are London fog hot drinks?
Also known as earl grey tea latte, London fog is a warm drink that's mainly made with earl grey tea, frothing milk and vanilla. London fog tea lattes don't contain coffee and you can easily make them at home. They're a great way to enjoy your tea and make it a little fancy without any extra effort.
London fog tea is perfect for cold days
What's your favorite drink to have this winter? Are you more of a tea or coffee person?
Whatever you like and whatever you crave, you're going to love this London fog tea latte. The name might feel fancy and sound like a lot of work, but you can prepare this soul soother in just ten minutes!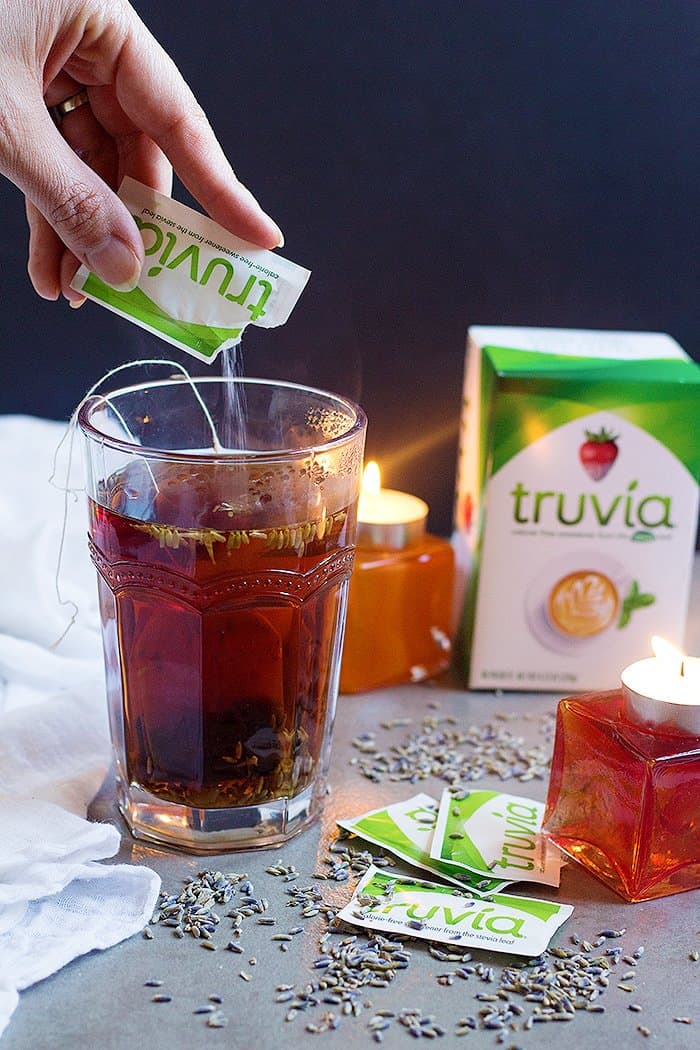 How do London fog drinks taste?
It has a classic taste of earl grey tea, very royal in my opinion, complimented with the delicate flavor of lavender. I love how fragrant lavender is! The addition of steamed milk balances the flavors and makes the drink less strong overall. With the addition of sweetener, this drink combines earthiness and sweetness.
It's so easy to make this drink that once you make it for the first time, it just might become an everyday favorite! Trust me, it's that good.

What goes into this drink?
The recipe for London fog tea latte is really easy. Here are the items you need:
Earl grey tea - You can buy either caffeinated or decaffeinated teabags. You can also buy bulk tea instead of teabags.
Dried lavender - You can find this in spice shops or online.
Boiling water
Sweetener - For this recipe I used Truvia. However, you can use honey, maple syrup or simple syrup.
Frothy steamed milk - I make mine using a blender, but here are eight other ways to make frothy milk.
How do I make London fog tea latte?
Start with steeping some earl grey tea and dried lavender in boiling water. The brewed tea must be strong as later on it will be mixed with steamed milk.

Once the tea is brewed, add the sweetener and stir until dissolved.

Next, make the frothy steamed milk. Heat milk in a saucepan and once it's hot (not boiling) pour it into a blender and blend on high for 2 minutes.
Strain the tea and discard the lavender. Divide it between two glasses and pour in the steamed milk.
Serve London fog latte hot for best flavor.
Can I make this without lavender?
Yes. In fact, the classic London fog drink that you find at Starbucks doesn't contain lavender. However, I love the touch of floral flavor and aroma that it gives to this tea latte so I usually don't skip it. However, you can totally leave lavender out if you don't have it.
A little note: Earl grey tea and lavender go very well together and sometimes you can actually find earl grey tea that has a bit of lavender as well.
Step-by-Step Recipe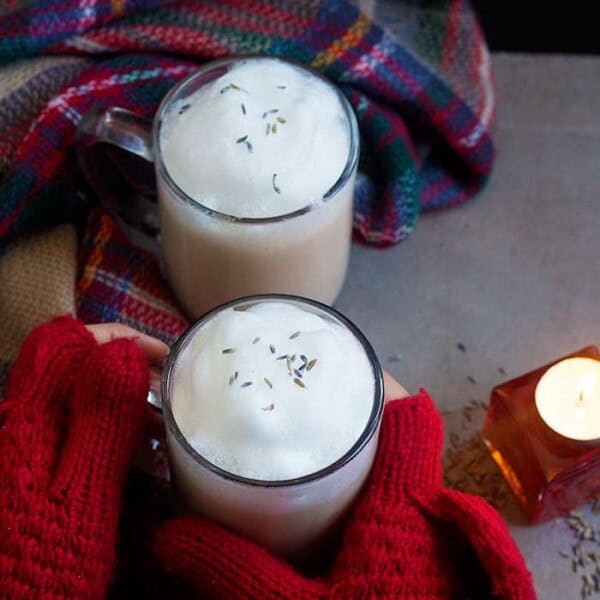 London Fog Tea Latte
London Fog Tea Latte is a delicious warm drink that is perfect for any day of the year. Strong Earl Grey tea paired with delicate lavender makes the perfect drink!
Ingredients
2

Earl Grey Teabags

½

teaspoon

dried Lavender

1.5

cup

boiling water

2

packets

natural sweetener

see notes

½

cup

milk

see notes
Instructions
Place Earl Grey teabags in a large glass, add in dried lavender.

Pour boiling water into the glass. Brew for 5 minutes.

Add in the natural sweetener to the tea. Stir to combine.

Divide the tea between two large glasses using a strainer.

Heat milk in the microwave or in a sauce pan over medium heat. Pour the milk into a blender and blend on high for 2 minutes until it's frothy.

Pour the frothy milk over the tea in each glass and serve hot.
Notes
You can use caffeinated or decaffeinated earl grey tea for this recipe.
I used Truvia as a sweetener but you can use granulated sugar, honey, maple syrup or simple syrup.
You can use whole milk, 2% or 1% milk for this recipe. I don't recommend using nonfat milk to make London fog latte.
Nutrition
Did you make this recipe?
Let us know how it was by leaving a comment and a 5-star review!
This shop has been compensated by Collective Bias, Inc. and its advertiser. All opinions are mine alone. #PickNaturesSweetness #CollectiveBias