Make this Tahini Cake to wow everyone with a new flavor! This airy and fluffy cake with a drizzle of chocolate tahini glaze makes for a great afternoon snack or dessert!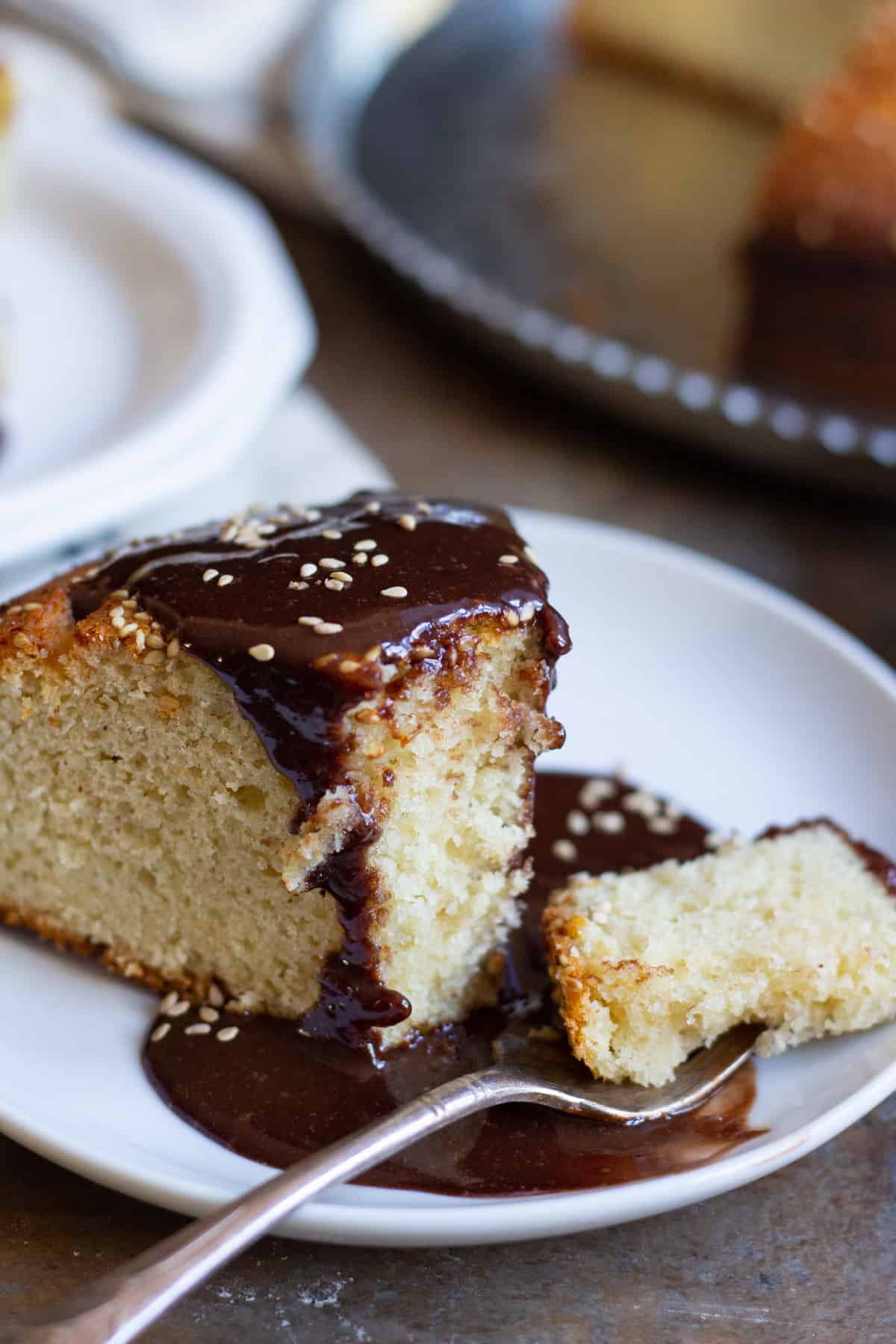 If you're looking for a tasty cake that's nothing like the cakes out there, you're in the right place. Just like our Persian love cake and olive oil cake, this tahini cake is delicious and easy to make. You only need a few ingredients and one bowl to make one of the best cakes you've ever tasted!
I grew up having tahini in different shapes and forms every single day of my life. From hummus to halva to salad dressing, tahini has been a big part of my culinary heritage. Like saffron, tahini is also an ingredient that you can easily use in sweet or savory dishes and be sure that the outcome will always be good!
This tahini cake has been a family favorite for years and I have elevated it by drizzling it with a little bit (or maybe a full cup) of chocolate tahini glaze. It's simple, easy and so good with tea on a cloudy and cold afternoon.
Delicious cakes you don't want to miss:
How to make tahini cake:
This is a very simple cake. Start with mixing eggs and sugar. The key to a good cake is to mix eggs and sugar very well in the beginning so they are fully combined.
Add in vegetable oil, milk and tahini. Because the tahini is mixed with the batter, the cake will have a delicious tahini flavor in every bite.
Next, add flour and baking powder. Mix well but don't over mix. It's ok if there are some lumps left. Then comes the best part: topping the cake with a lot of sesame seeds! This will give the cake a nice topping and also a great extra layer of sesame flavor!
Bake it in the oven and make the amazing chocolate tahini glaze while you wait. It's so easy and delicious, I had half of it before drizzling on the cake!

Notes and tips to make tahini cake with chocolate tahini glaze:
Have the eggs at room temperature. This is very important when you're making a cake.
Sift the flour beforehand if it's too lumpy.
To make the chocolate tahini glaze, add milk as you go to reach the desired thickness and consistency.
You can get tahini from many supermarkets or local ethnic Middle Eastern shops. I try to get mine from ethnic stores in order to support local shops.
The recipe calls for vegetable oil, but canola or baking olive oil would work perfectly.
You can make this cake either in a 9 inch pan or in a 9X13 baking pan to have a sheet cake. If baking if 9X13 cake pan, the baking time will reduce to 35-45 minutes.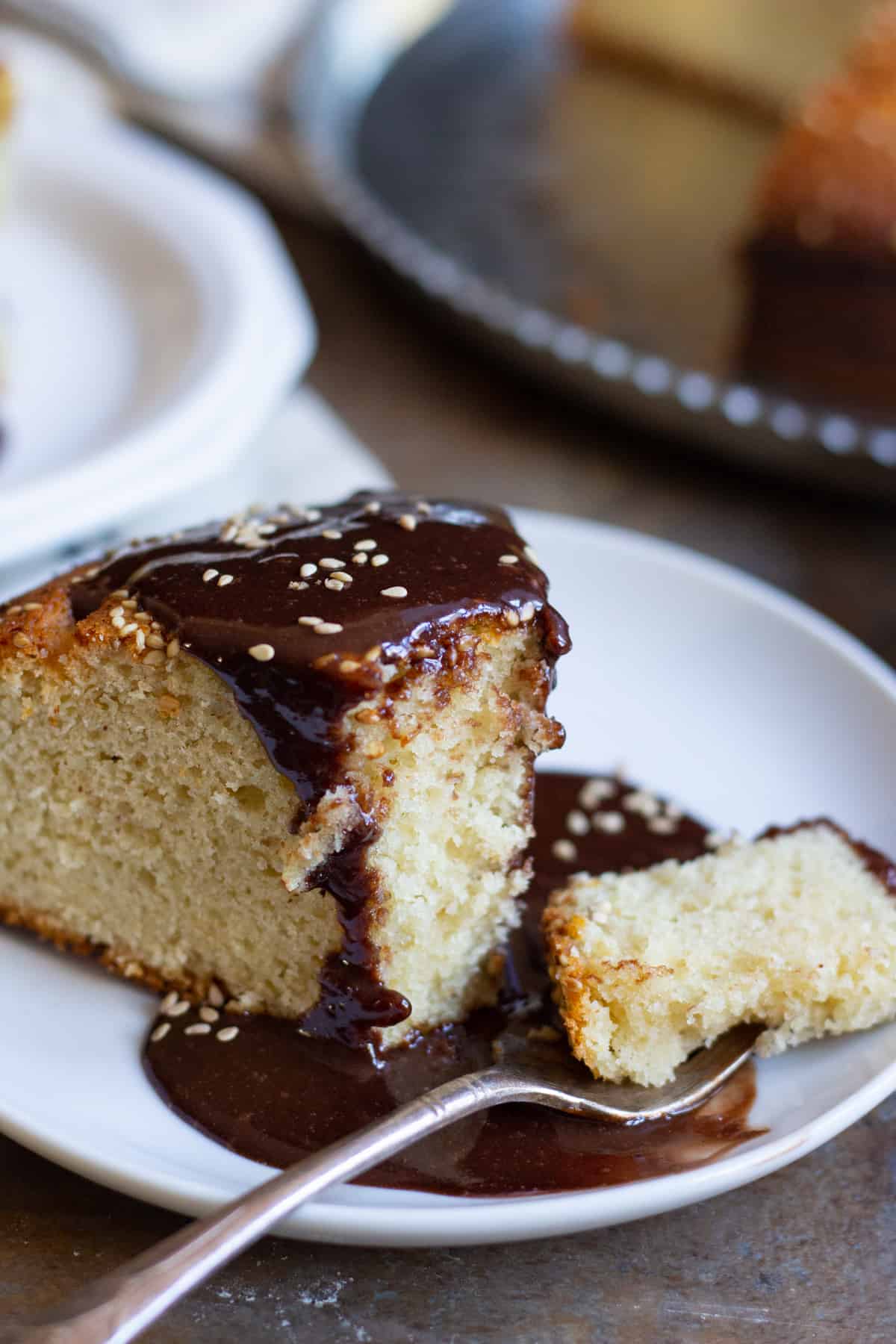 Step-by-Step Recipe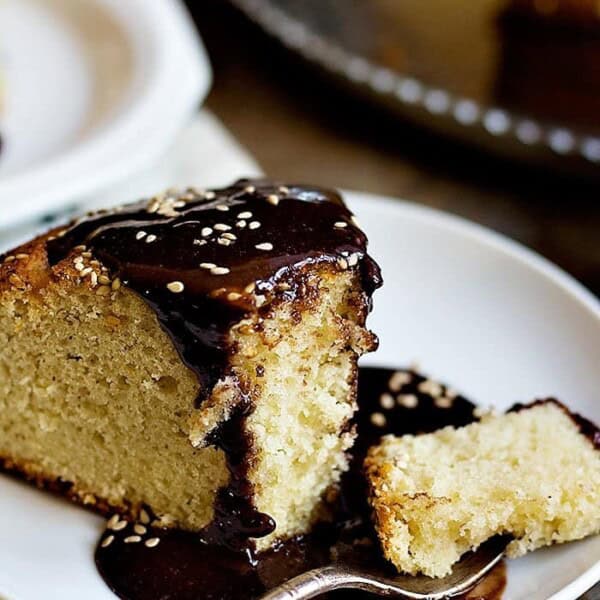 Tahini Cake with Chocolate Tahini Glaze
Make this Tahini Cake to wow everyone with a new flavor! Airy and fluffy cake with a drizzle of chocolate tahini glaze makes the best afternoon snack or dessert!
Ingredients
Tahini Cake:
3

Eggs

Room Temperature

1

cup

Granulated Sugar

1

teaspoon

Vanilla Extract

½

cup

Whole Milk

½

cup

Vegetable Oil

½

cup

Tahini

1 ½

cup

All Purpose Flour

1

tsp

Baking Powder

½

tsp

Salt

⅓

cup

Sesame Seeds
Chocolate Tahini Drizzle:
½

cup

Powdered Sugar

½

cup

Cocoa Powder

¼

cup

Tahini

4

tbsp

Whole Milk
Instructions
Preheat the oven to 350F. Line a 9" Baking pan with parchment paper. Set aside.

In a large bowl, mix eggs, sugar and vanilla together until light and fully incorporated.

Add in milk, oil, and tahini. Mix well.

Add in flour, baking powder and salt. Mix well until incorporated. Don't over mix.

Pour the batter into the prepared pan, sprinkle sesame seeds on top. Bake in the oven for 45 minutes to an hour until a toothpick inserted in the middle comes out clean.

Meanwhile, make the chocolate tahini glaze. Mix all the ingredients in a bowl and whisk until smooth.

Once the cake is baked, Let it cool for 20 minutes then slice and drizzle with chocolate tahini glaze.
Notes
You can use baking olive oil instead of vegetable oil. You can also make low fat or non fat milk instead of whole milk.
Store the leftovers in an airtight container for up to 3 days.
Nutrition
Did you make this recipe?
Let us know how it was by leaving a comment and a 5-star review!