This chickpea salad recipe is made with just a few ingredients. A hearty chickpea salad with feta and cucumbers is perfect for a light lunch.
What I love the most about Mediterranean recipes and summer salads are that they always call for fresh ingredients. Easy recipes such as fattoush , tabbouleh and Mediterranean salad recipe are some of the best Mediterranean side dishes that complete almost every dish . Today I'm going to show you how to make a delicious chickpea salad with just a few ingredients.
A delicious salad made with chickpeas!
Salad all the way for me, please! When the hot weather kicks in, my appetite for bread and rice goes away and all I can think about is how I can improve our salads and turn them into full meals.
I still love bread and rice. But I think it's good to take a break and try some healthy and no-cook dishes that are perfect for summer. This chickpea salad with feta and cucumbers is such a delight for summer days. You can make a big batch ahead of time and just enjoy it through the week. It's simple, easy and is protein packed thanks to the chickpeas.
Why this garbanzo bean salad works
This chickpea salad with feta is a regular for a few reasons:
First, it's easy, simple and quick, and by quick I mean less than 20 minutes from start to finish.
Second, it's full of fresh and seasonal ingredients which bring so much flavor to the salad
And third, it's easily adjustable and can be served as a delicious side dish or a full meal on its own.
Are chickpeas good for you?
Yes! Chickpeas, also known as garbanzo beans, are a great source of vitamins, minerals and fiber. They improve digestion and are also known to be high in protein. Chickpeas make a good replacement for meat in vegetarian and vegan diets. If you are interested in more recipes that use chickpea as a main ingredient, check out our homemade falafel and hummus recipe as well.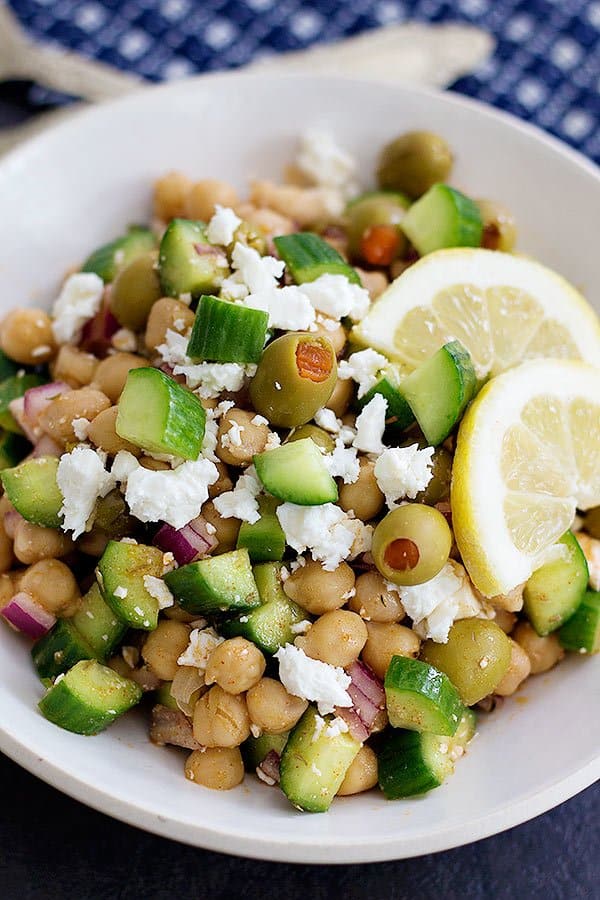 Greek Chickpea Salad Ingredients
To make this easy Greek chickpea salad, you need the following ingredients:
Canned chickpeas: a great shortcut for quick protein-packed salad.
Cucumbers: I prefer Persian cucumbers (mini cucumbers) because they are crisp and have very small seeds. Read more about the Persian cucumber vs English cucumber on The Kitchn.
Red onion: it gives so much flavor to the salad.
Olives: I used green olives but you can use any kind of pitted olives.
Feta cheese: I always get a block of feta and crumble it myself. Pre-crumbled feta tends to have a layer of foamy texture around the crumbles which makes it less tasty.
How to make this simple chickpea salad
Open the can of chickpeas and transfer to a colander to discard the water. Transfer the chickpeas to a bowl and add chopped cucumbers, red onion, olive oil and feta cheese. Mix well using two spoons and then toss with the dressing. Serve immediately.
Dressing for chickpea salad
To make the dressing for this easy salad, all you need to do is to mix lemon juice, paprika, olive oil, thyme, garlic powder and salt together in a small mason jar or in a bowl. Then, drizzle it over the salad once you're ready to serve. You can also serve this salad with my favorite tahini sauce. It makes it creamy and double delicious!
Can I make chickpea salad ahead of time? Absolutely! You can make this salad a day in advance without the feta and reserve the dressing in a jar. Once you're ready to serve, toss the salad with feta and the dressing and serve immediately.
How long does chickpea salad last in the fridge?
If you store the leftovers in an airtight container and refrigerate, chickpea salad can last in the fridge between 3 to 5 days without changing taste or texture.
Can I make this salad with dry chickpeas?
You absolutely can. However, it's going to take longer because you have to cook the chickpeas first. To cook the chickpeas, soak them in water for 8 hours up to overnight. Drain the water and transfer the chickpeas to a pot. Cover with water and add 1 tsp salt. Bring to simmer and cover. Cook for 45 minutes or until they're soft and edible.
More delicious recipes:
Can you freeze chickpea salad?
You can't freeze chickpea salad because it has cucumber and feta and neither of these items freeze well. However, if you have extra chickpeas, you can easily freeze them. Place the chickpeas on a baking sheet in a single layer and freeze for a couple of hours. Once they're solid, transfer them to a freezer bag and freeze for up to 4 months.
What to serve with Greek chickpea salad
Because of the flavors and ingredients, this salad would be the perfect side at a barbecue. Serve this salad with beef shish kabob, chicken shish kabob or even chicken shawarma and you'll have a feast. I can't help but let you know that this chickpea salad would make a great side for Greek meatballs (keftedes) as well.
I love this chickpea salad with feta especially for summer because chickpeas are a great source of protein. Therefore, they make a great meal without any hassle and in a very short period of time. You can have a full, delicious meal without turning your stove on, which is perfect for summer!
Notes and tips for this simple chickpea salad recipe
Herbs give such a nice flavor to this salad. My go-to's are cilantro, dill and parsley. Simply chop about ½ cup and add it to the salad before serving. A little bit of herb adds so much freshness to a salad.
I always use extra virgin olive oil in my salads because it's the least processed and has the most flavor. But you can also use light olive oil or other oils such as avocado oil in this recipe as well.
You can add other ingredients such as red bell pepper or avocados to this salad for more flavor.
To make a chickpea salad sandwich, top a pita bread with this chickpea salad and wrap it up.
Greek Chickpea Salad
Greek Chickpea Salad is a great option for a light lunch and a delicious side dish. It's made with just a few ingredients that compliment each other very well!

Ingredients
1

can chickpea

15 oz, drained

2

Persian cucumber

or ½ English cucumber

1

small red onion

or ½ large one

½

cup

green stuffed olives

½

cup

crumbled feta cheese
Dressing:
¼

cup

lemon juice

¼

cup

olive oil

1

tsp

paprika

1

tsp

dried thyme

½

tsp

garlic powder

½

tsp

salt
Instructions
Cut cucumbers into small pieces and place them in a large bowl.

Dice the red onion and mix it with the cucumber.

Add chickpeas, olives and feta cheese to the cucumbers and onion. Stir and combine.

Pour the dressing over the salad and serve.
Dressing:
Pour olive oil, lemon juice into a small jar. Add paprika, dried thyme, garlic and salt. Seal the jar and shake well.
Nutrition
Did you make this recipe?
Let us know how it was by leaving a comment and a 5-star review!