This homemade falafel recipe is easy to follow and makes delicious falafels that are crispy on the outside and soft and fluffy on the inside. Learn how to make this staple of Middle Eastern cuisine at home and ditch the take out.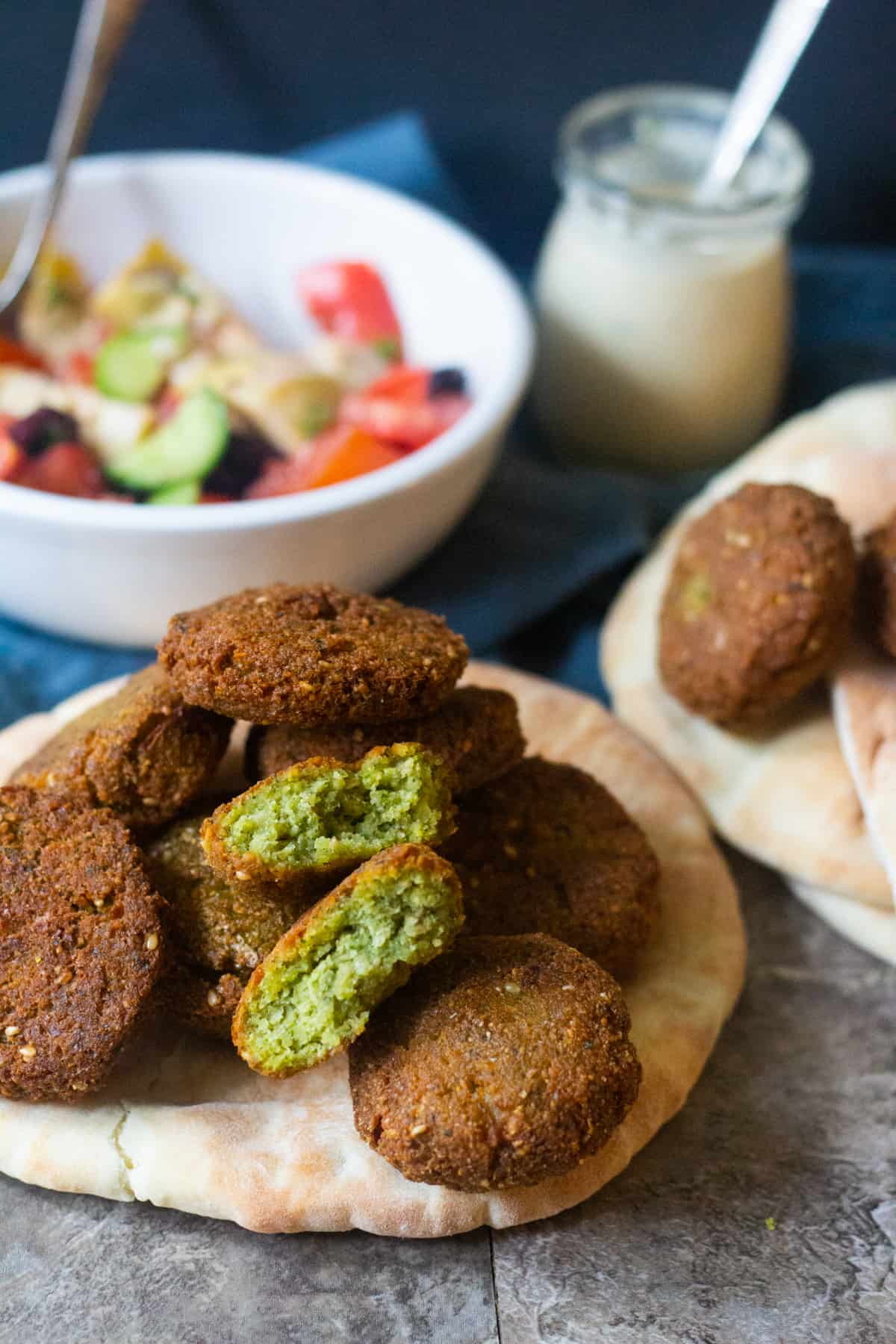 If you're a fan of Middle Eastern dishes, you're going to love today's post. Just like beef shawarma, Falafel is a classic Middle Eastern street food that is popular all around the world. Stuff these chickpea patties into fresh and warm homemade pita and top with some simple salad and tahini sauce for a delicious lunch! This is a super easy falafel recipe that you can make at home and enjoy.
Table Of Contents:
Everything you need to know
So, what is falafel? Falafel, also called felafel by some, is a delicious middle eastern patty that's made mainly with chickpeas. In some countries falafel is made with fava beans but the common variation that you find in restaurants throughout the world is always made with chickpeas. A good falafel is crispy and crunchy on the outside and soft and fluffy on the inside. Falafels are vegan as they don't contain dairy, egg or meat. They're made mainly with chickpeas, onion, garlic, and herbs.
Where is it from? Falafel most definitely originated in Egypt and was made with fava beans. These days, falafels can be found almost everywhere and are usually served as a sandwich with pita, pickles, hummus and tahini sauce.
In Iran, falafel sandwiches are common in almost every city and are especially popular in the southern regions. You can easily find them in small stalls on the street and they're usually served with spicy mango pickles.
What makes falafel green?
A good heap of cilantro and parsley makes falafels green and also gives them a fresh flavor. You can reduce the amount of herbs if you don't like your falafels to be too green.
Don't like cilantro? You can leave it out or substitute it with more parsley.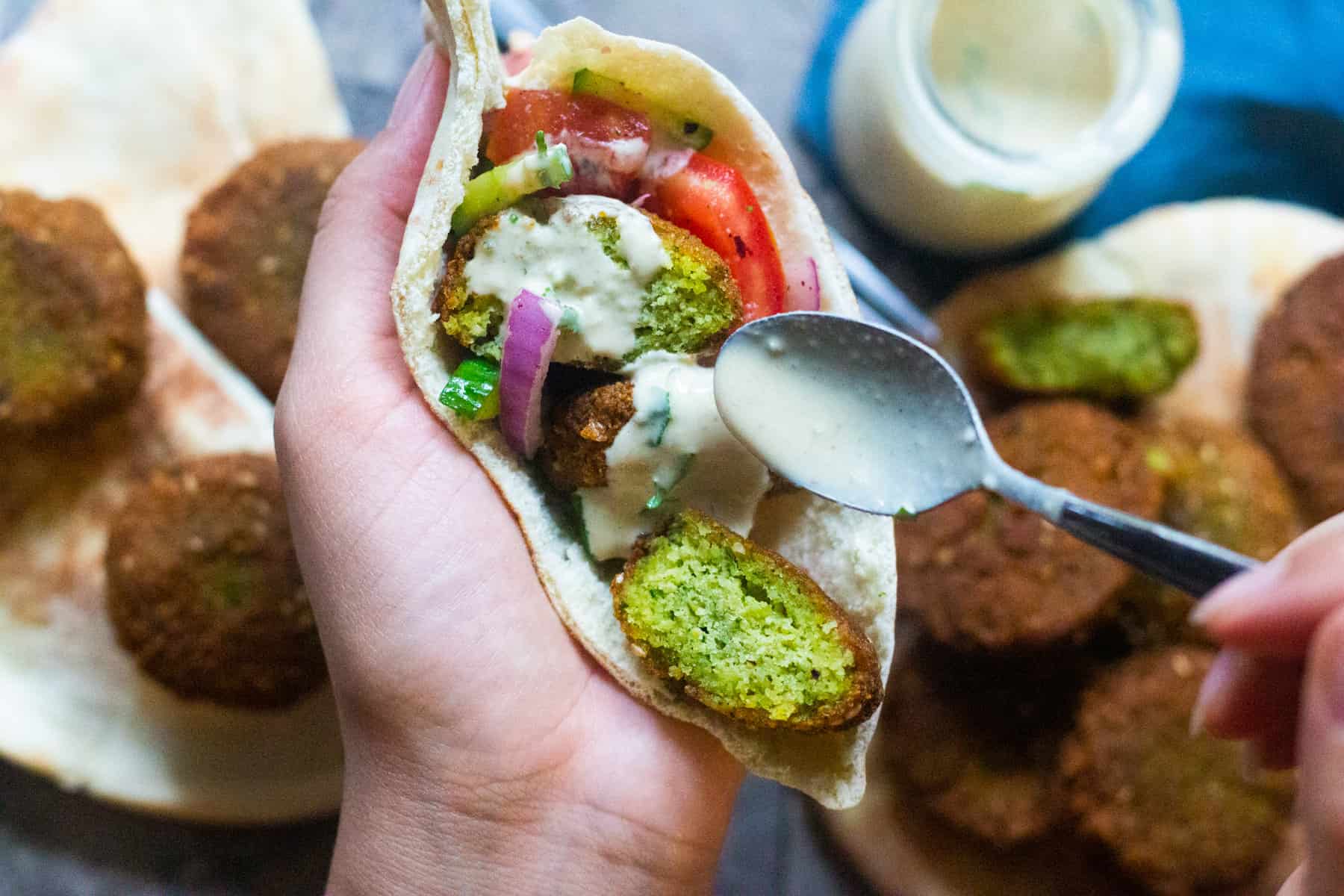 Ingredients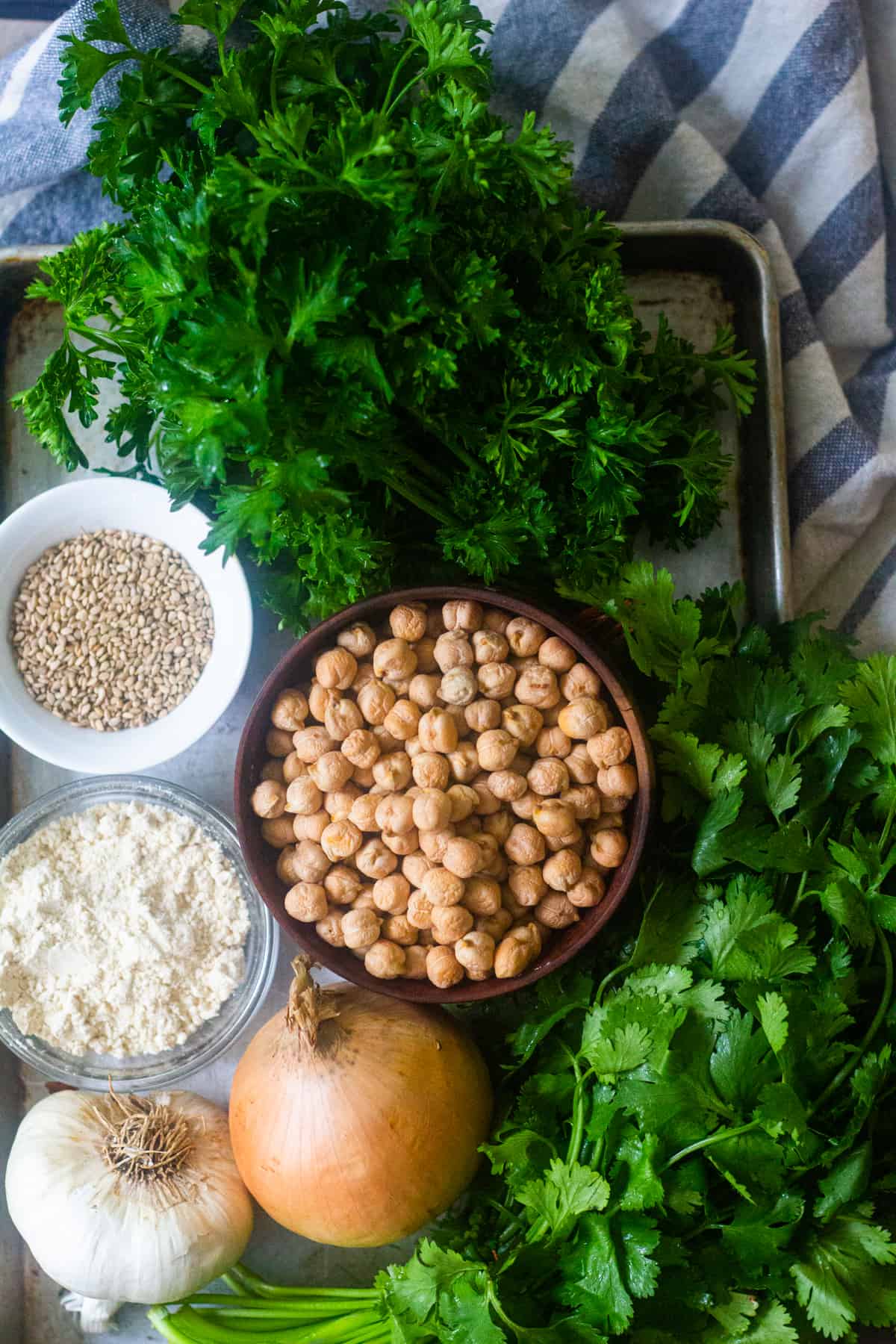 Traditional falafel is made from simple ingredients. Even though the process is a little bit time consuming, it's not at all complicated. To make this recipe, you need the following ingredients:
Chickpeas - for this recipe you need dry chickpeas and not canned or cooked. The chickpeas are soaked in water overnight and then used to make homemade falafel.
Parsley and cilantro - In addition to adding a beautiful color to the patties, herbs also add a lot of flavor.
Onion and garlic - one small onion and a few cloves of garlic addc enough flavor and moisture to the mixture.
Spices - You need cumin, paprika, salt and pepper. Some might add a pinch of cayenne for a kick.
Flour - Some classic recipes call for chickpea flour, but you can also use all purpose flour.
Baking powder - Baking powder makes the falafel extra fluffy and tender on the inside. Make sure not to skip it!
Oil for frying - I suggest using canola or vegetable oil for frying. You need enough oil to deep fry the falafel.
Falafel ingredients might vary from city to city and region to region as some might not use greens and some might use different spices. But this is a basic falafel recipe that you can count on to give you that delicious falafel taste that you probably know from your favorite Middle Eastern restaurant.
Preparation instructions
Making homemade falafel is actually pretty simple and fun:
Soak the chickpeas: Place the chickpeas in a large bowl and fill the bowl with water. Don't skip this step when you make falafels and don't use canned chickpeas. Let the garbanzo beans soak for 12 to 18 hours until they can easily be chopped. Once you're ready to make the falafel mixture, drain and wash the chickpeas and set them aside.
Process the ingredients: Place the herbs and onion and garlic in a bowl of a food processor and process until they're finely chopped. Add in the chickpeas and spices and process until you have a coarse paste. Add in the flour and baking powder, and process again until everything is well mixed.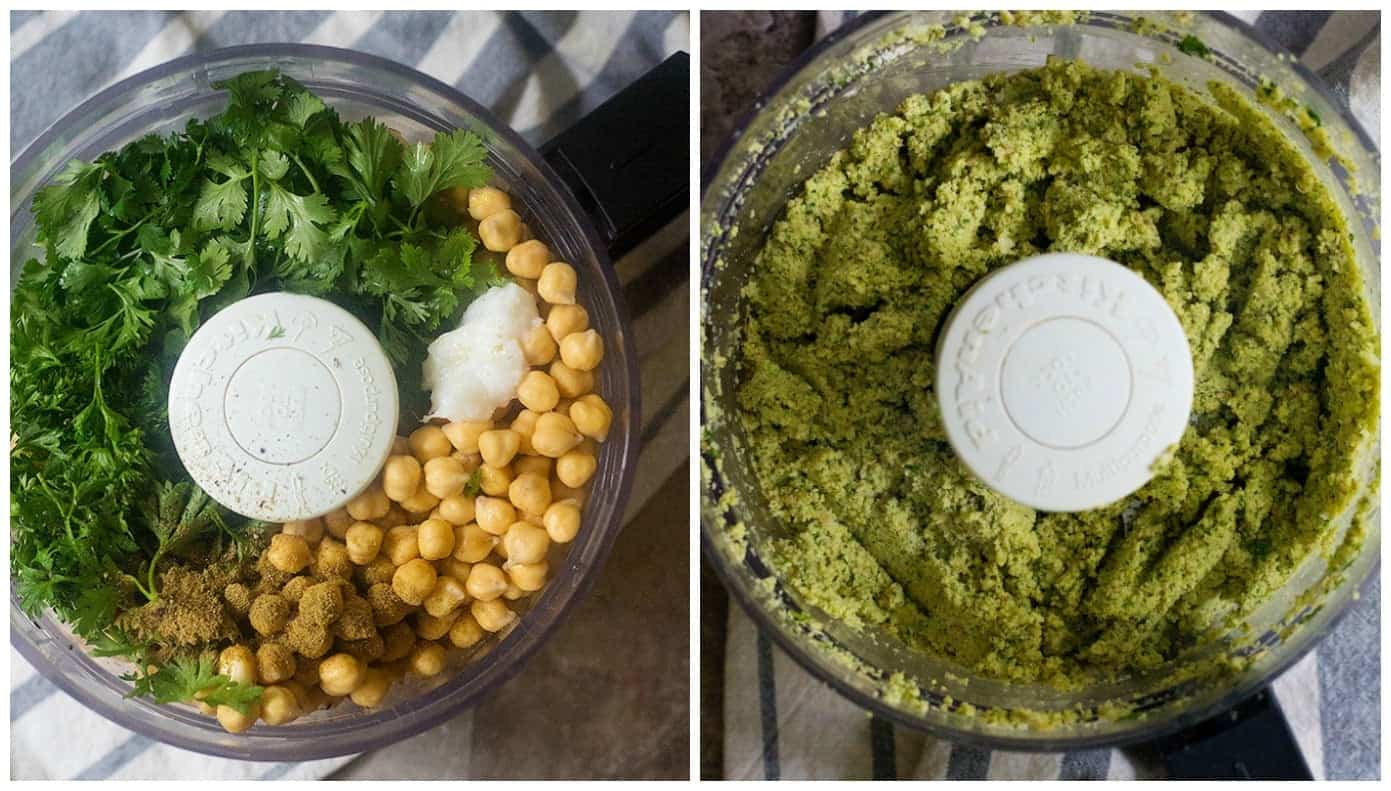 Refrigerate the mixture: Cover the bowl with a plastic wrap and place it in the fridge for at least 30 minutes. You can leave the falafel mixture in the fridge overnight as well.
Shape and deep fry: Once you're ready to cook, heat some canola or vegetable oil in a saucepan over medium heat. Once the oil is hot enough, scoop out the mixture using an ice cream scoop and, using your fingers, form patties that are ½ inch thick. Carefully place the falafel patties in hot oil and cook them until they are golden brown and crispy. Place the cooked homemade falafels on a kitchen paper towel to absorb the extra oil. Repeat with the remaining mixture and make sure not to overcrowd the saucepan.
A small tip: To shape the falafels you can either make falafel balls of falafel patties. I personally prefer falafel patties as they have a more traditional look and a better tasting center.
Frequently asked questions
Can I use canned chickpeas?
Canned or cooked chickpeas don't work for this recipe as they contain too much moisture, which will cause the falafels to fall apart when you try to fry them. Some would add all purpose flour or eggs to the chickpea mixture to prevent them from falling apart, but that would also affect the flavor and texture. Making homemade falafels might require a little bit of planning, but it's worth it, so please use dry chickpeas and not canned chickpeas.
How long does cooked falafel keep?
My best advice to you is to serve and eat falafel as soon as it's cooked because that's when they are super crispy on the outside and warm and tender on the inside. However, if you have leftovers, simply store them in an airtight container and refrigerate for up to 2 days. Reheat them in a pan with just a little bit of vegetable oil. They will taste great, however, the texture won't be exactly the same.
How to freeze falafel?
It's best to freeze raw falafels as they are the best when freshly fried. Scoop the falafels and shape the patties. Place them on a plate or a baking sheet lined with parchment paper and freeze for about an hour until they're hardened. Then place them in a plastic bag and freeze.
Once ready to cook, take them out of the plastic bag and place them on a baking sheet. Heat oil in a sauce pan and once the oil is hot enough, fry the frozen falafels.
Can I fry the falafels in an air fryer?
I don't suggest air frying falafels as they will dry out and won't have the best texture.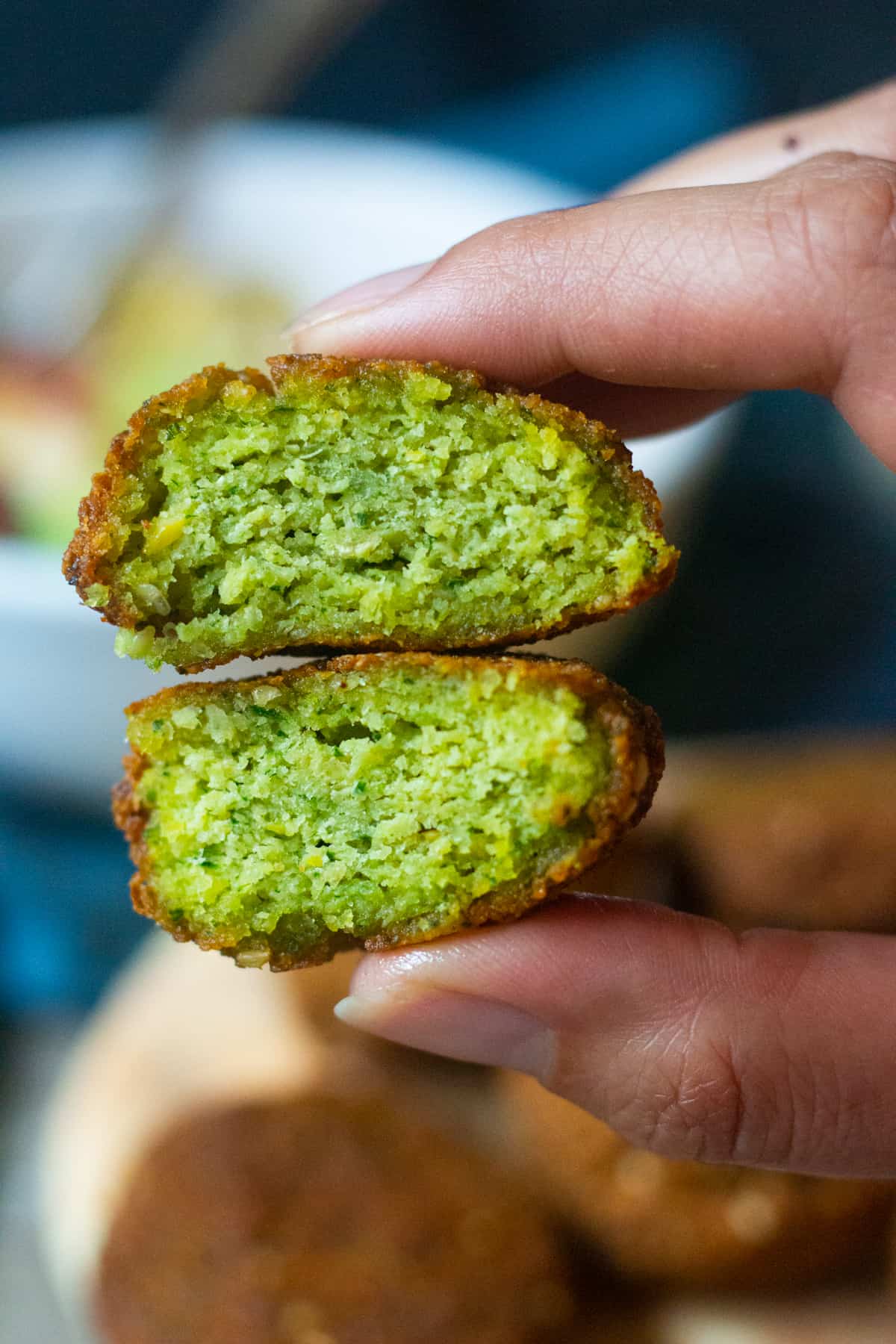 Baking instructions
Even though falafels are traditionally deep fried, you can also bake them in the oven. To make baked falafel, prepare the mixture as instructed in the recipe and then proceed with these steps:
Preheat the oven to 350°F and line a baking sheet with parchment paper.
Place falafel patties on the baking sheet and brush the top with olive oil.
Turn the patties and brush the other side with olive oil too.
Bake the falafels in the oven for 25 minutes and flip them half way through.
Note: Please be aware that baked falafels won't be as fluffy and tender as deep fried falafels.
Shallow frying instructions
If you don't want to deep fry the falafels, you can shallow fry them. Place a non stick pan over medium heat and pour 3-5 tablespoons vegetable oil in the pan. Make sure the oil is hot enough by dropping a tiny bit of the mixture in it, if it starts bubbling and frying right away, the oil is hot enough.
Form falafel patties and place them in the pan. Fry on one side for about 4 minutes and then flip and pan fry the other side until brown and cooked. While pan fried falafels definitely use less oil compared to deep fried falafels, they won't be as crispy on the outside.
Serving suggestions
Falafels are a full meal on their own and you can serve them in different ways. If making a falafel sandwich, wrap them in a homemade pita bread or lavash with some greens such as lettuce or arugula, pickles and tzatziki sauce, toum, pickled turnips or tahini sauce.
You can also turn make a falafel salad by pairing them with fattoush, tabbouleh or fresh Mediterranean salad and some tahini sauce.
If you would like to serve falafel as an appetizer, serve them with different dips and spreads such as hummus or baba ganoush on a mezze platter with some delicious dolma.
Notes and tips
Make sure not to add too much flour, one to two tablespoon is enough for this recipe.
It's important to refrigerate the falafel mixture for at least thirty minutes as it gives the mixture the time it needs to come together and get ready to be fried.
Make sure the oil is not too hot - otherwise the falafels will cook on the outside but remain raw on the inside. To know if the oil is hot enough, insert a toothpick or wooden skewer in the oil and if bubbles are appearing, the oil is ready.
Using canned chickpeas might seem like an easy option, but because of the amount of water they have, the falafels are not going to have the perfect texture and flavor. Classic falafel is made with dry chickpeas soaked for at least 18 hours.
More Mediterranean recipes
Did you make this recipe? I'd love to hear about it! Please comment and leave a 5-star🌟 rating below. You can also follow us on Instagram, Facebook, Pinterest or subscribe to our newsletter to get a free e-Cookbook!
Step-by-Step Recipe
Homemade Falafel Recipe
This homemade falafel recipe is easy to follow and makes delicious falafels that are crispy on the outside and soft and fluffy on the inside. Learn how to make this staple of Middle Eastern cuisine at home and ditch the take out.
Ingredients
2

cups

dried chickpeas

Not canned or cooked chickpea

1

small

yellow onion

cut into quarters

4

cloves

garlic

1

cup

parsley

stems removed

1

cup

cilantro

stems removed

2

teaspoon

cumin

1

tsp

salt

½

teaspoon

black pepper

1

tablespoon

chickpea flour

1

teaspoon

baking powder

oil for frying
Instructions
Soak chickpeas in 8 cups of water for 12 to 18 hours so they're not hard anymore.


When chickpeas are soaked through, discard the water and set the chickpeas aside.


Place the onion, garlic cloves, parsley and cilantro in a bowl of a food processor.


Pulse a few times until they're finely chopped.

Add in chickpeas, cumin, salt and black pepper. Process until you have a smooth mixture.


Add in chickpea flour and baking powder and process for another 30 seconds.


Cover and refrigerate for at least 30 minutes.


Once you're ready to fry, fill a sauce pan up to 2 inches with canola or vegetable oil. Heat the oil on medium until it's hot enough. You will know this by having a toothpick touch the bottom of the sauce pan. If it starts bubbling, then it's ready.


Scoop out the falafels using an ice cream scoop and make patties with ½ inch in thickness.


Carefully drop the falafels in the hot oil, 4 at a time and fry them for about 4 minutes until they are golden brown. Do not over crowd the sauce pan or they won't cook properly.


Place the cooked falafels on a plate lined with paper towel to absorb extra oil.


Serve with pita, salad, hummus and tahini sauce.

Notes
If you have extra mixture, scoop the falafels and place them on a tray, freeze uncooked falafels for about one hour until they're frozen. Then place them in a ziploc bag and freeze them.
You can use all purpose flour instead of chickpea flour.
Don't use cooked or canned chickpeas for this recipe as the falafels will get mushy and will fall apart while frying.
Make sure to soak the chickpeas long enough that they can be processed in a food processor. 12 to 18 hours soaking time is ideal.
Make sure the oil is not so hot otherwise the falafels will be golden brown on the outside and will be raw on the inside.
You can bake the falafels as well. Brush them on both sides with olive oil and bake them in the oven at 350°F for 25 minutes, flipping them halfway through.
Serve falafels with fresh pita, fattoush, hummus, tahini sauce or tabbouleh salad.
Nutrition
Calories:
395
kcal
Carbohydrates:
67
g
Protein:
21
g
Fat:
7
g
Saturated Fat:
1
g
Sodium:
621
mg
Potassium:
1177
mg
Fiber:
19
g
Sugar:
12
g
Vitamin A:
1613
IU
Vitamin C:
27
mg
Calcium:
201
mg
Iron:
8
mg
Did you make this recipe?
Let us know how it was by leaving a comment and a 5-star review!