A tasty mezze platter is a cornerstone of any Mediterranean party. Learn how easy it is to build a Mediterranean mezze platter in just 15 minutes that will impress your guests and delight your taste buds!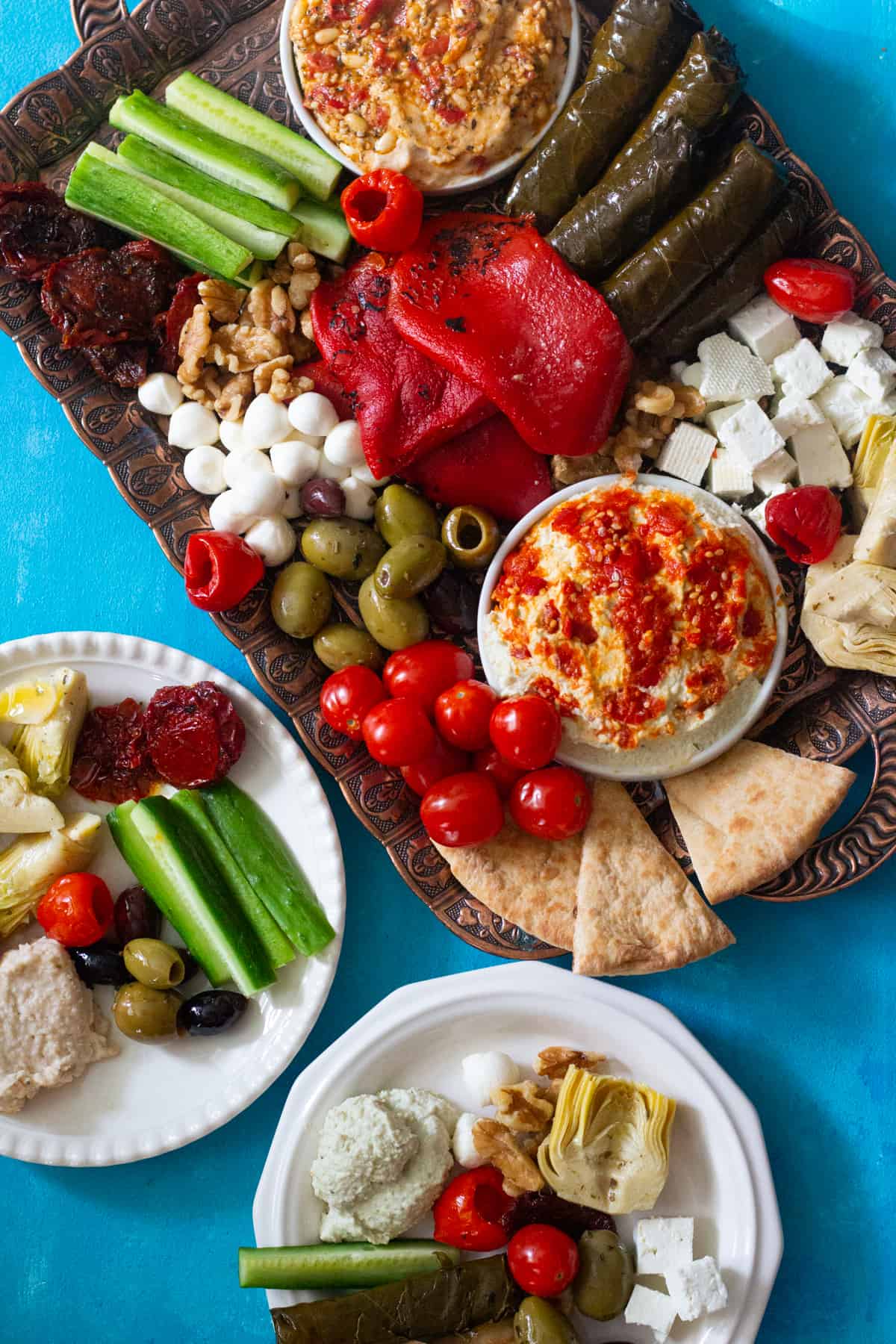 Appetizers and mezzes such as light summer appetizer board are among our most-loved Mediterranean recipes. From classic hummus, mutabal and baba ganoush to muhammara and tzatziki and everything in between, a large mezze platter is great for entertaining. It's so simple to prepare and ensure that there's something to suit everyone's tastes!
Table Of Contents:
What is mezze?
Mezze (or meze) is a selection of Mediterranean small dishes. It's commonly served with dinner across the Mediterranean and the Balkans. This Mediterranean platter consists several small dishes that compliment each other very well. The word mezze comes from Persian, in which "mazze" means taste or snack.
Growing up in Iran, we used to serve a classic Persian appetizer platter very often. It would contain cheese, herbs, and watermelon or grapes. Then, when I moved to Istanbul, Turkey, mezze was an integral part of almost every meal at a sit-down restaurant. The waiter would come with a very large tray with lots of small dishes and we would choose everything that looked good to us. And they would usually serve it with warm bread such as lavash or pita.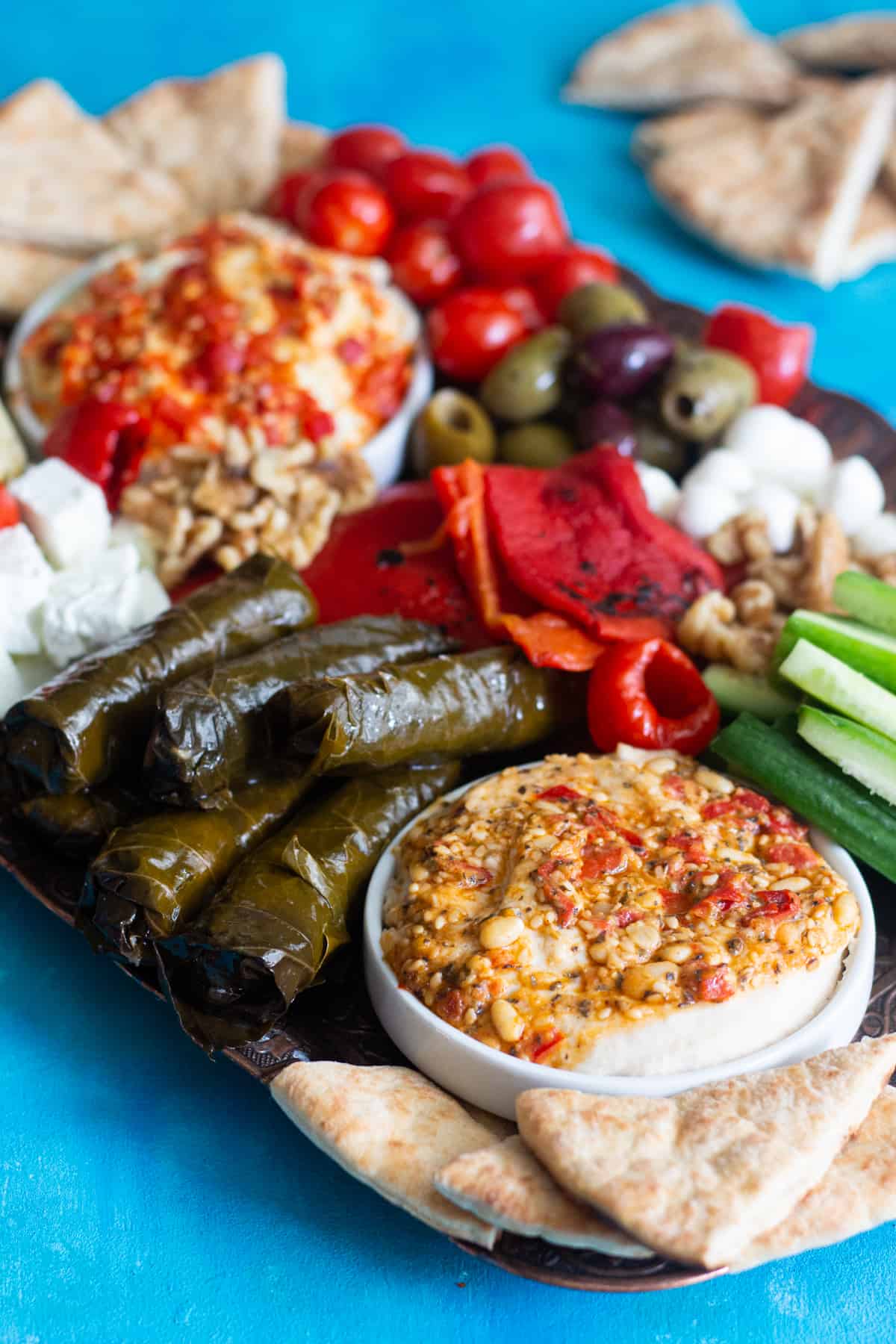 Elements of a proper mezze platter
This is the part of the process where you can use your imagination. The items that can go on a platter are endless. Other items that go on a mezze platter are:
Bread: Pita chips or homemade pita is a good option but you can also use crackers or lavash bread.
Fresh vegetables:

Cucumbers and fresh tomatoes add freshness to the platter and they're great for dipping.

Dips and spreads: There are so many choices! I like a combination of classic hummus, roasted red pepper hummus, labneh and baba ganoush.
Dolmas: You can get prepared stuffed grape leaves at supermarkets. You can also make homemade dolmas if you prefer.
Cheese: Feta , marinated feta, fried halloumi, and labneh are great choices. Mozzarella balls also work well.
Marinated vegetables:

Artichokes, sun dried tomatoes and marinated olives are a great combination for any platter.

Vegetables: I love serving roasted red peppers on my platter. You can also serve roasted zucchini, Lebanese spicy potatoes, fried eggplant, or even grilled asparagus. A combination of grilled vegetables adds a lot of flavor to the platter.
Nuts:

I always add a handful of walnuts to add a nice crunch to the platter. Be sure to try feta with walnuts. It's a truly great combination!

Bite size food: It's common to have some bite size foods such as falafels and lentil balls.
Salads:

Fattoush

and

tabbouleh

are good additions to your mezze platter if you like serving salads. You can also serve some Turkish white beans salad (Piyaz), it's tasty and easy to make.
How to prepare a mezze platter
Choose you platter
First of all, choose the right size platter. The bigger, the better. You can use almost any kind of platter: oval, rectangular, or round. Even a cutting board or baking sheet will do. It's best if the platter has a large flat surface so you can arrange the food easily. If you have more than 10 guests, it's best to prepare 2 platters.
Assemble the platter
Start by plating the hummus. I like to place one flavor of hummus at each end of the platter so everyone has access to the good stuff. Next, place the roasted red peppers and cucumbers in the center. Continue with feta and mozzarella cheese on both ends of the platter. You can either use mozzarella pearls or slice up a ball of mozzarella.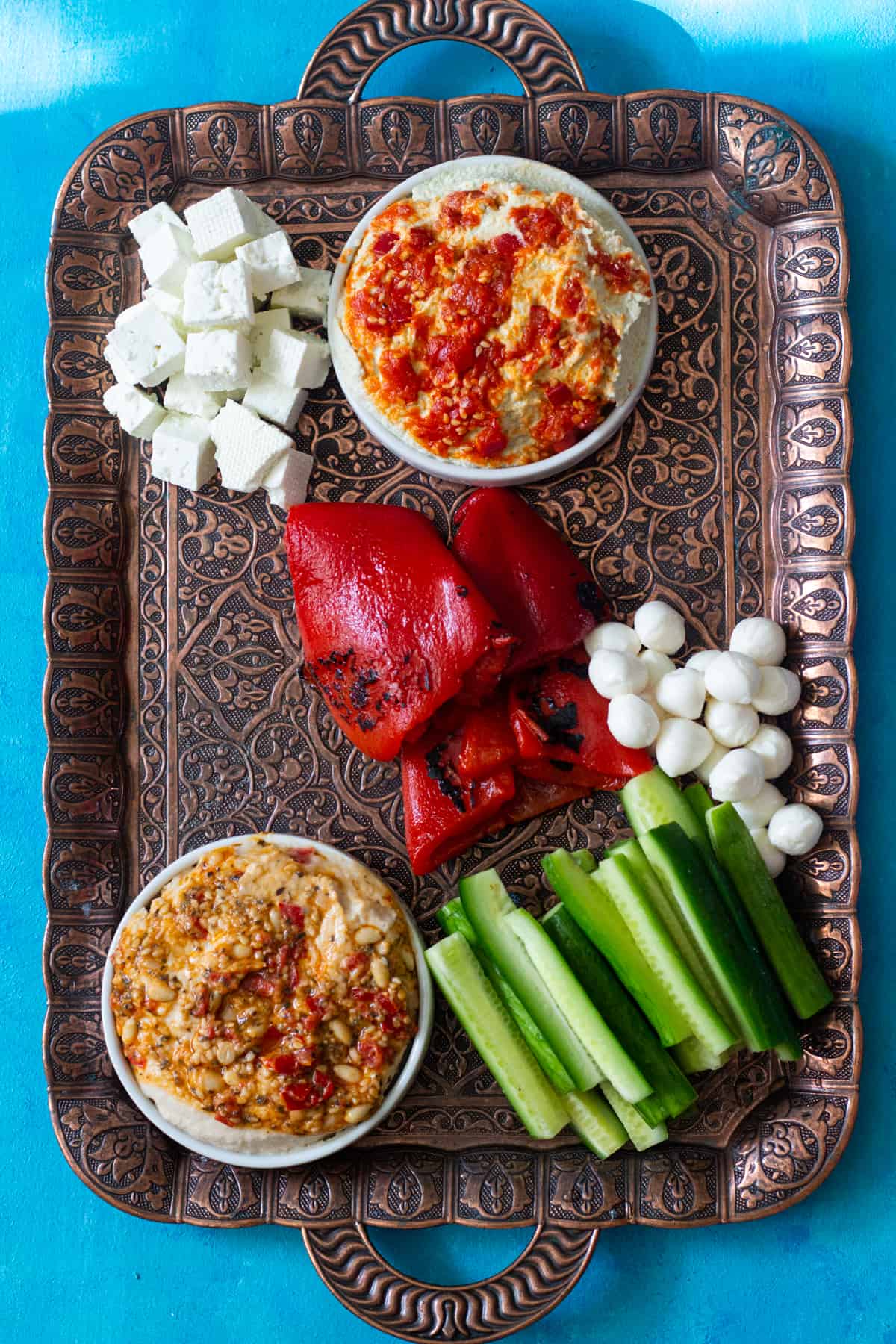 Next, place marinated olives and dolmades on the platter and proceed with the addition of fresh and sun-dried tomatoes. Finish with marinated artichokes, walnuts, a few peppadew peppers (optional) and some sliced pita bread.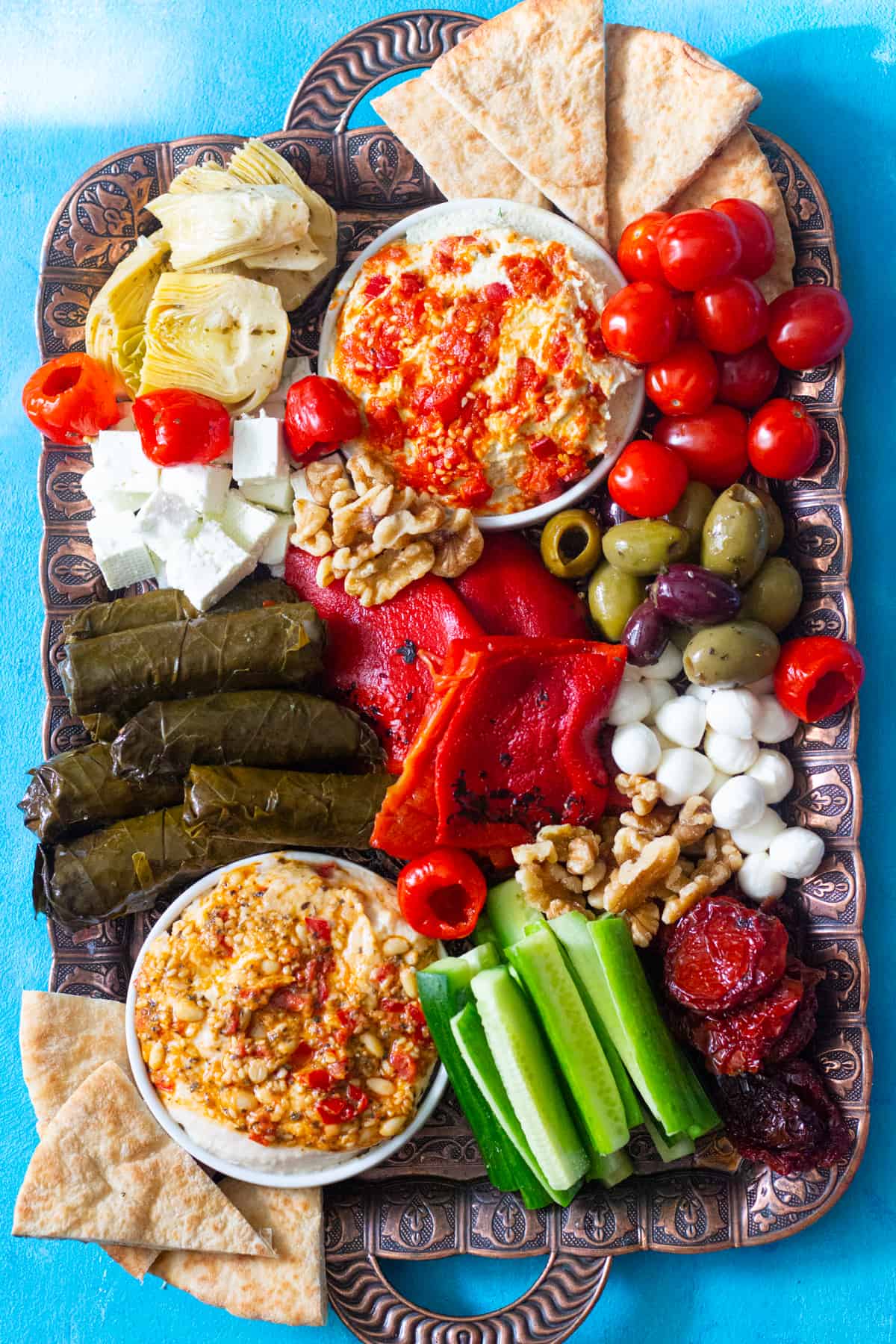 Frequently Asked Questions
Can I prepare this ahead of time?
That's the best part! Yes, you can easily prepare this platter ahead of time, cover it tightly with a plastic wrap and serve it when you're ready. Everything on the platter will keep fresh for hours.
Is everything on a mezze platter vegetarian?
Not necessarily. Stuffed grape leaves (dolmas) can be made with meat or meatless so make sure you check the ingredients if you buy them. You can always serve meatballs and other meats such as beef salami on the platter. If the main course includes meat, I usually keep the platter vegetarian.
Are there any shortcuts to save time?
Absolutely. Use store bought hummus, labneh and baba ganoush. You can even find premade dolmas and falafel these days at almost any supermarket. You can have a beautiful mezze platter in 10 minutes!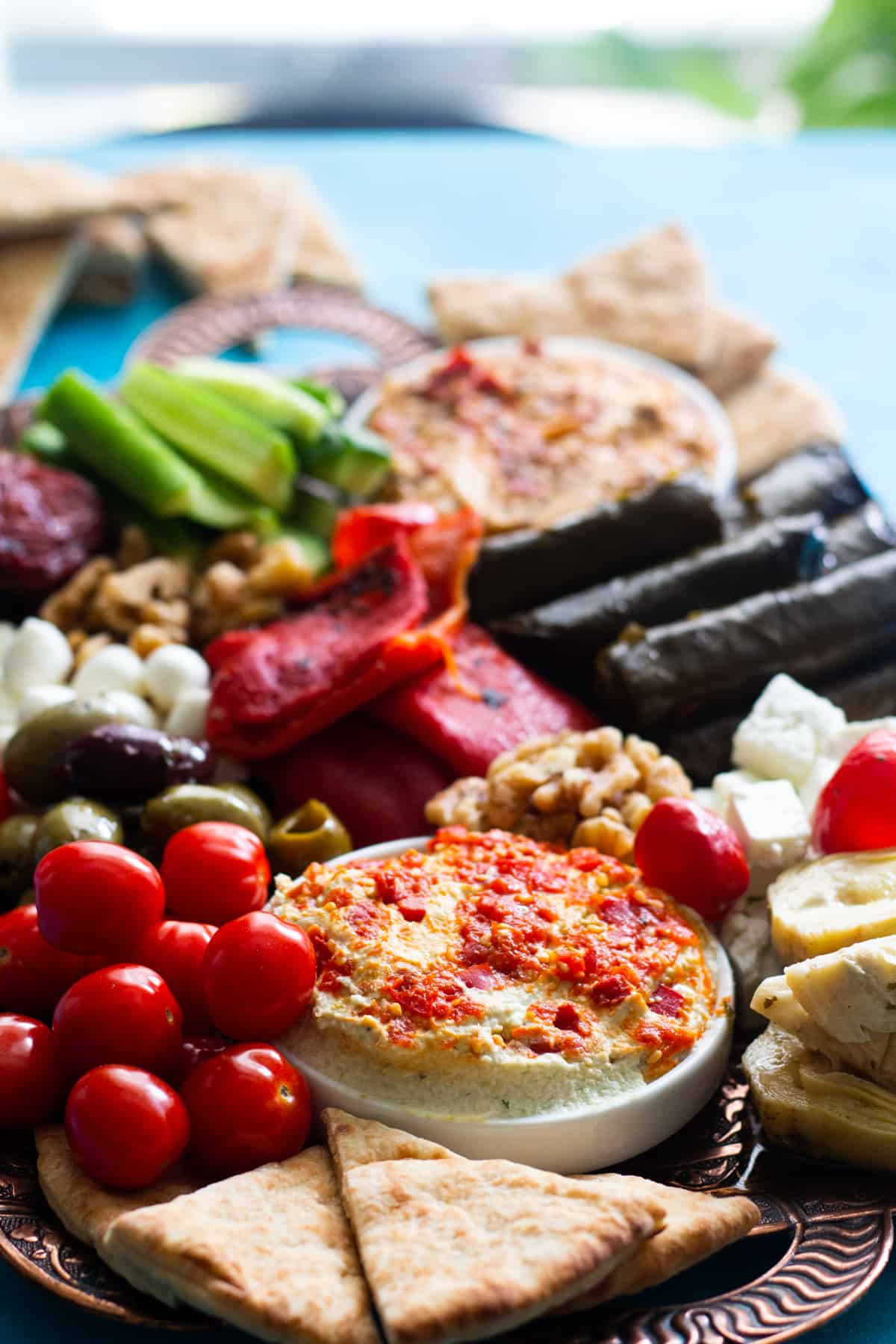 Planning a Mediterranean feast?
Did you make this recipe? I'd love to hear about it! Please comment and leave a 5-star🌟 rating below. You can also follow us on Instagram, Facebook, Pinterest or subscribe to our newsletter to get a free e-Cookbook!
Step-by-Step Recipe
Mediterranean Mezze Platter
A tasty mezze platter is a cornerstone of any Mediterranean party. Learn how easy it is to build a Mediterranean mezze platter in just 10 minutes that will impress your guests and delight your taste buds!
Ingredients
Instructions
Place a large and flat platter or baking sheet on the counter.

Put some of the hummus in two plates and place them on two ends of the platter.

Place the roasted red peppers on the platter.

Cut the Persian cucumbers into half width-wise. Then cut each half into half lengthwise. Slice each half into three or four pieces. Place the slices on the platter.

Add feta and mozzarella balls to the platter.

Place the dolmas and marinated olives on the platter as well.

Add the fresh and sun-dried tomatoes to two ends of the platter.

Fill the empty spaces with marinated artichokes, walnuts and

Peppadew peppers.

Slice each pita into eight pieces and place some around the platter and the rest on a plate.
Notes
You can find marinated olives and artichokes at the Mediterranean or olive bars of supermarkets.
Serve mezze platter with pita bread, lavash or pita chips.
Add or leave out as many items as you like. Your mezze platter can be as simple as hummus, cheese, olives and pita.
If you have the time, try homemade dolmas, they are tastier than store-bought.
You can make a mezze platter a few hours in advance, cover tightly with plastic wrap and refrigerate until you're ready to serve. Add the pita to the platter right before serving.
Nutrition
Calories:
345
kcal
Carbohydrates:
33
g
Protein:
13
g
Fat:
19
g
Saturated Fat:
4
g
Polyunsaturated Fat:
6
g
Monounsaturated Fat:
6
g
Cholesterol:
11
mg
Sodium:
1059
mg
Potassium:
536
mg
Fiber:
7
g
Sugar:
4
g
Vitamin A:
614
IU
Vitamin C:
19
mg
Calcium:
154
mg
Iron:
3
mg
Did you make this recipe?
Let us know how it was by leaving a comment and a 5-star review!
Thank you Lantana Foods for sponsoring this post.