Marinated olives made Persian style! Try delicious olives marinated with walnuts, pomegranate molasses and herbs - a fantastic combination that is full of flavor!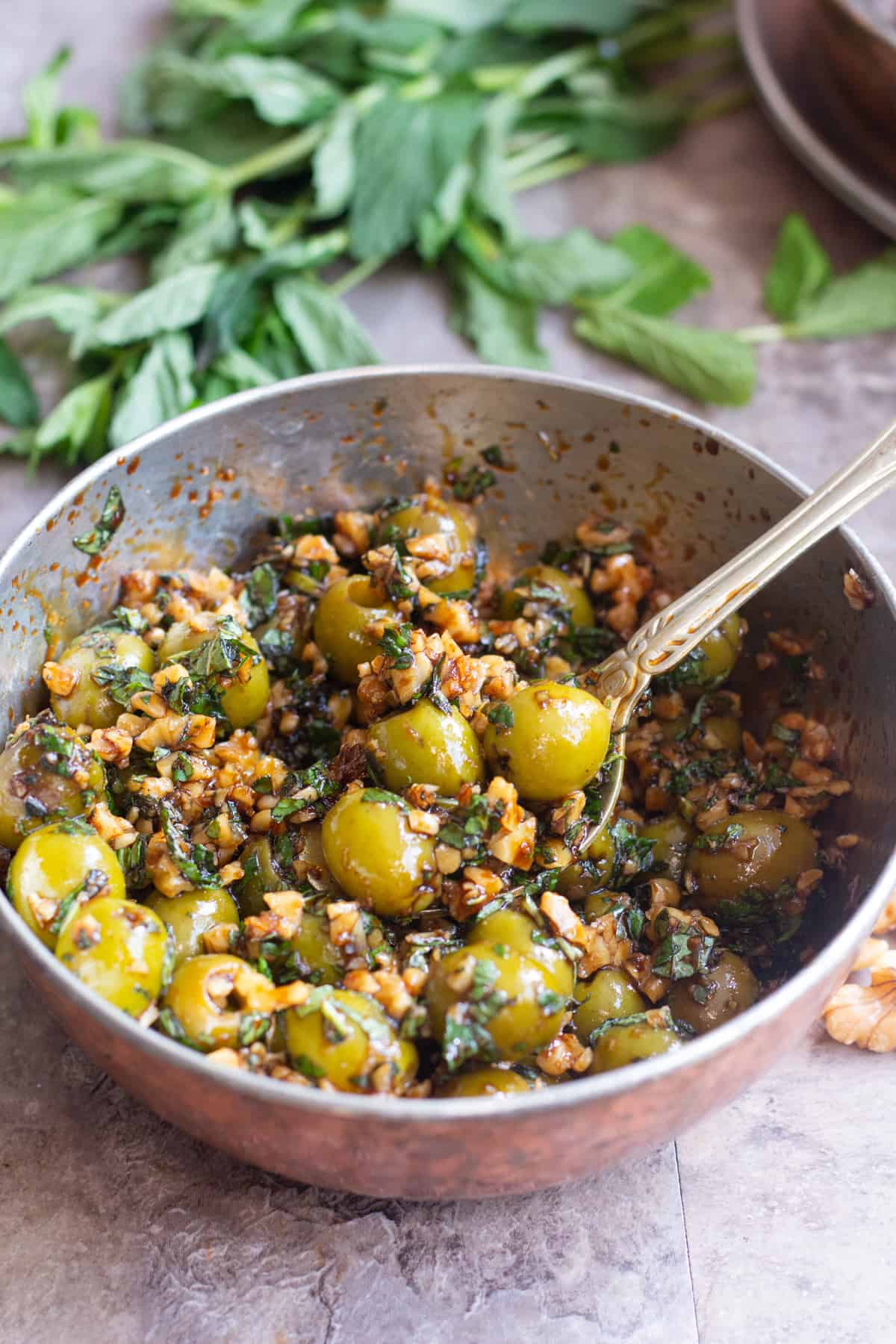 Olives are a big part of my food life, I simply cannot imagine a day goes by without me munching on a dozen olives, especially if I have these exceptionally delicious olives in my fridge!
Table Of Contents:
Can we please take a moment and talk about my obsession with pomegranates and walnuts? From Fesenjan and pomegranate chicken to pomegranate guacamole and walnut pomegranate cheese ball to stuffed fish with pomegranates and walnuts, my love for this unique combo is something I can't deny. It's the ultimate ingredient combo!
The recipe I'm showing you today represents two members of Team Good Fat: walnuts and extra virgin olive oil, both containing fat that is good for your body and are also very delicious! We try to use good fats in different recipes as much as possible because they help our bodies function better and make us feel so much better!
These Persian marinated olives, called Zeytoon Parvardeh, are another creation based on my favorite flavor combination. They're a tasty twist on the usual marinated olives. They are tangy because of pomegranate molasses, nutty thanks to walnuts, and absolutely addictive. They are originally from the northern part of Iran, particularly Guilan province, and are usually made with Choochagh, a local herb that's only found in northern Iran. Here in the US, the closest herb to that would be mint.
What makes this marinated olives recipe different than others?
The ingredients used in making these Persian style olives are what makes this recipe unique. the acidity of pomegranate molasses mixed with mint and infused into olives makes a great combo that is completed by the use of walnuts which bring creaminess and a subtle balance of flavor to the recipe.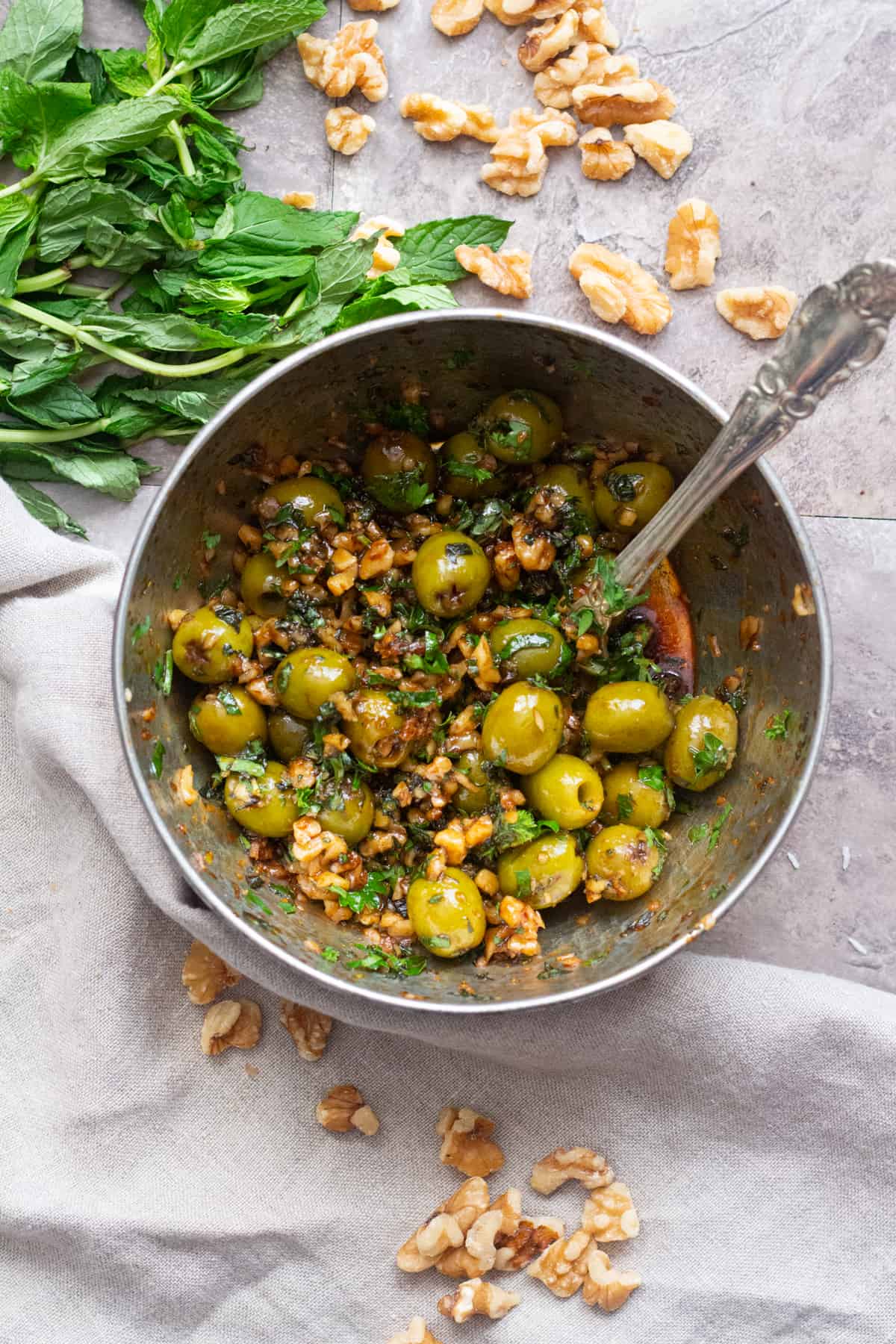 How to make marinated olives with walnuts?
Start with olives. Green olives are best for this recipe. Place them in a bowl and add walnuts, chopped mint, garlic and walnuts to it. Next, add in pomegranate molasses and olive oil. Using a spoon, mix all the ingredients well until they're fully combined. It's important to refrigerate these for at least an hour before serving. However, I suggest refrigerating for one or two days so the flavors are fully infused and combined.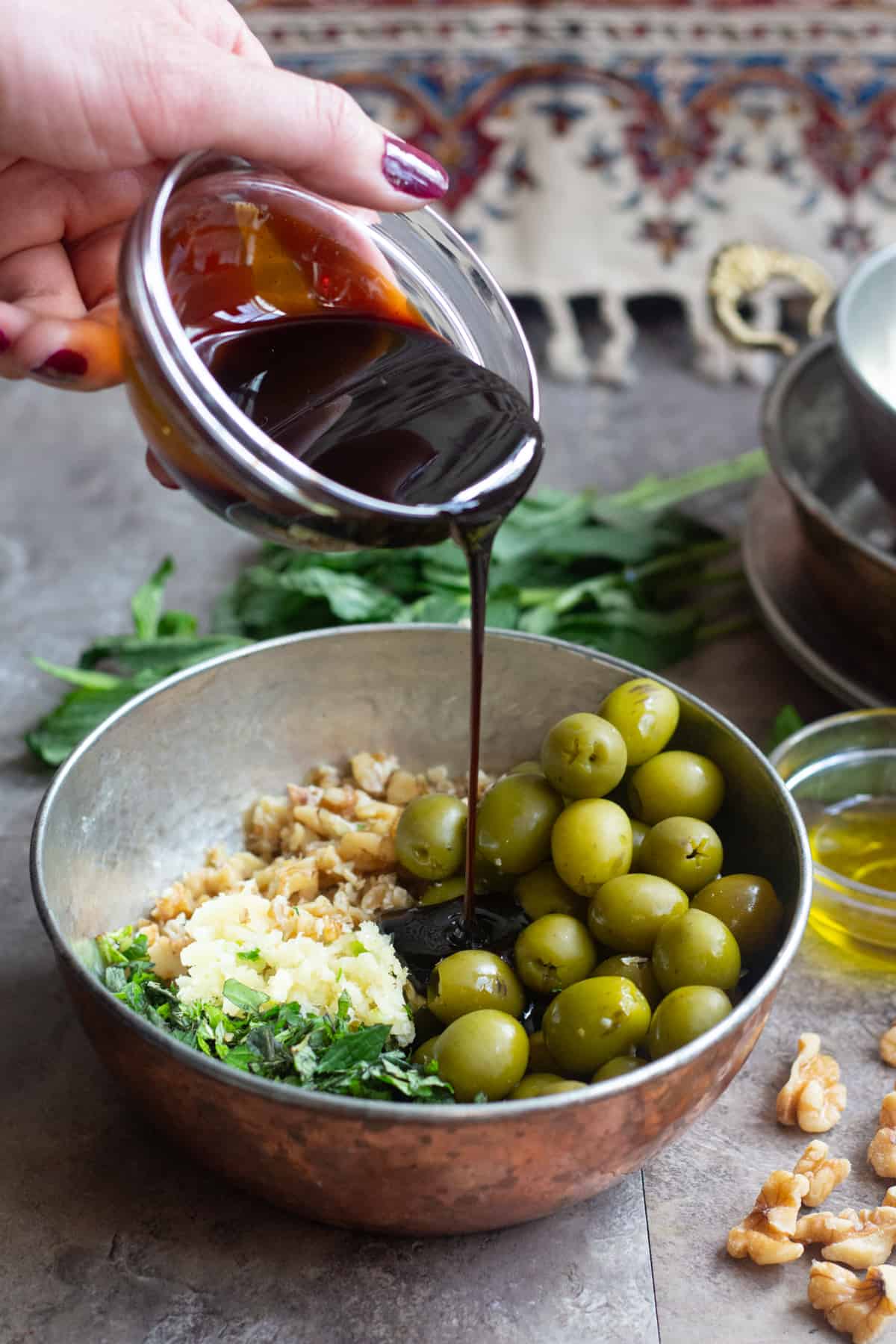 Notes and tips to make this Recipe:
This

Persian spicy marinated olives recipe with walnuts and pomegranates calls for green olives. Depending on the size of the olives, you can either use them whole or chopped.

Walnuts can be used chopped or ground in this recipe. Traditionally, walnuts are ground and mixed with garlic, salt, mint, pomegranate molasses and olive oil to form a paste, then mixed with olives.
The more these olives stay in the fridge, the tastier they get.
If you're a big garlic fan, add more than seven cloves to this recipe.
Serve marinated olives with barbecue, grilled meat, rice dishes or even sandwiches.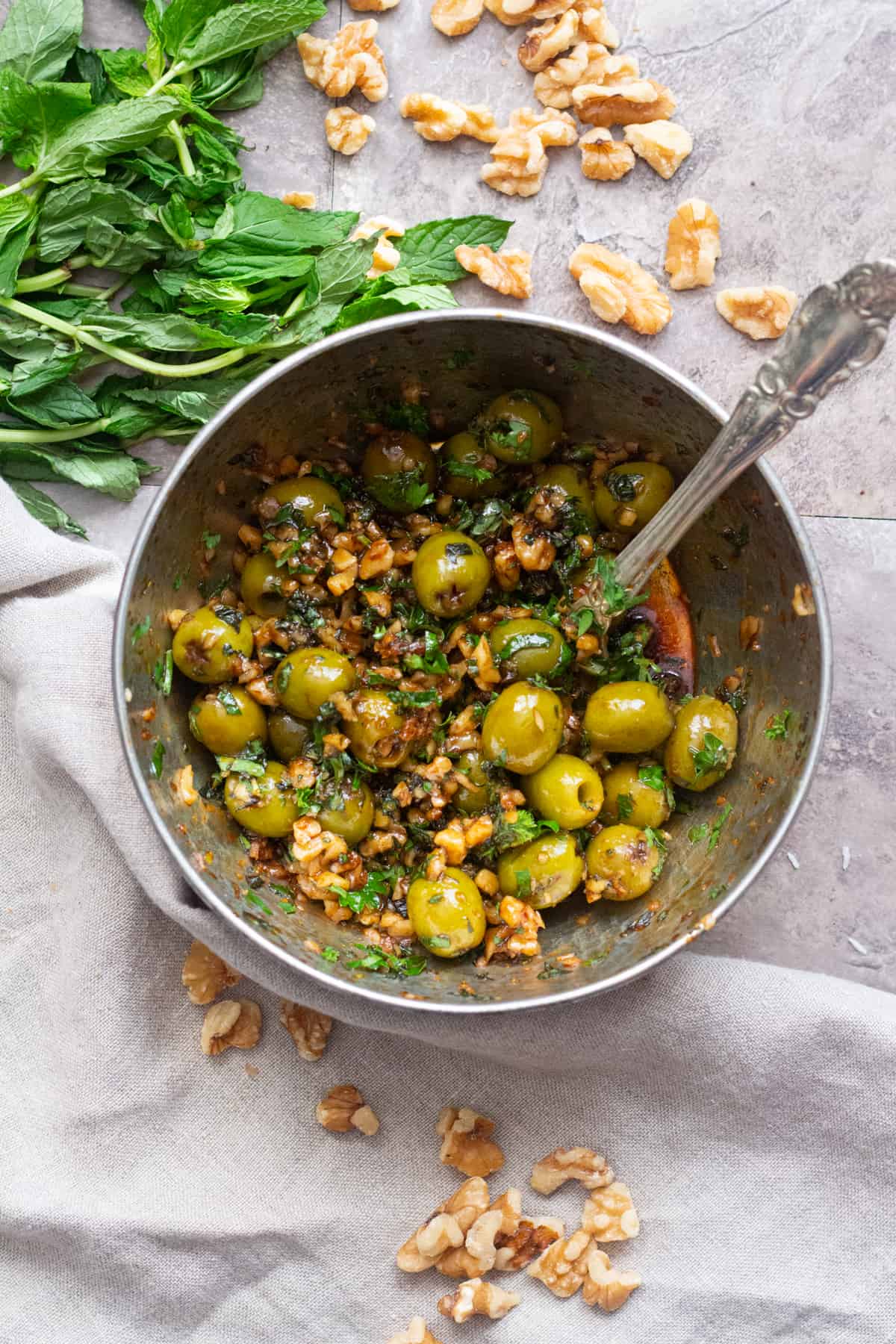 These marinated olives are so dear to my heart that we used to have them every time we visited northern Iran, my dad would stop at this row of olive shops and we would go inside every shop, try their Zeytoon Parvardeh and buy some. We would literally buy them from every shop because each of them had their own personal addition that would make their recipe special and unique. Now here in America, far away from where these marinated olives where first born, I'm making my very own zeytoon parvardeh with walnuts that are just as good as the ones we used to have on the road. I'm so thankful that my food memory is strong enough to recreate flavors of years ago.
I hope you give this classic Persian recipe a try and enjoy it!
This post is sponsored by California Walnuts. As always, all opinions are mine. Thank you for supporting the brands that support Unicorns in the Kitchen.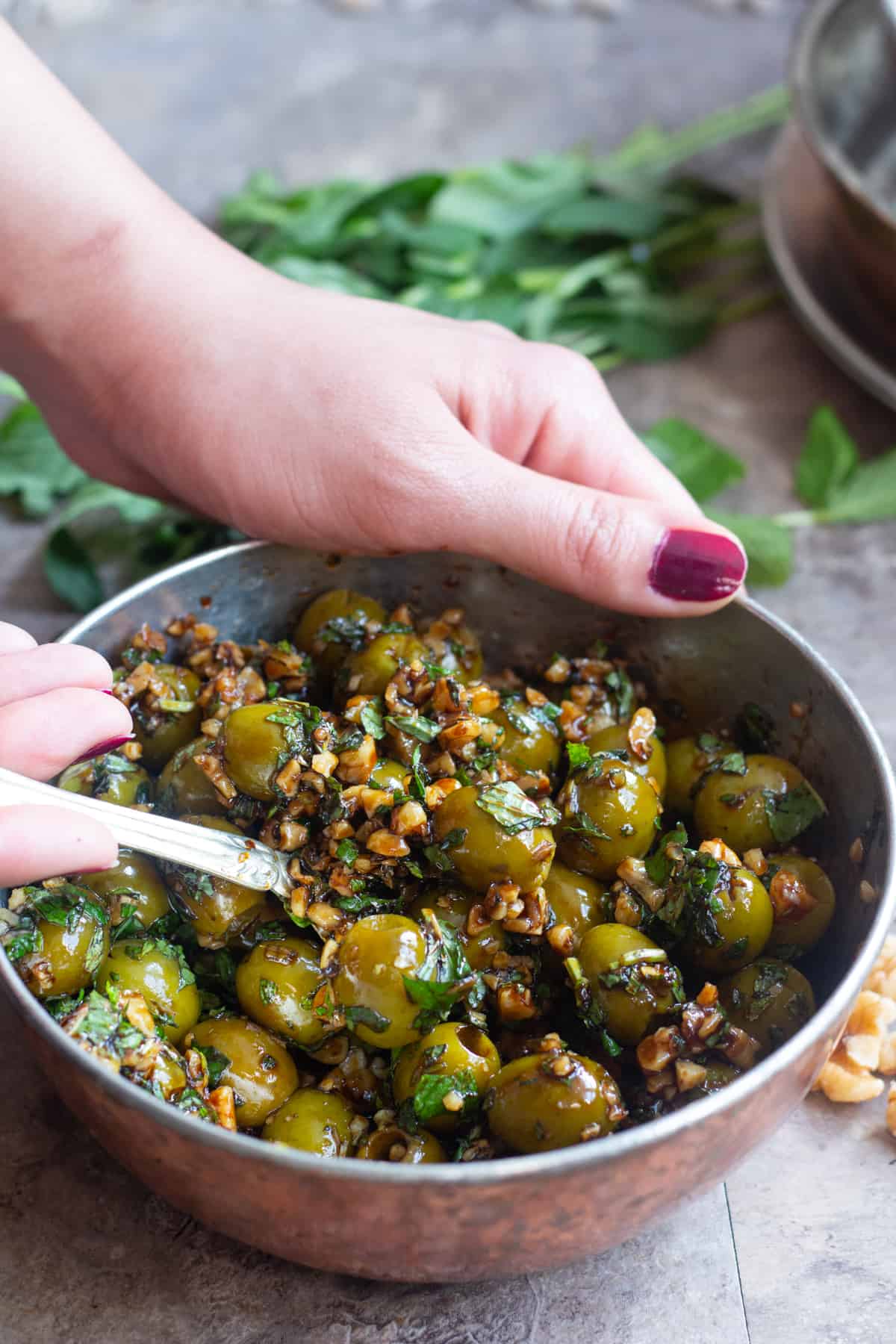 More Persian Recipes
Did you make this recipe? I'd love to hear about it! Please comment and leave a 5-star🌟 rating below. You can also follow us on Instagram, Facebook, Pinterest or subscribe to our newsletter to get a free e-Cookbook!
Step-by-Step Recipe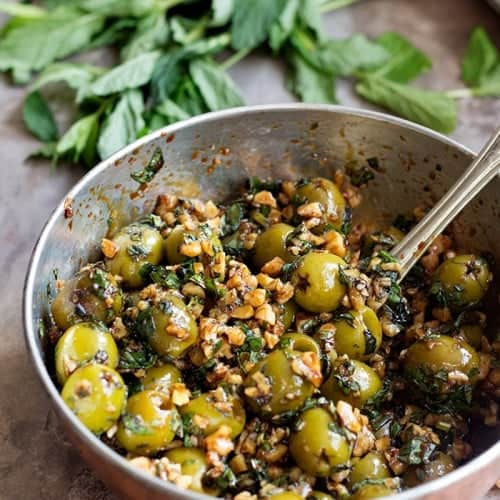 Marinated Olives with Walnuts
Marinated Olives made Persian style! Delicious olives marinated with walnuts, pomegranate molasses and herbs make a fantastic combination that is full of flavor!
Ingredients
2

cups

Green Olives

See Note #1

1 ½

cup

Finely Chopped Walnuts

See Note #2

7

cloves

Garlic

Minced

1

cup

Fresh Mint

Chopped (See Note #3)

⅔

cup

Pomegranate Molasses

See Note #4

4

tablespoon

Olive Oil

Extra Virgin

1

teaspoon

Salt
Instructions
Place olives, walnuts, garlic and mint in a large bowl, stir well.

Add in pomegranate molasses and olive oil. Mix well until all the ingredients are combined.

Season with salt. Cover and refrigerate for at least two hours.
Notes
Some like the olives to be whole and some like them chopped, this completely depends on you. If you decide to chop them, make sure the pieces are not too small.
Walnuts can be either chopped or ground. If you grind the walnuts, the combination with the rest of the ingredients (except the olives) will form a paste which is how it looks like in Persian shops in the North of Iran.
If fresh mint is not available, use two tablespoons dried mint.
Start with ⅔ cup pomegranate molasses, add more after two hours of chilling if you'd like the marinated olives to be more sour.
Nutrition
Calories:
267
kcal
Carbohydrates:
19
g
Protein:
3
g
Fat:
21
g
Saturated Fat:
2
g
Sodium:
661
mg
Potassium:
129
mg
Fiber:
2
g
Sugar:
11
g
Vitamin A:
297
IU
Vitamin C:
2
mg
Calcium:
47
mg
Iron:
1
mg
Did you make this recipe?
Let us know how it was by leaving a comment and a 5-star review!
Have you made this recipe? Let us know by commenting and rating on this recipe. Take a picture and tag @unicornsinthekitchen and #unicornsinthekitchen for a chance to be featured!