Spicy crab stuffed mushrooms are the perfect appetizer! Juicy mushrooms filled with a spicy crab filling are delicious and easy to make.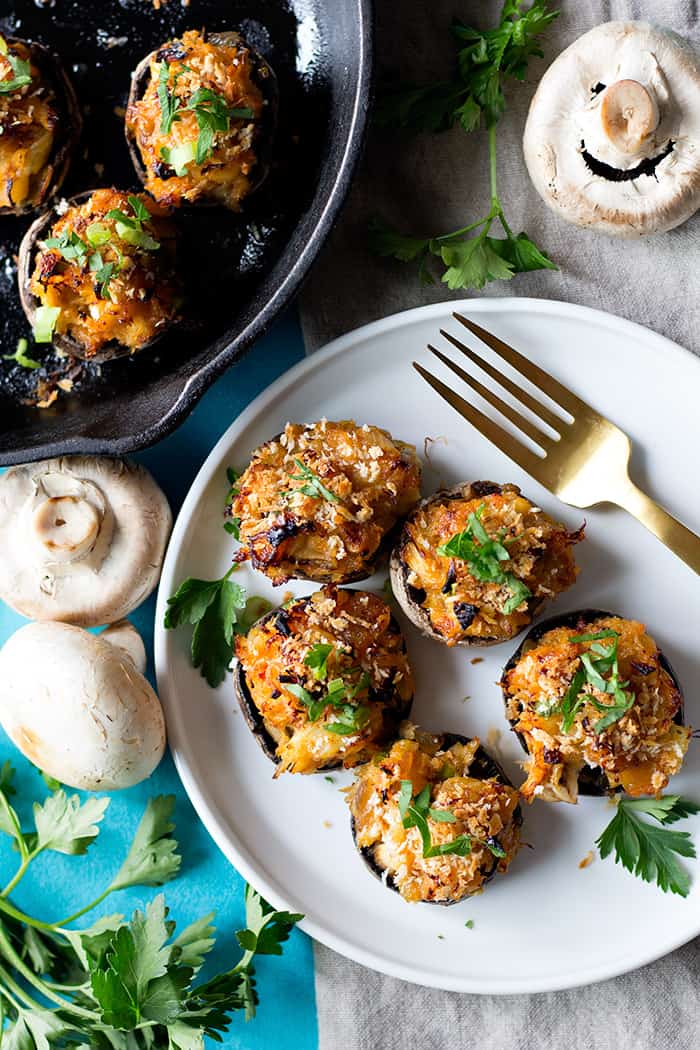 If you love appetizers as much as we do, you're going to love today's recipe! These spicy crab stuffed mushrooms are so easy yet so flavorful that you're going to want to eat a dozen! They would go well with other appetizers such as pecan and brie phyllo cups and shrimp avocado salad and are perfect for entertaining.
This post is sponsored by Alaska Seafood Marketing Institute. All opinions are mine.
Crab stuffed mushrooms made with Alaska Dungeness crab
These stuffed mushrooms are made with fresh Alaska Dungeness crab that I bought precooked. It's very simple to clean and take out the flesh, you can see a tutorial here and learn more about Alaska Dungeness crab.
Alaska crab is known to be some of the best in the world. The species include Alaska king crab, Alaska snow crab and Alaska Dungeness crab which is known for its sweet flavor and flaky white meat which makes it perfect for these stuffed mushrooms. The best Dungeness crab comes from Alaska so make sure to #AskForAlaska when you want to get some crab!
These spicy stuffed mushrooms are perfect for entertaining and everyone loves those little luxurious bites of crab and mushrooms. Topped with a little bit of herbs, these little bites are also super pretty to look at!
Ingredients
The main ingredients to make these spicy stuffed mushrooms are Alaska Dungeness crab, mushrooms, cheese, onion, garlic, old bay seasoning and bread crumbs for a little crunch on top. Nothing beats that fresh crab meat flavor!
This is a recipe for crab stuffed mushrooms without cream cheese that actually calls for two delicious cheeses: cheddar and Monterey cheese. Since I'm using Alaska Dungeness crab, I didn't want to use cream cheese because I felt it would affect the flavor of the crab. I wanted the crab flavor and texture to shine completely so went with cheeses that would complement it without being overpowering.
What kind of mushrooms do you use for stuffed mushrooms?
Similar to grilled stuffed mushrooms, for this recipe I used white button mushrooms but you can also use cremini or Potobello mushrooms. Make sure the mushrooms are clean before stuffing them.
How to clean mushrooms
I use a damp clean towel to clean the mushrooms. Mushrooms tend to absorb the water and then end up with a rubbery texture if run under the water. I sometimes peel the thin skin on mushrooms as well.
How to make crab stuffed mushrooms with cheese
Start by removing the stems of the mushrooms. Preheat the oven to 375°F and coat the bottom of a cast iron skillet with some olive oil and set it aside.
Heat some olive oil in a pan and sauté the onion and garlic until golden brown. Add in the crab meat, old bay seasoning, paprika and salt and sauté for a few minutes.
Then, add in the cheeses and bread crumbs. Stir for a couple of minutes and turn the heat off. Stuff the mushroom caps with the crab filling and top with just a little bit of panko bread crumbs. Bake in the oven until they're golden on top. I like to turn the broiler on for just a few minutes to make sure the top is crisp and golden. If you would like to do so, make sure you're keeping an eye on your oven since they may burn quickly.
How long to cook stuffed mushrooms
Because the filling of these stuffed mushrooms is already completely cooked, it takes only about 25 minutes to bake them in the oven at 375°F.
Can I make these ahead of time? You can make this tasty appetizer ahead of time. Simply cook the crab filling and stuff the mushrooms. Then cover them with a plastic wrap and refrigerate for up to 12 hours. When you're ready to cook, proceed with the recipe.
Can I freeze crab stuffed mushrooms?
Yes. To freeze stuffed mushrooms, you must make the crab filling as instructed and fill the mushroom caps. Then, line a baking sheet with parchment paper and place the uncooked stuffed mushrooms on the baking sheet. Freeze for a couple of hours until fully frozen. place the frozen mushrooms in a freezer safe bag and freeze for up to one month.
To cook frozen stuffed mushrooms, preheat the oven to 375 F and place the mushrooms on a baking sheet line with parchment paper. Once the oven is hot, bake the mushrooms for 30-35 minutes until fully cooked and the top is crisp. Broil for a couple of minutes if needed but keep a close eye on it since oven broilers vary.
What goes with crab stuffed mushrooms?
I love serving these stuffed mushrooms with another seafood dish such as pan seared halibut with tamarind sauce, lemon ginger shrimp orzo or grilled halibut with mango salsa. You can easily turn a simple dinner into a seafood feast!
Notes and tips for making this delicious mushroom appetizer
I used panko bread crumbs to make this stuffed mushrooms recipe but you can also use regular bread crumbs.
It's best to serve these spicy Alaska crab stuffed mushrooms right away when they're hot and bursting with melted cheese.
You can also bake these on a baking sheet lined with a parchment paper or coated with cooking spray.
If using Portobello mushrooms, cooking time might be 5-8 minutes longer.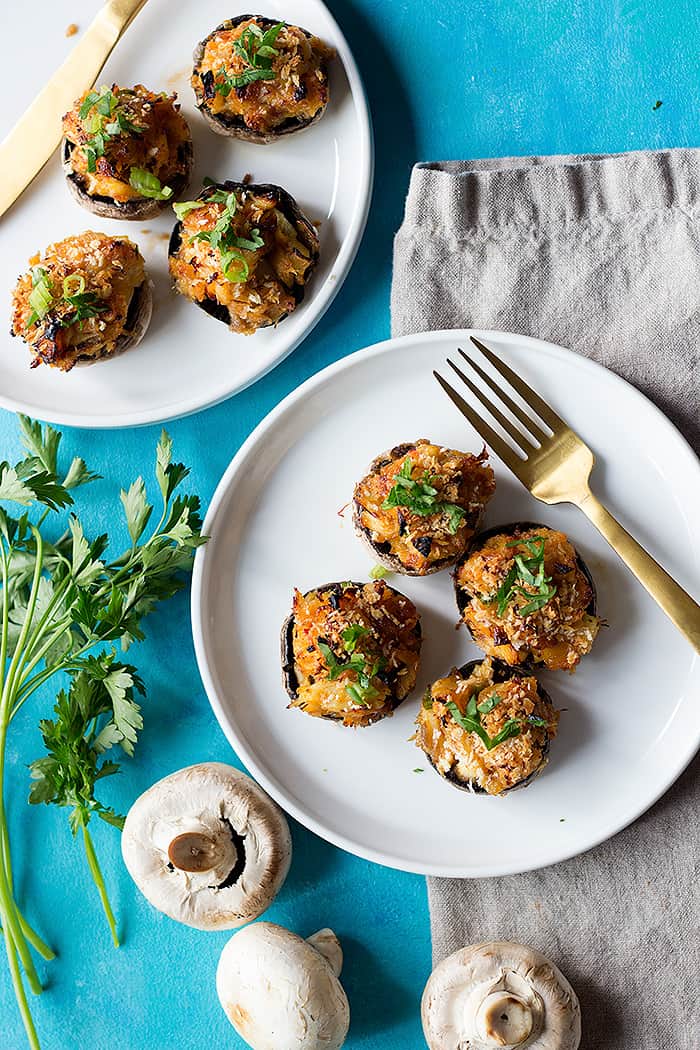 Step-by-Step Recipe
Spicy Alaska Crab Stuffed Mushrooms
Spicy crab stuffed mushrooms are the perfect appetizer! Juicy mushrooms filled with a spicy crab filling are so delicious and easy to make.
Ingredients
20

white button mushrooms

cleaned

8

oz

Alaska Dungeness Crab meat

1

yellow onion

diced

4

cloves

garlic

minced

1

tablespoon

olive oil

1

teaspoon

old bay seasoning

½

tsp

paprika

½

teaspoon

salt

½

cup

Monterey cheese

shredded

¼

cup

cheddar

shredded

4

tablespoon

panko bread crumbs

¼

cup

green onions

sliced

¼

cup

parsley

chopped
Instructions
Heat the oven to 375F and coat a cast iron skillet using olive oil. Set aside.

Remove the stems of the mushrooms and place them in the skillet.

Pour 1 tablespoon olive oil in another pan and heat it over medium heat.

Sauté onion and garlic in the pan until golden brown.

Add in Alaska crab meat and cook for a few minutes.

Add in bay seasoning, paprika and salt to the crab and stir.

Add in the cheeses and half of the bread crumb. Mix well until all incorporated.

Turn the heat off and stuff the mushroom caps with the filling. Top with some more bread crumbs.

Bake in the oven for 25 minutes until the mushrooms are cooked.

Top with green onions and parsley. Serve immediately.
Nutrition
Did you make this recipe?
Let us know how it was by leaving a comment and a 5-star review!