Make these Sriracha Lime Shrimp Lettuce Wraps to enjoy a light meal with some heat. Serve with a fresh avocado cabbage slaw for more flavor.
Shrimp is such an easy ingredient to cook with and there's so much that you can do with it. You can make shrimp cakes, spicy shrimp tacos and creamy shrimp pasta salad. These lettuce wraps with shrimps are one of our favorite ways to eat shrimp.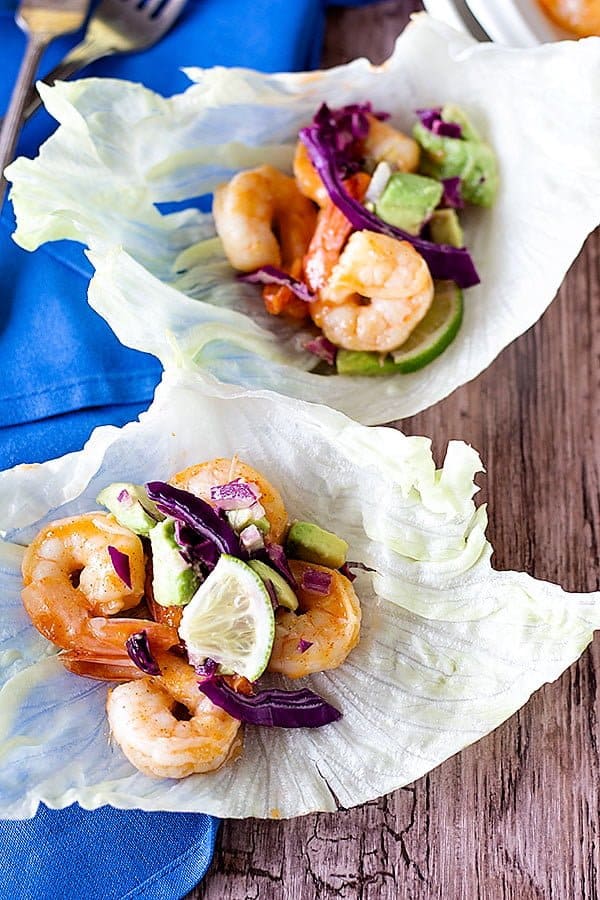 Why this shrimp lettuce wraps recipe works
This lettuce wrap recipe is very easy to make and makes a perfect light lunch or dinner. Kids love making their own lettuce wraps and it's also a healthy choice for a healthy meal. The combination of shrimp and sriracha is very delicious and refreshing thanks to the addition of lime.
Much like my favorite Korean beef lettuce wraps, these spicy shrimp lettuce wraps are perfect for summer and they make an ideal appetizer for parties and gatherings. It's a healthy recipe that is naturally gluten free and perfect for your friends and family who don't eat bread or rice.
What kind of lettuce should I use to make lettuce wraps?
You can use any kind of lettuce such as iceberg, Boston, butter or romaine to make shrimp lettuce wraps. It completely depends on how soft or crunchy you like your wraps to be. For this particular lettuce wrap recipe, we used iceberg lettuce which is crisp and large enough to hold the shrimp.
How to choose shrimp
When it comes to using shrimp to make a dish, it's important to know how to choose good shrimp. First of all, shop at a place you trust, whether that's your local fish market or at a supermarket. If buying fresh shirmp(more about that in the next paragraph), make sure it doesn't smell like ammonia, according to Serious Eats, that's the first sign that the shrimp has gone bad. Also, make sure the shrimp is not slimy or falling apart. Good and healthy shrimp should be firm and bright, without any spots.
Fresh or frozen?
Try to always buy frozen shrimp if it's possible. Unless you're buying directly from a fishmonger by the sea, whatever fresh shrimp you see in the supermarket is actually frozen shrimp from a bag that's been thawed. And there is no way to find out how long it has been sitting in those cases. Therefore you're just better off buying a bag of frozen shrimp so you can thaw it at your own convenience.
How to make sriracha lime shrimp lettuce wraps
This is one the easiest lettuce wrap recipes that you can make in less than 30 minutes:
Sriracha lime shrimp: Mix lemon juice, cornstarch and sriracha in a small pan. Bring it to a low simmer. Add in the shrimp and cook for about 7 minutes until the shrimp is cooked through.
Avocado cabbage slaw: In a large bowl, mix avocado, red onion, red cabbage, lemon juice and salt. Toss and taste to make sure the flavor is right.
Assemble: Fill the lettuce leaved with a few shrimps and top with the slaw. Serve immediately.
What to serve with these lettuce wraps
I love serving these lettuce wraps with some red cabbage, avocados and lime. You can also use cilantro, green onions, sriracha mayo, mango or even pineapple. Want to try shrimp lettuce salad? Simply chop the lettuce and place it in a large bowl, add the cooked shrimp with avocados and chopped cabbage. Toss with some lime juice and serve immediately.
Looking for more shrimp recipes?
Notes and tips to make sriracha lime shrimp lettuce wraps
Make sure you're using raw shrimp. I usually get frozen raw shrimp which is already peeled and deveined.
Start with one teaspoon sriracha for the sauce and add more if you like it to be spicier.
You can also add one tablespoon soy sauce to the sriracha lime sauce to make it saltier.
Store the leftovers in an airtight container and refrigerate for up to 24 hours.
The avocado cabbage slaw is supposed to act as a cooling addition to the shrimp therefore no pepper is used in the recipe.
Step-by-Step Recipe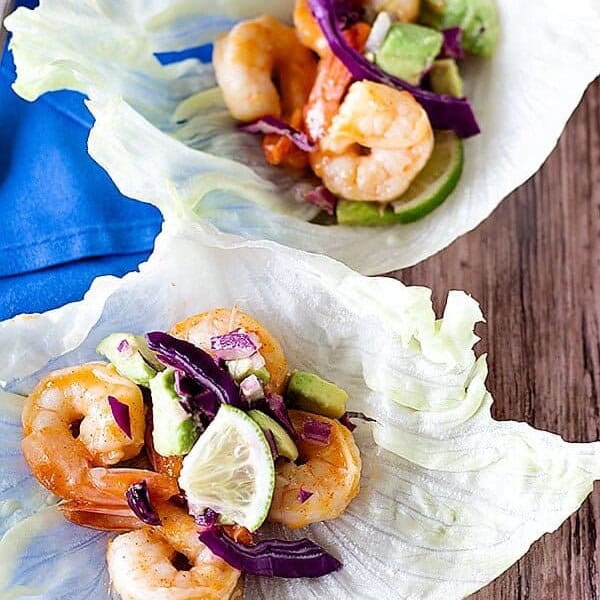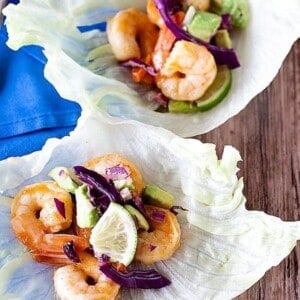 Sriracha Lime Shrimp Lettuce Wraps
Make these Sriracha Lime Shrimp Lettuce Wraps to enjoy a light meal with some heat and cool it down with a refreshing avocado cabbage topping!
Ingredients
Sriracha lime shrimp
2

limes

juice of

1

tablespoon

cornstarch

1 ½

teaspoon

sriracha

16

large

shrimps
Avocado cabbage slaw
1

Avocado

cubed

½

red onion

finely chopped

⅓

red cabbage

thinly sliced

2

tablespoon

lemon juice

½

teaspoon

salt

iceberg lettuce leaves

To serve
Instructions
In a small bowl, mix lime juice, cornstarch and sriracha. Pour the mixture in a pan and place the pan over medium heat until the mixture is warm and starts simmering.

Add in jumbo shrimps and cook for 5-8 minutes until fully cooked. Stir constantly so all the shrimps are covers with the sauce.

Make the avocado cabbage slaw by mixing cubed avocado, chopped onion, sliced red cabbage, lemon juice and salt in a bowl.

Make lettuce wrap by placing cooked shrimp in the lettuce and top with the slaw. Serve immediately.
Notes
Make sure to use raw shrimp for this recipe and cook it in the sriracha lime sauce. If using frozen cooked shrimp, the shrimp will become rubbery after it's cooked.
You can use romaine, butter or iceberg lettuce for this recipe.
This recipe is best served fresh.
Nutrition
Did you make this recipe?
Let us know how it was by leaving a comment and a 5-star review!