An easy veggie shish kabob recipe that you can make any time. Delicious grilled vegetables flavored with garlic, thyme and balsamic vinegar make the best side dish!
Another shish kabob recipe for you. So far we have beef shish kabob , salmon shish kabob and chicken shish kabob. They're so easy to make and everyone loves food on stick!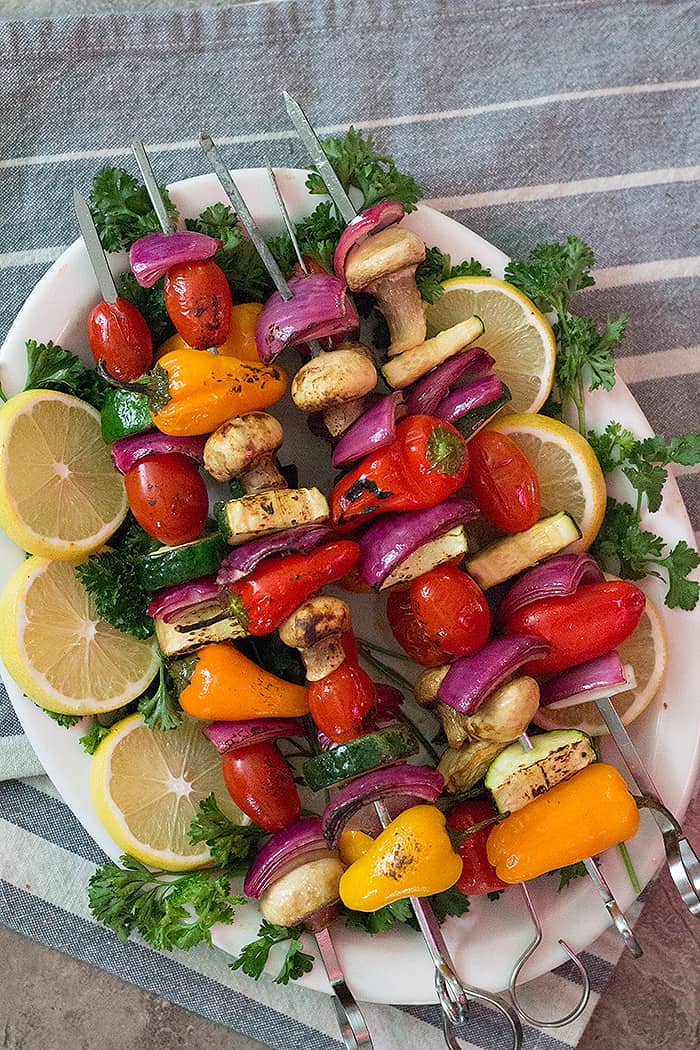 What are the best vegetables for shish kabobs?
You can make shish kabob with almost any vegetable such as zucchini, yellow squash, eggplant, tomatoes, peppers, mushrooms, onions and even brussels sprouts. My only note is thread vegetable that are similar in texture on the same skewer. For example, zucchinis cook pretty fast so you can thread them with tomatoes. It's also possible to thread each type of vegetable on a separate skewers.
How to grill shish kabob vegetables
First of all, prepare all you ingredients. I used zucchini, red onion, red belle pepper, yellow bell pepper, mushrooms and cherry tomatoes. As for the vegetable shish kabob marinade I decided to go with a delicious mixture of olive oil, garlic, thyme, balsamic vinegar, salt and a little bit of lemon juice. Easy and fast, this vegetable shish kabob recipe is one to keep!
How to cut vegetables for shish kabobs? You should cut the vegetables in a way that they're not too big or too small so they can cook at the same time. Cut the onions into big chunks and use button mushrooms if possible. Zucchini can be cut in half and then sliced or you can use baby zucchini.
Once all the vegetables are cut, prepare the marinade for veggie shish kabobs by mixing all the ingredients in a large bowl. Add in the vegetables and mix well using a spatula. Let the vegetables marinate for 15-30 minutes. Meanwhile, heat the grill and start threading the vegetables on skewers. Metal skewers are easy to work with however, If using wooden skewers soak them in water for 30 minutes to prevent them from burning.
How long to grill veggie shish kabobs?
It really depends on the size of your vegetables. It usually takes between 15 to 25 minutes for vegetables to perfectly grill and become soft on the inside. Make sure the heat is not too high as you don't want vegetables shish kabobs to be burnt on the outside and raw on the inside.
More recipes:
How to make veggie shish kabob in the oven
Whether you don't own a grill or it's too cold to turn on the grill outside, there could be a chance you would want to use your oven to make veggie shish kabobs and it's so simple to do so. After your veggie skewers are ready, place them on a baking sheet lined with aluminum foil and broil them 5 inches below the broiler for about 5 minutes on each side. Check regularly to make sure they don't burn.
Veggie Shish Kabob Flavors
Spicy vegetable kabobs: leave out balsamic and add ½ tap cayenne pepper.
Lemon garlic veggie shish: use 2 tablespoons lemon juice instead of balsamic vinegar and use 6 cloves of garlic.
Rosemary garlic grilled veggies: use 1 teaspoon dried rosemary and 6 cloves of garlic. Omit the balsamic vinegar.
Zaatar vegetable shish kabobs: Add 1 ½ teaspoon zaatar to the marinade and leave out balsamic and thyme.
Turmeric paprika vegetable shish kebab: mix ½ teaspoon turmeric with 1 teaspoon paprika. Add olive oil and lemon juice, mix and use this mixture to marinate the vegetables.
Teriyaki veggie kabobs: Simply marinate the vegetables using teriyaki sauce (store bought or homemade teriyaki sauce work fine).
What to serve with vegetable shish kabob
Veggie shish kabob is a great side dish to so many dishes such as chicken shawarma, Greek meatballs or homemade falafels. What I love the most about Mediterranean recipes is that they mix and match so well and complement each other beautifully.
Veggie Shish Kabob with Thyme and Garlic
An easy veggie shish kabob recipe that you can make any time. Delicious grilled vegetables flavored with garlic, thyme and balsamic vinegar make the best side dish!

Ingredients
1

zucchini

cut in half moons

1

large

red onions

cut into big chunks

1

red bell pepper

cut into chunks

1

yellow bell pepper

cut into chunk

15-20

button mushrooms

cleaned

20

cherry tomatoes
vegetable shish kabob marinade
¼

cup

olive oil

4

cloves

garlic

minced

1

tsp

dried thyme

see notes

3

tbsp

balsamic vinegar

1

tsp

kosher salt

1

lemon

juice of
Instructions
Place all the cut vegetables in a large bowl.

In a small bowl, mix olive oil, minced garlic, thyme, balsamic vinegar, kosher salt and lemon.

Pour the marinade on the vegetables and stir well to mix.

Marinate the vegetable for 30 minutes.

Meanwhile, heat the grill and thread the vegetables on the skewers.

Grill the vegetables for 10 minutes on each side over medium heat.
Notes
You can use 1 tbsp fresh thyme instead of 1 tsp dried thyme.
Nutrition
Did you make this recipe?
Let us know how it was by leaving a comment and a 5-star review!