This Greek-style baked mahi mahi recipe is the perfect weeknight seafood dinner ready in 30 minutes! Tender white fish fillets with bright Mediterranean flavors and juicy tomatoes results in an elevated, yet easy way to enjoy mahi mahi. Follow my instructions to learn how to bake mahi mahi at home that tastes phenomenal!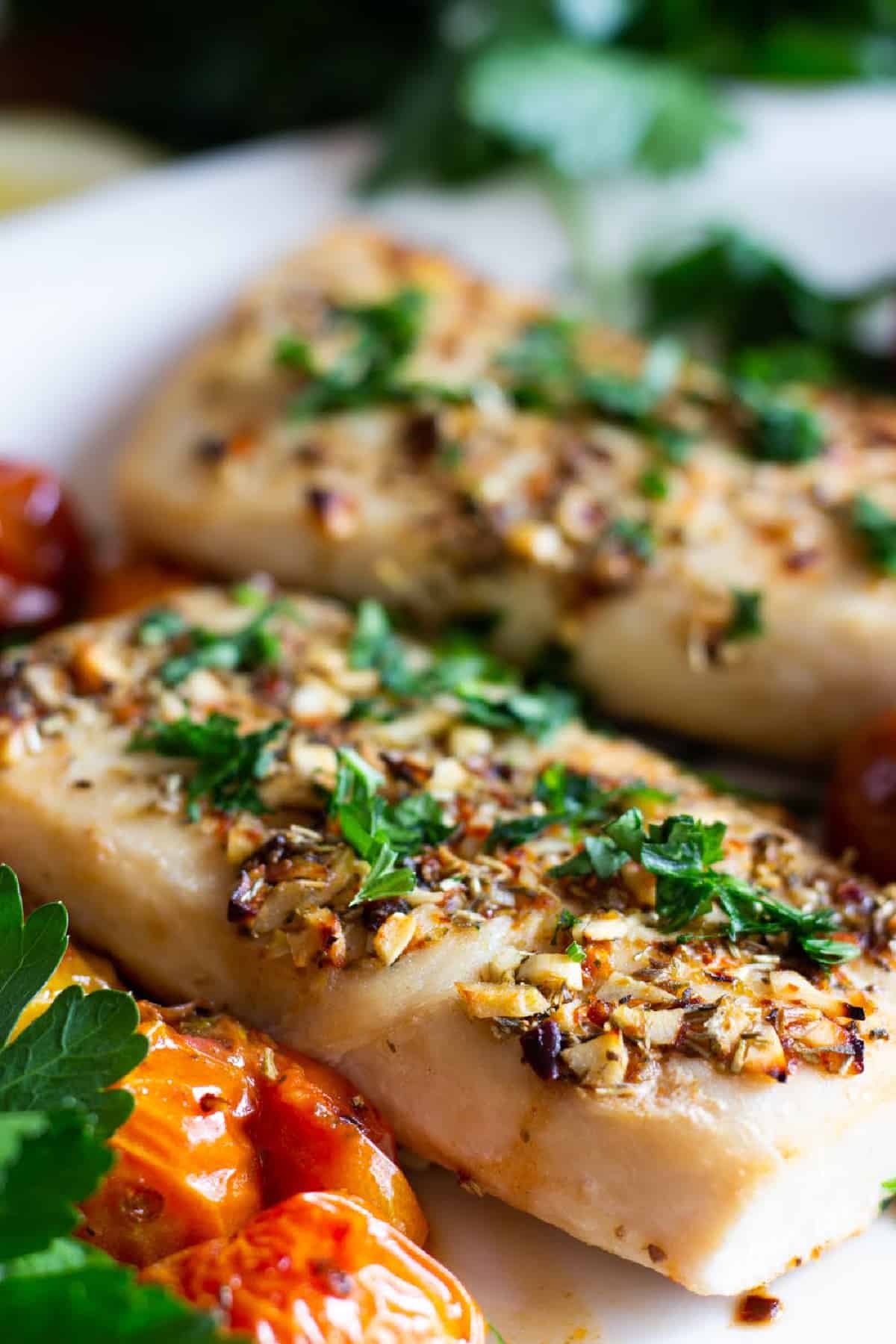 Mediterranean cooking offers many ways to enjoy fish and seafood. From grilled salmon shish kabob and grilled branzino to easy tilapia and parmesan baked cod, there are endless ways to enjoy the treasures of the sea. Today I'm going to show you how to make the most delicious Greek style baked mahi mahi with fresh Mediterranean flavors. Follow along to learn how to choose the best fish and how to cook it. I'll also suggest some side dishes - so many delicious options to choose from!
Table Of Contents:
Why You'll Love This Recipe
Easy: This is the perfect recipe for the novice cook. If you're new to the kitchen or are looking for a recipe that's simple and not complicated, this mahi mahi recipe is for you.
Flavors: With the aromatic spice mix and bright lemon juice, this dish is full of delicious flavors.
Quick: It takes only 30 minutes to make this mahi mahi recipe, making this the perfect weeknight meal.
Ingredients
Mahi mahi: Mahi mahi usually comes in the form of clean boneless fillets. To choose the best fresh mahi mahi, you need to smell it. It should smell like the sea, neutral and not fishy at all. The color of the fish should be light pink (sometimes with red strips) and the fillet should be firm to the touch and bounce back.
Garlic: A few cloves of garlic add a lot of flavor to this dish.
Spices: You need oregano, rosemary, cumin and Aleppo pepper.
Olive oil: Extra virgin olive oil works best for this recipe.
Lemon: Freshly squeezed lemon juice gives this fish bright flavors.
How To Make Baked Mahi Mahi
Mix the olive oil with chopped garlic, freshly squeezed lemon juice and spices including oregano, cumin and Aleppo pepper.
Marinate the fish in this mixture for 20 minutes up to 1 hour. Don't let the fish marinate for more than 1 hour or it'll get mushy.
Preheat the oven to 400 degrees F and line a baking sheet with aluminum foil. Coat it with cooking spray.
Mix cherry tomatoes with some olive oil, salt and pepper. Arrange them on the baking sheet with the marinated fish. Spoon the garlic and spices from the marinade on the fish.
Bake until the mahi mahi is opaque and flakes easily, about 20 minutes. And voila, your baked mahi mahi recipe is ready!
Pro tip: Just like cod, mahi mahi is very lean and dries out easily, therefore make sure not to overcook it.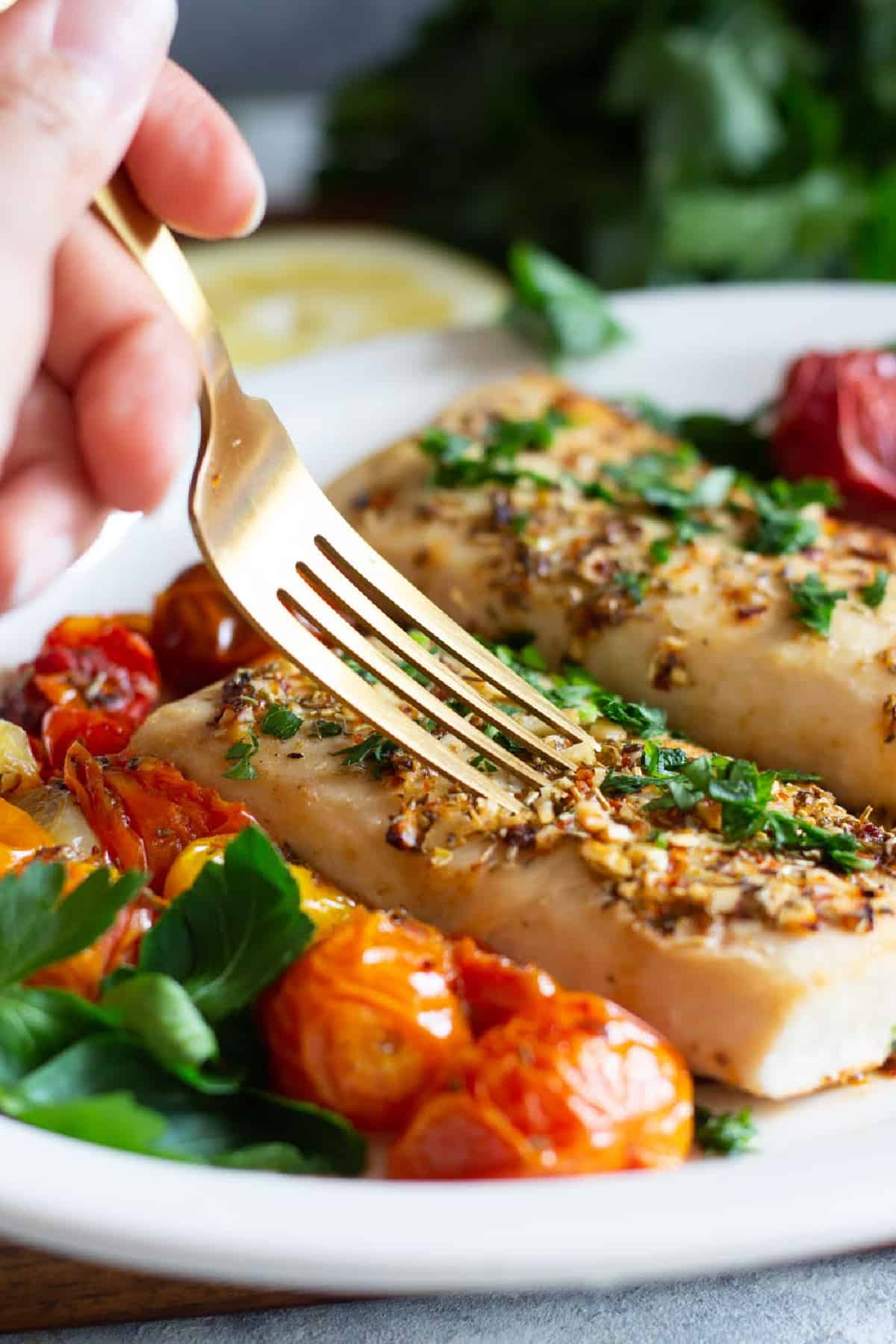 The Benefits Of Mahi Mahi
Mahi mahi (meaning strong-strong in Hawaiian) is a warm water fish found in the Mediterranean, South Pacific and the Caribbean. It has a neutral flavor similar to halibut and isn't "fishy." It comes in the forms of fillet or steak and works well with any cooking method including baking, searing, roasting or grilling.
Since mahi mahi is lean and is low in sodium and saturated fat, it's considered a healthy fish. It's also a great source for vitamin B and selenium which is an important antioxidant.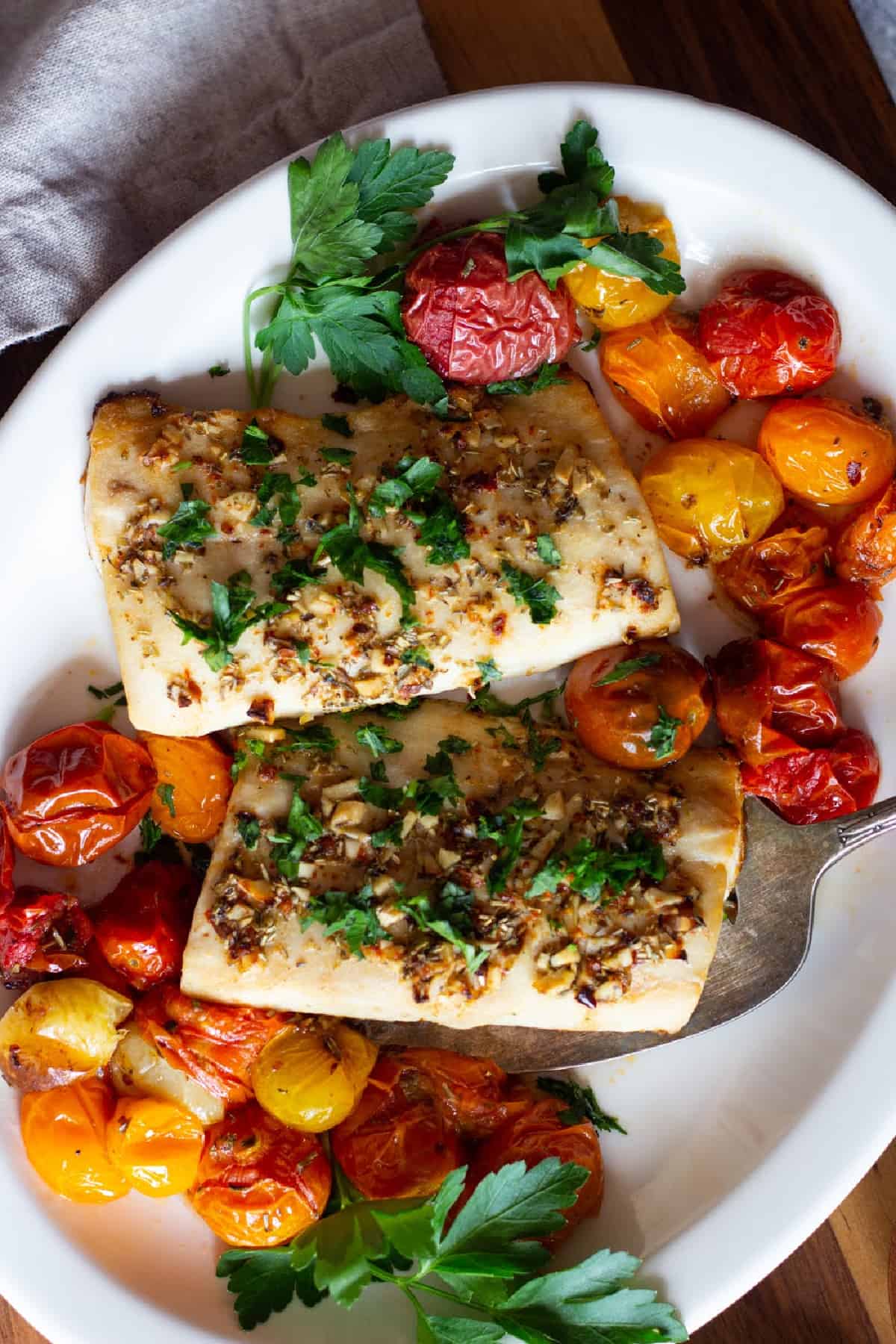 Frequently Asked Questions
How do you know when mahi mahi is done?
You'll know the fish is fully cooked when it flakes easily. Use a fork to test the fish and flake it.
Can I make this ahead of time?
Fish and seafood are always best served fresh so I don't recommend making them ahead of time. However, you can marinate the fish for up to 1 hour. Marinating more than 1 hour will change the texture of the fish.
Can I use frozen mahi mahi?
Yes, just make sure that the fish is completely thawed before you start cooking.
Should I keep the skin on?
Usually mahi mahi fillets are without skin, but if they are skin-on, remove it before serving since it's pretty tough.
More fish and seafood recipes
Did you make this recipe? I'd love to hear about it! Please comment and leave a 5-star🌟 rating below. You can also follow us on Instagram, Facebook, Pinterest or subscribe to our newsletter to get a free e-Cookbook!
Step-by-Step Recipe
Baked Mahi Mahi, Greek Style!
This mahi mahi recipe is ready in 30 minutes. Tender and flaky fish baked with bright Mediterranean flavors makes the perfect dinner.
Ingredients
16

ounces

mahi mahi fillets

about 2

4

tablespoon

olive oil

5

cloves

garlic

roughly chopped

1

teaspoon

dried oregano

¼

teaspoon

freshly ground black pepper

1

teaspoon

dried rosemary

1

lemon

juice of

½

teaspoon

Kosher salt

½

teaspoon

cumin

½

teaspoon

Aleppo pepper

or pul biber

3

cups

cherry tomatoes
Instructions
Place the mahi mahi in a bowl and set aside.

In a small bowl mix 2 tablespoons of the olive oil with chopped garlic, oregano, black pepper, rosemary, lemon juice, salt, cumin and Aleppo pepper. Drizzle over the mahi mahi and make sure all parts of the fillets are coated with the marinade. Cover and refrigerate for 20 minutes if time permits.

Preheat the oven to 400° F and coat a baking sheet with cooking spray. You can also line the baking sheet with aluminum foil first and coat it with cooking spray to make cleaning easier.

Mix the cherry tomatoes with the remaining 2 tablespoons of olive oil and a pinch of salt and pepper. Arrange them on the baking sheet.

Place the marinated fish on the baking sheet and Top with the garlic and spices that were in the marinade.

Bake at 400° F for about 20 minutes until the fish is opaque and flakes easily and the tomatoes are roasted.
Notes
If using frozen mahi mahi, thaw it completely before you start cooking.
You can double or triple this recipe, the cooking time will remain the same.
It's best to serve mahi mahi fresh out of the oven, however, you can keep the fish marinated for up to one hour. I don't recommend marinating over one hour since it can alter the texture of the fish.
Serve this dish with side dishes such as brown rice, Greek potatoes, Greek lemon rice or briam (Greek roasted vegetables).
Nutrition
Calories:
513
kcal
Carbohydrates:
18
g
Protein:
45
g
Fat:
30
g
Saturated Fat:
4
g
Polyunsaturated Fat:
4
g
Monounsaturated Fat:
21
g
Cholesterol:
166
mg
Sodium:
818
mg
Potassium:
1567
mg
Fiber:
4
g
Sugar:
7
g
Vitamin A:
1687
IU
Vitamin C:
82
mg
Calcium:
110
mg
Iron:
6
mg
Did you make this recipe?
Let us know how it was by leaving a comment and a 5-star review!