This easy eggplant lasagna recipe is cheesy, delicious and perfect for a weeknight dinner. It's made without noodles so it's gluten free and low carb.
The classic combination of eggplant and ground beef never fails to impress. You can find this combination in Turkish stuffed eggplant and Greek moussaka and of course this classic eggplant lasagna. This is a dish that might take some time to make, but it's absolutely worth it.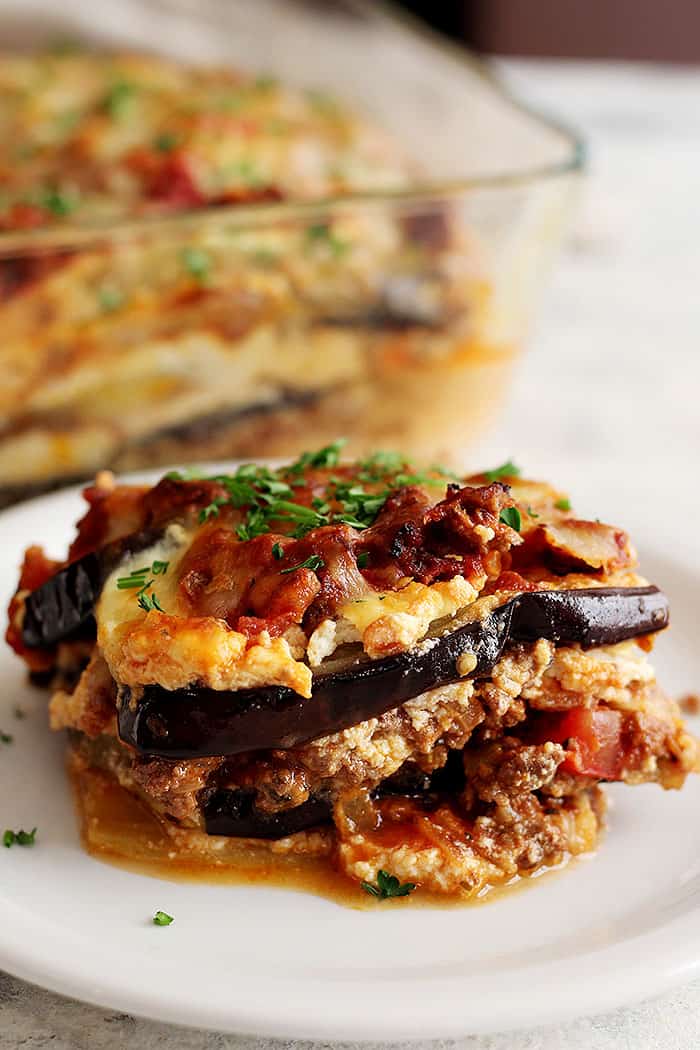 Why this recipe works
This is one of my absolute favorite lasagna recipes because it has a great combination of flavors. Layers of roasted eggplant, perfectly seasoned ground beef, and a delicious cheese mix makes this dish pretty much irresistible.
Aside from the flavor, this is a great recipe if you're looking for a gluten free lasagna. And since there are no noodles in this recipe, it's also low carb.
Also, I love making it when I'm meal prepping especially because it keeps well in the fridge for a few days without any change in the flavor or texture. It heats up pretty well too.
So there, I just gave you three major reasons to try this awesome eggplant lasagna this weekend!
Eggplant lasagna ingredients
Obviously, this is a no noodle eggplant lasagna so there are no lasagna noodles in this recipe. The ingredients you need are:
Eggplant: I used Italian eggplants but globe eggplant would work as well.
Olive oil
Onion
Ground beef: It's best to use lean ground beef.
Spices: Salt, pepper, oregano and dried basil.
Tomato sauce
Crushed tomatoes
Ricotta cheese
Parmesan
Egg
Mozzarella
This recipe uses three types of cheese which makes it super cheesy and delicious. If you prefer to use skim cheese or low fat cheese, you can of course do it. However, I suggest you use at least one of the cheeses made with whole milk so you get a creamy, filling texture.
How to make eggplant lasagna
Prepare the eggplant: Cut the eggplant lengthwise into ¼" slices. Place the eggplant slices on a baking sheet and sprinkle salt generously on both sides of the slices. Let it sit for 45 minutes to an hour until they "sweat." Meanwhile, preheat the oven to 400ºF. Pat dry the eggplants on both sides, brush with olive oil and bake in the oven for 20 minutes.
Prepare the filling: Heat the olive oil in a pan over medium heat. Saute onion with ground beef and the spices. Add in the tomato sauce and crushed tomato. Cook for a few minutes and set it aside. In a separate bowl, mix ricotta with grated parmesan and the egg.
Assemble and bake: Layer the sauce, eggplant, ricotta mix and shredded mozzarella in a baking dish. Bake for about 40 minutes until it's golden and done.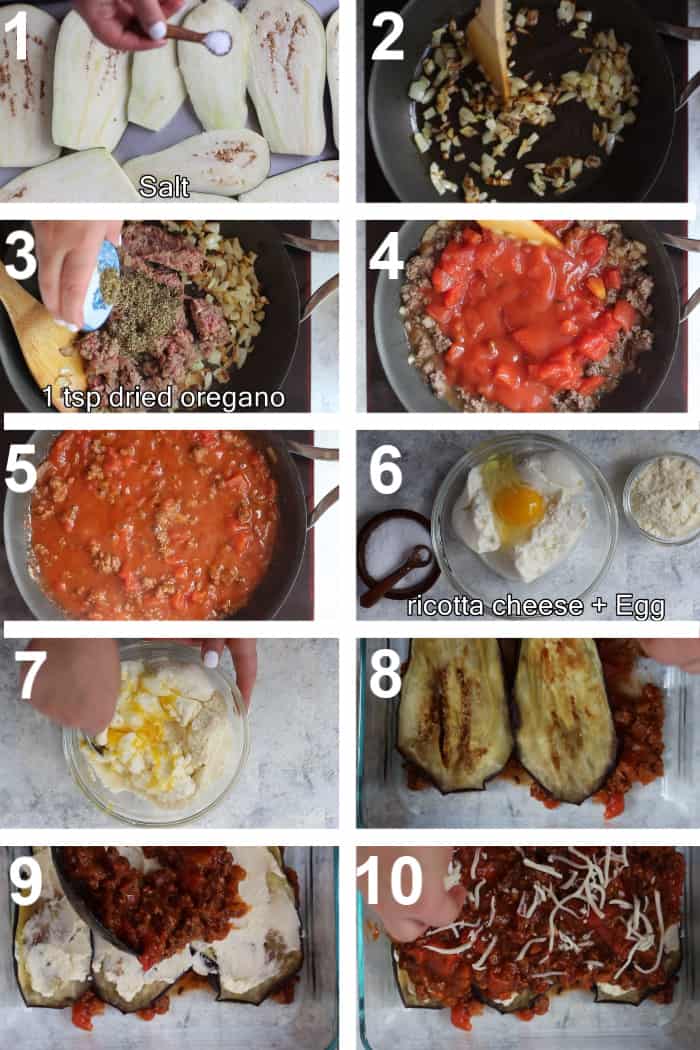 Do I need to peel the eggplant?
I suggest you don't peel the eggplant because the slices are already thin and the skin will keep their shape when roasted and then baked into the lasagna.
More eggplant recipes:
One step that changes everything
Salting the eggplant is the most important step when it comes to cooking dishes that use this vegetables. This step has a few benefits:
It releases extra water in the eggplant. Therefore when cooked (grilled, roasted or fried) the eggplant will not be watery.
It prevents eggplant from getting soggy, mushy or gummy and gives it that tender, nice texture that we love.
If fried, salted eggplant absorbs less oil compared to eggplant that hasn't been salted.
How can I make this vegetarian?
All you need to do is to leave out the beef and replace it either with meat substitutes such as vegetarian sausage or vegetables such as diced carrots, zucchini, spinach, mushrooms and corn.
Notes and tips to make this recipe
Instead of ground beef, you can use Italian chicken sausage, ground chicken or ground turkey to make this eggplant lasagna.
Same as regular lasagna, it's best to wait for a few minutes for the dish to cool before slicing it.
Store the leftovers in an airtight glass container and refrigerate for up to 4 days.
Don't freeze this recipe as the eggplant releases extra juice and alters the texture of the lasagna.
Classic Eggplant Lasagna Recipe
This easy eggplant lasagna recipe is cheesy, delicious and perfect for a weeknight dinner. It's made without the noodles so it's gluten free and low carb.
Ingredients
3

Italian eggplants

Washed and dried

2

tbsp

Kosher salt

3

tbsp

olive oil

divided

1

yellow onion

chopped

1

lb

ground beef

lean

½

tsp

salt

½

tsp

black pepper

1

tsp

dried oregano

1

tsp

dried basil

1

can

tomato sauce

15 oz.

1

can

crushed tomatoes

15 oz.

15

oz

ricotta cheese

½

cup

grated parmesan cheese

1

egg

8

oz

shredded mozzarella cheese
Instructions
Trim the top and bottom of the eggplants. Slice the eggplants lengthwise to ¼" thick slices.

Place the eggplant slices on a baking sheet and generously sprinkle with salt on both sides. Let the eggplants sit and "sweat" for about 45 minutes. Then Pat dry them completely and brush with 1 ½ tbsp olive oil on both sides.

Heat the oven to 400°F and once it's hot, bake the eggplants in the oven for 20 minutes.

Meanwhile, heat the remaining olive oil in a large pan and saute onion until golden.

Add in ground beef, salt, pepper, dried oregano and basil and cook it until brown, break it into pieces and you cook it.

Once the ground beef is browned, add in tomato sauce and crushed tomatoes. Cook for a few more minutes. Turn the heat off and set it aside.

In a large bowl, mix ricotta cheese with grated parmesan and egg. Set aside.

Now it's time to assemble your eggplant lasagna. Preheat the oven to 375°F and coat a baking dish with cooking spray. Start by spreading a thin layer of meat sauce at the bottom of the dish. Top with roasted eggplant slices, spread some ricotta cheese mix on the eggplant. add some meat sauce on top, and finish with a thin layer of mozzarella cheese. Repeat these steps until you run out of the beef sauce, eggplant sliced and ricotta mix.

Bake the eggplant lasagna in the oven for 40 minutes until the top gets all golden and bubbly.

Let the lasagna cool for 15 to 20 minutes before you slice it.
Notes
I used a 9x7 pyrex dish for this recipe. You can use any kind of baking dish that you make lasagna in.
Use lean ground beef if possible. 90% lean and higher is strongly preferred. You can also use Italian sausage, ground chicken or ground turkey.
You don't need to peel the eggplants. In fact, it's best not to peel them so the slices keep their shape.
Please don't skip the salting process. It's a very important step when you work with eggplant as it releases the bitter juice and makes eggplant tender.
It's best not to freeze this recipe, but you can make it ahead of time and refrigerate it for up to 4 days. To serve, thaw in the fridge and heat in the oven at 300ºF for 25 to 30 minutes.
Serve this baked eggplant lasagna with some avocado cucumber tomato salad or Mediterranean salad to make a complete meal.
Nutrition
Calories:
489
kcal
Carbohydrates:
23
g
Protein:
29
g
Fat:
33
g
Saturated Fat:
15
g
Cholesterol:
116
mg
Sodium:
2771
mg
Potassium:
1091
mg
Fiber:
8
g
Sugar:
13
g
Vitamin A:
1030
IU
Vitamin C:
15
mg
Calcium:
390
mg
Iron:
4
mg
Did you make this recipe?
Let us know how it was by leaving a comment and a 5-star review!